By: Jonathan Kwan
February 25, 2011
If you have been in university long enough (Or if you are already done, good on you), there is always at least one TA you absolutely dislike. Sure, they are underpaid graduate students who are overworked slaves to Dr. WhoeverHisNameIs, and while I have met some who go above and beyond what they are expected to do, I have also met some who are completely clueless jerks. For legal reasons, let's just say any names mentioned here are purely coincidental. So let me introduce you to a guy called Javad in my department of Electrical and Computer Engineering. He yells at you every time you go to his office. He is absolutely uninterested in answering any of your questions (Which results in more yelling). His methods of grading papers are absolutely disastrous. Not only can he give 45% on something that rightfully deserves a 90% after regrading, he also failed an entire class once on something that was clearly the right answer. In fact, it was so bad, the professor had to apologize during a lecture session once. It is probably not surprising Javad is not exactly the most popular TA around. So we just blame him for everything. Why was Hitler born? It was all Javad's fault. Why is there poverty in this world? It was all Javad's fault. Who caused the financial crisis a couple years ago? It was all Javad's fault. So needless to say, with Intel's recent massive recall on the P67 chipset due to its degrading SATA 3Gb/s ports, I can safely assure you it was also all Javad's fault. But until Intel's B3 stepping Cougar Point chipsets become available in the next few weeks, we are stuck with only one P67 board we received several weeks ago for our upcoming review. So thanks to Javad the P67 recall, we won't be doing any comparative benchmarking on the Gigabyte GA-P67A-UD5. The good news is, most motherboards perform within <2% of each other anyway, so it is not really a big deal. We will still have all the parts that actually matters covered, like the usual close up examination and overclocking results. I would just like to let you know before we begin, the Gigabyte P67A-UD5 is such a brilliant motherboard that... well, that's all I am going to say in the introduction. Read on to find out what the whole deal is about!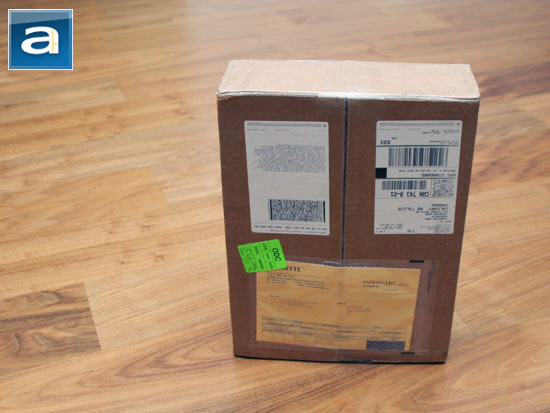 On that fateful day Intel announced the recall for all Sandy Bridge motherboards, the UPS guy came by our Calgary location as usual, and dropped off the Gigabyte P67A-UD5 sent from Gigabyte's California office just a week earlier. Yes, that was the day availability of these motherboards have stopped being available to retail consumers. Using UPS Standard, everything arrived safely packed inside a brown corrugated cardboard box. I whipped out my boxcutter and sliced the packing tape apart, and got ready to roll with the Intel Core i5-2500K processor we reviewed a couple of weeks ago.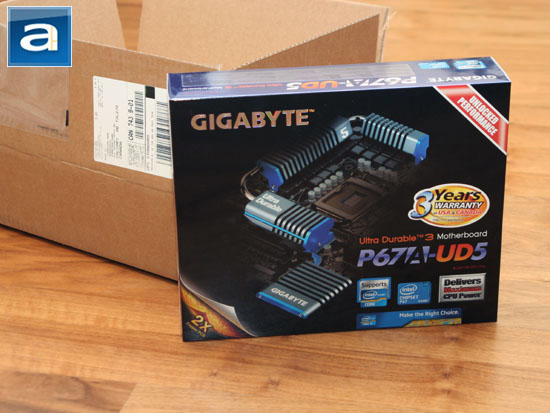 Our review unit of Gigabyte's P67A-UD5 motherboard came in retail packaging. The retail box is quite the standard size -- nothing excessive; just large enough to accommodate an ATX motherboard plus its accessories. With the Gigabyte P67A-UD7 taking on the role of the company's flagship LGA 1155 board, our UD5 is only second in line to the best -- meaning this is, no doubt, a high end product. And the design of its retail box rightfully reflects the attached price tag. At the center of the box, their graphics designers took a photo of the P67A-UD5 from a slight angle 3/4 near the CPU socket area, darkened its surroundings to provide lighting highlights on its heatpipes for an elegant yet mysterious motif. Gigabyte's shiny logo can be found at the upper left corner, while the model name can be found near the bottom right edge, as shown in our photo above. Gigabyte wants you to know a 3-year warranty is included with the P67A-UD5 through an auxiliary sticker. Feature highlights with tons of fancy graphics can be found at the back of the box.
Update: Here's the "non-Javad" version -- Gigabyte's updated B3 revision of the motherboard. The company decided to affix the chipset stepping to the end of the model name in order to indicate this change; calling it the Gigabyte GA-P67A-UD5-B3. We received our replacement unit here at APH Networks Calgary earlier today. (April 18, 2011)
Before we move on, let's take a look at the specifications of the Gigabyte P67A-UD5, as obtained from the manufacturer's website:
CPU
1. Support for Intel® Core™ i7 processors/Intel® Core™ i5 processors/ Intel® Core™ i3 processors/Intel® Pentium® processors/Intel® Celeron® processors in the LGA1155 package (Go to GIGABYTE's website for the latest CPU support list.)
2. L3 cache varies with CPU
Chipset
1. Intel® P67 Express Chipset
Memory
1. 4 x 1.5V DDR3 DIMM sockets supporting up to 32 GB of system memory
* Due to Windows 32-bit operating system limitation, when more than 4 GB of physical memory is installed, the actual memory size displayed will be less than 4 GB.
2. Dual channel memory architecture
3. Support for DDR3 2133/1866/1600/1333/1066 MHz memory modules
4. Support for non-ECC memory modules
5. Support for Extreme Memory Profile (XMP) memory modules
(Go to GIGABYTE's website for the latest supported memory speeds and memory modules.)
Audio
1. Realtek ALC889 codec
2. High Definition Audio
3. 2/4/5.1/7.1-channel
4. Support for Dolby® Home Theater
5. Support for S/PDIF Out
LAN
1. 1 x Realtek RTL8111E chip (10/100/1000 Mbit)
Expansion Slots
1. 1 x PCI Express x16 slot, running at x16 (PCIEX16)
* For optimum performance, if only one PCI Express graphics card is to be installed, be sure to install it in the PCIEX16 slot.
2. 1 x PCI Express x16 slot, running at x8 (PCIEX8)
* The PCIEX8 slot shares bandwidth with the PCIEX16 slot. When the PCIEX8 slot is populated with a PCI Express graphics card, the PCIEX16 slot will operate at up to x8 mode.
3. 1 x PCI Express x16 slot, running at x4 (PCIEX4)
* The PCIEX4 slot shares bandwidth with the PCIEX1_1 and PCIEX1_2 slots. When the PCIEX1_1 slot or the PCIEX1_2 slot is populated with an expansion card, the PCIEX4 slot will operate at up to x1 mode.
4. 2 x PCI Express x1 slots
(All PCI Express slots conform to PCI Express 2.0 standard.)
5. 2 x PCI slots
Multi-Graphics Technology
1. Support for 2-Way ATI CrossFireX™/NVIDIA SLI technology
(The PCIEX16 and PCIEX8 slots only.)
Storage Interface
Chipset:
1. 2 x SATA 6Gb/s connectors (SATA3_0, SATA3_1) supporting up to 2 SATA 6Gb/s devices
2. 4 x SATA 3Gb/s connectors (SATA2_2~SATA2_5) supporting up to 4 SATA 3Gb/s devices
3. Support for SATA RAID 0, RAID 1, RAID 5, and RAID 10
* When a RAID set is built across the SATA 6Gb/s and SATA 3Gb/s channels, the system performance of the RAID set may vary depending on the devices being connected.
Marvell 88SE9128 chip:
1. 2 x eSATA 6Gb/s connectors (eSATA/USB Combo) on the back panel supporting up to 2 SATA 6Gb/s devices
2. Support for SATA RAID 0 and RAID 1
USB
Chipset:
1. Up to 10 USB 2.0/1.1 ports (6 on the back panel, including 2 eSATA/USB Combo, 4 via the USB brackets connected to the internal USB headers)
1 x Renesas D720200 chip and 2 x VLI VL810 hubs:
1. Up to 8 USB 3.0/2.0 ports (4 on the back panel, 4 via the USB brackets connected to the internal USB headers)
* The USB 2.0 signals of the 4 USB 3.0/2.0 ports on the back panel are from the Chipset.
IEEE 1394
T.I. TSB43AB23 chip:
1. Up to 3 IEEE 1394a ports (2 on the back panel, 1 via the IEEE 1394a bracket connected to the internal IEEE 1394a header)
Internal I/O Connectors
1. 1 x 24-pin ATX main power connector
2. 1 x 8-pin ATX 12V power connector
3. 2 x SATA 6Gb/s connectors
4. 4 x SATA 3Gb/s connectors
5. 1 x CPU fan header
6. 3 x system fan headers
7. 1 x power fan header
8. 1 x Chipset fan header
9. 1 x front panel header
10. 1 x front panel audio header
11. 1 x S/PDIF Out header
12. 2 x USB 2.0/1.1 headers
13. 2 x USB 3.0/2.0 headers
14. 1 x IEEE 1394a header
15. 1 x clearing CMOS button
16. 1 x power button
17. 1 x reset button
Back Panel Connectors
1. 1 x PS/2 keyboard/mouse port
2. 1 x optical S/PDIF Out connector
3. 1 x coaxial S/PDIF Out connector
4. 2 x IEEE 1394a ports
5. 4 x USB 2.0/1.1 ports
6. 4 x USB 3.0/2.0 ports
7. 2 x eSATA/USB Combo connectors
8. 1 x RJ-45 port
9. 6 x audio jacks (Center/Subwoofer Speaker Out/Rear Speaker Out/Side Speaker Out/Line In/Line Out/Microphone)
I/O Controller
1. iTE IT8728 chip
H/W Monitoring
1. System voltage detection
2. CPU/System temperature detection
3. CPU/System/Power fan speed detection
4. CPU overheating warning
5. CPU/System/Power fan fail warning
6. CPU/System fan speed control
*Whether the CPU/system fan speed control function is supported will depend on the CPU/system cooler you install.
BIOS
1. 2 x 32 Mbit flash
2. Use of licensed AWARD BIOS
3. Support for DualBIOS™
4. PnP 1.0a, DMI 2.0, SM BIOS 2.4, ACPI 1.0b
Unique Features
1. Support for @BIOS
2. Support for Q-Flash
3. Support for Xpress BIOS Rescue
4. Support for Download Center
5. Support for Xpress Install
6. Support for Xpress Recovery2
7. Support for EasyTune
* Available functions in EasyTune may differ by motherboard model.
8. Support for Dynamic Energy Saver™ 2
9. Support for Smart 6™
10. Support for Auto Green
11. Support for eXtreme Hard Drive (X.H.D)
12. Support for ON/OFF Charge
13. Support for Cloud OC
14. Support for Q-Share
Bundle Software
1. Norton Internet Security (OEM version)
Operating System
1. Support for Microsoft® Windows® 7/Vista/XP
Form Factor
1. ATX Form Factor; 30.5cm x 24.4cm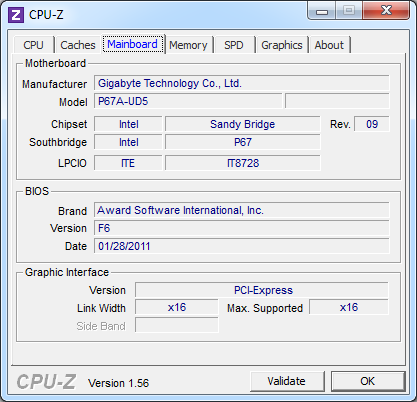 CPU-Z screenshot of the motherboard tab running Gigabyte's GA-P67A-UD5 in Windows 7 Professional x64. At press time, we were using Gigabyte's F6 BIOS revision. This is the latest BIOS revision at the time of writing this review.
---
Page Index
1. Introduction, Features, and Specifications
2.
Bundle, Chipset, BIOS
3.
A Closer Look, Board Layout, Test System
4.
Benchmarking Results - Absolute Values
5.
Onboard Sound (RMAA 6.2.3) Analyzation
6.
Overclocking and Conclusion