By: Jonathan Kwan
September 18, 2015
What is the difference between a luxury and an overkill? As I sit here at 2:25pm on a Tuesday afternoon contemplating about this question, the more I think, the more I realize the line is not as clear as I have first imagined. In my opinion, luxury has a lot to do with function, while overkill is more so related to purpose. For example, if I buy a luxury car, I would like to see things like massage seats, high quality leather, hands-free trunk release, and so on. All of these serve a practical purpose to some extent, but most people can do without. On the other hand, an overkill is like me buying a computer with an Intel Core i7-6700K, 32GB of RAM, several SSDs in RAID, and an NVIDIA GeForce GTX 980 Ti to send emails and watch YouTube. A $500 computer can do the same thing just as well functionally; you are simply not harnessing the extra processing power available on the gaming PC. However, some things are not so clear cut. Advertised as the fastest keyboard in the world, the SteelSeries Apex M800 is quite a keyboard: Equipped with independently programmable illuminated keys and advanced lighting effects, featuring not one, but two, processors inside to ensure no keystrokes are ever missed, the company's latest creation is aimed to woo you with unmatched customization and attention to detail. Simply put, this is not your run-of-the-mill RGB mechanical keyboard. Of course, with epic features come a somewhat epic $200 price tag, which begs the question, is the SteelSeries Apex M800 a luxury or an overkill? We took one in to find out.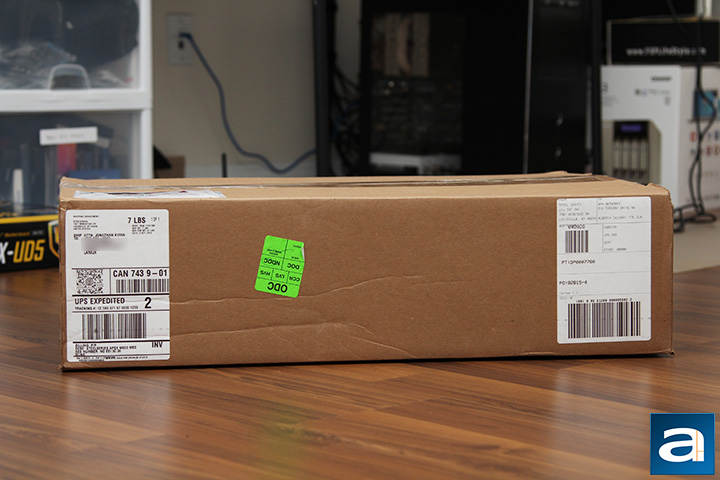 Our review unit of the SteelSeries Apex M800 came in a rather large, brown corrugated cardboard box from the company's American offices. In the past, the Siberia V3 Prism came from California, while the Sensei Wireless was shipped out of Chicago, so I will let you make a guess where the Apex M800 came from. If you answered either of the above, then you are wrong. It actually came from Louisville, Kentucky. Wait... what? It seems SteelSeries can ship from anywhere in America, haha. Anyway, that aside, using UPS Expedited, everything arrived in excellent condition to us here in Calgary, Alberta, Canada for our review today.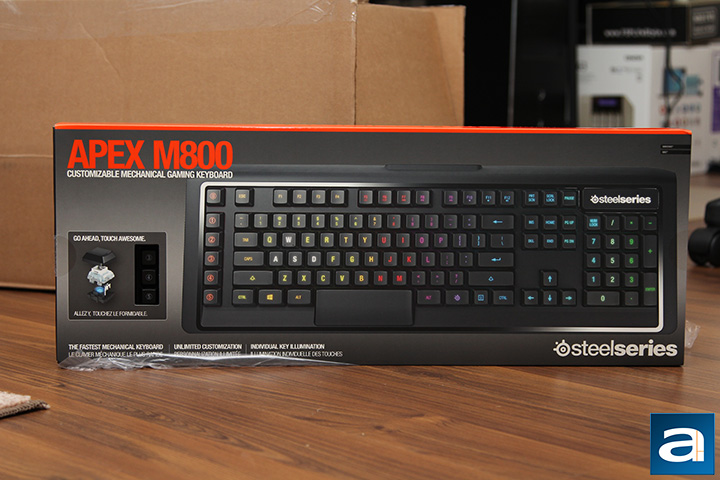 Our review unit of the SteelSeries Apex M800 came in retail packaging. The design theme has not changed much 2011, other than some evolutionary elements like the orange strip at the top, as well as bold product name and company branding at the top left corner and bottom right corner, respectively. I am a big fan of SteelSeries' clean and modern design, and these minor changes contribute well to the overall look. The black and dark grey background is accentuated by white text printed on it. A photo of the keyboard itself can be seen occupying the majority of the box in the middle. On the left, a cutout allows you to physically touch the keyboard and feel the QS1 mechanical key switches. Feature highlights can be seen in the front, with more detailed descriptions at the back. If I were to see the SteelSeries Apex M800 in a retail store, this will definitely give me a pretty good idea of what the product is, along with what makes it special. I will have to give the company a pat on the back for providing to the point information in an appealing package.
Before we move on, let us take a look at the specifications of the SteelSeries Apex M800, as obtained from the manufacturer's website:
SIZE & WEIGHT
Weight: 1390g (3.06 lbs)
Width: 510mm (20.08 in)
Height: 174mm (6.85 in)
Depth: 41mm (1.61 in)
USB Cable Length: 2m (6.6 ft)
KEYS & SWITCHES
Anti-Ghosting: Zero Ghosting, 256 Keys at Once
Extra Quick Access Keys: 6
All Keys are Programmable
Multimedia Controls: One-Touch via F-Keys
QS1 Switch: 3mm Throw, 1.5mm
Activation/Reset, 45cN Force. 60M Clicks
STEELSERIES ENGINE
Intuitive and Simple Macro Editor
Text-based Macros (Direct to Console)
Set Custom Profiles Per Application
Switch Profiles Across All Your SteelSeries
Engine Devices
ILLUMINATION
Number of Illumination Colors: 16.8 million
Unlimited Lighting Layers,
Preset Effects, Create Your Own
Illuminated Custom Cooldown Timers
Individually Illuminated Keys: Centered LED, Clear Housing, Minimized Bleed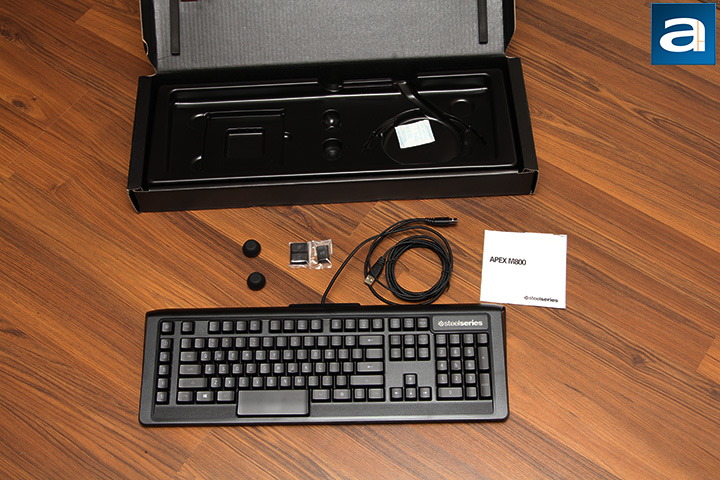 Contents inside the retail package can be removed after opening either the left or right flap on the exterior box. The keyboard, in conjunction with a small amount of accessories, is secured inside a cardboard tray enclosed by a flap top. As you can see in our photo above, the bundle is pretty minimal, which is somewhat unusual for an upper market gaming keyboard. Out of the box, in addition to the SteelSeries Apex M800 keyboard, you will find two rubber risers (More on this later), some SteelSeries stickers, and a quick start guide. Three key caps, CMD, left ALT, and right ALT, are included, but it comes with no cap puller. Also, the Apex M800 is not natively designed for a wrist rest, nor is a detached one included, unless you order it directly from their website.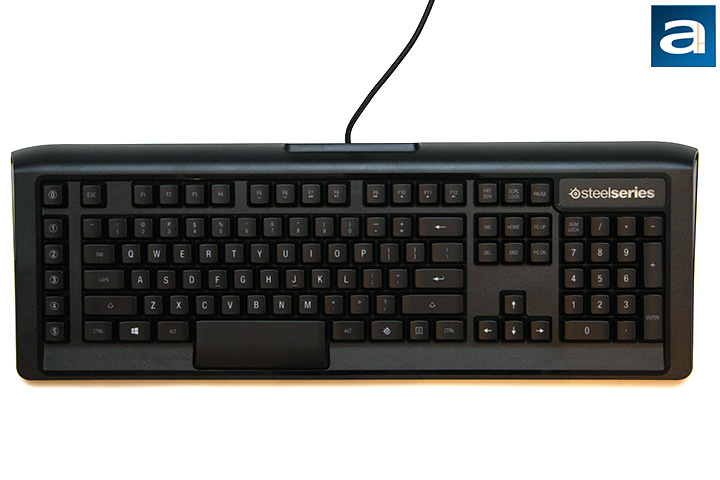 The SteelSeries Apex M800, at first glance, is even more subtle looking than the SteelSeries Apex I reviewed nearly two years ago. The M800 is all about the lighting effects, and I will demonstrate and discuss its epic lighting prowess in just a moment. Like its corporate relative, the textured plastic construction around the outer surfaces is comfortable to touch. There is no integrated wrist rest as aforementioned, but if you shell out $200 USD to buy this keyboard directly from their website, they will throw one in for free with your order. I would much rather have one natively designed for it out of the box, considering the price of this product. I am also not a fan of what is essentially an aftermarket wrist rest.
The Apex M800 does away with most of the piano black, glossy plastic finish we have seen with the original Apex. Now, it is only present as a strip around near the outer parameters, as shown in the photo above. Piano black finishes are always good to look at, but everyone knows they are epic fingerprint magnets. Thankfully, unless you have very sweaty hands, chances are it will not be as big of an issue, since its surface area is small. As far as the keyboard layout is concerned, the Apex M800 is pretty traditional; but a few elements may catch your eye right off the bat. For me, it has to be the extra-large spacebar. The dual row spacebar makes it practically impossible to miss for the clumsiest of all. To be fair, have I ever missed hitting the spacebar in any other keyboard in the past? Absolutely not, but the Apex M800's design makes it very comfortable to type use, yet it requires no particular adjustment for the end user. There are no detrimental effects to having a big spacebar. You will not get the dual row Escape key as it was with the Apex, but you are not missing much in my opinion.
With six dedicated macro keys in a single layer configuration, the SteelSeries Apex M800 comes in at 51cm width, 17.4cm depth, and 4.1cm height according to the manufacturer. It certainly is not compact, but it is not large, either. To go along with its medium footprint and medium profile, the keyboard weighs about 1390g according to the manufacturer. This is pretty heavy, but this is expected from a mechanical keyboard. If you do not know what a mechanical keyboard is, there are three main types of keyboards in the market today. The cheapest is the membrane keyboard, which is the easiest to make, but also has poor typing feel and response due to squishy keys. A scissor switch keyboard has its own independent key switch mechanism for each key, which delivers improved tactile response and typing experience. Modern scissor switch keyboards can be very good for everyday office use. Mechanical keyboards such as the SteelSeries Apex M800 costs the most, because each key switch is an independent part. Unlike every mechanical keyboard I have used in the past, the M800 with SteelSeries' QS1 mechanical switches is actually really quiet in use. In fact, they are just as quiet as the membrane based Apex, which blew my mind. Word on the street is the switches are co-developed with Kailh. The maximum key travel distance of the QS1 is 3mm, with actuation at 1.5mm. Actuation force is specified at 45cN, so think of it like a short travel Cherry MX Red with a silencer. SteelSeries claims they even optimized the shape of the low profile keys for maximum usage speed. The Apex M800 will take some time to adjust to, but the end experience is an absolute pleasure to type on.
The SteelSeries Apex M800 is a full NKRO keyboard. NKRO stands for N-key rollover, where 'N' is 256 in this case. This is a bit of a moot point, since the Apex M800 does not have 256 keys, and even if it does, I would be impressed if you can press all of them concurrently. If you have used keyboards with limited NKRO capabilities, you may have experienced ghosting issues in the past -- where when too many keys are pressed at the same time, your system unable to register any more strokes. A full NKRO keyboard like the SteelSeries Apex M800 overcomes this by independently polling each key, making all inputs detectable by the hardware, regardless of how many other keys are activated at the same time. This mean in the event you have every other key on your keyboard depressed, it will still register the last stroke. To make things even more hardcore, the Apex M800 is equipped with dual processors, where one of them is dedicated to processing key presses for best performance. Overkill or luxury? You decide. As expected, the base is rock solid, so you will not get any keyboard flex, which is excellent.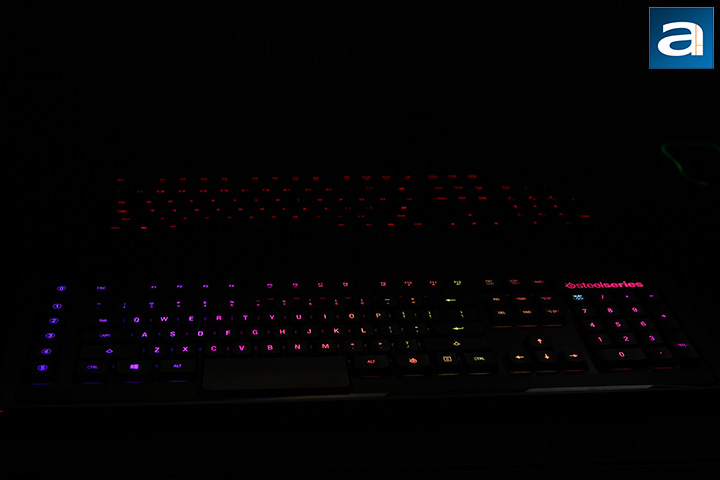 The real highlight of the SteelSeries Apex M800 is its amazing lighting effects. Once plugged in, this keyboard is simply stunning in every way. Shown in the photo above is the Apex M800 in front, and the Func KB-460 at the back. SteelSeries' clear domes with center LEDs make everything bright and mostly evenly lit, but the story does not end here. The Apex M800's backlight behavior can be customized for further wow-inducing responses. What is more impressive is it goes beyond just letting you see keys in the dark or impressing girls, but it can be made to serve practical purposes. Simply put, it takes lighting effects to a whole new level, putting even the original Apex -- a lighting effects star in its own right -- to shame.
The SteelSeries Apex I reviewed last year were separated into five different zones for illumination options. With the Apex M800, the company took it to the extreme, and allowed every key to be individually configurable. This means, with 16.8 million colors to choose from, you can theoretically make every key a different color. Exactly why you would like to do that is beyond me, but I am just saying you can do it. You can even change the color of the SteelSeries logo at the top right corner. The color of the side LED strips is the only part that is not truly independent, as it follows the setting of the SteelSeries logo.
Shooting a photo does not do the SteelSeries Apex M800 much justice when it comes to lighting effects. A lot of things can be programmed to happen in real time, and besides traditional RGB keyboard effects like animated color wave or breathe, this keyboard has quite a number of cool options, too. One of them is Cooldown Timers, which allows you to use certain keys to keep track of time. For example, if I programmed 'W' on Cooldown Timer for three seconds, pressing 'W' will turn the key's LED off for three seconds. This way, I will know when certain in-game items are ready for use. Another one is GameSense, which visually groups keys on your keyboard into a progress bar for displaying vital in-game data such as ammo or health. It is only compatible with Counter Strike: Global Offensive at press time, with more to come later on.
For eye candy only, the SteelSeries Apex M800 has something called Reactive Keys. Basically, the M800 will "ghost" your keystrokes by temporarily changing the colors of keys you have just engaged. Furthermore, the keyboard also has something called Active Mode and Idle Mode. Active Mode is the default setting when you are using your keyboard. But the Apex M800 can enter Idle Mode after a set period of time, essentially like a screensaver, which can show off lighting effects as distracting as possible without impeding your everyday use.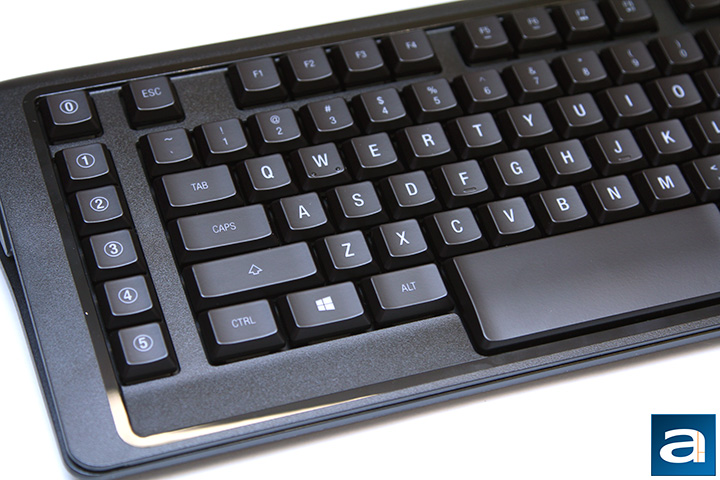 A closer shot at the left side of the SteelSeries Apex M800. As you can see in the photo above, six dedicated user programmable keys labeled 0 through 5 are located here. Of course, every key on the Apex M800 can be programmed individually, and function as any standard keyboard key, mouse button, media control, or application. You can record macros as well. The software allows you to create a virtually infinite number of profiles for different key configurations and lighting effects. The SteelSeries Apex M800 has no onboard memory, but all your settings are synchronized to the cloud when linked to your SteelSeries account.
Regular keyboards have bumps on the F and J key, so the user can easily align their fingers on the home row without looking. The SteelSeries Apex M800 takes this one up, and has two dots on the W key, so the user can get their WASD battle positions ready quickly. Because the two dots are situated near the outer corners, it will not serve as a distraction during normal usage. The uber large spacebar can be spotted at the bottom as aforementioned. Once again, I have to say it is definitely a welcomed addition, as it makes it easier to hit, with no detrimental side effects.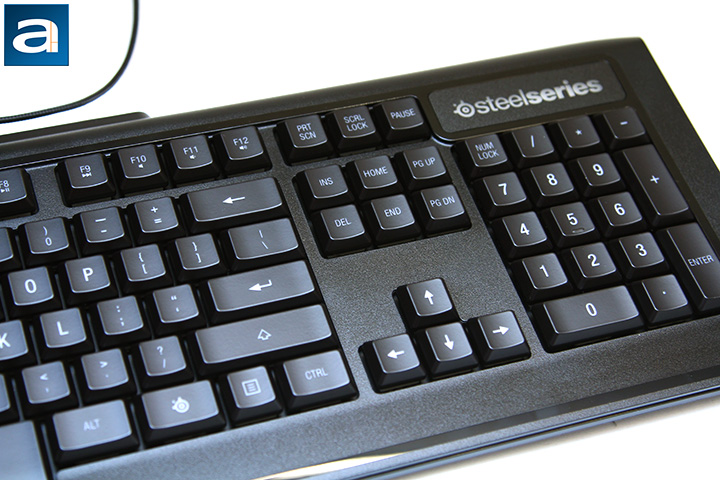 Almost everything here is pretty standard in terms of layout, with a few additions. That said, the arrangement of production keys is in classical formation -- users who are used to the Logitech arrangement will need to switch back. I am a big fan of the single row Enter key layout, as present on the SteelSeries Apex M800. Keyboards with a double row Enter key usually means the "\" button is moved to the left side of the right "Shift" key; reducing the size of the latter. I am more used to having a full width Shift on the right, and a half height Enter. Obviously, this is more or less personal preference, but having a half height Enter key makes a lot more sense to me.
One of the highlights of this keyboard is the SteelSeries key, which is basically a rebranded Function key. If you hold down the SteelSeries key, it will turn off all the LEDs on the keyboard, except for the Windows key, and F5 through F12. Hit the Windows key in combination with the SteelSeries key, and it will toggle on or off. This is an important feature in any gaming keyboard, because let us face it: How many times have you tried to duck in your favorite FPS while engaging an enemy, only to be killed instantly, because you missed the "Ctrl" key and your game was minimized? This is a legitimate issue, and the Win Lock function is a good solution. For most people who did not read this review, you will need to look at your user manual to figure out this command -- something most people will not bother with. One small flaw I find with this feature on the SteelSeries Apex is the lack of a Win Lock visual indicator. For other buttons like Caps Lock, Num Lock, and Scroll Lock, you can easily program its active and inactive colors. Unfortunately, the same could not be done with the Windows key. There is no way to tell if the lock is engaged or not until you actually press it. For some inexperienced users, if Win Lock is engaged without their knowledge, they may think that particular key is broken.
The SteelSeries key also allows auxiliary functions on keys F5 through F12. Backlight intensity can be adjusted in eight levels, where the lowest level is off. The media control section allows you to skip back, play/pause, skip forward, increase volume, decrease volume, and mute your audio.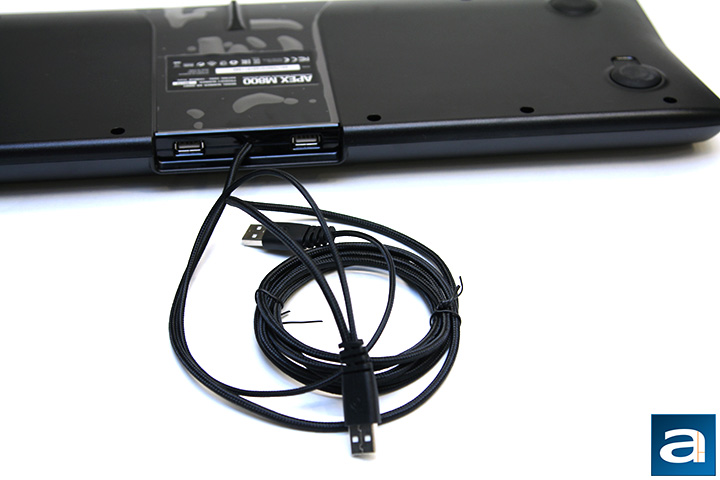 At the back of the SteelSeries Apex M800 is the USB cable lead out. It comes out in the middle, and is not detachable. There are two USB connectors at the end of the cable, which, if you look at the back of the keyboard, are also two USB ports. If you plug the USB connectors from the keyboard back into the Apex M800's USB ports, you would have made yourself a nice wireless keyboard. (Just kidding, this is not how it works.) On the serious side of things, the two USB ports at the back of the Apex M800 serve as a USB hub. Obviously, the USB cable goes to your computer. However, if you want the ports to be properly powered, you will need to plug in the second connector to your PC to supply additional current.
This nicely braided cable extends two meters in length, and connects to your computer by a regular USB connector. It is not gold plated, but it does not matter. When we bring about the question of whether gold plated connectors are actually useful or not, let us just say if it was the actual pins, then possibly -- since gold offers better conductivity than other metals. This theoretically establishes a better connection with your computer, but on a digital signal level, we must understand it is a discrete one or zero; so if anyone tells you they can tell the difference, you can definitely defeat their theory with a double blinded test. Additionally, if you are referring to the gold part of the connector you see on the plug, I would like to point out it actually does not make any physical contact electrically with your computer. In other words, it is nice to have, and it is pretty to look at, but it is not anything significant on a practical level.
At the bottom are four rubber feet to help the SteelSeries Apex M800 stay in place during intense gaming sessions. It works reasonably well according to my experience. By default, this keyboard is tilted a few degrees towards the user. The back rubber feet can easily be replaced by taller ones included out of the box to further increase the tilt angle. No keyboard drain holes are available, so be sure to keep your Mountain Dew far away.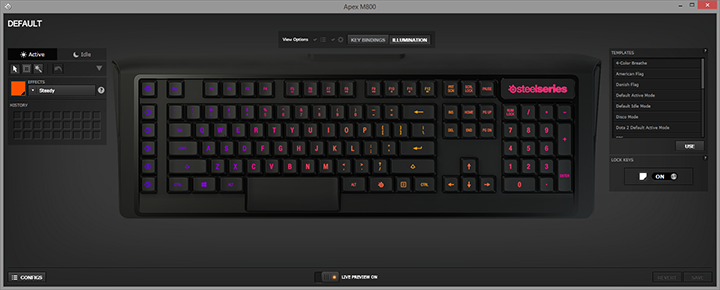 The SteelSeries Apex M800 is managed by the familiar SteelSeries Engine software; the same program used for other hardware from the company like the SteelSeries Sensei Wireless. Upon installation, it will automatically update your keyboard firmware to the latest version. Here, you can custom tune everything from zone illumination color to custom macro combinations. SteelSeries Engine 3 is reasonably easy to use, with a clean and intuitive interface.
Once the SteelSeries Apex M800 is selected from the left hardware devices menu, two tabs at the top will allow you play around with settings on your keyboard. The first screen is Key Binds, where you can program any individual key to do virtually anything. This includes recording macros, or function as a regular keyboard key, mouse button, media control, or application. Our screenshot above was taken in the Illumination screen, which is the second tab. Here, you can harness the lighting prowess of this keyboard. I am not going to reiterate what you can do with the Apex M800, as I have discussed this earlier in this review already. Using SteelSeries Engine 3, you can easily select single or a combination of keys to do various things. You can define totally separate lighting effects for Active Mode and Idle mode as well. If being creative is not your thing, standard templates are available on the right, where you can quickly turn your SteelSeries Apex M800 into an American flag or activate Disco Mode in one click. Waving Stars and Stripes outside of USA may not gain you friends in many parts of the world though; you have been warned.
-----------------------------------------
Is the SteelSeries Apex M800 a luxury or an overkill? Unless you are buying one to compose school reports or write emails, on a scale that slides between luxury and overkill, I would say it leans more on the luxury side. And who can talk about the SteelSeries Apex M800 without talking about the way it lights up? The SteelSeries Apex M800 features some of the most amazing lighting systems in the industry; with highly customizable individual key illumination, cool preset templates for those who do not feel like being creative at the moment, and stunning animated effects to simply wow people. The software is also stable and intuitive to use, making the overall experience very positive. But its amazing lighting system goes beyond just eye candy. Stuff like Cooldown Timers and GameSense adds a whole new layer of user experience to your gaming setup. Simply put, the Apex M800 is brilliant, and quite literally, too. Besides its advanced illumination options, SteelSeries' latest mechanical keyboard is both show and go at the same time. The QS1 key switches are a joy to type on, and get this -- it is also quiet. Quiet and mechanical is a rare combination, but you can actually get the best of both worlds here. With its low profile and short travel, the Apex M800 almost feels like a laptop keyboard that is mechanical, but with no lag and no ghosting. All in all, the SteelSeries Apex M800 is a well built, well refined, and well thought out keyboard. My only gripe is it is not designed to have a wrist rest natively, which is too bad. SteelSeries will throw a detached one for free if you buy it from their website, but in my opinion, it is just not as good as having one that comes designed for the keyboard from the start. For about $200 at press time, the SteelSeries Apex M800 is a seriously powerful keyboard with high quality hardware and unmatched lighting effects. Overkill or not is how you plan to use it, but luxury is no question.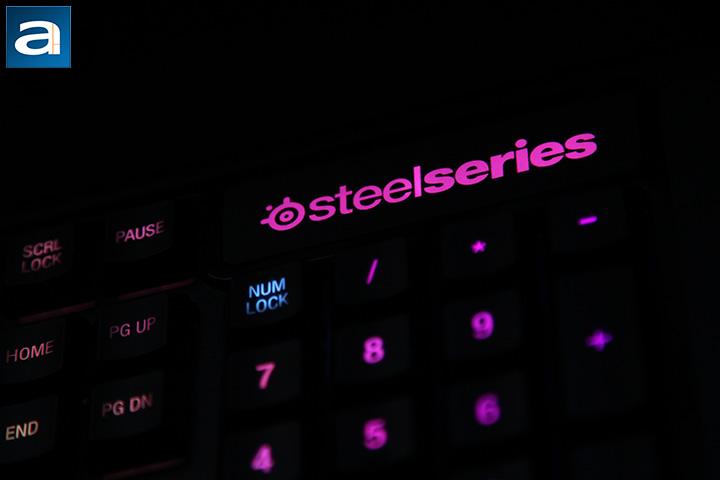 SteelSeries provided this product to APH Networks for the purpose of evaluation.

APH:Renewal Award | APH Review Focus Summary:
8/10 means Definitely a very good product with drawbacks that are not likely going to matter to the end user.
7/10 means Great product with many advantages and certain insignificant drawbacks; but should be considered before purchasing.
-- Final APH Numeric Rating is 7.7/10
Please note that the APH Numeric Rating system is based off our proprietary guidelines in the Review Focus, and should not be compared to other sites.
Get out your Amex for the Apex: For $200 USD at press time, the M800 has some of the best lighting effects in the industry, along with some sweet QS1 mechanical switches for an excellent typing experience.
Do you have any comments or questions about the SteelSeries Apex M800? Drop by our Forums. Registration is free, and it only takes a minute!