By: Aaron Lai
October 30, 2015
In the summer I went to a lab to get blood work done for my annual checkup. As this was the first time I ever did any kinds of these tests, I made a number of rookie mistakes. I was told if I went in early, I would be able to get out quickly. However, if I did not, I was told to book an appointment. Unfortunately, I ignored both advice, and went right after work without booking an appointment. This left me waited at the Calgary Lab Services for over two and a half hours. When I told my friend about this, she asked me why I did not bring a book. In my mind, I did not expect to wait so long, and it would have required me to bring a book to work. She then said she always prepared for times like this by bringing a book or at least something to do. Playfully, I retorted back by saying she should carry her entire house just in case to be ready for everything. Aside from the joking, I think her point was more about being ready for the unexpected. Now, this is not exactly an easy task, considering it requires a bit of prediction based on experience. If you do not have any experience of waiting at an office before, you probably would not expect to wait for long times. But this is the reason why those with severe allergies carry Epi-Pens, or why some stash some band aids and tissue in their bags. These safeguards ensure we are ready for the unexpected reaction, sneeze, or cut. When we received today's review unit of the Cooler Master Storm Quick Fire XTi, I felt like I was ready for this keyboard. I reviewed the original QuickFire XT over two years ago, and it was a great down-to-earth mechanical keyboard. With this new one bearing almost the exact same name, I can only wonder if this is mostly the same keyboard. Will Cooler Master prove me wrong with some shocking changes and catch me unprepared? Let us read on to find out more!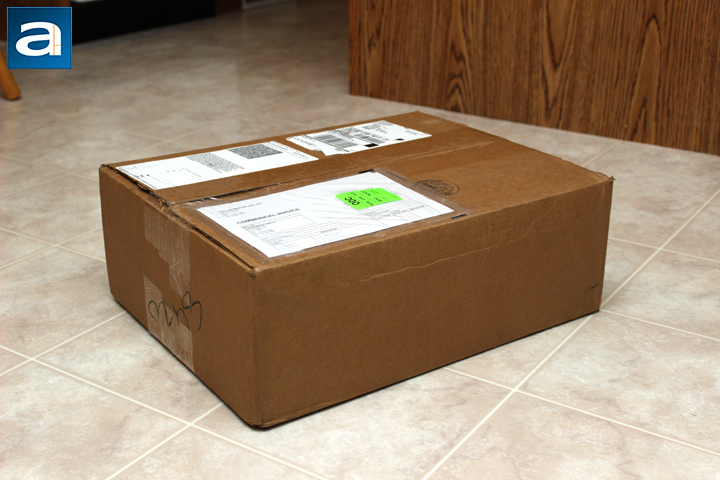 Cooler Master seems to have heeded the advice from the Legend of Zelda, as they knew it was dangerous to send a single keyboard by itself to us. Instead, we have three Cooler Master Storm keyboards, the NovaTouch TKL, Rapid-i, and of course, today's XTi. The Rapid-i will be reviewed in the future by my fellow editor Preston Yuen, and I will be covering the NovaTouch TKL in the weeks to come. Anyway, the parcel was shipped to us from Chino, California, where the headquarters of Cooler Master is located. This city is quite well known to us by now, as many other products from Cooler Master and other companies have shipped from the same origin. Traveling with the guys in the brown suits, UPS delivered this parcel with very few dents or scratches, which is good to see.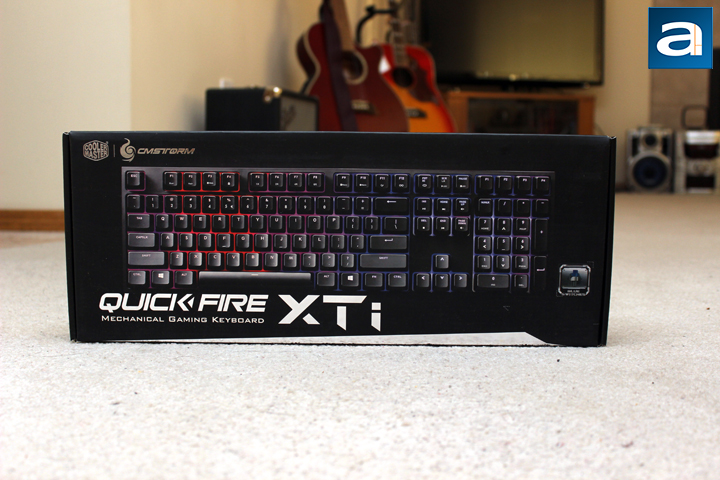 I opened up the parcel, pulled out the three keyboards, and set aside the other two. The Cooler Master Storm Quick Fire XTi is pictured above in its retail packaging. I have to say the first thing I was surprised about was the size. Unlike most mechanical keyboards I have been reviewing recently, this box is quite compact and small. On the front we have the product name, with a scaled down photo of the Quick Fire XTi. With this photo, you can already tell why the box is so small, as there is very little extra body around the keyboard itself. Cooler Master and their gaming lineup CM Storm logos are both found on the top left corner too. Finally, the last thing to note is on the right side, which is a picture saying the keyboard included is the Cherry MX Blue. On the back there are a few more features and specifications. Overall, the box is very clean and organized, with little clutter. Cooler Master is one of the few veterans we have had for quite a while, and their box design is always top notch.
Before we continue in this review, let us browse the specifications, as obtained from the manufacturer's website.
Specifications
- Key Switch Type: CHERRY MX Blue/ Brown/ Red (Availability may vary by region)
- Key Rollover: NKRO (Windows only)
- Keycaps: ABS, grip coated, removable
- Polling Rate: 1000 Hz/1ms
- Backlight: Full backlit, 35 colors, 5 settings
- Windows Key Lock: Yes
- Media Keys: Yes (via F keys)
- Interface: Micro USB 2.0, full speed
- USB cable: 1.8m braided, gold plated and removable
- Dimensions: 43.9 x 13 x 4.1 cm (L x W x H), 17.28 x 5.12 x 1.61 inch (L x W x H)
- Weight: 1114 g / 2.46 lbs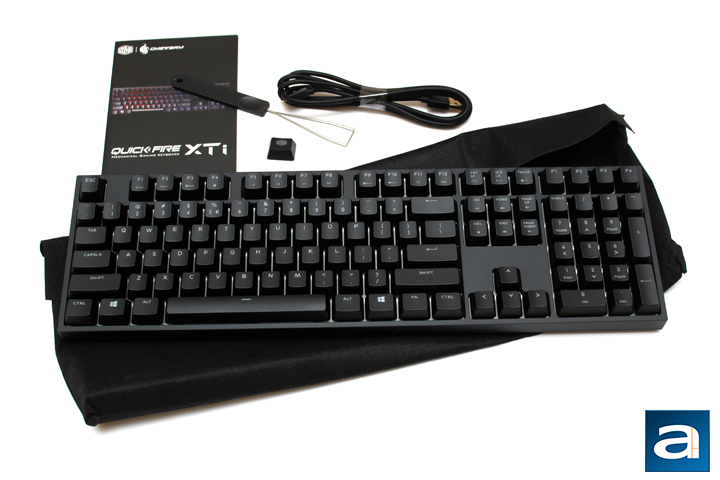 Out of the box, you will find a few things. For one, the keyboard comes wrapped in a nice black mesh bag to avoid any scratches or scuff marks on the keyboard. Then there is a removable male to male micro USB 2.0 to full sized USB 2.0 braided cable. Finally, there is a wire key cap puller and a small Cooler Master branded key cap, in case you want to replace any of your keys with the manufacturer's logo. There is also a small user manual containing many keyboard shortcuts for different key options. I will be covering these additional functions later on in the review. The manual also contains warranty information. Just to note, Cooler Master offers a two year warranty on their keyboards. Unfortunately, there is no wrist rest included here. Otherwise, there is not much else to look at, so let us dive into the keyboard itself.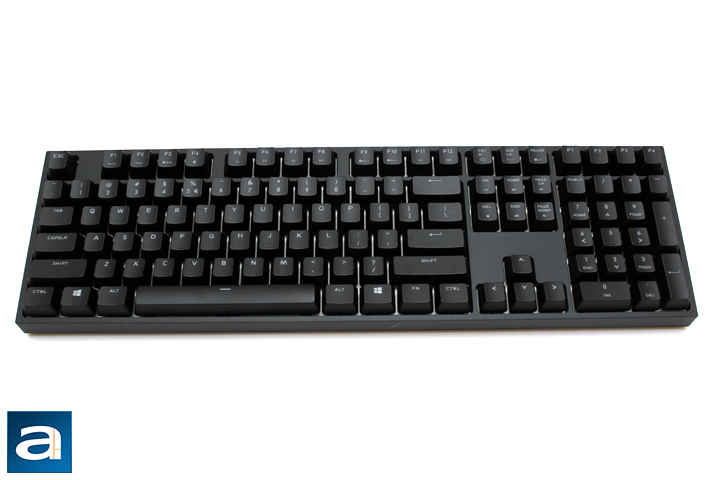 As I have mentioned before, one thing I was surprised with when I opened the parcel was the size of the Cooler Master Storm Quick Fire XTi's retail box. Even with all the packaging off, I am still shocked at how compact Cooler Master made their keyboard. The design is very clean but also tightly spaced. It is in no way distracting, and is really the bare minimum in terms of looks. When it comes to appearances, I think less is more, and Cooler Master has done an excellent job in restraining themselves from adding their own logos to the keyboard. The result is a perfectly clean keyboard, and other manufacturers should really take this approach with their products. Around the keys, the Quick Fire XTi's frame is a hard black plastic, which again is nothing shocking, but rather quite functional. Overall, I think Cooler Master deserves top notch praise in their product design, as I really appreciate their minimalist approach.
Without the measuring tape, you can already tell the Cooler Master Storm Quick Fire XTi is one of the smaller 104-key keyboards. More precisely, the Quick Fire XTi measures in at 439 x 130 x 41 mm (W x D x H). Compared to the slimmer keyboard I reviewed recently, the Tesoro Excalibur Spectrum, the XTi is smaller in all dimensions. In addition, this is one of the lighter full-sized mechanical keyboards at a mass of just over 1.1kg. This is quite a bit lighter than other mechanical keyboards we have seen in the past, and it makes sense especially if we take into regard the small size. I should note this is still quite heavy, so the Cooler Master Storm Quick Fire XTi should stay steady on your desk without any problems. In addition, despite the lighter weight, the Cooler Master Storm Quick Fire XTi feels very high quality in terms of build. There are zero creaks or flexing seen as I have observed in past mechanical keyboards, and everything seems to be very solid.
When it comes to layout, the Cooler Master Storm Quick Fire XTi arrived in the standard QWERTY ANSI 104-key American English layout. This is similar to practically all of my past keyboards, but I will highlight a few differences. For one, the Enter key is elongated, with the top of the key becoming a backslash key. Otherwise, the rest of the keys are in its standard place. One Windows key is placed on either side near the Alt button, with an additional Function button on the right side of the keyboard. You may be wondering where the lights for Caps, Num, and Scroll Lock are located, to which I will ask you to be patient as you will see soon enough. One thing I have noticed with the key caps themselves is how easy it is to create smudges. Even slightly damp fingers will create the ugliest fingerprints. I did not have this much of an issue with other keyboards, and I think the key caps could be improved to reduce the amount of smudge displayed.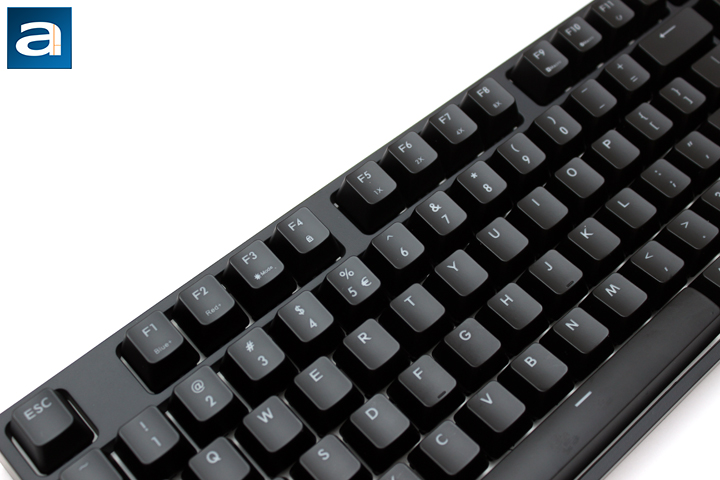 In addition to all the primary commands standard to most keyboards, there are a lot of secondary functions, which are all activated when you press the aforementioned Fn button in conjunction with your button of choice. Starting at the left side, F1 to F3 are the controls for the lighting effects, which I will explain later in the review. F4 is used for disabling the Windows key. This functionality is found in many keyboards nowadays, and is helpful when you are gaming and you accidentally hit the Win key in full screen games or applications. From F5 to F8, we have the ability to vary the repeat rates for each keystroke. I should note this actually combines repeat rate and repeat delay together. Thus selecting a higher repeat rate on the keyboard will increase the speed at which letters are repeatedly received, and decrease the delay for the computer to wait for repeating characters. On a day-to-day use, this is quite impractical, but this is very useful for gamers. As mechanical keys require a lift-off to repeatedly actuate, this allows gaming players to spam keys faster without the need to lift their fingers again.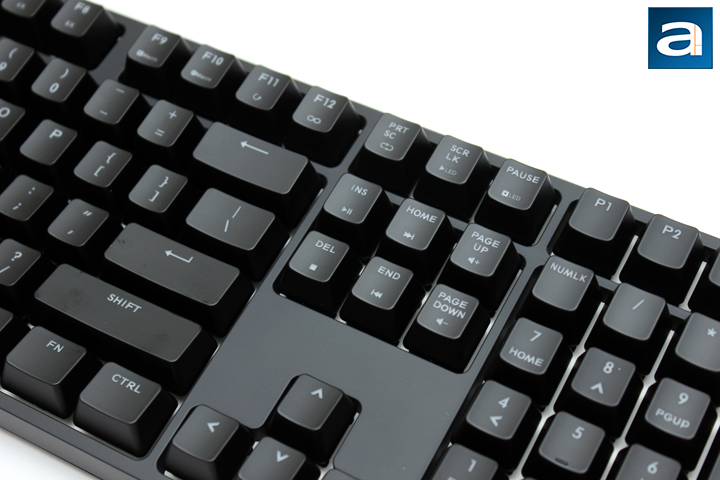 From F9 to Print Screen, these keys are used for macros. F9 allows you to record a macro on the fly, while F10 allows you to delete the macro you have recorded. F11 is used to execute a single macro loop, while F12 toggles the macro loop on and off. Next, Print Screen allows you to loop your macro continuously, until it is canceled by Fn + Esc. Pressing Function and Scroll Lock or Pause allows you to actually customize your LED colors. First, you can press Fn + Pause to start recording. The Fn key will light up and show you which color you are currently using from your palette. You can adjust the color with the F1 and F2 keys. Then you can press any key to make it the color selected. After all your selections are done, you can exit this by pressing Fn + Esc. Overall, the macro and LED recording is simple, but I would wish for some instructions for the LED recording. While it is easy after doing it once or twice, initially the steps can be a bit confusing. Either way, it is nice to see both of these implemented without requiring any software on the computer itself.
Above the arrow keys are where the media keys exist, and from left to right, they are Play/Pause, Stop, Next, Previous, Volume Up, and Volume Down. All of these work as you would expect with most media software, such as Windows Media Player or VLC Player. Finally, the last set of different keys are the profile keys, and they are found right above the number pad. The Cooler Master Storm Quick Fire XTi can store up to four different profiles, with the macro and LED settings recorded for each. If you have made too many changes to your profile, you can reset it to default by pressing Fn + Esc.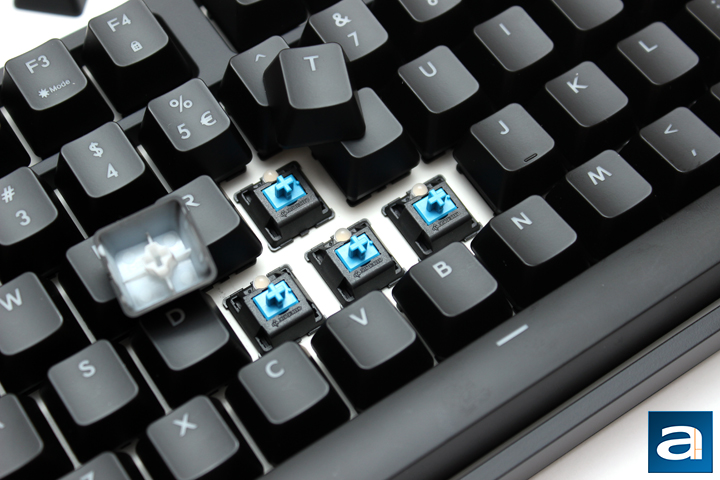 As for key rollover, the Cooler Master Storm Quick Fire XTi offers NKRO mode over USB. NKRO is abbreviated for n-key rollover, and it refers to the number of keys which are independently scanned by the hardware. The larger the number, the more key presses detected regardless of other keys being pressed at the same time. In essence, this fixes ghosting issues found in cheaper and/or laptop keyboards. While ghosting is a bit of misnomer, and at times a marketing term, there are cases where keyboards will not be able to recognize more than one keystroke at a time, which can cause for missed keys. This can be frustrating when you are playing games, or even if you are just a very fast typist. Generally, 6KRO is usually quite sufficient, as it allows users to press six keys at a time, and the keyboard will recognize all six independent strokes. However, keyboards like the Cooler Master Storm Quick Fire XTi offer NKRO, which could mean any number of independent strokes larger than six. In general, most NKRO keyboards recognize around twenty different key presses, but last time I checked, I have only ten fingers.
Before continuing on, one of the best part of the Cooler Master Storm Quick Fire XTi is its mechanical key switches. This section has been adapted from Jonathan's Thermaltake Tt eSPORTS Meka G-Unit review in October 2011. There are three main types of keyboards in the market today. The cheapest is the membrane keyboard, which is the easiest to make, but also has poor typing feel and response due to squishy keys. A scissor switch keyboard has its own independent key switch mechanism for each key, which delivers improved tactile response and typing experience. Modern scissor switch keyboards can be very good for everyday office use. Mechanical keyboards such as the Quick Fire XTi costs the most, because each key switch is an independent part.
Our unit of the Cooler Master Storm Quick Fire XTi features Cherry MX Blue mechanical switches. Other switches are available for this model, including Cherry MX Red and Brown. These keys are rated to last up to fifty million keystrokes, just like other Cherry MX switches. Blue switches are what I would call a switch aimed at typists. These switches feature low resistance to typing, low actuation force of around 50g to trigger them, and an audible 'click' on every key press. They feature a non-linear travel, with a tactile bump in the middle to tell you when the key has been actuated. Gamers can still use Cherry MX Blue switches, but the real issue comes with double tapping, since it requires a bit more force and travel distance for a double tap to be registered. Preference of which keys will come down to consumer opinion.
When I first tried this keyboard, I had some expectations in mind, considering this was not my first Cherry MX Blue keyboard. The last Blue switch keyboard I used was the Tesoro Tizona, and that was over a year ago. My daily driver, the Cooler Master Storm Quick Fire Ultimate, is a Cherry MX Brown, which is like a silent Cherry MX Blue. After reviewing many keyboards here at APH Networks, I can attest to the fact it takes a while to switch between flavors of mechanical switches. For example, I forgot how loud Blue switches could be in general. However, the Cherry MX Blues make this keyboard a pure joy to type on. It also makes you sound a lot more productive than you actually are. Joking aside, the clicky feedback is where the real greatness lies, as it gives a nice audible sound to each press. The Cherry MX Blue switches also provide good tactile feedback. For gaming, it is definitely louder noise in comparison to the Cherry MX Reds, and double pressing may be an issue depending on the game or the genre of games. As for overall quality of the Cherry MX Blue switch, these are pretty much as I expect from any Cherry switch, which is excellent.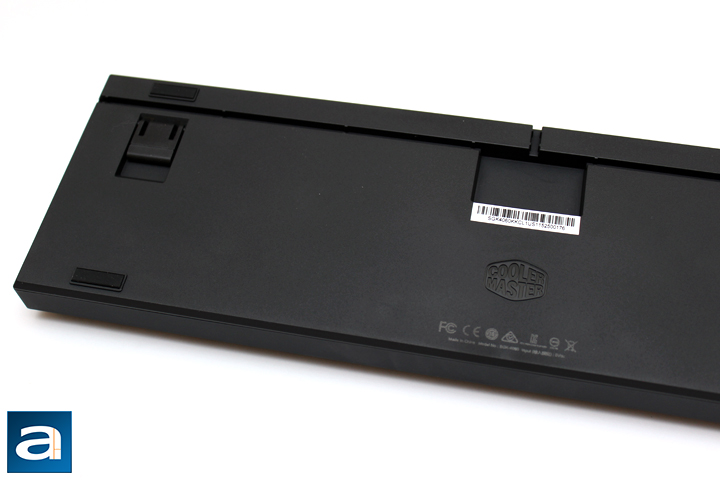 Flipping the keyboard to its underside, you have a few nice things to note. On the bottom is four rectangular rubber pads, one in each corner. At the back end on each side are two extending feet, which are also rubber wrapped to ensure grip to the table. Therefore, the rubber and the weight combined should keep the Cooler Master Storm Quick Fire XTi in place, whether it is elevated or not. In the middle of the back, there is a micro USB port, where the removable cable connects to. I should mention majority of mechanical keyboards use mini USB as their connection, so some users may find themselves forced to use a new cable. Since Cooler Master includes it anyways, switching out the old for the new is not a big deal. The real nice feature to point out here are the routing lanes for the wire. Cooler Master has integrated three different routes at the bottom of the keyboard, which allows you to wire your cables out either sides of the keyboard or out the back. Some of you might say this is no big deal, but I think this allows for all kinds of wiring, and giving users flexibility in their wiring is appreciated. Otherwise, there are is no audio passthrough or an additional USB port. I know I have never actually plugged something into my keyboard when it has a port, but it still would be nice to see.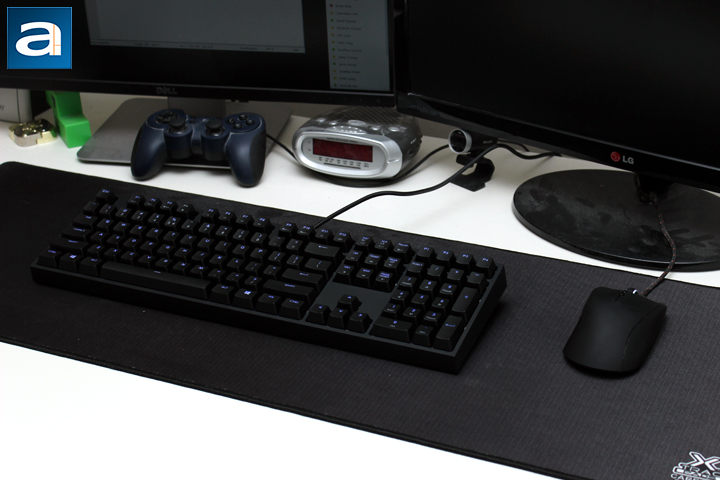 After all my physical inspections, I plugged the Cooler Master Quick Fire XTi into my computer, and sat down to type this review. Honestly, it did take a bit of time to get used to the different switches, but it definitely is fun to type on. The clicky response is really going to be a preference thing, as I have several friends who swear by it, and other friends who like other switches. Once again, it is best to figure out what you like, and understand the tradeoffs between each kind of switch. With the Blues, the clicky-ness means you probably want to avoid bringing it to work if your co-workers get annoyed by the noise, and you might also want to avoid late night work for the rest of the household.
Cooler Master also ensured every key is consistent in feel and response, and the Quick Fire XTi is no different. When it comes to typing, this flavor of the XTi is perfect, but gaming will be a different story. In my own experience, I have found Blues require just a bit more adjustment compared to other key switches. Otherwise, the keyboard experience is excellent as always.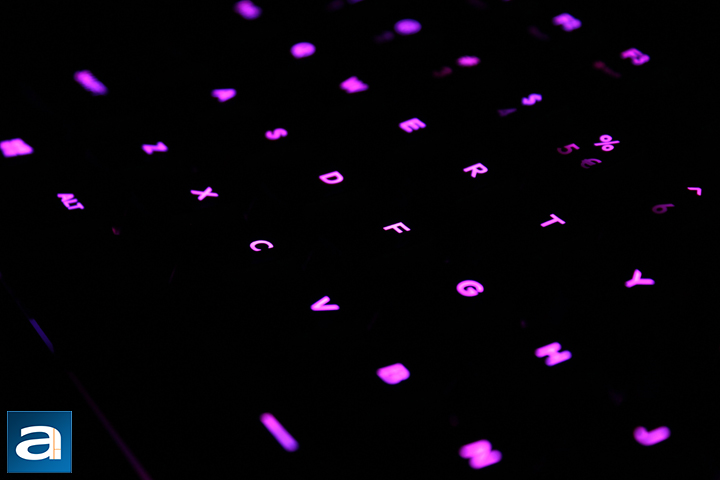 As for illumination options, Cooler Master has taken a different route in some ways. As you will have noticed in my overlook of the keys, you will know Fn + F1 and F2 adjust the colors of the backlight. This is because the backlighting is not customizable to the 16.8M colors of the rainbow, but rather thirty five shades of gray mixes between blue and red. When adjusting the colors, you adjust the color intensity of blue or red, and the mixture is shown on the keys. For example, mixing same intensities of blue and red produce Editor-in-Chief's favorite color, pink. Lighting quality is decent, but keys with two rows of engraved lettering, such as the Function row, produces uneven lighting. This happens because the LED only shines through the top part of the key, and not the bottom half. My only request for Cooler Master would be to make this keyboard an RGB keyboard. I know it does add more in cost, but a lot of keyboards nowadays use it as a great marketing feature. Red and blue might be the most popular colors for backlights, but just having the extra option would be nice.
When it comes to different lighting modes, there is also a handful of modes to choose from. You have your standard always-on, and a breathing mode. After there is an activation mode, which lights up and fades away based on the button you press. Next is a similar wave mode that waves across the keyboard in all thirty five shades. Then there is a ripple like mode, which activates the key and ripples horizontally out. The second to last mode is what I would call a cross-type mode, which lights up all the keys on the same row and column as the key you have pressed. Finally, there is the last mode, which is not really a lighting mode, because it is the game of snake on a keyboard. This disables all other keyboard input except for the arrow keys, allowing you to relive the game you played on your parent's Nokia cellphone. When I found out about this lighting option, I literally laughed, because I could not understand why anyone would play it, but it is a pretty nice Easter egg nonetheless. SteelSeries may have their "Patriotic" mode, but I say Cooler Master has the winner with snake. Finally, if you have read all the way here and are still asking where the Caps, Num, and Scroll lock light is, I will say it is integrated into the LEDs behind the respective keys. Thus, these LEDs only light up when their corresponding lock is active. I think this is an excellent idea, as it removes a row of unnecessary LEDs from most keyboards, making the entire thing slimmer.
One thing I should mention is the snake mode was not active out of the box, but rather required a firmware update. I have not had the best experience with firmware updates from other manufacturers and their respective peripherals, but thankfully Cooler Master has made this simple. All the user needs to do is download the executable and launch it. Using a simple interface, it detects and reports the current firmware of the Quick Fire XTi, and it asks if you want to update. Within 30 seconds, it updates, and the game of snake is now loaded on your keyboard.
-----------------------------------------
The Cooler Master Storm Quick Fire XTi has not pulled any big surprises overall, but this is not a bad thing either. Considering Cooler Master's continual success in providing good quality products with neat features, the Quick Fire XTi is just another showing of this. For one, the build quality is superb here. The keyboard's design too is minimalist but very functional. It may not necessary appeal to the dedicated gaming crowd, but I really enjoy the design language on this keyboard. Numerous features are also available here, including full backlighting, multiple lighting options, multiple profiles, on-the-fly macro recording, adjustable repeat rate, media keys, and multiple cable routing options. Underneath, each switch is a consistent and comfortable feel, with the Cherry MX Blue really shining here. Key preference will come down to the user, but I am happy to report the XTi also comes in Red and Brown flavors. Finally, the fact the Cooler Master Storm Quick Fire XTi is customizable without needing any pre-installed software is a big plus in my books. Unfortunately, there are a few downsides, and these are about the things not included with this mechanical keyboard. For one, there is no wrist rest, and I think most keyboard manufacturers should just have it included no matter what. Next, there are no RGB lights. You could argue majority of users do not use all the colors of the spectrum, but I think having it as an option is preferable. Finally, as a feature request, I would want to see Cooler Master come up with a way to fully light up keys, especially those with two rows of translucent text. This might be more of a flaw with Cherry and their LED implementation, but I think Cooler Master could try to innovate here. When it comes to pricing options, the Cooler Master Storm Quick Fire XTi is not necessarily the cheapest, with it costing you around $150 USD at press time. Considering most competition can offer keyboards at this price with a wrist rest, and even full RGB lighting, I think Cooler Master could reduce the pricing just a bit. Otherwise, the Quick Fire XTi is a superbly built and executed keyboard with many things to like. And honestly, who else can say they can play a game of snake on their keyboard?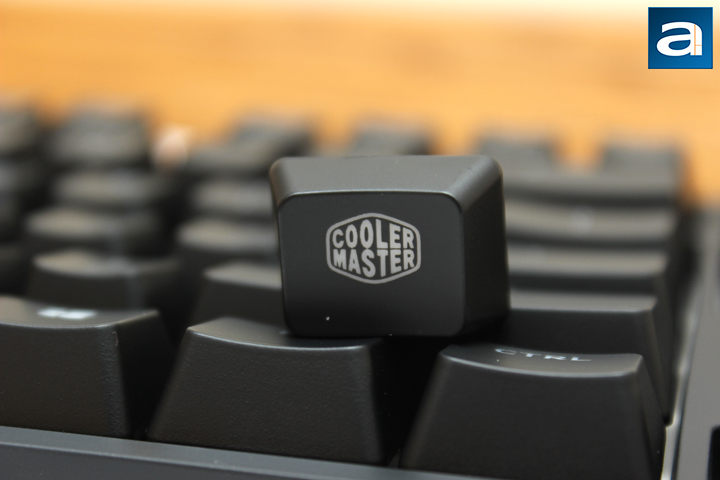 Cooler Master provided this product to APH Networks for the purpose of evaluation.
APH Review Focus Summary:
7/10 means Great product with many advantages and certain insignificant drawbacks; but should be considered before purchasing.
-- Final APH Numeric Rating is 7.0/10
Please note that the APH Numeric Rating system is based off our proprietary guidelines in the Review Focus, and should not be compared to other sites.
The Cooler Master Storm Quick Fire XTi is yet another example Cooler Master's excellence in the peripherals market.
Do you have any comments or questions about the Cooler Master Storm Quick Fire XTi? Drop by our Forums. Registration is free, and it only takes a minute!