By: Aaron Lai
August 29, 2014
He [Pero Vermúdez] let go the lance and took the sword in hand;
when Ferrán González saw that, he recognized Tizona
and before the expected blow said, "I am defeated!"
This is an excerpt from a poem in Cantar de Mio Cid or The Poem of the Cid, and it describes the great power of the Tizona. Even before Ferrán González was struck by the Tizona, he knew immediately that he was finished, just by the sight of this mighty sword. Now you may be wondering, what is the Tizona? You might think of the game Terraria, where the Tizona was one of the strongest swords in the console version of this game. But the Tizona is more famous for being one of the swords carried by Rodrigo Diaz de Vivar, also known as El Cid. The name Tizón translates to burning stick, or firebrand, despite the fact it can neither burn anything nor start fires. Today, the Tizona can be found in the Museum of Burgos, and weighs in at 1.1 kg or 2.4 lbs, measuring at 103 cm or 41 inches. The museum obtained the sword from the Army Museum in Toledo in 1999, when the Autonomous Community of Castile and Leon purchased the sword for 1.6 million Euros. Now prior to this review, I have never heard of the Tizona, even with its importance and worth, and likewise before today, I have not heard of Tesoro Technology Inc. This company is a relatively new company, starting only in 2008, but now making gaming mice, keyboards, and mousing surfaces. Tesoro also only recently started selling their gaming peripherals to the North American audience. Here at APH Networks, we are definitely more than excited to see what Tesoro can bring to the table, as competition really will only bring improvements to all keyboards from different companies. Is the Tesoro Tizona really a mighty keyboard to be had? Does it render the rest of the keyboards defeated? These and other questions will be answered in today's review!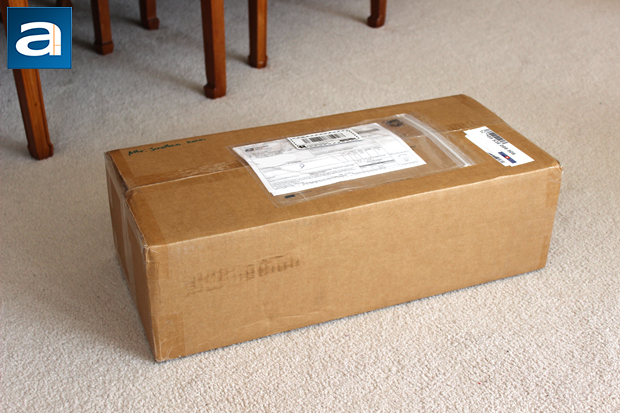 Today's review unit of the Tesoro Tizona G2N Elite and G2N-P Elite arrived from the small city of Milpitas, California, where Tesoro's American offices are located. This small city of approximately sixty-seven thousand people, as of 2010, can also be considered a suburb of San Jose, as it is located approximately nine miles from central San Jose, or about fifteen minutes in normal traffic. Milpitas actually originates from the Mexican-Spanish word milpa, which means cornfield. The package was delivered via United States Postal Service, and transferred to Canada Post at the 49th parallel. Luckily for us, neither of them damaged the box, as it arrived in pristine condition. There were no holes or deep scratches to report, so we went ahead and opened up the box.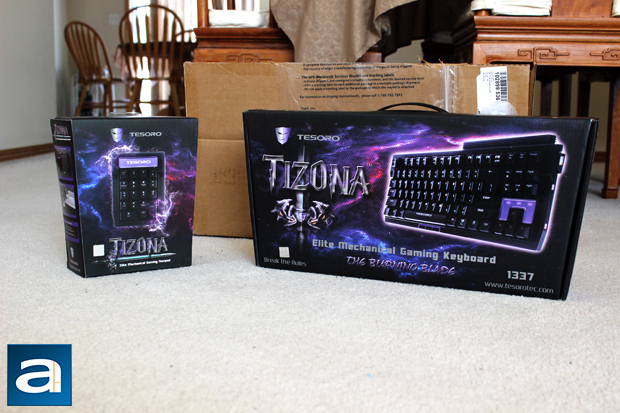 If you ask me what my favorite packing material is, I would first say bubble wrap, and then packing peanuts. Bubble wrap is awesome for popping the bubbles, but packing peanuts is sometimes hilarious, especially when you can dive into the box looking for your item. Tesoro packed this box full of packing peanuts to ensure the products inside would arrive unharmed to our APH Networks location in Calgary, Alberta. Pulling the Tesoro products out, you can see the retail packaging of the both of the products. To clarify, the G2N-P Elite is the number pad and is located on the left, while the G2N Elite is the keyboard located on the right. The retail box is quite interesting, with a definite hint of purple, to match the keyboard's coloring scheme. Both of the boxes also have large pictures of the product, which are surrounded by a purple lightning and haze. The name Tizona is printed on the boxes in huge jagged letters. If you notice, both of the retail boxes are actually trapezoidal in shape, rather than a standard rectangle. Moving to the number pad retail box, it has a flip up window on the front panel, so you can see the product before opening the box. It also has features behind this front panel, as well as even more pictures on the side and the back. There are a total of thirteen different translations of specifications into the most prominent languages. Moving to the keyboard box, you can see the numbers 1337 at the bottom right hand corner, which hopefully refers to the elite status that this keyboard holds. Once again, the thirteen translations of features and specifications are on the back.
Before I continue on, let's take a scan through the specifications, as obtained from Tesoro's website:
Features
- 87 Keys compact Slim and stylish design (keyboard only)
- 18 Keys compact design (numberpad only)
- USB Full N-Key Rollover
- Three thumb keys for instant macro recording and execution
- Gaming grade 50 million key actuations
- User friendly software for easy setup
- Multimedia quick controls
- Two high-speed USB 2.0 ports
- DC-IN jack for additional power
- Software updates (Internet connection required)
- Compatible with Windows XP/Vista/7/8
- Anti-slip design with rubberized stand for stability
- Gold-plated USB connector with a braided cable for an ultra-durable build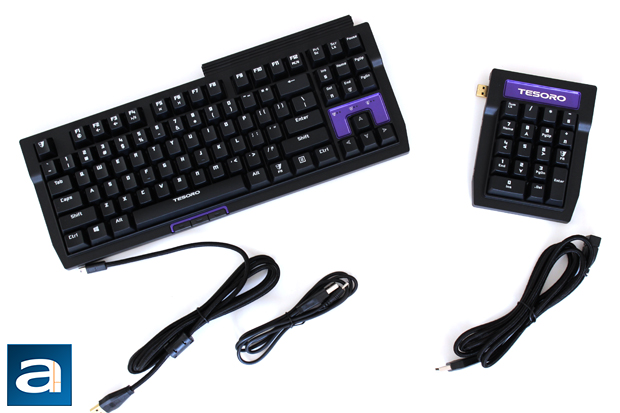 I pulled both the Tesoro Tizona G2N Elite and G2N-P Elite out from their respective boxes, as well as a few other small things inside. The keyboard includes a detachable braided 180 cm, mini USB-to-USB cable, and a non-braided 110 cm, DC out to USB cable. The extra shorter cable is used to add more power to the keyboard, but I will cover this later. Inside the number pad's box is a 180 cm, female-to-male, USB-to-USB cable, used in case you do not actually want the number pad directly attached to the keyboard; more on this more later too. On a side note, both the Tizona G2N Elite and G2N-P Elite come in various switches, including blue, red, brown, and black. Today, we have the blue switches for both the keyboard and the number pad.
A new company is generally more willing to try new things to see what their clientele would prefer, and find the right formula to garner the most attention. However, this often means they can make unconventional looking items. On the other hand, a company that is an old hat at their products generally stick quite close to their past roots, improving on only small things at a time. While it means their design has established and they do not need a dramatic overhaul, their products can also leave a stale taste of barely improving. With Tesoro Technology, you can see the youthfulness immediately in the Tizona G2N Elite. There are not many keyboards like this. For one, you actually see color on this keyboard with the two purple highlights. One is right above the directional keys, and one is right below the spacebar. You might notice that rather than a flat piece of plastic, the G2N Elite has a dip at the second row of keys. There is a plastic rim around the bottom keys to prevent dust from entering the keyboard. Whether this was to save plastic, or to be different, it definitely makes an impression, as this frame construction is unlike the rest.
The overall finish on the keyboard is a matte black finish, with the purple parts having a bit of sparkle in it. Both of the surfaces are good at resisting fingerprints, so this is a plus. Tesoro's branding can be spotted in various places, such as the Escape key, the Function key, and also on the Space bar. Otherwise, the layout is generally as you would expect, with a few exceptions. For one, the Enter key is half of its size, allowing the backslash key to be a tad larger than the standard key. This is extremely helpful for programmers, like me, as well as other typists, as it is easier to work with. Secondly, the purple block located above the arrows is where the three LEDs on the keyboard are found. Traditionally, they are used for Num Lock, Caps Lock, and Scroll Lock. But since Tesoro is no traditional company, the Num lock light is actually a Game Mode indicator used to change shortcut keys. Since the number pad does not come with the keyboard, this is understandable. Finally, you might notice the large bump at the back, and this is where the USB cables plug into. Unfortunately, the large bump makes for a rather ugly rear-end, and it would be much better if Tesoro could remove this block altogether. One thing you might notice as missing in action is a palm rest. While it is not a killer, having a place to place your overhanging hands would be a nice addition.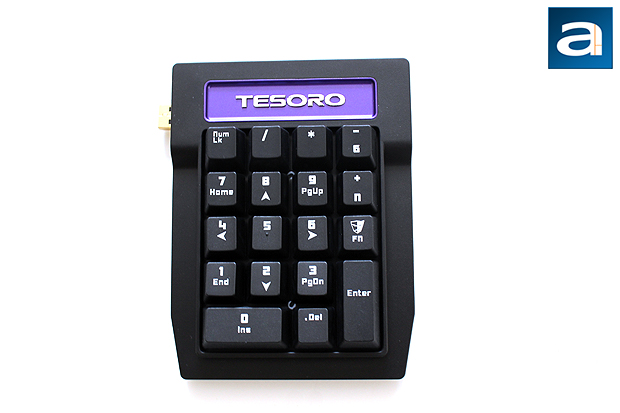 Taking a closer look at the Tesoro Tizona G2N-P Elite number pad, you can see Tesoro has kept the number pad consistent with the keyboard, with the same dipping sides. On the left side of the photo you can also see the full-size USB sticking out, and can be used to connect to the keyboard. The number pad also follows a standard layout you would see on most number pads, but once again with some exceptions. As I have stated before, there is no Num Lock light on the keyboard, but there is also no indicator on the number pad either, which means users will have to fumble around to determine if they are actually using the number pad for numbers or not. This could be easily dealt with by adding another LED light, or changing the keyboard LED lights to have such an indicator. Secondly, there is a function key, which splits the '+' key in half. I should note this function key can only be used with the functions on the number pad alone, and the keyboard function key can only be used with the keyboard. This is a tad inconvenient, as it means I would have to use two different function keys, depending if I want to adjust things on the keyboard or the number pad. The best option for Tesoro would be to remove the function key altogether but once again, the keyboard and the number pad are two separate products, so it is possible that one person would own the Tizona G2N-P Elite without the keyboard. It would be much better if Tesoro would link the keys together to avoid any confusion. On G2N-P Elite, the function key is only used to only adjust the keypad between 6KRO and NKRO.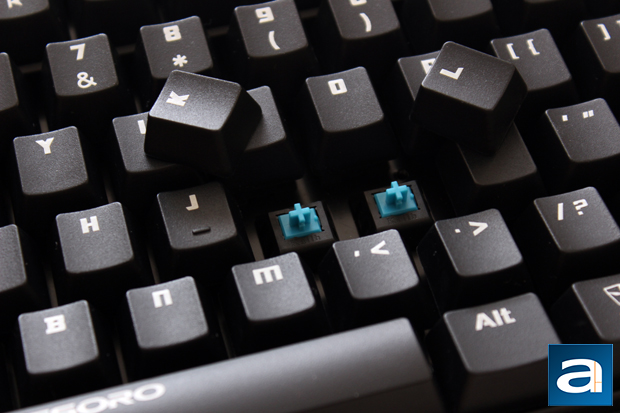 Before continuing on, one of the best parts of the Tesoro Tizona G2N Elite and G2N-P Elite is its mechanical keyswitches. This section has been adapted from Jonathan's Thermaltake Tt eSPORTS Meka G-Unit review in October 2011, of course under the authorization of our Editor-in-Chief. There are three main types of keyboards in the market today. The cheapest is the membrane keyboard, which is the easiest to make, but also has poor typing feel and response due to squishy keys. A scissor switch keyboard has its own independent keyswitch mechanism for each key, which delivers improved tactile response and typing experience. Modern scissor switch keyboards can be very good for everyday office use. Mechanical keyboards such as the Tizona costs the most, because each keyswitch is an independent part.
The Tizona G2N Elite and G2N-P Elite features Kailh Blue mechanical switches, which are quite similar to Cherry MX Blue switches. Since Cherry lost their patent for mechanical switches quite recently, many manufacturers have popped up to imitate the ubiquitous Cherry MX switches. Before you dismiss Kailh as some knock-off brand, it should be noted quite a few manufacturers actually employ these switches, including Razer, Thermaltake and Genius. Kailh also says that these keys will last up to fifty million keystrokes, just like Cherry MX. Blue switches will be favored by typists in general, as they feature low resistance to typing, have a low actuation force to trigger them, and also produce an audible 'click' on every key press. Blues have been criticized in gaming usage for the difficulty of double tapping, since the release point is above the actuation point and thus greater effort is required to actuate the key twice. To be honest, preference of which keys comes down to consumer opinion.
Personally I think this keyboard, much like the Cooler Master QuickFire XT I reviewed almost exactly a year ago, is an absolute pleasure to type on mainly due to the audible feedback. Since then, I have tried various mechanical switches, from Cherry MX Red to Black and even Brown, but I have to say the Cherry MX Blue really does produce the best experience for typing. For gaming, it is louder and requires a tad more effort in double tapping. While the double tapping does not bother me as much, the noise issue is a mixed bag that users will either like or dislike. Comparing between the QuickFire XT and the Tizona G2N Elite, it is actually quite hard to tell the difference between the two switch manufacturers. However, I should say I have noticed one or two inconsistencies between different keys. For one, my Left Alt key feels a tad squishier and more akin to a membrane keyboard than all my other keys. While it could be a single fault, I have never experienced this in any of my Cherry MX keyboards, so it should be noted. In the photo above, you probably cannot even tell the switches are made by a different manufacturer, as it features the same cross pattern and can even fit all Cherry MX keycaps top. There is Kailh branding underneath each key where you would normally see the word Cherry. Just to note, there is no key cap remover included with the keyboard, as I had to use one from another mechanical keyboard.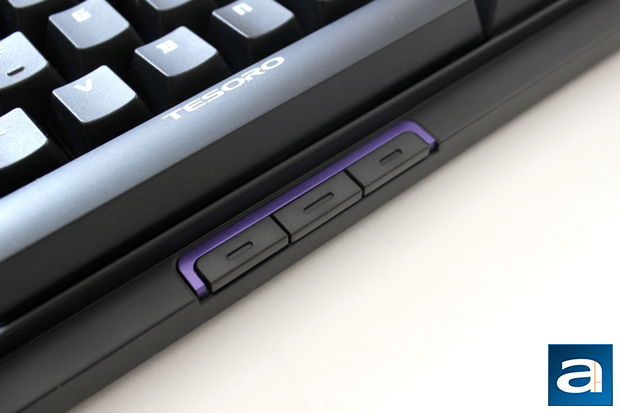 From the first photo of the Tesoro Tizona G2N Elite, you probably are wondering what the small purple bar under the space bar is. As you can see in the photo above, these are actually three different shortcut keys. In the normal mode or PC mode, these keys, from left to right, automatically open your default internet browser, media player, and default email manager. For myself, this means Google Chrome, Windows Media Player and… Google Chrome. Unfortunately, my default email client is through Gmail, and therefore it automatically opens another instance of Google Chrome. However, if you have Microsoft Outlook or Mozilla Thunderbird installed and set to default, these programs can launch when pressing the third button. Now, when you press the Fn + F12, this turns on the gaming mode, and therefore a new set of shortcut is introduced. By default, the keys are forward slash, asterisk, and hyphen. While I cannot really think of why anyone would need these keys when they are gaming, these keys can be remapped as a single keystroke in games. These are not macro keys, and cannot remember a string of keystrokes or shortcuts, however. According to Tesoro, there is a firmware update to allow users to customize these keys, but at press time, there is yet to be any such update. This means the keys cannot be changed in PC Mode, and thus you will always open the same three type of programs. Physically, the implementation of these shortcut keys are okay, but they do not feel as refined as the rest of the keyboard. For one, the keys are really easy to accidentally press, which can get quite annoying when you adjust your keyboard and you suddenly open two instances of Google Chrome. The placement of the keys is also inconvenient, as your thumbs can easily hit the area without thought. While you might think I am being fussy, I think there should have been more intention put into these keys.
One addition Tesoro has done well with the Tizona G2N Elite is the addition of media keys. In the past, these keys were only found on laptops, but they have made the transition to most full-sized keyboard, and this is well appreciated. Some laptops also replace the F-keys with these media keys, and require users to press their function key to actually access the F-keys. If you have memorized some shortcuts like Alt+F4 to exit or F12 for Save As, you will find this to be actually quite annoying. Tesoro does not made this mistake as all of the media keys are activated by pressing the function keys, rather than the other way around. From left-to-right, the buttons are Mute, Volume Down, Volume Up, Play/Pause, Previous, and Next. By now, one thing you probably see is missing is backlighting, and this is rather sad, as you can actually find quite a few keyboards at this price with full backlit keys.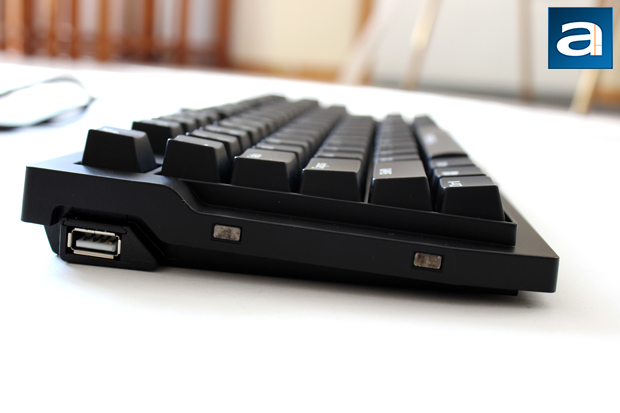 And finally we get to the Tizona G2N Elite and G2N-P Elite's party piece. On each side is a USB input, as well as two magnets. This is so the number pad can attach solidly to the keyboard without flinging about. You might think these magnets are too weak to actually hold the keyboard together, but the way Tesoro has contrived the attaching parts is actually quite impressive. For one, I can actually pick up the G2N Elite without touching the G2N-P Elite, and the number pad will not fall off. I even tried to shake the G2N-P off, but the number pad would have none of it. As there are two USB ports to accommodate for a left- or right-sided number pad configuration, this means the other port is free to be used to connect peripherals to the computer, or to charge devices. This is why Tesoro has included an additional cable to deliver 500mA more current. This really is one of the best implementations of a removable number pad I have seen to date, and Tesoro should be really proud of their innovative work in this regard.
If you have ever gotten annoyed at your computer games, you might want to flip your table in frustration. As for me, after playing some games, I started to get really annoyed at how bad I was in Civilization V, and so I flipped my keyboard over in frustration. Then I realized I had yet to actually inspect the bottom of the keyboard. Jokes aside, underneath is two rubber pads and two extendable stands on the keyboard. On the number pad, there is one larger rubber pad, along with two extendable stands. These stands also have rubber on them as to add extra grip underneath the keyboard, and this is an excellent addition. The stands also have more than two positions, which allow for more customization based on personal choice. Most keyboards, such as the Cooler Master QuickFire Pro or QuickFire XT do not have either of these extras, so it is really good to see Tesoro include these small but much appreciated parts.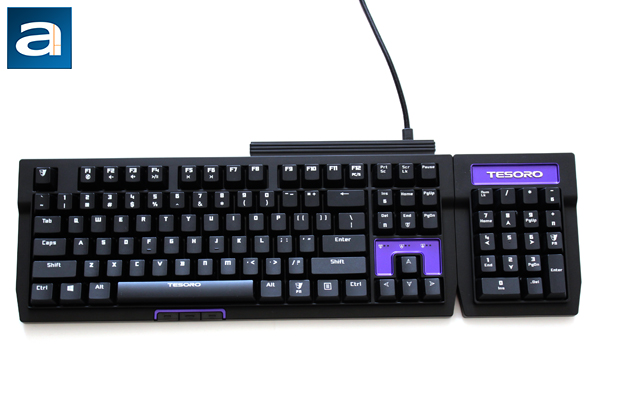 Finally, we have the Tesoro Tizona G2N Elite attached to the Tesoro Tizona G2N-P Elite for a good full picture. Since I am used to the number pad on my right side, I have opted to keep the more traditional layout, but you can just as easily swap the G2N-P over to the other side. As a whole the keyboard and number pad measure in at 480 mm x 155 mm x 38 mm (L x W x H) at widest dimensions. The combination also weighs in at around 1.18kg or around 2.6 lbs, which is typical for mechanical keyboards of this size. It is also a tad heavier than the actual Tizona blade, and since it is quite a bit more compact, it will definitely feel heavier too. As you probably know, most mechanical keyboards actually are quite a bit weightier than their membrane counterpart. This does however translate into a keyboard that stays in place when you are using it.
One final thing to note is the two modes of operation offered by the Tesoro Tizona G2N Elite and G2N-P Elite: 6KRO or six key rollover, and NKRO or N-key rollover. As I mentioned in my Cooler Master QuickFire Pro review, both of these are different modes to fix ghosting issues found on cheaper keyboards or laptop keyboards. While ghosting is a bit of misnomer, and at times a marketing term, there are times where keyboards will not be able to recognize more than one keystroke at a time, which can cause for missed keys. This can be extremely frustrating when you are playing games, or even if you are just a very fast typist. Generally, 6KRO is more than enough, as it allows users to press six keys at a time, and the keyboard will recognize all six independent strokes. NKRO allows for more than six, but can vary from keyboard manufacturer. Using Microsoft's handy keyboard ghosting demonstration, in 6KRO I am always limited to six keys at a time, but with NKRO activated, I am able to press down more than twenty keys at one instance, with all of them being recognized.
-----------------------------------------
Looking at the Tesoro Tizona G2N Elite and G2N-P Elite, there is a lot for Tesoro to be proud of. Starting with styling, they really do not look like they are copying anyone. For one, purple is not exactly a color that is found on many computer peripherals, and the slight accents of color really add some splash into what would be otherwise a boring keyboard. The real feat is their overall creation and execution of the magnetic number pad. The additional eighteen keys hold tightly to the keyboard, but can also be separated for a truly variable keyboard. Other small things like having an additional USB port, having the option to add more power to the port, and rubberized stands is also much appreciated. Unfortunately, I could also say that Tesoro has almost thought too far out of the box. For one, they are missing a Num Lock LED, which leaves users guessing whether or not their number pad will act as a number pad or as directional keys. Secondly, as I have mentioned prior, the shortcut keys are lacking in customization and are far too easy to press. And despite all the flashes of creativity seen when designing the keyboard, the large hump on the back makes the keyboard feel a bit camel-like. Tesoro should find a way to hide this extra block, whether it means making the keyboard slightly larger, or removing the block altogether. There are also features that are just missing, like backlit keys, a palm rest, or any software for the macro keys. Do not get me wrong though, the Tesoro Tizona G2N Elite and G2N-P Elite is a great combination from this young company, and show a lot of potential. According to Tesoro's USA website, the keyboard and the number pad sell separately for $89.99 and $39.99, but is also available as a combination pack for $109.99 (All prices listed are USD). While this is not the cheapest that we have seen for mechanical keyboards, this is also one of the few mechanical keyboards that can be separated into two parts and still continue to function. With all that said and done, I can say that this Tizona is one keyboard that requires a bit more time with the swordsmith for some refining.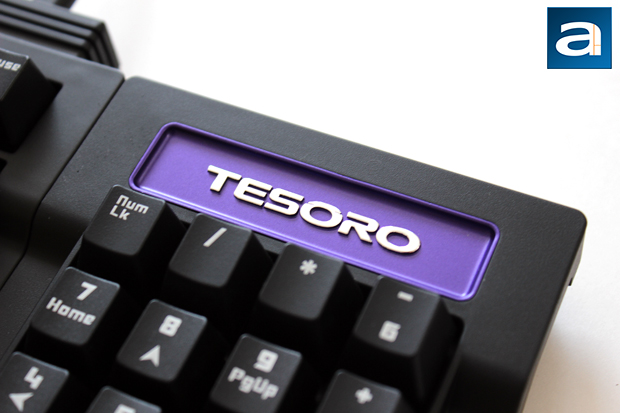 Tesoro Technology provided this product to APH Networks for the purpose of evaluation.
APH Review Focus Summary:
7/10 means Great product with many advantages and certain insignificant drawbacks; but should be considered before purchasing.
6/10 means A product with its advantages, but drawbacks should not be ignored before purchasing.
-- Final APH Numeric Rating is 6.9/10
Please note that the APH Numeric Rating system is based off our proprietary guidelines in the Review Focus, and should not be compared to other sites.
The Tizona G2N Elite and G2N-P Elite has proved that Tesoro Technology is no rookie, but they are a few steps away from being a senior with their sword of a keyboard.
Do you have any comments or questions about the Tesoro Tizona G2N Elite and G2N-P Elite? Drop by our Forums. Registration is free, and it only takes a minute!