By: Aaron Lai
August 23, 2013
Since I did not address this in my last review, I will say it now: I am now an official member of the APH team. I was extremely excited when I was offered the position. I have been writing as a guest for APH since September 2012, and now I am glad to take the words "Guest Writer" away from all my upcoming reviews and reports. Anyway, with summer being almost over, my lazy days of procrastination and the like are soon over. In general, procrastination and doing nothing is a fair assumption out of most university students once summer hits. They could head back to classes for the spring and summer semesters, find a summer job, or relax and wait for the next year to start. Luckily, I was able to attend night classes for introductory microeconomics, work part time at a retail chain, and spend some time relaxing in Hong Kong during the month of May. It also seems like Cooler Master has been keeping busy. In July of 2013, Cooler Master announced the launch of the QuickFire XT. This keyboard is meant to be a "sibling to the top-rated QuickFire Rapid", while finally adding a full number pad. My real criticism with the Rapid was the lack of a number pad, which is still quite handy in everyday situations, and thus the XT solves that problem. The QuickFire XT follows up on the QuickFire Rapid as being a slim and simple gaming mechanical keyboard. It is not meant to have any extras or add-ons; rather this keyboard is to meet the pure essentials. Considering that Cooler Master already has higher end mechanical keyboards, it makes sense to build a no-frills mechanical keyboard too. Will the QuickFire XT build on the success of the QuickFire Rapid, or will it leave something to be desired? Read on to find out!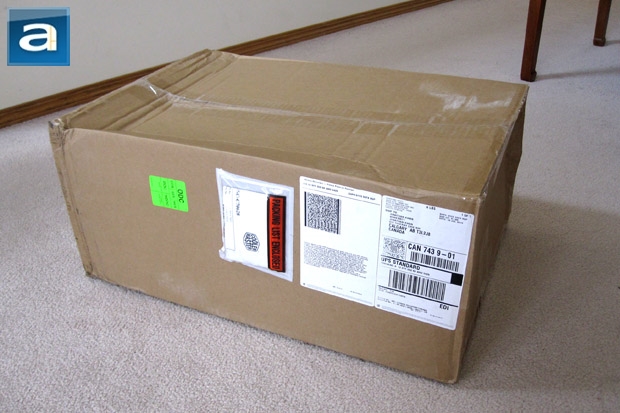 The Cooler Master CM Storm QuickFire XT mechanical gaming keyboard arrived via UPS Standard from their head office in Chino, California, a place (At least the state) where I hope to work one day. The brown corrugated cardboard box had a few dents and scratches, and the top was slightly caved in. Upon opening the package, however, the contents were in pristine condition. Oddly enough, Cooler Master sent us a way oversized box, and filled in the rest of the spaces with some brown packing paper in order to cushion the keyboard from bumps and jolts during the shipment.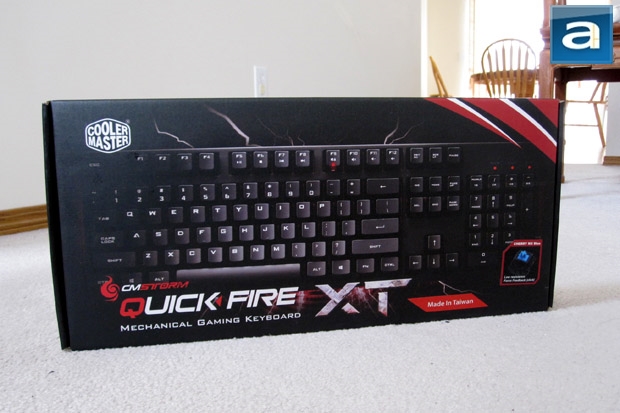 Opening up the cardboard box and pulling the paper aside reveals the retail packaging of the QuickFire XT. This is another CM Storm product with a similar looking package. While it is not an outrageous design, it cannot be referred to as conservative either. Reddish lightning sparks from behind the keyboard, and in big bold letters, QuickFire XT is pronounced. On the bottom right corner, the "Cherry MX Blue" sticker displays the type of key switch which is inside. At press time, other key switches available include Cherry MX Red. Cherry MX Brown and Green are soon to be added, as they are unavailable for the time being. Oddly enough, Cooler Master decided it was important to put front and center "Made in Taiwan". I guess making things in China is not good enough anymore. Turning the box over on the side reveals the same things as any other CM Storm box. This includes their "Storm Tactics" line, operating system compatibility, photo of the base of the keyboard, and a website for more information. Located on the back is a features list in ten different languages. This box is a conventional flip tray retail box, so opening up the box is just a flip of a few tabs and it opens, revealing the mechanical keyboard.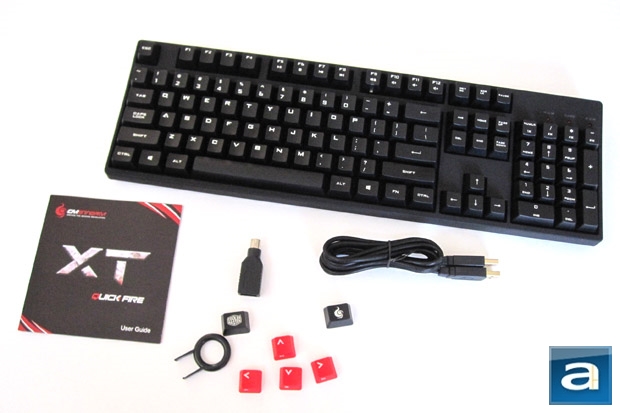 Inside the retail box is the QuickFire XT, wrapped in a foam bag. There are also two areas hidden underneath cardboard flaps that house the extra keys, a key remover, braided USB cable, and a USB to PS/2 adapter. These extra keys include replaceable WASD keys so they become red arrows, but more on this later. The user manual is also located in the box, with more features and specifications listed inside. Once again, CM Storm has used their own user manual to advertise other products, namely the CM Storm Recon and the CM Storm Sonuz.
Before we continue this review, let's put up the technical specifications, as per the manufacturer's website:
- N Key Rollover: N key in PS/2 mode
- Repeat Rate: 4 levels (PS/2 mode only)
- Interface: USB / PS2
- Windows Key Lock: Yes, both sides
- Media Keys: Yes (via F keys)
- Keycap Puller: Yes
- USB Cable: Removable, USB A connector
- Dimensions: 440(L)x132(W)x29(H) mm / 17.3(L)x5.2(W)x1.1(H) inch
- Weight: 1100g / 2.43lbs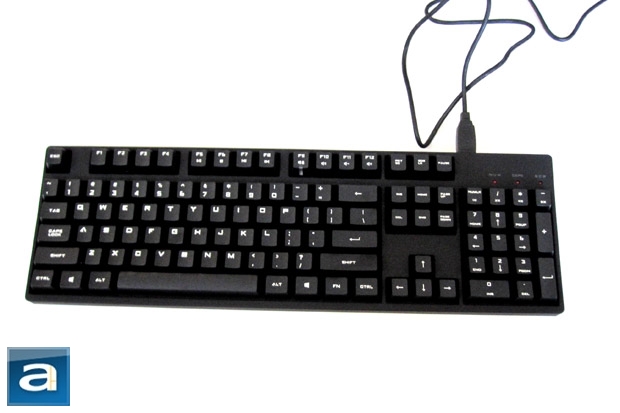 When Cooler Master introduced the line of QuickFire XT keyboards, it was meant to be a simplistic and slim mechanical keyboard. Rather than aiming at the hardcore gamer, this mechanical keyboard was to keep things simple. If one were looking for a keyboard that looked like any other keyboard, I would say that the QuickFire XT would suffice. Unlike the QuickFire Pro and QuickFire TK keyboards we have tested here at APH Networks before, the XT has no references to CM Storm or their logo on the keyboard front itself. The only area where a logo is located is on the back, where the USB plugin is located. They do provide extra keys that can replace other keys, one being a key with the CM Storm logo on it, but otherwise it would be seen as a no-name type keyboard. Layout of the keyboard is quite standard, besides a few minor points. One point is the Enter key which is half the size, and this allows the backslash to be a bit larger than a regular key, which is good for programmers. Design is plain but clean, and there are several refinements they have made to make this keyboard feel more than ordinary. First are the laser etched keys, which all feel slightly bumpy to the fingers. This ensures the keys do not rub off over time. Second is the rubberized coating on the top of the keyboard. This finish is nice to the touch, but is not as flashy or showy as a glossy finish. While it may not affect users' actual performance, as it will not be felt on a daily basis, it does make the keyboard feel more premium than a glossy finish. It should be noted that the rubberized surface does attract dust more, since there is a higher surface coefficient of friction. That said, a fully glossy surface is probably worse for any kind of marks, so I am not complaining.
Overall, the build quality of the QuickFire XT is superb. CM Storm does not disappoint in this category, as they have produced another well-built machine. Inside the keyboard is an embedded steel plate, which allows for structural integrity, and allows for great stability of the keyboard. As well, keys are rated to survive 50 million keystrokes, and this is evident in everyday use. The keyboard measures at 440mm length, 132mm width, and 29 mm height. Because this is a mechanical keyboard, this hefty keyboard weighs in at 2.4lbs or 1.1kg. It is a bit lighter than the Quickfire Pro, but more than double the weight of the recently reviewed QuickFire TK. While the XT was meant to be a slimmer version of previous mechanical keyboards from Cooler Master, it seems that weight is something that is hard to slim down without actually removing keys. One thing this keyboard is missing is a palm rest. This is noticeable, as many mechanical keyboards are elevated slightly higher than regular keyboards. It would be nice if Cooler Master would throw in the palm rest that attaches to the keyboard itself. The missing palm rest is not a killer factor, as anyone can purchase an additional palm rest, but it is duly noted.
Before continuing on, one of the best parts of the QuickFire XT is its mechanical keyswitches. This section has been taken from Jonathan's Meka G-Unit review in October 2011, of course under the authorization of our Editor-in-Chief. There are three main types of keyboards in the market today. The cheapest is the membrane keyboard, which is the easiest to make, but also has poor typing feel and response due to squishy keys. A scissor switch keyboard has its own independent keyswitch mechanism for each key, which delivers improved tactile response and typing experience. Modern scissor switch keyboards can be very good for everyday office use. Mechanical keyboards such as the QuickFire XT costs the most, because each keyswitch is an independent part. The CM Storm QuickFire XT features Cherry MX Blue mechanical switches, which are known to be one of the most common in gaming mechanical keyboards. The QuickFire XT will be favored by typists in general, as they feature low resistance to typing, but also produce a 'click' on every key press, as well as a low actuation force to trigger them. To be honest, preference of which keys comes down to consumer opinion. Cherry MX Blues have been criticized for the difficulty of double tapping, since the release point is above the actuation point. CM Storm has tried to implement a fix for this, but more on that later. Personally, I think this keyboard is an absolute pleasure to type on mainly due to the "click" feedback. Compared to the QuickFire Pro I have reviewed last year, the MX Blues are definitely a different typing experience, as there are less typographical errors from repeating keys.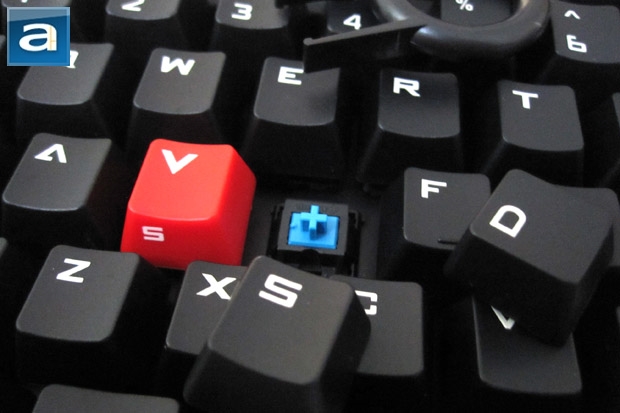 A nice inclusion that CM Storm has added to the QuickFire XT is the inclusion of removable key caps. The included ring style key remover allows users to remove almost every key, making cleaning possible, and allows for swapping of key caps. The extra key caps that come with the keyboard are to replace the WASD keys with red arrows. Since many games utilize WASD as the movement keys (As the gamer uses his or her right hand for mouse control), it is smart that CM Storm throws it in with the XT. There are a few keys that should not be replaced, mainly larger ones like the space bar, as there are more delicate pieces underneath, and removing them may damage these pieces, rendering the key useless. When I was removing the WASD keys, they popped off without any problem. However, when trying to remove the slightly larger keys, such as the Windows key, it was a bit more precarious, as the key ring would not fit one way, and had to be turned perpendicular to the key.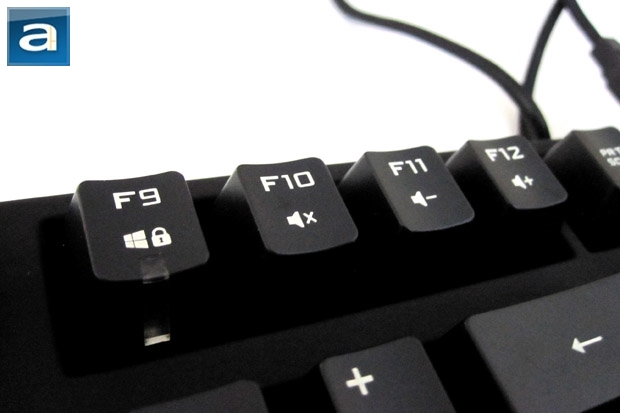 Taking a look at the top row, the F5 to F12 function keys double as various media keys, plus some extra options. All of these keys can be accessed by pressing the function key, found on the bottom right between the Windows and Ctrl keys. These media keys include Play/Pause, Stop, Next, Previous, Windows Lock, Mute, Volume Up, and Volume Down. Most of these keys are on very many laptop and even desktop keyboards. The only thing that is different is the Windows Lock. This allows users to deactivate the Windows key from being pressed during gaming. When activated, the Windows Lock key will light up red, indicating the lock is on. This is a handy tool, since gamers may accidentally press the Windows key while button mashing, leading to a temporary close or minimizing of the game window. While normal users will not have a large issue with this, if it leads to an end of a kill streak, or getting destroyed by the lane minions, gamers will not be pleased. On the other hand, there is a major omission that any avid reader will notice: Macro buttons. Many gamers love the usage of macro keys, as it reduces the combinations of keys required to press for that special combo or specific function, but to be honest, I am not surprised at the lack of these keys. Since CM Storm was trying to slim the XT down, it would not make sense for them to add more keys. Also removed from the QuickFire XT is the backlighting. Since this product is meant to be a down-to-earth product, it is understandable why Cooler Master has chosen to not put it in. However, it does mean nighttime gaming requires a light, something that most ninja gamers will not like.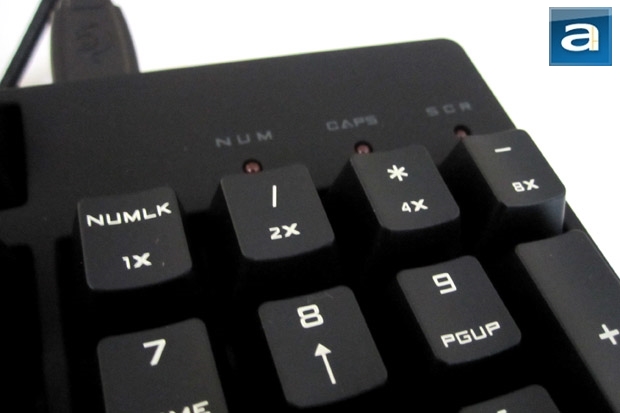 Located on the top row of the number pad are four multiplier options. As previously mentioned, Cherry MX Blues are hard to double tap sometimes, since the release point is above the actuation point. These multiplier or repeat rate adjustments allow for multiple presses in less time. This is especially useful for those who game, where multiple presses allow for commands to be issues faster, without putting additional strain on fingers. This feature is available on all of the XT versions. This is odd, since other versions of this keyboard such as the MX Red or the MX Brown do not suffer from the same issue of double tapping. It should be mentioned that this is only available when using over the PS/2 interface. It would have been nice if they added this to USB support, since finding PS/2 on a desktop computer is more uncommon. Another PS/2 only feature is the NKRO. To give a bit of background, NKRO is abbreviated for n-key rollover. This means each key is independently scanned by the hardware, so all key presses are detected regardless of other keys being pressed at the same time. In essence, this fixes ghosting issues that can happen with cheaper and/or laptop keyboards. The QuickFire XT utilizes Full NKRO, which allows for (Ideally) full keyboard to press while still recording every single keystroke. Unfortunately, because I do not have a machine to actually test the keyboard when in PS/2 mode, I cannot truly test if this works. Nevertheless, I still tested the keyboard using the same tool Microsoft kindly posted to demonstrate keyboard ghosting. With the QuickFire XT, I was only able to press six keys maximum at a time, but I was able to press keys in the same column -- such as Q, A and Z -- at the same time. On the other hand, my laptop would register six keys, but would not register keys in the same column. While Full NKRO is possible in USB as seen in the QuickFire Pro, it is quite a bit more expensive to implement, and is understandable why it is not included.
Above the number pad are three LEDs to indicate when the number, capitalization, or scroll lock, respectively, are enabled. Each of these glows red, which matches the red lighting behind the Win Lock key. Unlike other QuickFire keyboards, the LED is just a simple circle rather than a bar that lights up. It would be pretty cool if they could make each edition of the keyboard vary the LEDs depending on which edition of the keyboard the user has. Of course, it would be difficult to implement an LED bright enough if someone were to obtain the Cherry MX Browns.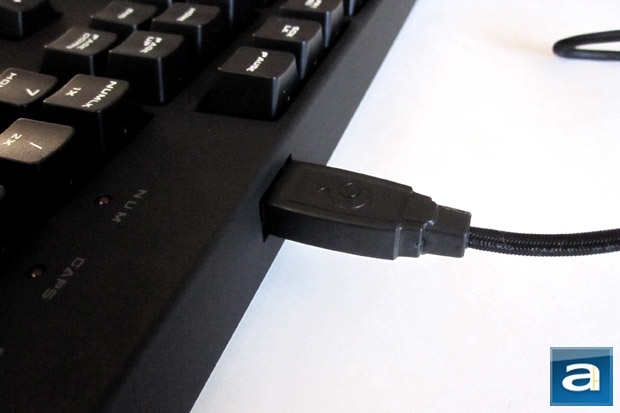 The CM Storm QuickFire XT utilizes a single USB input for connection from the keyboard to the computer. This plug is located right out the back for easy plugging and unplugging. The plug itself is also quite tight, and therefore will not yank out on a slight tug. This works quite well with the detachable USB cable, as it is simple and easy to plug in without worry of it loosening. The fully-braided detachable USB cable measures at approximately 1.8m in terms of length. The full size USB cable is also gold-plated, though it should be mentioned that gold plating does not actually affect performance or conductance and is used more for looks than anything else.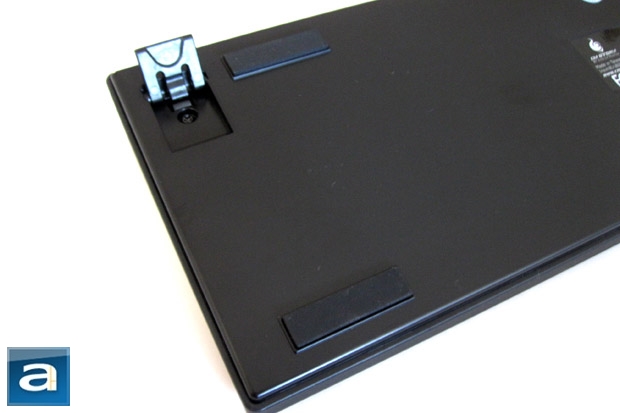 Finally, we look at the bottom of the keyboard, and it reveals great secrets about absolutely nothing. Located on the bottom are the labels, the rubber grips, and the pop-out legs. The bottom holds four large rubber grips for stability, and makes sure that the keyboard does not slide around. For intense gamers, this is important, so that the keyboard is where they expect it to be at all times. Of course, a keyboard of this weight usually will not move around that much, but the grips do help in holding it too. Two keyboard legs pop out at the top, allowing for two different typing angles. It would be nice if the extendable feet were also rubber coated so that gamers can have the same assurance at both angles, but it is not necessary either.
------------------------------------------
After reading all that above, or if you just skipped down to the bottom, I will say that this keyboard is exactly what the QuickFire Rapid should have been. As per the introduction, the keyboard was not meant to be anything spectacular or mind-blowing, but rather a regular gaming mechanical keyboard. This keyboard is what any gamer may start with, because while it may lack in extras, it delivers in one key area: Build quality. CM Storm does not cut back any of the build quality, as it delivers another solid product in the XT. The reserved looks and standard layout mean that this keyboard is as much office professional as it is hardcore gamer. The function keys that double as media keys are also a great addition for any user. But I cannot say enough about how well built these keyboards are. On the other hand, there are several things that should have been implemented in the XT. For one, the lack of any backlighting is disappointing. Full N key rollover in USB could have easily been implemented in the QuickFire XT, as demonstrated in the QuickFire Pro. As well, for being a "slim" keyboard, it seems that this device is still quite hefty. Of course, if you are looking for a more portable solution, look no further than the QuickFire TK, reviewed previously my fellow editor Kenneth Kwok. As a sequel to the QuickFire Rapid, the XT improved on where the Rapid fell short. At a retail value of $90 at press time, the Cooler Master Storm Quickfire XT is a pricey option, especially with the fact that one can get the QuickFire Pro for approximately the same price, with partial backlighting and full NKRO in USB mode. But on its own, the CM Storm QuickFire XT is a solid keyboard.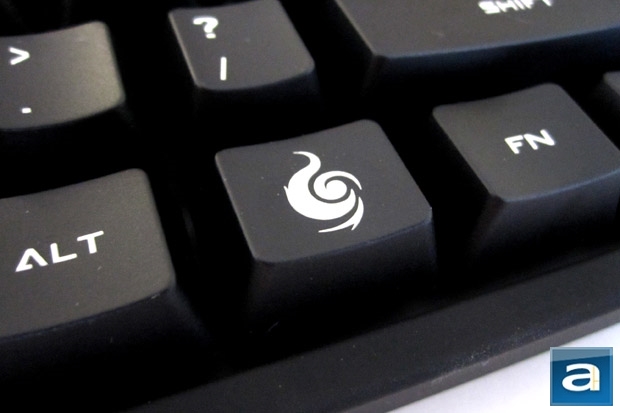 Cooler Master provided this product to APH Networks for the purpose of evaluation.
APH Review Focus Summary:
8/10 means Definitely a very good product with drawbacks that aren't likely going to matter to the end user.
7/10 means Great product with many advantages and certain insignificant drawbacks; but should be considered before purchasing.
-- Final APH Numeric Rating is 7.3/10
Please note that the APH Numeric Rating system is based off our proprietary guidelines in the Review Focus, and should not be compared to other sites.
If you need a basic mechanical keyboard with a solid build and excellent refinements, then the CM Storm QuickFire XT is a sensible choice.
Do you have any comments or questions about the Cooler Master Storm QuickFire XT? Drop by our Forums. Registration is free, and it only takes a minute!