By: Preston Yuen
December 29, 2014
Recently, I had the sudden urge of reconsidering my future. I always had the mindset of having to spend money on "luxury" items I consider a need. After some careful evaluation, I eventually realized most of the items I buy, I usually end up rarely using. As such, I came to re-evaluate many of my decisions before actually forking over the cash on whatever it is I am looking at. This, of course, eventually led me to make an important decision on bigger investments; namely, making my first purchase on property. While journeying through this adventure, I came to realize many property developers use a very generic cookie cutter for pretty much every place they build. Even in various communities, it seems like almost every house has the same layout, unless you specifically custom build your home, or have enough pocket change to design your own mansion. In the same way, the idea could be applied to Lamborghini when making their supercars. All of them generally look the same, with some tweaks here and there made to each model's performance. This was until Lamborghini decided to release their Veneno Roadster, where the exterior design kept the same general shape, but with an added aggressive look to both to the exterior and interior. What I am trying to say is sometimes, giving a slight modification to the generic cookie cutter design will create flattering eye candy for the general audience. What we have here today is a slick looking case from BitFenix -- namely, the Pandora Window. To name a few eye catching features, it includes brushed aluminum panels, custom logo display, and side panels that do not require thumb screws. Will this chassis be the next big hit? We have cracked one open here at APH Networks to see if it stands its ground.
Our unit of the BitFenix Pandora Window came via Purolator Ground in a large, plain corrugated cardboard box with minimal colors on the box to save on costs from a large Canadian retailer in Vancouver, BC. Of course, there are the usual bumps and bruises on the box itself, but the unit is packed nicely inside. You will be glad to hear there are no physical damage to the case. Because the box is simplistic and straightforward with the features well specified around, I will not bore you with a long-winded description. With that out of the way, we took out our knife, and pulled the Pandora Window out of the box.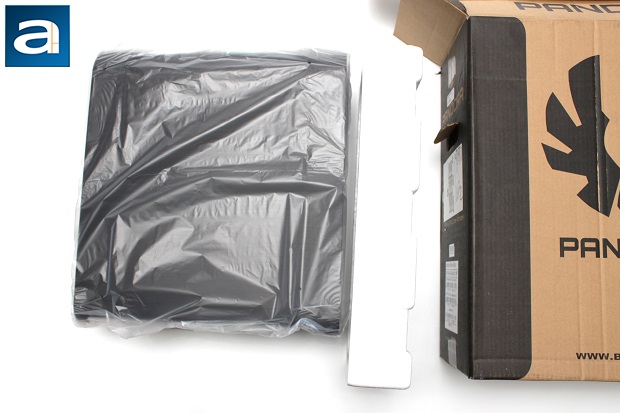 Once out of the box, we can see that the Pandora Window is wrapped in a plastic bag for protection against scratches, and is sandwiched between two Styrofoam brackets for additional padding while in transport. Surfaces that are prone to being scratched have additional layers of protective plastic tape for the end user to peel off. The accessory box and respective manual also comes included in the box. It is quite clear that BitFenix has paid special attention to make sure the product arrives to the end user in pristine condition.
Before we move on, let us take a look at the specifications of the BitFenix Pandora Window, as obtained from the manufacturer's website:
Specifications
- Materials: Aluminum, Steel, Plastic
- Colors (Int/Ext): Black/Black, Black/Silver
- Dimensions (WxHxD): 160mm x 420mm x 465mm
- Motherboard Sizes: Micro ATX, Mini-ITX
- LCD: 2.4" TFT, 240x320
- 2x 3.5" Drive Bays
- 3x 2.5" Drive Bays
- Cooling Top: 1x 120mm (included)
- Cooling Front: 1x 120mm (included)
- 5x PCI Slots
- I/O: 2x USB 3.0, HD Audio
- Power Supply: PS2 ATX, up to 180mm
- Extras: Brushed Aluminum Side Panels, BitFenix ICON Programmable Display, Cable Management
---
Page Index
1. Introduction, Packaging, Specifications
2.
Physical Look - Outside
3.
Physical Look - Inside
4.
Installation and Conclusion