Page 2 - Physical Look - Outside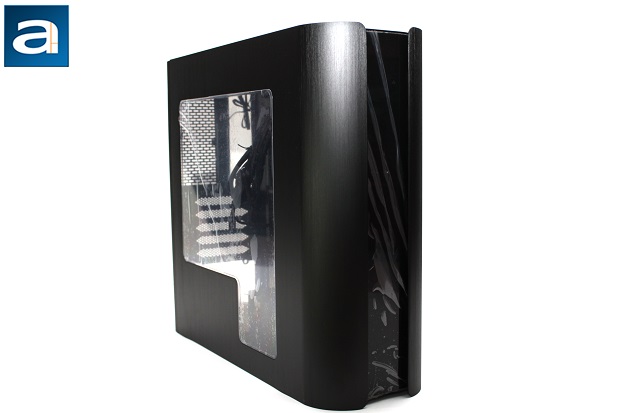 Stopping me dead in my tracks, the first thing that caught my eye about the BitFenix Pandora Window is its clean and slick looks. Both side panels are brushed aluminum, and the design continues to the frame around the back edge. This somewhat reminds me of almost all of Apple's designs, where their products have a very simple, clean, and straightforward outer design in aluminum. Our review unit of the BitFenix Pandora Window, as its name suggests, is the windowed version, and is quite large to display the hardware you have rocking inside a slick looking case. Obviously, end users are able to purchase the non-windowed version as well. For those who like to spend the extra time in keeping a tidy and good looking computer, the windowed version of the Pandora is definitely worth considering, especially when the window comes with a section to display your fancy SSD. In my opinion, BitFenix has done a commendable job here in keeping the design simple, while putting enough eye candy on their case to attract end users
Being a chassis that is designed for mATX and mITX boards, the Pandora Window's size is relatively compact, as it measures in to 160mm in width, 420mm in height, and 465mm in depth, according to BitFenix's specifications. Compared to most chassis in this category, the dimensions are about right. However, I think BitFenix could have spared about half an inch to the Pandora Window's width, as the amount of space behind the motherboard tray seems to be limited. BitFenix says they did this in order to make the case as slim as possible. I will go into more detail about this later. As aforementioned, the side panels are made out of aluminum, while the front panel and window is plastic and the rest of the body is essentially steel. In terms of weight, the BitFenix Pandora scales to about 5 kg, which is not bad for its size. However, once you pack all your goods inside, it may seem like it is about to tip the scale.
Some may have noticed that the Pandora Window version does not feature BitFenix's logo -- at least, nothing that can be physically seen until powered on. This is because the Pandora Window features a digital screen on the front panel. Once everything is hooked up, the end user will then be able to see BitFenix's logo displayed. Software is also provided via the download from BitFenix's site, in which it can be used to customize the display to show whatever logo the user wishes. In addition, BitFenix also provides a logo in the accessory box to be placed wherever the user pleases, or simply not have a physical logo at all. Be aware the front panel is a fingerprint magnet. For those who like to keep everything clean, I would suggest leaving the plastic film on until your build is complete. This is to ensure that you will keep the panel spotless in addition to protecting it from miscellaneous scratches.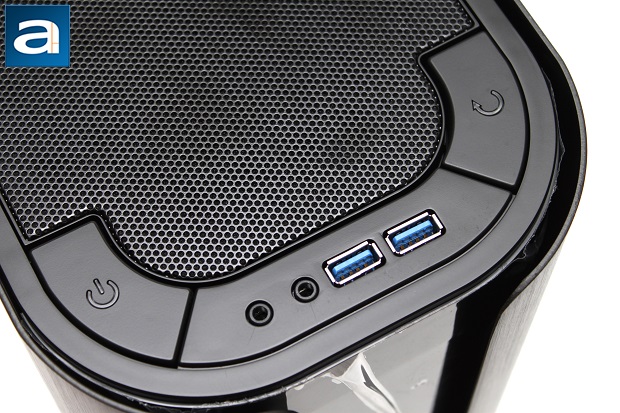 The front panel connectors are placed on top of the Pandora Window. The power and reset buttons are fairly large for easy access without having to go on a mouse hunt to turn on your system. In between these buttons, BitFenix has kindly provided the user with two USB 3.0 ports and access to your standard 3.5mm audio jacks. However, I wish BitFenix had integrated some sort of cover to keep the overall design clean instead of having buttons and ports exposed, but this is only a minor personal preference. Behind the front panel connectors is the top mesh, in which I will get into shortly.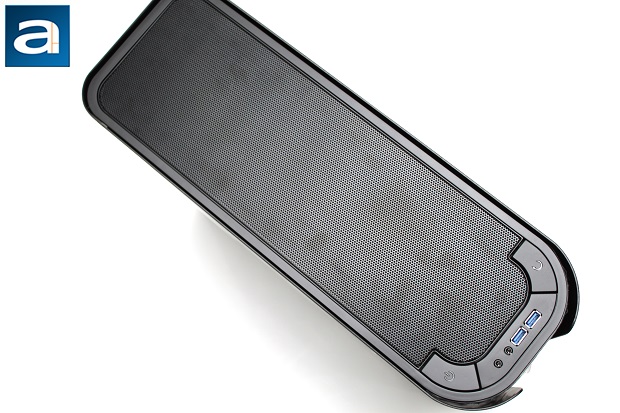 Stepping back, you will notice the top mesh is removable for better access and easy cleaning of settling dust. All you need to do is press down on one side to release the spring loaded clips. One complaint I have here is the clips do not push the panel far up enough, so the end user must delicately pull the mesh off, or let gravity do its job when the case is laid on its side. Although this is a great idea in removing the top mesh, I wish BitFenix had implemented a more convenient way of removing the panel without having to go through additional work to get it out in the first place. Other than that, the visual appeal here works very well in conjunction to the rest of the case. Notice the removable mesh attracts oil from your hands. Keeping a cloth handy would be a good idea for wiping down your system after completion.
Additionally, under the hood, you will have access to a 120mm at the rear, and mounting holes for a 2.5" hard drive. You will have a chance to see this in detail on the next page. Shifting our attention a bit to this area, BitFenix has kept both functionality and form. As the natural laws of physics forces settling dust to the top of your computer, the top removable panel is a good way of keeping dust out of your system. This also acts as good ventilation, especially with the 120mm fan, as hot air rises out of the computer. That way, end users do not have to sacrifice heating issues to accommodate for nasty stuff getting into your system.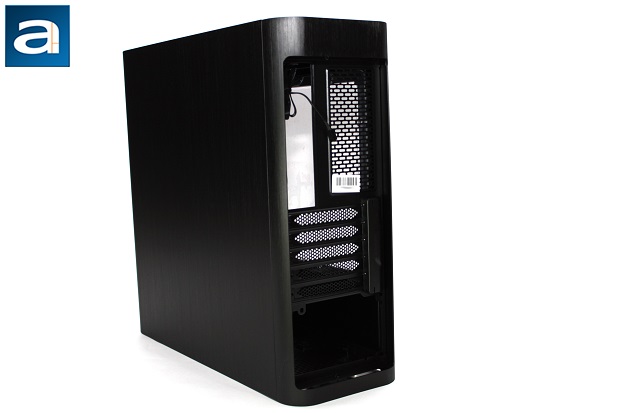 Moving to the back, you will be presented with an I/O opening, ventilation openings, five expansion card slots, and the PSU opening. All these features are pretty standard on chassis nowadays. Besides these features, one thing to note here is that the back aluminum panel can be taken off via three screws on each side that hold it in place. You will need to take off the side panels before being able to remove this panel, if you decide to do so. My complaint here is that because the thumbscrews are usually overly tightened for any average user to unscrew, end users are forced to take off this panel to have access to the thumbscrews with a screwdriver. For those who like tool-free installations, the installation process here will require tools.
You will notice that there are no screws of any sort that are holding in the side panels. This is because there are four notches on the inside of each panel that clips it into place on the frame of the Pandora Window, making it very user friendly. Following this idea, I would have expected BitFenix to come up with a better design for the back panel for a better installation process. In my opinion, in order to keep the whole design symmetrical, I would have split the back panel in half, and have it integrated on each respective side panel.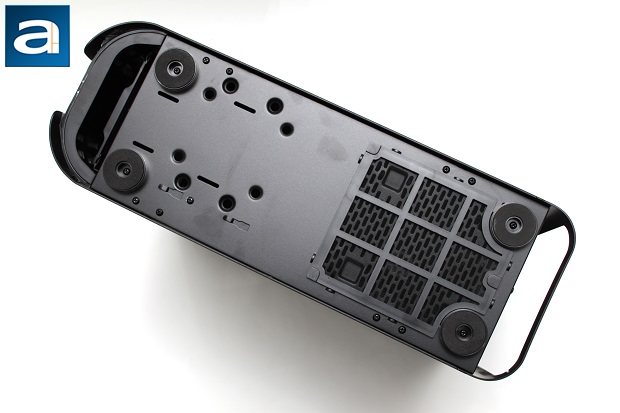 Flipping the chassis to its underside, you will be greeted with four feet with grommets to prevent scratching on hard surfaces. You will also have access to a removable dust filter, which covers bottom intake of your installed power supply from sucking in all the nasty stuff from your floor. There are a few large holes closer to the front feet. These serve as mounting holes for hard drives at the bottom of your case. Be sure to install the rubber grommets provided by BitFenix to further vibration dampening.
Overall, the BitFenix Pandora Window is a solid case when it comes to build quality. All the panels fit together extremely well with minimal panel gaps -- that is, before all the cables are bundled behind the motherboard tray. However, nothing feels flimsy or cheap. The only complaint I have about sharp corners are on the side panels where they meet with the back. I will get into more detail about it in the following page. Other than that, I do not have anything to complain about the Pandora Window's exterior design. The amount of attention to detail is noticeable, which is always a good thing.
---
Page Index
1.
Introduction, Packaging, Specifications
2. Physical Look - Outside
3.
Physical Look - Inside
4.
Installation and Conclusion