By: Devin Chollak
November 10, 2011
If you have ever gone looking for a used car, typically, you don't go around looking for the cheapest car possible. However, if you are strapped for cash and need something quick and dirty, any car is usually better than no car. Of course, when I mention all these things, I mean absolutely no disrespect to the BitFenix Merc Alpha we have here at APH Networks for our review today. Sure, it isn't your high-end enthusiast chassis, nor is it your mainstream case. In fact, it is what many would classify as a hardcore value case. When I first read the name "Merc Alpha", I really just want to call it the cheapest Mercedes-Benz in existence (You know, with the name "Merc" and everything). It is hard not to think of it that way, as the Merc Alpha is going for only $39 at press time. Of course, an assumption would be that you are being offered nothing more than the absolute minimal number of features. On the other hand, assumptions could be wrong, and many would try to debate that fact -- this case could be completely different than what you have been expecting. BitFenix does create a wide array of different types of chassis, so I hope they do know what features are the most important even on a lower priced model. The real question here is whether this chassis is truly a Mercedes-Benz under the covers, or is really just a Hyundai cheap car in disguise? Read on to find out more about this super saver deal!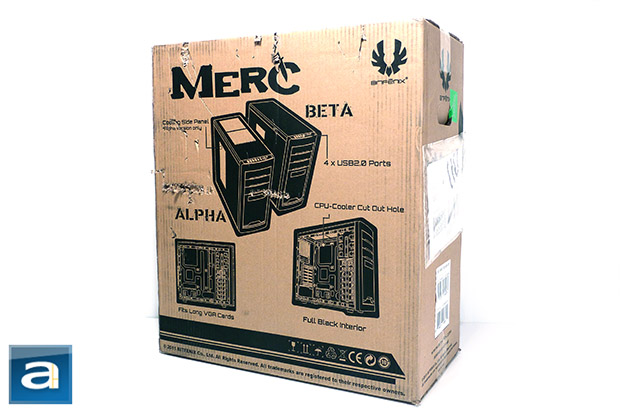 The very first thing you will notice about the box is all the gouges and scraps along the surface. This is only fair, as traveling all the way up north to Calgary, Canada from California, I would be surprised if it didn't take a few hits along the way. However, if the outside of my car came looking like this shipping box, I wouldn't be far from impressed, haha. The exterior condition of the box isn't all that bad, as most of the marks are simply on the surface. FedEx Ground took care of it during the trip, and also ensured that the inside goods took no damage. The BitFenix Merc Alpha comes in a standard corrugated retail cardboard box, with a nice image on the front, showing the basic look of the case. In addition, you also get to see its twin brother, the Merc Beta. An unexpected quirk with the Merc Alpha is that it features a full black interior, and being a super value case, this really is an unexpected Easter Egg. The front of the retail box also informs the customer about the fact it fits long VGA cards, and has four front USB 2.0 ports. Well, enough time has been spent looking at a scrapped up box, let's peek inside.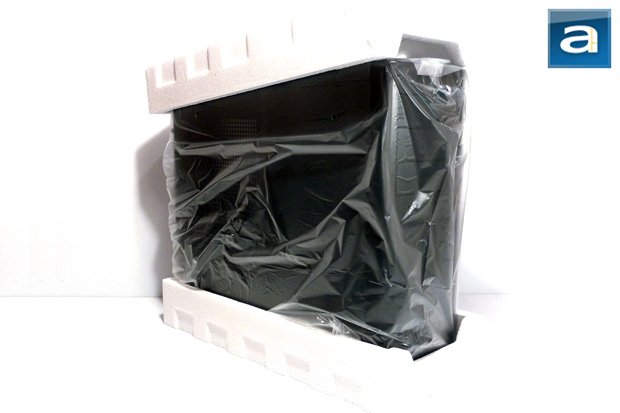 The chassis comes wrapped up in a clear plastic bag, and wedged between two white pieces of Styrofoam. I do see a nice cost saving measure with the Styrofoam; both pieces are identical and designed to work on either side of the chassis. There is nothing out of the ordinary here, but for only $39 at press time, I was expecting the packaging to be slimmed down a bit anyway. This is another pleasant surprise. I mean, nice packaging is often overlooked in order to cut costs, but BitFenix must have known how important packaging is. Of course, the clear plastic bag is used to prevent and scratches to the surface during transit. The Styrofoam, as you probably expect, is meant to prevent the case from sustaining any damages in the event of an impact during shipping. As I'm sure many of you are wondering, what exactly does this value case offer? Well, this is what the manufacturer's website has to say about the specifications:
Specifications
Materials: Steel, Plastic
Color (Int/Ext): Black/Black
Dimensions (H x W x D): 439 x 190 x 490 mm (ATX Mid Tower)
Motherboard Sizes: Mini-ITX, mATX, ATX
5.25" Drive Bays: x 3
3.5" Drive Bays: x 7 (1 x external)
2.5" Drive Bays: x 1
Cooling Front: 2 x 120mm (optional)
Cooling Rear: 1 x 120mm (included) or 1 x 92/80mm (optional)
Cooling Side Panel: 2 x 120mm (optional)
Cooling Top: 2 x 120mm (optional)
Cooling Bottom: 1 x 120mm (optional)
PCI Slots: x 7
I/O: 4 x USB2.0, Audio
Power Supply: PS2 ATX (bottom, multi direction)
---
Page Index
1. Introduction, Packaging, Specifications
2.
Physical Look - Outside
3.
Physical Look - Inside
4.
Installation and Conclusion