By: Jonathan Kwan
August 26, 2006
CaseBuy has been around for quite a while now. With their early releases of CaseBuy's well-known EZ Power Supply Tester series, editors from various websites criticized it for its lack of actual voltage indication and/or inaccurate results in tests. Taking these suggestions from both the media and consumer, CaseBuy recently released version three of their EZ Power Supply Tester. Although I have not officially reviewed its predecessors, I can tell that a lot of thought has been put into this new product. Let see what changes are made into its looks and features that makes this product an improvement over previous versions in our review today.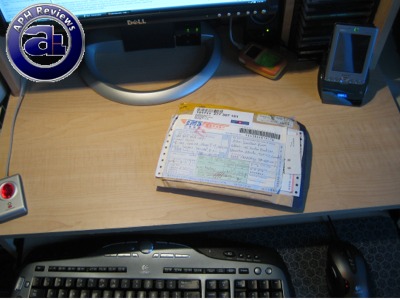 Our review unit came in a small package from Taiwan earlier this month using standard postal mail services. It arrived one day before I was on a trip to Vancouver, so it's a good thing I got it on hand as Canada Post wouldn't hold the package very long for you.
Opening the envelope-type package reveals a small box retail box that contains our CaseBuy EZ Power Supply Tester III. Our review unit's box seems to have taken a lot of beating during shipment; the good news is that everything inside remains functional and undamaged.
A short description and feature list is located on the back of the box. The English on it seems to be pretty rough flowing (I am feeling a bit stubby in my writing today as well, so bear with me) and filled with errors, such as writing "Features:" as "Feature:" as well as numerous spelling mistakes on the box ("Indicater" should be written as "Indicator").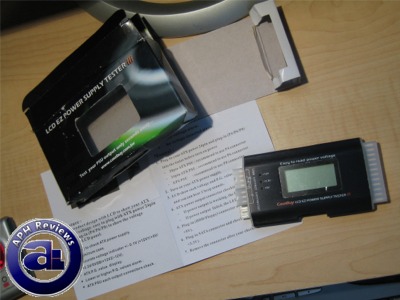 Out of the box, you will receive CaseBuy's EZ Power Supply Tester III as well as a short instruction sheet. The instruction sheet, in point form, gives you a very general idea on how to use the product and what's displayed on the screen is what they wrote. Like the box, it is filled with grammar and spelling mistakes. Some of the mistakes will reduce its ability to convey its intended meaning (For example, one line says, "When abnormal happened, it will alarm and relative digit blink on the screen" just 'sort of' makes sense).
Before we move on, here are the specifications and features of CaseBuy's EZ Power Supply Tester III, taken from Casebuy's website:
Specifications
- Case Material: Aluminum
- Thickness :1.0mm
- Dimensions:126x63.7x17.5mm
- Characteristic: LCD Monitor and Pocket size
- Color: Black
- NW:13.5KG,GW:14.5KG,Cu/ft:1.4
Features
- LCD displays ATX power voltages
- Tests 20-pin and 24-pin power supplies
- Tests SATA power
- Tests Pentium 4 power connector
- Tests PCI-Express power connectors
- Tests Xeon power connectors
- Tests Floppy drive connectors
- Tests standard 4-pin power supply connectors
- Tests for +3.3V, -12V, PG, +5VSB, +12V, -5V, +5V outputs
- Aluminum Case
- Accurate Voltage indicator +/- 0.1V
- Displays ATX P.G. values
- Low or High PG values alarm
- ATX output connectors check
- Over voltage alarm
- No Voltage alarm
- Low Voltage alarm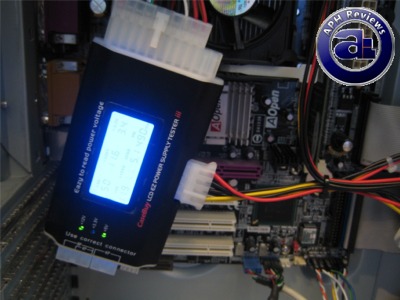 Overall, I really like its design. Constructed with a brush aluminum body and standard plastic connectors on both sides, a blue backlit LCD screen resides in the middle along with three LEDs for indicating voltage on other connectors (Eg. Molex). The CaseBuy EZ Power Supply Tester III looks very sleek, feels solid but very light.
This product can accommodate different inputs for testing. This includes a 20/24 pin motherboard connector at the right, a Molex connector at the bottom, an SATA connector at the top (unfortunately, this may lead to the connector being inserted upside down by accident), a floppy drive connector, PCIe connector, and a connector for testing Pentium/Athlon/Xeon power supply lines.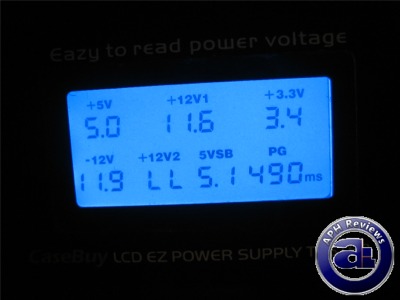 The CaseBuy EZ Power Supply Tester III has a blue LCD screen to check voltages. The alarm will not go off as long as it stays within +/- 5% for the 5V rails and 3.3V rails, and within 10% on the 12V rails. However, if you are using an older power supply that does not have a second 12V rail, the alarm will continue sounding (And the alarm itself beeps pretty loudly) and sadly, there's just no way around that.
Initially, when I got this product, I didn't exactly know how or when it will come in handy. However, one night my dad brought me a computer from a friend because he claimed that his "power supply is dead", due to the fact the computer is unable to power on with all connections and switches in the right position. As you can see in my photo above, I connected the CaseBuy EZ Power Supply Tester III to see if the power supply was really dead. Well, after connecting the EZ Power Supply Tester III into my dad's friend's computer, it indicated otherwise. His power supply works perfectly fine.
The whole idea is to save time. If you are a computer technician and/or someone who builds or repair computers very often, this tool will really come in handy, as you don't need an extra power supply to see why that computer will not power on. In addition to that, you don't have to plug a power supply into a bunch of computer hardware to make sure it is working fine with CaseBuy's EZ Power Supply Tester III.
By the way, the computer won't power on because it had faulty RAM.
---
The CaseBuy EZ Power Supply Tester III is an excellent product that does what it designs for well. This product's looks and is also designed very well; the only issue for physical aspects is potential problems with users inserting a SATA connector incorrectly into the slot. With a blue backlit LCD screen that indicates voltages visually and literally, along with audible warnings for indicating voltage problems, this can be very handy for people who spend a lot of time building, testing, or repairing computers as it would really save a lot of time in testing power supply related problems. The loud beep can be very annoying when a second +12V line is not detected for older PSUs, therefore giving warning when the part actually has absolutely no problems. In conclusion, if you are a computer technician, this is indispensable. For the general consumer, you probably won't need it, unless your answer to "How often are you really going to use it?" is "A lot".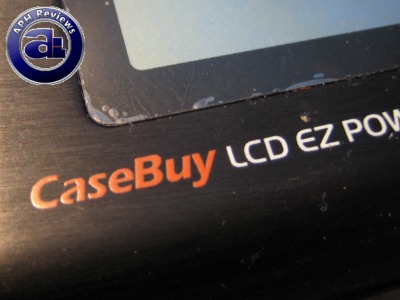 Special thanks to Lionel over at CaseBuy for making this review possible.
Note: The number ratings below has been adjusted accordingly to comply with our new Number Rating System.
Rating: 7/10
What do these ratings mean?
With minor faults, this product can be very useful for computer technicians -- but the average consumer is likely find it less useful.