By: Aaron Lai
September 14, 2018
I was recently perusing Amazon and thinking about buying a USB AC charger, because I was running out of them and thought it would be a good idea to get one with multiple ports. I settled on one which provided fast charging for my phone. I received it a few days later thanks to Amazon's Prime service and started charging my devices. One day, I woke up and looked at my phone. Rather than the typical green light I expected to see, my phone was completely off and unresponsive. I started getting nervous, because I did not want to have to replace this phone so soon. Considering how long it took me to decide on this device, I was afraid I would have to go through the song and dance. Swapping phones is probably one of the most disruptive things I can do, especially since I use it daily and thus get used to a specific one. Even if I get a phone with the same operating system or manufacturer, there are still small differences between devices. On the other hand, swapping keyboards have become almost second nature for me, especially as I have reviewed so many of them. Today we have the CK552, a new keyboard from Cooler Master. I honestly did not have much of an introduction to this keyboard other than the fact it features switches not from Cherry. Is this a keyboard I want to get used to or will there be things that make it hard to like? Let us read on to find out!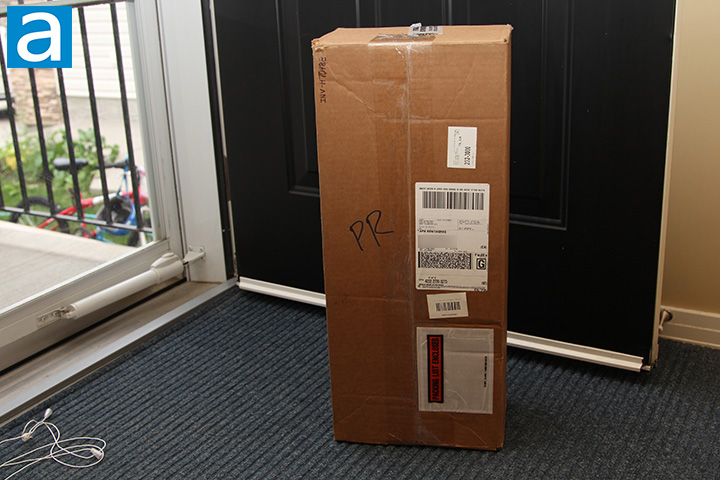 Today's review unit of the Cooler Master CK552 not from their usual location of Chino, but another suburb in California named Brea. Between these two small cities, Brea is just a little over half the size of Chino in terms of population. The Bank of America has a large presence in this city, providing jobs for approximately three thousand people in 2010. As for this package, the box arrived with some other Cooler Master products, traveling with FedEx and their Ground service. Thankfully, the corrugated cardboard box arrived in excellent condition, without any marks or holes to be sad about.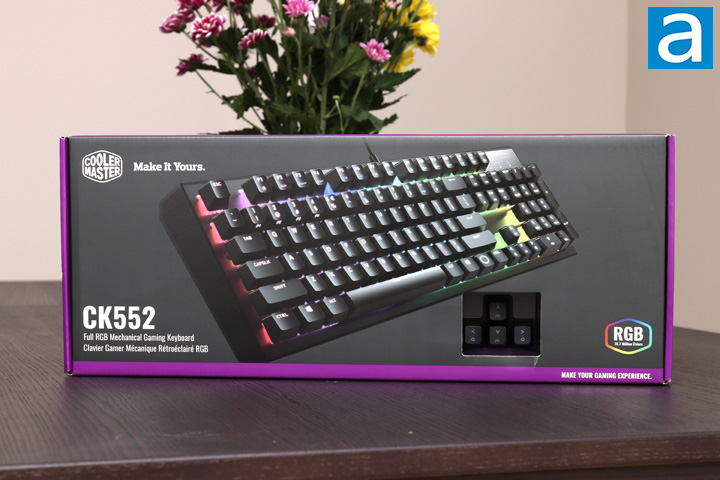 Cooler Master has seemed to settle on their color choice for their peripheral boxes. The CK552 is enclosed in a dark gray and shade of purple that Wikipedia calls Mulberry. This makes for a purple that is not as blue as the NZXT purple. Either way, the front shows off the CK552 from the left side. The product name and description of "Full RGB Mechanical Gaming Keyboard" can be found in the bottom left side. A cutout exposing the arrow keys is also on the front to let users try out the keys before buying. The back of the box shows off some more specific features. As an aside, you may be wondering where I got the background flowers from. This was a gift from one of my parents' friends during a housewarming party. While you cannot see it, these flowers were actually held in a Mason jar since I do not actually have a vase. Hopefully, one of our partners comes out with an RGB vase for me to review, haha.
Before we continue, here are the specifications taken from the manufacturer's website for your perusal:
- Product Name: CK552
- Model Number: CK-552-KKGR1-US (Red Switch)
- Switch Type: Gateron
- Material: Plastic / Aluminum
- Color: Midnight Black Brushed Aluminum
- LED Color: RGB, 16.7 million colors
- Polling Rate: 1000 Hz
- Response Rate: 1ms / 1000Hz
- MCU: 32bit ARM Cortex M3
- On board Memory: 512KB
- On-the-fly system: Yes, for Multi-media, Macro Recording and Lighting Control
- Multi-media Keys: Through FN
- Cable: Fixed Rubberized 1.8m
- Software Support: Yes, through Portal
- Connector Cable: USB 2.0
- Cable Length: 1.8m
- Dimensions: 460*135*41 mm (L*W*H)
- Product Weight (without cable): 850 g
- Warranty: 2 years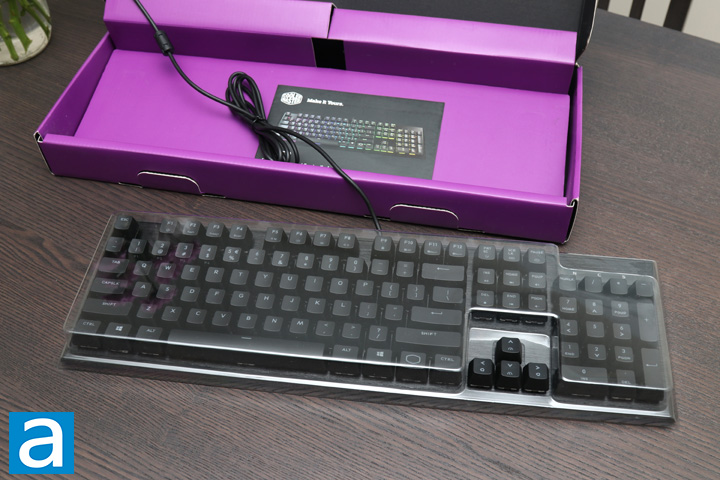 Out of the box, we have the Cooler Master CK552 protected by a hard plastic shell. This is pretty nice to see, as it provides a bit more of a rigid cover to prevent damage from happening to the keyboard. A small user manual can be found in the box, highlighting different key combinations to change different settings. We will take a look at these different combinations later on. Surprisingly, we also have a wire keycap puller. I would normally expect a plastic one, since they are cheaper to manufacture. I am quite happy to see a wire one, which makes pulling out atypical sized keys easier. Cooler Master also specifies a two year warranty with the CK552, which is standard for most keyboards.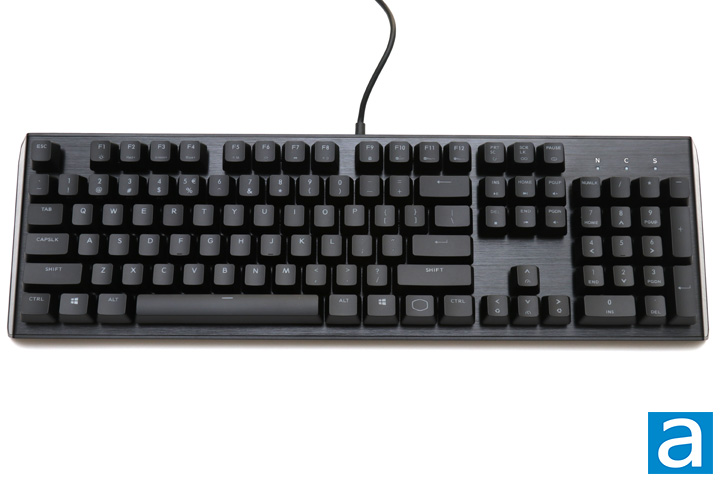 Unlike all of the Cooler Master keyboards we have seen in the past, the CK552 moves away from the traditional design. Rather than the standard plastic enclosure, we actually have an island-style keyboard with an exposed metal backplate. This metal a brushed midnight black, which makes for some nice horizontal textures. With this island-style design, you can see a bit of the bottom of each switch since they sit on top of this backplate. This allows some of the RGB LEDs to shine through, but we will see when we look at it later. Overall, it is a pretty conservative look despite its slightly gamer-like design. Cooler Master thankfully also does not include much for branding on the top. The sides of the keyboard slopes down for a subtle curve while adding a bit of width. While we have the aforementioned aluminum backplate, the rest of the enclosure is a plastic shell. It should be noted this CK552 is a more "limited" edition with its fully black exterior and Cooler Master has a CK550 with a similar exterior but a lighter backplate. We will be reviewing this keyboard later on.
As for dimensions, the Cooler Master CK552 is 460mm in width, 41mm in height, and 135mm in depth. Compared to other keyboards, these measurements are a bit bigger in width and height, but keeps its depth at a minimum. This is not too surprising, especially with the sloped sides. In terms of mass, this keyboard has an average heft at around 850g. Weight does not always translate into build quality, but the Cooler Master CK552 feels pretty sturdy. Its aluminum backplate keeps the whole structure very sturdy. There are some signs of flexing, especially near the arrow keys, but you have to be directly pushing on the backplate to see this imperfection. The frame can handle quite a bit of torque before flexing, but i doubt you will be twisting your keyboard as hard. Even with a plastic base, this keyboard is pretty sturdy. Unfortunately, the CK552 does not come with a keyboard wrist rest, but Cooler Master has some available separately.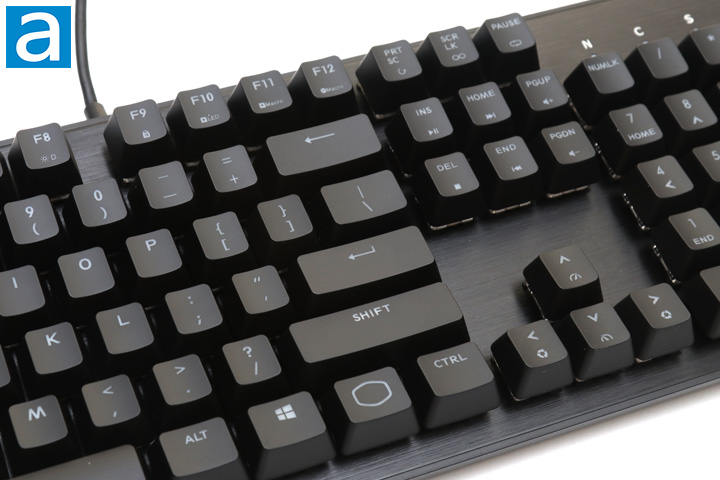 The Cooler Master CK552 came to us in a standard 104-key QWERTY ANSI layout with standard spacing on the bottom row. Most of the keyboard is laid out in the same way as every other keyboard sent to APH Networks. The keycaps are average in quality with letters being translucent to allow the backlighting through. These are laser-etched ABS keycaps. ABS, which is short for acrylonitrile butadiene styrene, is a commonly used plastic for keycaps. They offer decent quality, but are also seen as inferior compared to PBT, or polybutylene terephthalate, which are stiffer, harder, and keep their color better. Fingerprint staining will be seen with these keycaps. These show off a bit of oily marks, but I have also seen worse. Font of the lettering on the keys is clean and legible. Otherwise, the keycaps have the same standard height as you would expect. The keycaps do wobble slightly, though it is not too different from other keyboards I have used.
Cooler Master has littered this keyboard with secondary functions, so I will go through the important ones. These are all activated by pressing the Function key, which is marked by a Cooler Master logo outline plus the corresponding key. F1 to F8 and the arrow keys are reserved for lighting effects, so I will cover these later on when I look at the lighting. F9 is a tristate switch, cycling between locking the Windows key, the whole keyboard, and unlocking everything. F10 to F12 are about recording settings, as you can record lighting effects and macros. Print Screen, Scroll Lock, and Pause are used to play the recorded macros in either a single, infinite, or repetitive fashion. The six keys above the arrow keys are used for media keys, with keys marked for Play/Pause, Stop, Next, Previous, Volume Up, and Volume Down. The numbers 1 to 4 are marked to cycle between the four profile settings. If you want to reset anything, you can use R or E to reset all the profiles or the current profile to the default. You can also return to the default profile by pressing Esc. Of course, a lot of these things can be executed with the included software, but we will see these later on.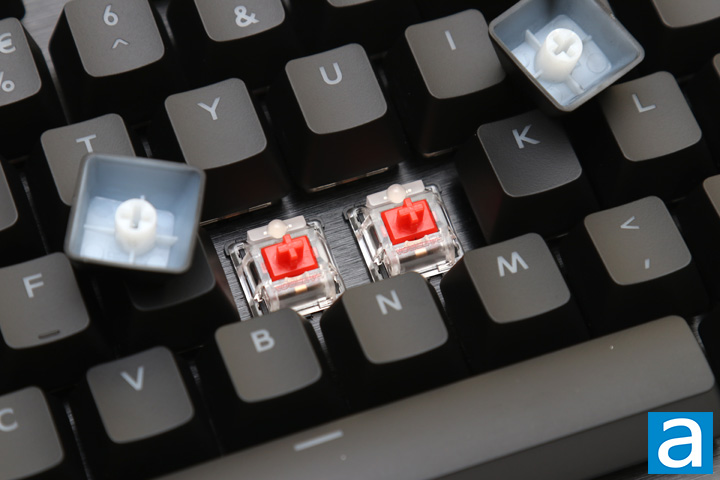 As for key rollover, the Cooler Master CK552 offers NKRO over USB. NKRO is abbreviated for n-key rollover, which refers to the number of keys independently scanned by the hardware. In essence, this fixes ghosting issues found in cheaper and/or laptop keyboards. While ghosting is a marketing term, there are cases where keyboards will not be able to recognize more than one keystroke at a time, causing for missed keys. This can be frustrating when you are playing games or even if you are just a very fast typist. On an aside, the original usage of ghosting in keyboards actually referred to a third key being registered when two other keys were pressed, which thankfully is not a problem with most modern keyboards.
Before continuing on, one of the main selling points of the Cooler Master CK552 is the mechanical key switches. There are three main types of keyboards in the market today. The cheapest but most common is the membrane keyboard, which is the easiest to make, but also has poor typing feel and response due to squishy keys. Next is a scissor switch keyboard. This can be thought of as an enhanced rubber dome with two extra interlocking plastic pieces connected to the key and the keyboard. This creates a better tactile response and typing experience in comparison to the aforementioned membrane. Mechanical keyboards, such as the CK552, cost the most, because each key switch is an independent part. These switches are generally composed of a base, stem, and spring, with varying degrees of tactile and audible feedback.
Our unit of the Cooler Master CK552 features Gateron Red switches. These are very similar switches to the ones we found with the SteelSeries Apex M750 TKL. This switch is intended to be like the Cherry MX Red switch. These are rated to last up to fifty million keystrokes, which is standard. Linear switches are what I would call a gamer switch, as they feature a quiet typing experience and a relatively low actuation force to trigger them. Gateron Reds also feature a low resistance to typing with a linear travel with a 45g actuation force. With these linear switches, we have a travel distance of 4mm and actuation distance of 2mm. Otherwise, you can see there is a clear enclosure for each switch, allowing the RGB lighting to spill through and bleed out.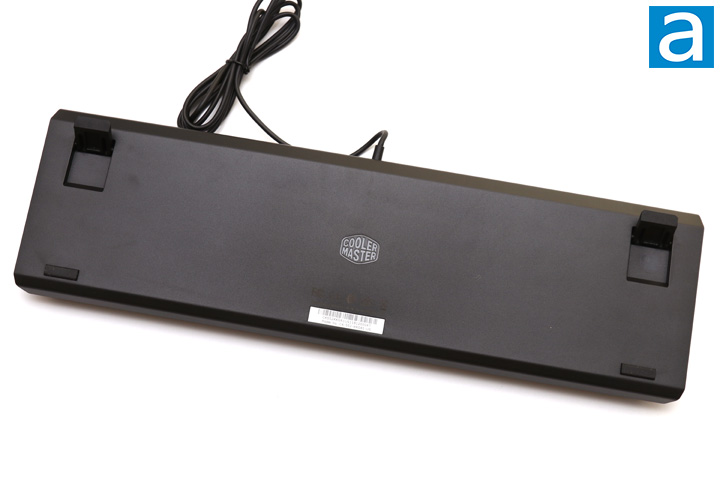 On the bottom of the Cooler Master CK552, we do not have much else that is different here. The CK552 has a Cooler Master logo on the back, with a sticker showing the serial and model number. The bottom two corners have a rubber rectangle to keep the keyboard in place. The top two corners have these kickstand feet that are lined with rubber. The neat part is even when these kickstands are not fully flipped out, they protrude slightly out to help keep the keyboard from sliding about. Out the back, we have a rubber cable leading out the middle with a standard length of 1.8m. It would have been nice to see a braided cable, but the cable is pretty flexible. On the other hand, I would have liked to see a removable cable here, but it is not a big deal. There are no pass-through USB ports or 3.5mm audio jacks, though I do not really use this feature too much.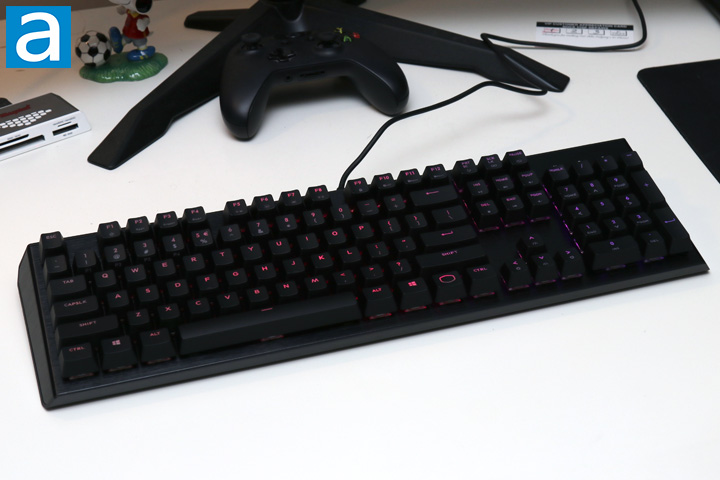 Once I plugged the Cooler Master CK552 into the computer, it glowed brightly on my table. When it comes to the Gateron Reds switches, I really enjoy the feedback and feel from these switches. This keyboard is not the first time I have used switches from Gateron, but thankfully both last time and this were positive experiences. Compared to Cherry MX Red switches, they provide a lighter actuation force. Their key travel is clean and consistent across all of the keys, even when comparing the longer keys with the stabilizers. Otherwise, the Gateron switches provide a nice bounce on the rebound of the keystrokes. I really like these switches, as they truly provide a consistent and enjoyable feel. I do still have my things to pick with linear, low actuation force switches in general, such as accidental key presses, but if you enjoy these type of switches, you should not be concerned about these ones from Gateron.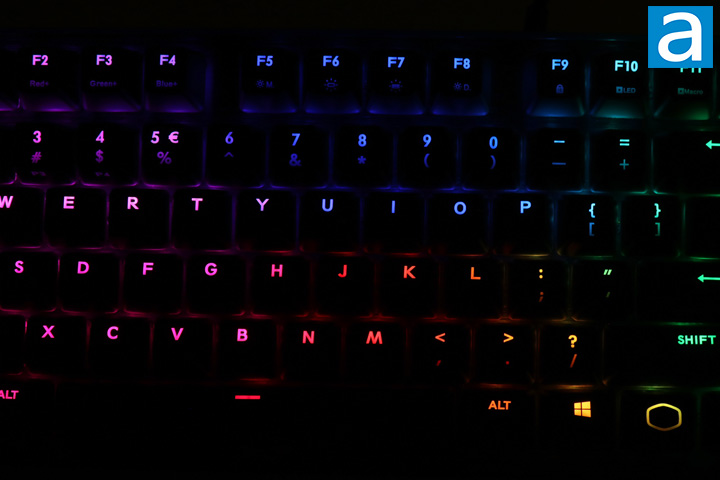 When it comes to lighting on the Cooler Master CK552, we have a pretty standard set of RGB lighting at first sight. With the clear housing, the lighting shines out and bounces off the bottom of the backplate. The lights shine through the thinner ABS keycaps well, though we have a similar issue in many other keyboards where the second row is not as illuminated. This is because the light is located at the top of the key switch rather than the bottom. However, what I do like is the amount of customization you get without needing to use the software. This is pretty similar to other Cooler Master keyboards, but I really appreciate it. There are many different lighting effects, which is really awesome, and you can cycle them all through without needing any software.
As we mentioned, there are secondary keys for adjusting all of these lights. F1 cycles between commonly used colors, while F2 to F4 are used to adjust individual red, green, and blue levels. This provides a total of ten levels of intensity for each channel, including being off, giving users a thousand different possibilities on the keyboard alone. While this is nice, it does mean you will not get a dedicated brightness level, since it will conflict with the color levels. Moving on, F5 is used to cycle through the different effects, which you enable through the software, as you will see soon enough. By default, there are a certain number of effects provided, but the software will let you unlock more. F7 and F8 allow you to change the colors for the foreground and background lighting. Finally, the arrow keys are where you can change the lighting effect direction or the speed of the effects. The last two sets of keys I mentioned have differing effects depending on the current lighting mode.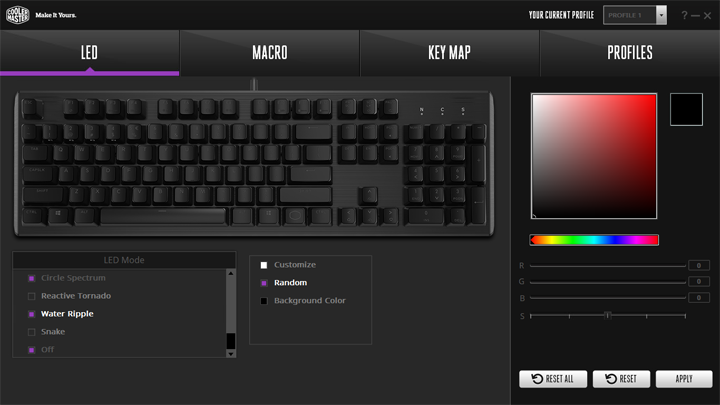 If you do end up downloading Cooler Master's software, it is a two part affair. One is the Cooler Master Portal, which is 9MB in download size. Once you download, the portal will determine which products you have connected and install the necessary drivers for your specific peripheral. I presume this will be used for other peripherals in the future because of this. In total, the Cooler Master Software took up about 65MB of space on my computer after installation.
The first tab is where you can see all of the LED settings and lighting effects. From this page, you can enable different effects to cycle through with the keyboard shortcut while also changing their colors and background effects. There are all sorts of different effects, whether they are reactive or non-reactive modes. We also have the snake mode make its appearance again. We saw this first in the Cooler Master Storm Quick Fire XTi, and it is nice to see this again. You can also combine multiple modes or make custom static ones. This really is a lot of different effects that rival even the ones of SteelSeries. The second tab is about macros and it lets you create and assign them to keys. This records both keyboard and mouse actions. You can then reassign every key, even the function key, on the keyboard. The third tab is about remapping keys, though I think this could have been combined with the macro tab to assign keys to certain macros. You can also disable certain keys if you want. Finally, the Profile tab is where you can manage all four profile settings and save them to your computer. Overall, the software works well, and while it may not have the same sort of game integration we have seen from competition, it works well on its own.
-----------------------------------------
To say it was hard to switch to the Cooler Master CK552 would be a lie, but this is in part due to the fact I was using another keyboard with practically the same switch. Even so, the Cooler Master CK552 is a pretty standard looking keyboard with most of the good features you would want from one. Starting with a solid build, the aluminum backplate keeps the keyboard from feeling strong in day to day use. The slim exterior and understated design looks good, but I would not necessarily call it as stunning as some other keyboard. The many different secondary functions for lighting, macros, and media keys are excellent too. Underneath, the switches from Gateron feel pretty good with a consistent feel between keys. This keyboard also comes with full NKRO support. As for the RGB lighting, we have loads of effects and good vibrancy. Its software overall is polished and feels easy to use. Obviously, there are some tradeoffs and missing features. The keycaps on the CK552 are pretty standard, though I would have liked to see the thicker PBT switches. I personally would have liked to see a dedicated brightness switch as well, even if it meant removing the individual color channels. Other missing features include lacking a wrist rest, pass-through connections, or detachable cables. As for pricing, the CK552 is an exclusive in US and Canada to some local brick and mortar stores at $80 USD. If you want a practically same keyboard but different color scheme, the CK550 is also available, but for an extra $10 USD. Overall, you are getting quite a bit of bang for the buck and I think Cooler Master has kept the right features to make the CK552 easy to switch to.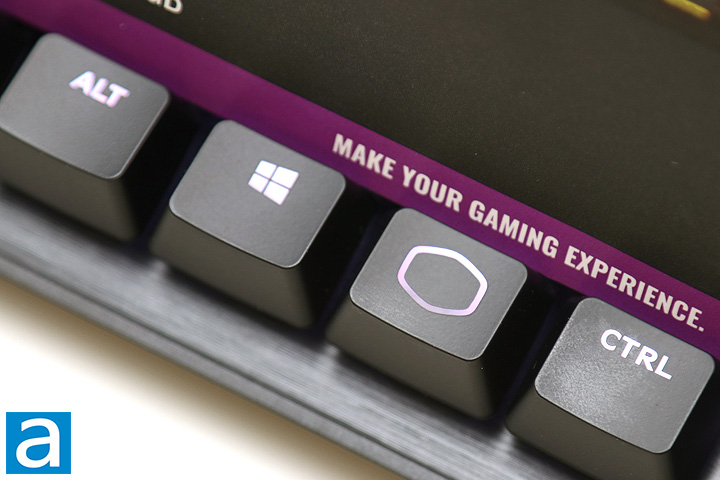 Cooler Master provided this product to APH Networks for the purpose of evaluation.

APH equal.balance Award | APH Review Focus Summary:
8/10 means Definitely a very good product with drawbacks that are not likely going to matter to the end user.
7/10 means Great product with many advantages and certain insignificant drawbacks; but should be considered before purchasing.
-- Final APH Numeric Rating is 7.4/10
Please note that the APH Numeric Rating system is based off our proprietary guidelines in the Review Focus, and should not be compared to other sites.
The Cooler Master CK552 is an economically priced keyboard enhanced by many premium features.
Do you have any comments or questions about the Cooler Master CK552? Drop by our Forums. Registration is free, and it only takes a minute!