By: Jadon Lee
September 9, 2022
Maintaining an image is an interesting idea. How much should someone value or even devalue it? Where does the value actually come from? Some people will go through great lengths of chasing and striving for a specific image on themselves. In terms of actuality, it is really a matter of shaping other people's opinions of them. As a business student, I have found myself in this trap of wanting others to view me in a specific manner once in a while. The realization of this allowed me to take a step back and observe others going through the same process. These individuals often do not realize the ramifications of what they want and would want others to perceive them in a certain light rather than who they really are. As they chase this, they do not realize that these perceptions they are chasing after is unachievable if they want to live a healthy life. The moment they act like themselves, that image will crack, leaving them back at square one. Whether or not this person wanted to seem kind or to be taken seriously, this crack will leak droplets of inauthenticity. In these observations, it really displays how important appearance is to people. Appearance is not only important to people, but to their PC cases as well. Today, we have the Cooler Master MasterBox TD500 Mesh to test out. This is a mid-tower case with quite the appealing design. Will the appearance of this case change my perception of what my computer is? Keep reading to find out!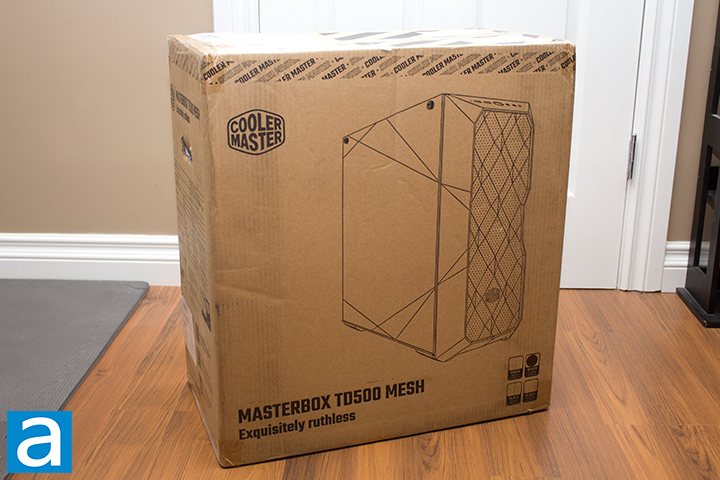 The Cooler Master MasterBox TD500 Mesh arrived via UPS Standard in its retail box. The box arrived in a relatively decent condition, having few marks, dents, or scratches. There were no marks prevalent enough for me to be worried about the product. The package arrived in one piece, so UPS did a good job in keeping this package secure. I was happy with the shipping and have no complaints.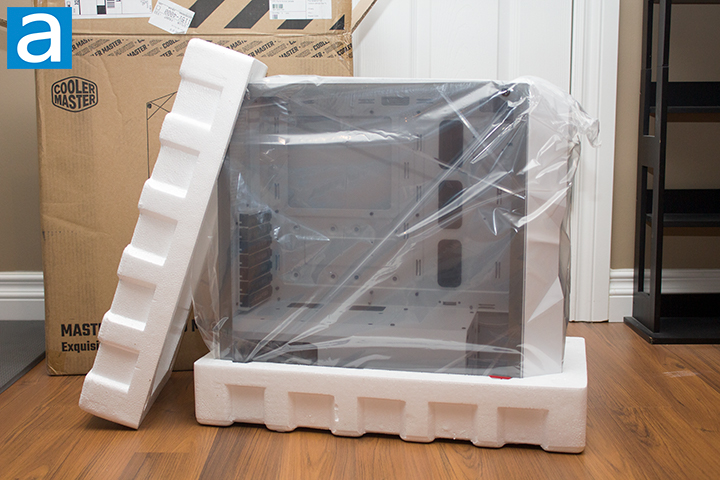 Cooler Master uses two large Styrofoam blocks on the front and back of the case to absorb any impact that may have occurred in transit. This is very common for most cases, but is especially important for cases with tempered glass panels. The TD500 Mesh itself is wrapped in plastic to prevent scratches. There is another additional layer of plastic on the glass panels to prevent dust or prints that would dirty the glass. Inside, the case contains all necessary manuals alongside all the screws needed for installation in a bag that was safely tucked away beside the drive bay. The packaging is good, as the case sustained no damages.
Before we continue, here are the specification for the Cooler Master TD500 Mesh, as posted on the manufacturer's site:
Specifications
Series: MasterBox Series
Size: Mid Tower
Color(s): Black, White
Materials, Steel, Plastic, tempered Glass, Mesh
Dimensions (L x W x H) 493 x 217 x 469mm (incl. Protrusions), 429.5 x 205 x 447mm (excl. Protrusions)
Weight: 6.95 kg
Motherboard Support: Mini ITX, Micro ATX, ATX, SSI CEB, E-ATX*, (*support for up to 12" x 10.7", will limit cable management features)
Expansion Slots: 7
5.25" Drive Bays: N/A
2.5" / 3.5" Drive Bays (Combo): 2
2.5" Drive Bays: 4 (2+2 combo)
I/O Panel: 2 x USB 3.2 Gen 1 (USB 3.0), 1 x 3.5mm Audio Jack, 1 x 3.5mm Mic Jack, 1x ARGB/PWM Hub (may depend on region and model)
Pre-installed Fans – Top: N/A
Pre-installed Fans – Front: 3 x 120mm 650~1800 RPM SickleFlow PWM ARGB
Pre-installed Fans – Rear: N/A
Fan Support – Top: 3 x 120mm, 2 x 140mm
Fan Support – Front: 3 x 120mm, 2 x 140mm
Fan Support – Rear: 1 x 120mm
Radiator Support – Top: 120mm, 240mm, 360mm (44mm max motherboard component height)
Radiator Support – Top: 120mm, 140mmm, 240mm, 280mm, 360mm
Radiator Support – Top: 120mm
Clearance – PSU: 180mm/7.08", 295mm/11.61" (w/ HDD cage removed)
Cable Routing: 19mm/0.74"
Dust Filters: Top, Bottom, Front
Power Supply support: Bottom Mount, ATX
Warranty: 2 years
---
Page Index
1. Introduction, Packaging, Specifications
2.
Physical Look - Outside
3.
Physical Look - Inside
4.
Installation and Conclusion