By: Jadon Lee
May 5, 2023
I decided to watch the top currently airing anime Oshi No Ko after realizing it was not simply an idol anime, but it was actually a psychological mystery drama. The tags people gave were something very out of character for a show about idols. After briefly reading the synopsis, I was intrigued and found that this show comments on a lot more about life than I thought it would. It really brings forward the harsh realities of child idols, effects of social media, trauma, and more. It was unexpectedly interesting. A takeaway I got from it was the reality that a lot of times, efforts are never realized. You observe the main cast of this show go through tremendous hardship only to be completely overshadowed by a simple corporate agenda. Despite chasing a dream, the utter hopelessness is quite somber. A lot of the time, we may not recognize the growth in ourselves or even the things around us. It makes me wonder if there is really a point if no one is there to recognize it. Cooler Master would think so as they have sent over an updated version of a previously released chassis. Today, we have the Cooler Master MasterBox TD500 Mesh V2 to test out. As I have previously reviewed the original Cooler Master MasterBox TD500 Mesh, will I be able to spot the changes, or will it be all of naught? Keep reading to find out!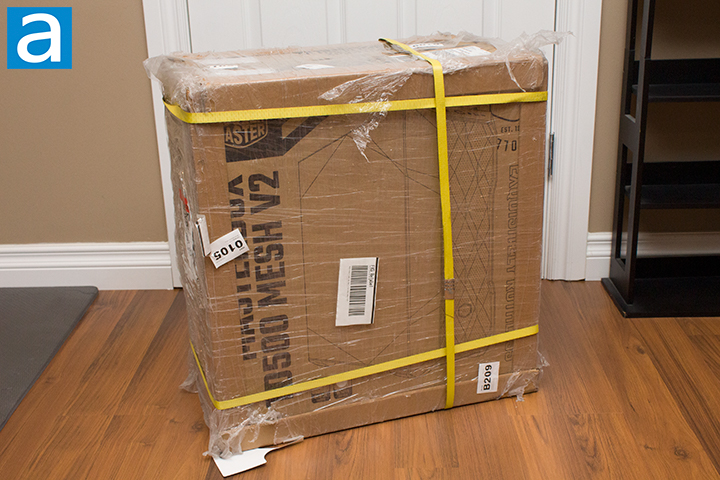 The Cooler Master MasterBox TD500 Mesh V2 arrived via FedEx International Ground in its retail box, plastic wrapped with hard cardboard along the edges to protect them from scuffs. The box arrived in a relatively decent condition, having minimal marks, dents, or scratches. There were no marks prevalent enough for me to be worried about the product. The package arrived in one piece, so FedEx did a good job in keeping this package secure. I was happy with the shipping and have no complaints.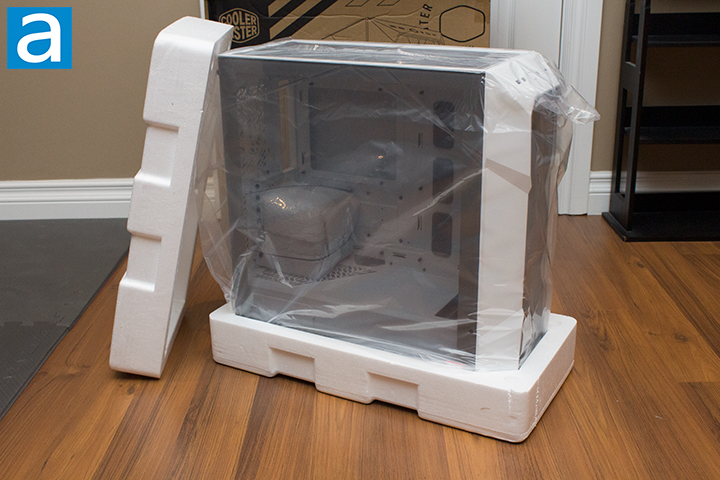 Cooler Master uses two large Styrofoam blocks on the front and back of the case to absorb any impact that may have occurred in transit. This is very common for most cases, but is especially important for cases with tempered glass panels. The TD500 Mesh V2 itself is wrapped in plastic to prevent scratches. There is another additional layer of plastic on the glass panels to prevent dust or prints that would dirty the glass. The box contained the manual, while inside the case contained all the screws needed for installation in a bag as well as a nifty little accessory Cooler Master calls the MasterAccessory GEM. The MasterAccessory GEM is not normally included, but we will check it out anyway later on in this review. The packaging is good, as the case sustained no damage.
Before we continue, here are the specification for the Cooler Master TD500 Mesh V2, as posted on the manufacturer's site:
Specifications
Exterior Color: Black, White
Materials – Exterior: Steel, Mesh, Plastic
Materials: - Left Side Panel: Tempered Glass
Dimensions (L x W x H): 499 x 210 x 500mm (incl. Protrusions), 430 x 210 x 477mm (excl. Protrusions)
Volume: 50L (excl. Protrusions)
Motherboard Support: Mini ITX, Micro ATX, ATX, SSI CEB, E-ATX*, (*up to 12" x 10.7" motherboards, may impact cable management feature)
Expansion Slots: 7
3.5" Drive Bays: 2
2.5" Drive Bays: 3
I/O Panel - USB Ports: 2x USB 3.2 Gen 1, 1x USB 3.2 Gen 2 Type C
I/O Panel - Audio In / Out: 1x Audi Jack
I/O Panel - Other: 1x ARGB Fan Hub
Pre-Installed Fans – Front: 3x 120mm CF120 ARGB
Fan Support - Top: 3x 120mm, 2x 140mm
Fan Support - Front: 3x 120mm, 2x 140mm
Fan Support - Rear: 1x 120mm
Radiator Support - Top: 120mm, 140mm, 240mm, 280mm, 360mm, (recommended maximum thickness -55mm)
Radiator Support - Front: 120mm, 140mm, 240mm, 280mm, 360mm
Radiator Support - Rear: 120mm
Clearance - CPU Cooler: 165mm / 6.49"
Clearance - PSU: 200mm, (Recommended up to 170mm)
Clearance - GFX: 410mm / 16.14"
Cable Routing - Behind Motherboard Tray: 19mm / 0.74"
Dust Filters: Front, Top, Bottom
Power Supply Support: Bottom Mount, ATX
Warranty: 2 Years
Series: MasterBox Series
Size: Mid Tower
---
Page Index
1. Introduction, Packaging, Specifications
2.
Physical Look - Outside
3.
Physical Look - Inside
4.
Installation and Conclusion