By: Hai Wang
May 28, 2021
As we are approaching summer and the weather is becoming warmer and warmer, people around me have started to talk about their camping plans. I believe this year, going camping is probably one of the safest recreational activities. If we just go camping alone or only with families in one household, you are not likely to catch or spread any viruses to other people. I am seriously thinking I should go camping for couple of times so I will not regret that my summer is wasted even though I am not a camping enthusiast. Just like any other outdoor activity, I think it is better to have good preparation before driving to the camp site. It will be pretty sad if we cannot set a camp fire just because we forgot to bring a lighter. As for preparation, finding a checklist online from an expert is a good idea. After all those essential things are packed, now it is the time to think about our individual needs. For me, I would like to bring my laptop. This is not because I want to play games or something like that in a different environment; it is just for me to do stuff like checking the photos from my camera or writing down some thoughts about my life. The thing is, I would prefer my laptop to be lightweight and have low power consumption. High performance for gaming is not necessary in this case. However, after the camping trip, when our lives are back to normal, then gaming performance may be needed. How can one have a laptop that is lightweight, power efficient, and with high gaming performance? My answer will be getting a combination of a lightweight laptop, an external GPU enclosure, and a desktop graphics card. You may have already own a laptop. Now the question is, what external GPU enclosure to choose assuming you can buy a graphics card at all? If you have not decided yet, today's review unit, the Cooler Master MasterCase EG200, may be the solution. Want to find out more details? Let us check it out.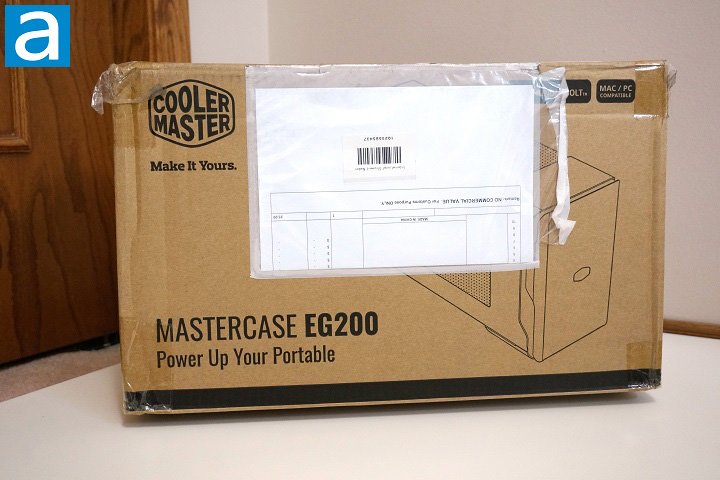 Our Cooler Master MasterCase EG200 review unit arrived via FedEx International Ground to us here in Calgary, Alberta, Canada. The package was sent to us from Cooler Master's offices in Brea, California. It has traveled thousands of miles and the parcel is clean and in good shape. Very few dents and scratches were found on the box thanks to the protective wraps and pads. Note I removed those wraps and pads before bringing the parcel inside my house.
Usually, a good retail package design can draw people's attention and make the product itself stand out among hundreds of other products on the shelf. However, nowadays we just love to buy things online. Therefore, it is mostly unnecessary to have a fancy retail packaging with color pictures on it. The retail package of Cooler Master MasterCase EG200 is simply a brown cardboard box. It shows a nice sketch of the case, and the product name is present on lower left of the box, as you can see from the above picture. It is also important to see the giant Cooler Master logo, so we know where we are buying things from. Overall, the retail package design is rather simple. It only provides a high level information of the product. If you want to know more about this case, you just need to open the package to see what is inside the box.
Before we do anything else, let use quick look at the specifications of this external GPU case from the official website:
-SERIES: MasterCase Series
-SIZE: External GPU
-MODEL NUMBER: MCM-EG200-KNNA55-S00, MCM-EG200-KNNA55-UK
-AVAILABLE COLOR(S): Black
-MATERIALS: Steel, Plastic, Mesh
-DIMENSIONS (L X W X H): 383 x 140 x 208mm (incl. Protrusions), 371 x 128 x 204mm (excl. Protrusions)
-VOLUME (EXLC. PROTRUSIONS): 9.7L
-EXPANSION SLOTS: N/A
-I/O PANEL - USB PORTS: 3x USB 3.2 Gen 1 Type-A
-I/O PANEL - USB IN: 1x USB Micro-B 3.2 Gen 1
-I/O PANEL - TB3: USB C
-HARD DRIVE DOCK: 2.5" or 3.5" SATA drives
-PRE-INSTALLED FANS - TOP: 1x 92mm Slim PWM 2600RPM
-FAN SUPPORT - TOP: 1x 92mm
-CLEARANCE - GFX: L: 325 / 12.79inch, W: 54mm (2.5 slot) / 2.13inch, D: 141mm / 5.55inch, (Max. sizes incl. connector)
-CABLES: Thunderbolt(tm) 3 - 500mm, USB - 700mm (incl. USB A to C adapter)
-INCLUDED POWER SUPPLY: Cooler Master V Gold SFX (550W)
-INCLUDED POWER CABLES: 1x 24 pin, 2x 6+2 pin PCI-e, 1x SATA power
-USB POWER DELIVERY: 60W
-EAN CODE: 4719512108581(MCM-EG200-KNNA55-S00), 4719512111598(MCM-EG200-KNNA55-UK)
-UPC CODE: 884102080890(MCM-EG200-KNNA55-S00), 884102083907(MCM-EG200-KNNA55-UK)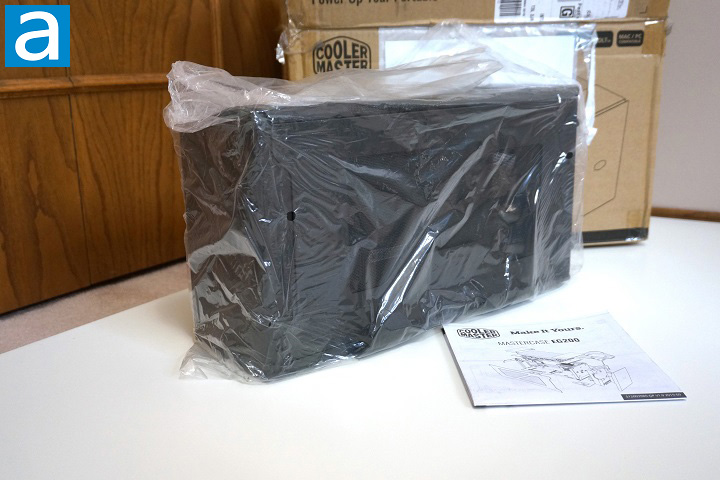 After opening the retail package, we can see the EG200 is nicely wrapped in a transparent plastic bag. The case is also protected by two pieces of foam brackets. A user manual is attached in the package, so we have a nice starting point of using this case. Just like a normal computer case, the EG200 also has an accessory package that holds the cables, screws, and zip ties. In case you are wondering where we can find the accessory package, it is inside of the chassis. We need to remove the side panels of the EG200 before getting access to that package. I think it is a good idea to quickly look through the user manual before opening it up.
---
Page Index
1. Introduction, Packaging, Specifications
2.
Physical Look - Outside
3.
Physical Look - Inside
4.
Benchmarking and Conclusion