Page 4 – Benchmarking and Conclusion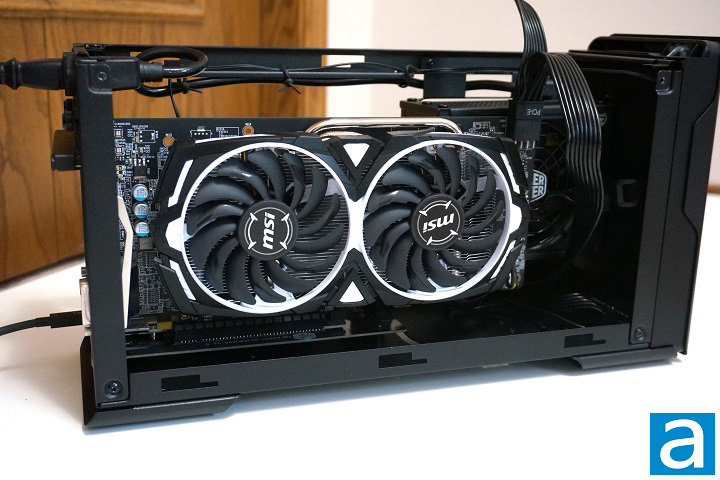 Installing a graphic card in the Cooler Master MasterCase EG200 is pretty easy. One thing I would like to mention is the power cable for my review unit. For some reason, mine was not a North American plug. If you are buying it from a local distributor, the plug type should be correct. This is not a big deal for me, since I have lots of power cables around. As you can see from the above photo, I removed one of the chassis bars to make more room for installing my graphics card. Fortunately, I have an MSI Radeon RX 580 ARMOR 8G OC to test it with, which, you know, as with any graphics card, is hard to come by nowadays, haha.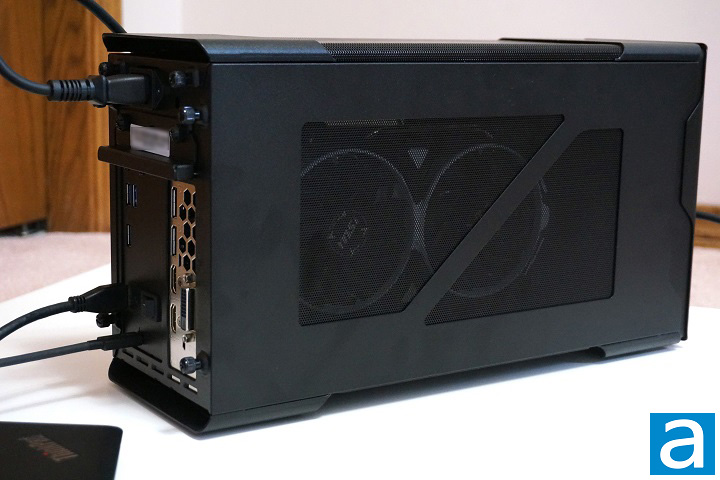 The laptop I used for testing is a Lenovo ThinkPad T470. It is a business laptop that has an integrated GPU. The MSI Radeon RX 580 ARMOR 8G OC can greatly improve the gaming performance of this laptop. In order to find out how good the EG200 actually is, I put the product through a series of tests against another popular product from Razer. For reference, my laptop has the following specifications:
CPU: Intel Core i5-7200U
RAM: 1x16GB DDR4 SDRAM @ 2133MHz
Graphics: Intel HD Graphics 620
Screen: 14" LCD @ 1920 x 1080
Storage: Western Digital Black SN750 NVMe SSD 500GB
Operating System: Microsoft Windows 10 Pro
Compared Hardware:
- Cooler Master MasterCase EG200
- Razer Core X (GPU only)
- SilverStone TS12 (Storage only)
In our tests today, two benchmarks are used for the performance evaluation; namely 3DMark and ATTO. 3DMark is to evaluate the external GPU performance provided by the EG200, while ATTO is to test the drive docking station performance. The focus of these tests is to evaluate the performance of the interfaces on the EG200 instead of the performance of the graphics card and the storage device itself. To gain a comprehensive understanding of the performance evaluation results, a Razer Core X is used for the external GPU interface performance comparison, while a SilverStone TS12 is used for the external hard drive interface performance comparison.
Theoretically speaking, both the EG200 and Core X have full Thunderbolt 3 bandwidth support, so the external GPU performance of the two products should be similar. For the drive docking station performance, data needs to be sent out from the storage device and go through the SATA interface, then pass through the USB interface to the computer. The reverse applies to data going from the laptop to the connected HDD or SSD. The actual data rate will depend on the slowest link in the chain. On paper, SATA 6 Gbit/s supports 6Gbps data rate, as its name suggests. However, the TS12 supports USB 3.2 Gen 2x1 that has data rate as high as 10Gbps, while the EG200's VL817 is a USB 3.2 Gen 1 hub controller, which only supports up to 5Gbps. Therefore, the USB interface of the EG200 may be a bottleneck for the docked drive performance.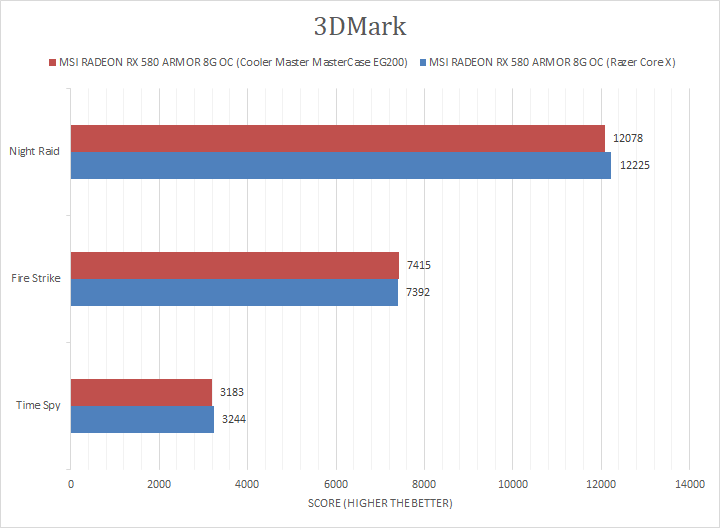 According to UL Benchmarks, "3DMark includes everything you need to benchmark your PC and mobile devices in one app. Whether you are gaming on a smartphone, tablet, notebook, or a desktop gaming PC, 3DMark includes a benchmark designed specifically for your hardware". We can get some high-level understanding of the three 3DMark benchmarks I chose for the external GPU performance evaluation by reading information from the developer. Specifically, Night Raid "is a DirectX 12 benchmark test for PCs with integrated graphics and Always Connected PCs powered by Windows 10 on Arm. It is an ideal test for laptops, notebooks, tablets and other mobile computing devices". As for Fire Strike, it is "for high performance gaming PCs". Time Spy is "a DirectX 12 benchmark test for gaming PCs running Windows 10. With its pure DirectX 12 engine, built from the ground up to support new API features like asynchronous compute, explicit multi-adapter, and multi-threading, Time Spy is the ideal benchmark for testing the DirectX 12 performance of modern graphics cards."
As you can see from the 3DMark results shown above, both the reviewed Cooler Master MasterCase EG200 based on the Intel JHL7440 controller and the Razer Core X based on the older Intel DSL6540 controller yielded similar results for all three 3DMark benchmarks. This is not surprising in my opinion, since they both have full support of Thunderbolt 3 throughput. Although not big, I did see some minor differences between the results of EG200 and Razer Core X. The results of Razer Core X were about 1% and 1.8% higher than the results of EG200 for Night Raid and Time Spy, respectively. As for Fire Strike, the EG200 outperformed the Razer Core X by 0.3%. The test results suggest the EG200's external GPU interface, regardless of controller, did not result in any measurable difference to the GPU performance.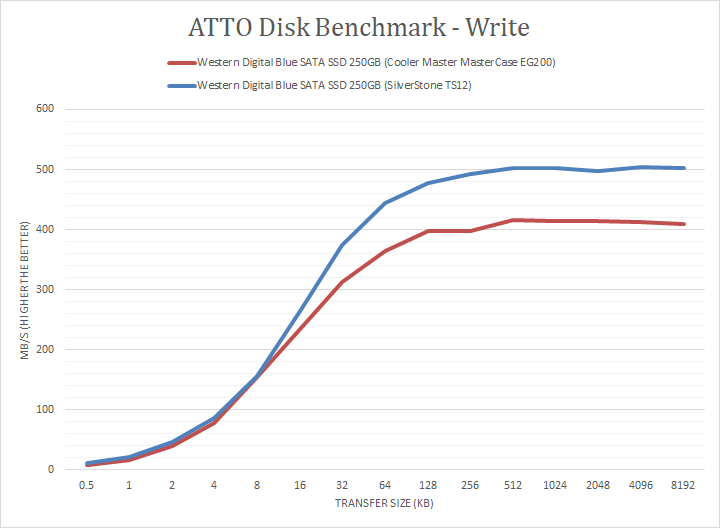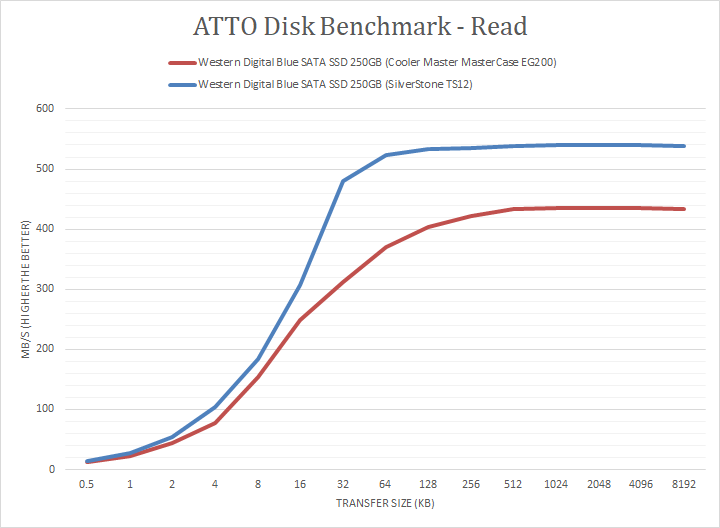 Now, let us take a look at the testing results of one of APH Networks' favorite benchmarks, ATTO Disk Benchmark. Due to the capability of testing different transfer sizes, ATTO Disk Benchmark is able to generate comprehensive testing results that can evaluate a storage device's write and read performance with great insight. According to the results shown in the above figures, some differences between the Cooler Master MasterCase EG200 and SilverStone TS12 were noticed. In the case of the EG200, the maximum write data rate was about 416MB/s and the maximum read data rate was about 433MB/s. For the TS12, the maximum write data rate was about 504MB/s and the maximum read data rate was about 539MB/s. The results have proven the maximum 5Gbps data rate of VL817 in the EG200 did act as a bottleneck to the connected SSD's SATA performance. Considering the drive docking functionality of MasterCase EG200 is secondary to this product, I do not think this bottleneck matters too much to this product, not to mention real-world performance differences is unlikely to be noticed.
-----------------------------------------
After using the Cooler Master MasterCase EG200 for a while, I think I have become more and more reliant on this product. At first, I just took it as another external GPU enclosure, which was kind of like my Razer Core X. I only plugged in the Razer Core X when I wanted to play games, which was not very frequently. However, things were quickly changed after I realized the MasterCase EG200 could also help me with my work. I found the EG200 could serve well as a USB hub and a storage docking station. Specifically, I was able to connect my mechanical keyboard, mouse, and headset to the EG200, all without taking all three USB Type-A ports on my laptop. I could also conveniently back up my data to an SSD. Guess what, all of these took just one USB Type-A port on my laptop. The point is, even without using its high-performance external GPU functionality, the EG200 is already very useful. This is not to mention we can utilize the PCIe to Thunderbolt 3 bridging function to use PCIe devices on my laptop, which is the main point. Furthermore, the MasterCase EG200 is stylish in term of design, has a stand for my laptop, and its build quality is really good. It also does not take too much space on your desk. It is worth pointing out the Cooler Master V550 SFX Gold 550W inside the EG200 is a quality PSU. One thing on my wish list of improvements in this case is to use a higher performance USB hub controller, such that the full speed of SATA can be achieved for the external drive docking functionality. Another thing is while the mesh on the side panel provides good ventilation to the graphics card inside, it cannot prevent dust and water from entering. As for the pricing, it will cost you $450 USD at press time. It is an expensive product, but the EG200 is full of useful functions and the price is in-line with the competition. What you will get for your money though is your laptop usage experience taken to a whole next level.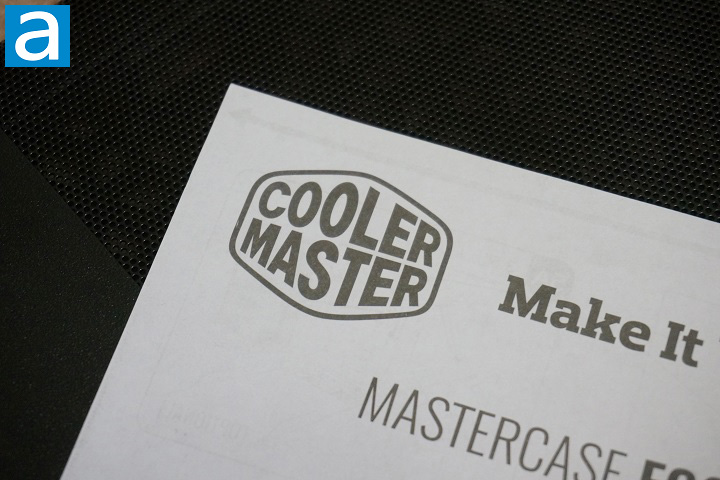 Cooler Master provided this product to APH Networks for the purpose of evaluation.

APH:Renewal Award | APH Networks Review Focus Summary:
8/10 means Definitely a very good product with drawbacks that are not likely going to matter to the end user.
7/10 means Great product with many advantages and certain insignificant drawbacks, but should be considered before purchasing.
-- Final APH Networks Numeric Rating is 7.5/10
Please note that the APH Networks Numeric Rating system is based off our proprietary guidelines in the Review Focus, and should not be compared to other publications.
The Cooler Master MasterCase EG200 can take your laptop experience to a whole new level thanks to the fact it is not only for external GPU applications, but also has a USB hub, storage dock, and even a laptop stand.
---
Page Index
1.
Introduction, Packaging, Specifications
2.
Physical Look - Outside
3.
Physical Look - Inside
4. Benchmarking and Conclusion