By: Aaron Lai
September 6, 2019
If you have been reading my reviews for a while now, you would know that I have and always will enjoy learning and playing instruments. I really enjoy music, especially when I can make it myself. After returning my rental cello, I still wanted to learn or get better at a different instrument, and I thought learning the guitar would be a good option, especially since I had many friends and my father who played and could give me tips. I knew I should have waited a bit to practice a bit before buying a guitar, but I also was really itching to obtain the instrument too. When I first started looking, I was conflicted between what guitar size I should get. For guitars, I had the choice between the smaller auditorium or the full-sized dreadnought. I like the slimmer body of the auditorium and since I do not exactly have the longest arm, I thought this would be a better option. However, this changed when I went into a guitar store to try both. While it was true the smaller guitar option was easier to handle, the larger dreadnought produced a much richer sound. In the end, I ended up going with the larger size, because it was the sound that I enjoyed. When it comes to computers nowadays, we have three distinct sizes, but at the bigger end we have the full-sized ATX experience, while the mini ITX sits at the smaller size. With motherboards and graphics cards available in both the larger and smaller size, power does not need to be limited to a larger enclosure. Today's case, the Cooler Master MasterCase H100, is aimed at the smaller end, so how does it perform? Is it capable of concealing a powerful yet unassuming build? Let us read on to find out!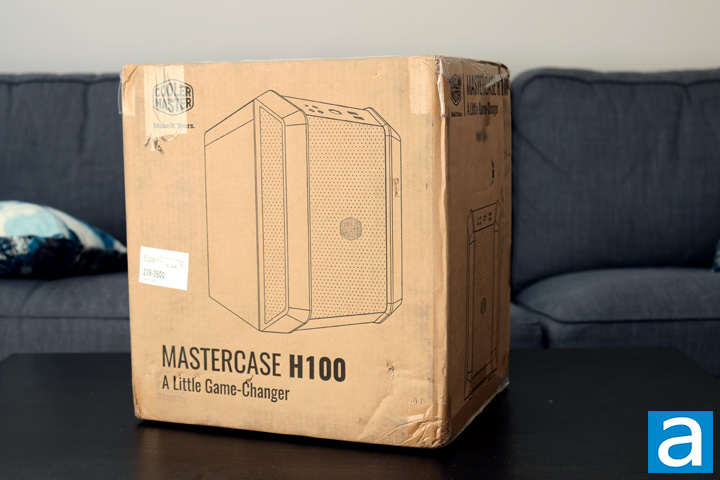 Today's review unit of the Cooler Master MasterCase H100 arrived from Cooler Master's offices in Chino, California. Traveling with FedEx and their Ground service, this box arrived in a good condition with no real surface injuries for me to be concerned about. This box is large enough to be used for its shipping container, so Cooler Master has done so. As for the retail container design, this is a pretty typical looking box with a monochrome design used here. An outline of the case can be found right in the middle, while a Cooler Master logo can be found at the top left corner of this side panel. At the bottom, we have the name of product, along with a tagline of "A Little Game-Changer". Otherwise, around the box, we have some specifications of the MasterCase H100 written out for consumers to understand.
Before we continue on, I have grabbed the specifications from the manufacturer's website for your perusal:
MODEL NUMBER: MCM-H100-KANN-S00
SERIES: MasterCase Series
SIZE: Mini ITX
AVAILABLE COLOR(S): Black, Iron Grey
MATERIALS: Steel, Plastic, Steel mesh
DIMENSIONS (LXWXH): 312mm x 216mm x 301mm (incl. Protrusions), 278mm x 216mm x 294mm (excl. Protrusions)
MOTHERBOARD SUPPORT: Mini ITX
EXPANSION SLOTS: 2
5.25" DRIVE BAYS: 0
2.5" / 3.5" DRIVE BAYS (COMBO): 1
2.5" DRIVE BAYS: 4 (3+1 combo)
I/O PANEL: 2x USB 3.2 Gen 1 (formerly USB 3.0), 1x 3.5mm Audio Jack, 1x 3.5mm Mic Jack, 1x RGB Controller
PRE-INSTALLED FANS - FRONT: 1 x 200mm RGB Fan (Speed: 800RPM / Connector: 3Pin + RGB 4pin)
FAN SUPPORT - FRONT: 1x 120mm / 1x 140mm / 1x 200mm
RADIATOR SUPPORT - FRONT: 120mm, 200mm, 140mm
CLEARANCE - CPU COOLER: 83mm
CLEARANCE - GFX: 210mm (w/o radiator installed), 180mm (with radiator installed)
CLEARANCE - PSU: 210mm (w/o radiator installed), 160mm (with radiator installed)
POWER SUPPLY SUPPORT: ATX PS2
DUST FILTERS: Top, Front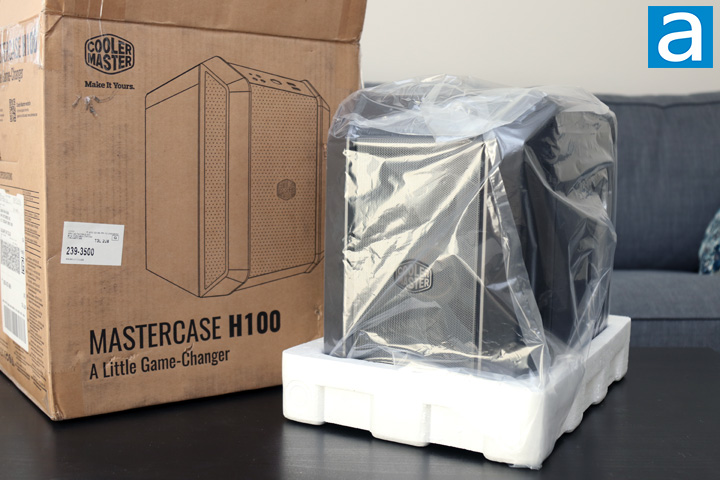 Out of the box, we can find the Cooler Master MasterCase H100 in a large plastic bag and held between two large white foam brackets. These brackets ensure the case is kept secure and protected while in transit. Some documentation is also included with the MasterCase H100, which mostly includes installation instructions and some warranty information. Just so you know, Cooler Master covers their cases for one year, which seems like a standard amount, aside from the electrical components, which are covered for an additional year. Otherwise, let us get a closer look at this little case.
---
Page Index
1. Introduction, Packaging, Specifications
2.
Physical Look - Outside
3.
Physical Look - Inside
4.
Installation and Conclusion