By: Ben Joubert
September 14, 2018
Years and years ago, I was watching a movie with a couple of friends and my brothers. Most of us have seen the movie before, but we decided to watch it again because none of us had seen it recently. At one point in the movie, one of my friends made a bet with my brother about what was going to happen next. We were not really sure, since we have not seen it in a while. The bet was stupid and basically I just remember my friend said he would eat his words. None of us thought anything would really happen except for one of them saying, "I told you so." When my brother ended up being right, they actually decided to make it a serious thing and figure out how someone would eat their words. They decided it would be best if the friend would write something on a muffin, or at least attempt to, and then eat it. I mean, I do not think he lost the bet, since he got a muffin out of it. It just ended up being a case of taking something figurative way too literally. I might have to eat my words as well today. About a year ago, I wrote a review on the Noctua NF-A Series, which included two 200 mm fans. I claimed in the review that it would be rare to have a case which requires 200 mm fans, and it is still rare. Today, however, we have the Cooler Master MasterCase H500, which features two 200 mm RGB fans. Read on to see if they, and the rest of the case, are worth it!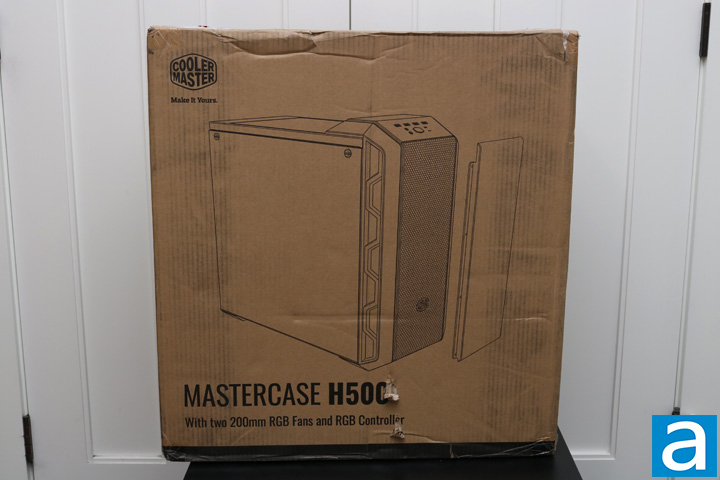 The Cooler Master MasterCase H500 arrived in its retail box all the way from Chino, California to Calgary, Alberta. It arrived via FedEx Ground in decent condition. The edges and corners were pretty beat up. The cut on the front does not bode well for what is inside. It made me a bit worried for what I was going to find, especially since there is a tempered glass panel on this case, which of course can easily break during transport. However, the rest of the retail box has the technical specifications on one side listed, while on the back there is some more information in many different languages. On the front and center, we find a picture of the case with the name found below it. The reason for the two different looking front panels is that they are interchangeable. One can either choose a mesh for optimal airflow or for a cleaner look with a plastic panel. After ensuring I had everything covered, I proceeded to open up the Cooler Master MasterCase H500.
Everything inside was intact, regardless of the retail box's appearance. As per usual, we find two large Styrofoam blocks protecting the sides and keeping the case tightly in place during transportation. There is another Styrofoam block keeping the plastic panel safe. A large plastic bag was also covering the case to prevent surface scratches. One thing that is missing from the tempered glass is another plastic layer adhered to it. The only thing found on the tempered glass is a small fragile sticker in the one corner. However, the glass is nice and clean with no scratches or damage to speak of. A manual and warranty card was also included, while the rest of the screws, cables, and even a microfiber cloth are found on the inside of the case.
Before we move on, here are the specifications as obtained from the manufacturer's website:
Specifications
Product Name: MasterCase H500
Model Number: MCM-H500-IGNN-S00
Available Color: Iron Grey
Materials: Body: Steel; Front Panel: Mesh, Acrylic & Plastic; Top Panel: Steel & Plastic; Left Side Panel: Tempered Glass; Right Side Panel: Steel
Dimensions (LxWxH): Excl. Panels: 450 x 220 x 445mm; Incl. Panels: 525 x 228 x 502mm
Motherboard Support: ATX, Micro-ATX, Mini-ITX
Expansion Slots: 7
5.25" Drive Bays: No
Combo 3.5" / 2.5" Drive Bays: 2
2.5" SSD Drive Bays: 2
I/O Port: Power-LED Color: White; HDD-LED Color: White; USB-Ports: 2x USB 2.0, 2x USB 3.0; Audio In / Out: Yes; Reset Switch: Yes; Other: N/A
RGB Control: Onboard button on the RGB Controller or via the Reset Switch (1x 1-to-3 RGB Splitter Cable Included)
Pre-installed Fan(s) - Top: N/A
Pre-installed Fan(s) - Front: 2x 200mm RGB Fan
Pre-installed Fan(s) - Rear: 1x 120mm (Black) Fan
Pre-installed Fan(s) - Bottom: N/A
Fan Support - Top: 2 x 120mm / 2 x 140mm / 1 x 200mm
Fan Support - Front: 3 x 120mm / 2 x 140mm / 2 x 200mm
Fan Support - Rear: 1 x 120mm
Fan Support - Bottom: N/A
Radiator Support - Top: 120 / 140 / 240mm
Radiator Support - Front: 120 / 140 / 200 / 240 / 280 / 360mm
Radiator Support - Rear: 120mm
Radiator Support - Bottom: N/A
Clearance - CPU Cooler: 167mm / 6.5"
Clearance - PSU: 180mm / 7.1"
Clearance - GFX: 410mm / 16.1"
Cable Routing - Behind Motherboard Tray: 30mm
Dust Filters: Top, Front, Bottom
Power Supply Support: Bottom Mount, ATX
---
Page Index
1. Introduction, Packaging, Specifications
2.
Physical Look - Outside
3.
Physical Look - Inside
4.
Installation and Conclusion