By: Hai Wang
April 12, 2019
Nowadays, it seems the key word "smart" has to be applied to every new product in the market. At least for the wireless communications industry, I have seen quite a lot of stuff using "smart" as the prefix to their names. One widely known example is the smartphone. I guess for most of us, the phones we use today are smartphones. The key physical characteristics of a smartphone are the lack of physical number keys and a screen that takes up the majority of the space. This is because the smartphones are designed to support multimedia applications such as playing videos, browsing the Internet, and mobile gaming. A large screen enables these applications and most importantly, the microprocessor underneath the screen makes the phone possible to run those applications. There are also other "smart" things in the wireless communications industry, such as smart grid and smart metering. On the other hand, due to the recent advancement of artificial intelligence, we can see more and more smart things in other industries as well. Today's review unit of the Cooler Master MasterCase SL600M may not have the word "smart" in its name, but it is one of the smartest computer case I have ever seen. This case is so smart, it allows you to find where the USB ports are located when you are in the dark while not being a lighting distraction if you do not need to see those ports. It is impressive to see the smart side of the MasterCase SL600M is before you put anything into it. As a computer case, being smart is not everything. How about the other perspectives of this product? Let us read on and find out!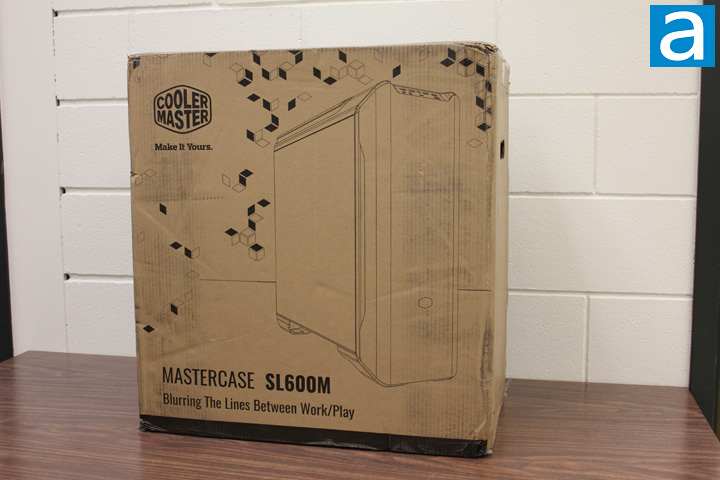 Today's review unit was shipped from the city of Brea, California, USA to us here in Calgary, AB, Canada. Although you may see a really small dent at the top right of the parcel, there was actually no sign of unacceptable damage on the shipping box itself. There is no need to be nervous about the safety of the tempered glass window panel after over a thousand miles of transportation -- well done FedEx International Economy. The box was rather big and heavy, which I felt pretty excited about, since there would surely be lots of good stuff in it.
Usually, a good retail package design can draw people's attention and make the product itself stand out among hundreds of other products on the shelf. However, the reign of a computer case is different. Most of the time, the dealer will either directly put sample cases on the shelf or just demonstrate some fully built computers using those chassis. I personally would not buy a computer case just because it looks great on the box. The retail package of MasterCase SL600M, which is also the shipping package, is essentially a cardboard box with its original color. One sketch of the case is shown on the front cover of the box. The company's name and famous "Make It Yours" slogan are presented at the top left corner. In the bottom, there is the model name of the product. The retail box design of MasterCase SL600M is simple, so if you were looking for more information, I would recommend looking at Cooler Master's website.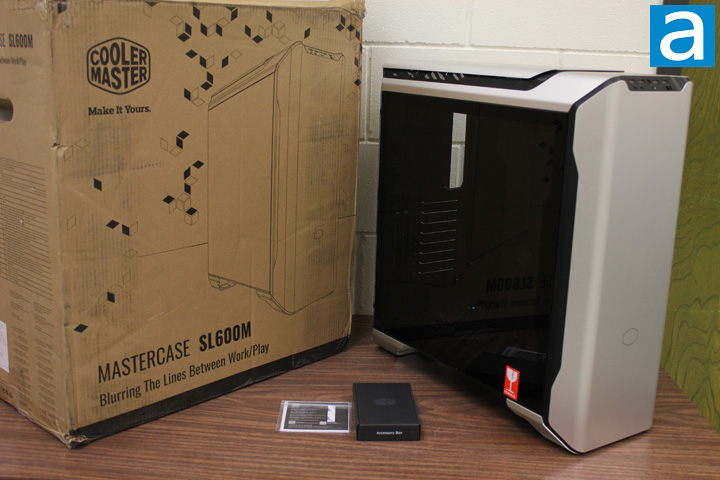 Upon opening the box, you will see the case is wrapped inside a big plastic bag. The bag provides protection to the case from scratches and other surface damages. Aside from the plastic bag, no other protection was provided for the tempered glass window. However, there is a sticker on the tempered glass window indicates that this product, at least this side, is fragile. I would prefer the sticker to be put on the outside of the shipping box too. Furthermore, two foam brackets are used to secure the computer case while it is in the box. The whole chassis is supported by the two brackets at the corners, such that there is no direct contact with the shipping package and thereby no damage was found on the case. To allow for quick installation, a small user manual is included in the package. Since computer building is not rocket science, there is no demand for a book-like user guide, but it is nice to see. All the accessories, including hardware and zip ties, are contained in a black cardboard box.
For you to know the MasterCase SL600M a little bit more, the specifications of the mid-tower from the manufacturer is listed below:
Specifications:
- Product Name: MasterCase SL600M
- Model Number: MCM-SL600M-SGNN-S00
- Available Color: Silver, Black
- Materials: Body: Steel; Front Panel: Aluminum; Top Panel: Aluminum; Left Side Panel: Tempered Glass; Right Side Panel: Steel
- Dimensions 544(L) x 242(W) x 573(H)mm
- Motherboard Support: Mini-ITX, Micro-ATX, ATX (E-ATX* support up to 12" x 10.7", will limit cable management features)
- Expansion Slots: 9 + 2 (Support vertical graphics card installation)
- Drive Bays: 5.25": 0; Combo 3.5" / 2.5": 4; SSD: 4
- I/O Panel: Power-LED Color: White; HDD-LED Color: White; USB-Ports: USB 3.1 Type C x 1, USB 3.0 Type A x 2, USB 2.0 Type A x 2; Audio In / Out: 1x 3.5mm Headset Jack (audio+mic) & 1x 3.5mm Mic Jack; Reset Switch: N/A
- Fan Control: 4 step slide, 4pin PWM x 4
- Pre-installed Fan(s): Top: N/A; Front: N/A; Rear: N/A; Bottom: 200mm PWM Fan x 2 (Speed: 400~800RPM / Connector: 4Pin)
- Fan Support: Top: Front: 240 / 280mm; Rear: 120 / 140mm; Top: N/A; Bottom: 120mm x 3 or 140mm/200mm x 2
- Radiator Support: Top: 120mm, 140mm, 240mm, 280mm, 360mm (maximum thickness clearance 43mm); Front N/A; Rear N/A; Bottom 120mm, 140mm, 240mm, 280mm, 360mm (maximum thickness clearance 72mm when the GFX is installed in the vertical position)
- Clearance: CPU Cooler: 191mm; PSU: 200mm; Graphics Card: 318mm
- Dust Filters: Bottom
- Power Supply: Front Top Mount, ATX
---
Page Index
1. Introduction, Packaging, Specifications
2.
Physical Look - Outside
3.
Physical Look - Inside
4.
Installation and Conclusion