By: Aaron Lai
August 23, 2016
As you may have read in my FSP Hydro G 850W article, I was in the market for a car. I ended up buying a 2015 Chevrolet Cruze. It was kind of funny since I thought I would never buy a domestic car, and here I was purchasing from the same manufacturer as all the other cars I had driven. After many daily routes with this car, I can honestly say it is not terrible. On paper, it has average numbers across the board, and in practice, it is pretty much everything I expect. It may be missing features like lane departure warning or a sunroof, but to me it is everything I want to get from point A to B. It has also spoiled me on things like having a backup camera and USB audio, which might be standard on most cars, but something I have not seen until now. At the end of the day, I am happy with the price I paid, despite having to deal with the sloppy customer service. Do not get me wrong, this is not the best car I have driven or will ever drive, but it is adequate for the money and it works. As much as I may have wanted to get the top of the line for everything in my first car, I realized it is impossible for a recent grad like myself, and it honestly is not what I need. Similarly, as much as we love our peripherals, with mechanical keyboards and fancy mice, it really is not recommended for everyone, especially people with a tighter budget or those new to computer gaming. Cooler Master today has tried to accommodate these users with today's review unit of the Cooler Master MasterKeys Lite L Combo RGB, a mouse and keyboard combination with fancy rainbow lights. Will this keyboard still be capable in getting people typing from A to Z? Hopefully this review will answer this question, and more!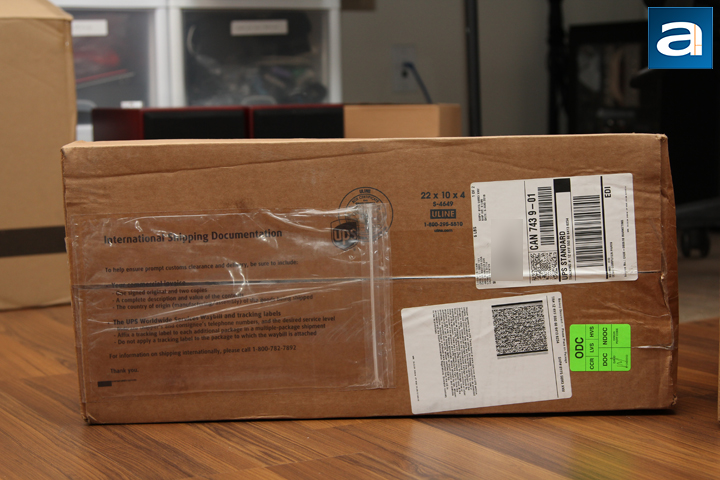 Today's review unit arrived from Cooler Master's offices in Chino, California. Traveling with the guys in the brown suits, also known as UPS, this box arrived in excellent condition without any worries of damaged contents. This parcel arrived to our APH Networks offices here in Calgary, Alberta. Inside the box you will find the Cooler Master MasterKeys Lite L Combo RGB in addition to a lot of brown packing paper to prevent any surface scratches. Otherwise, there is not much else to point out, so let us take a closer look at the keyboard and mouse combination.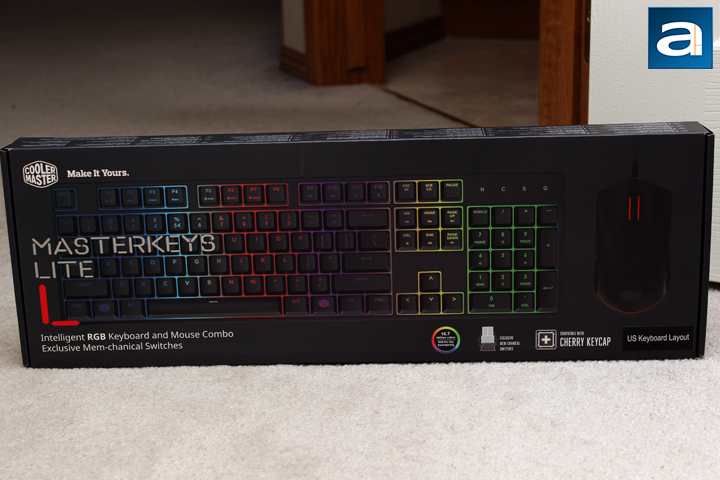 Cooler Master has always been headed in the direction of a simpler and cleaner design, and the MasterKeys Lite L Combo RGB is no difference. The box itself shows off this simplicity, with the keyboard and mouse displayed on the front, on top of a gray background. The Cooler Master logo and the product's name is shown on the left side of the box. Underneath is a product description and a line saying "Exclusive Mem-chanical switches". It should be noted these are membrane switches underneath, but we will see what Cooler Master means when they say mem-chanical. The front also shows there is RGB per key backlighting, but we will see how this shows later on in the review. The back displays even more features and specifications to this combination.
Below is a list of specifications, as obtained from the manufacturer:
Keyboard Specifications
- Model Number: SGB-3040-KKMF1-US
- Switch Type: Cooler Master Mem-chanical
- Color: Black
- LED Color: RGB
- Repeat Rate: Normal 1x / Turbo 8x
- On-the-fly system: Lighting / Multimedia / Win LK / Full Keys LK
- Cable: Non-Detachable Rubber Cable
- Connector Cable: USB 2.0
- Cable Length: 1.8 Meters
- Dimensions: 439 x 129 x 41mm
- Product Weight (without cable): 967 g
- Warranty: 2 years
Mouse Specifications
- Sensor: Optical AVAGO 3050
- Switch Type: Omron 10M
- Color: Black
- LED Color: RGB
- On-the-fly system: Lighting / DPI
- Cable: Non-Detachable Rubber Cable
- Connector Cable: USB 2.0
- Cable Length: 1.8 Meters
- Dimensions: 114 x 64 x 39mm
- Product Weight (without cable): 91 g
- Warranty: 2 years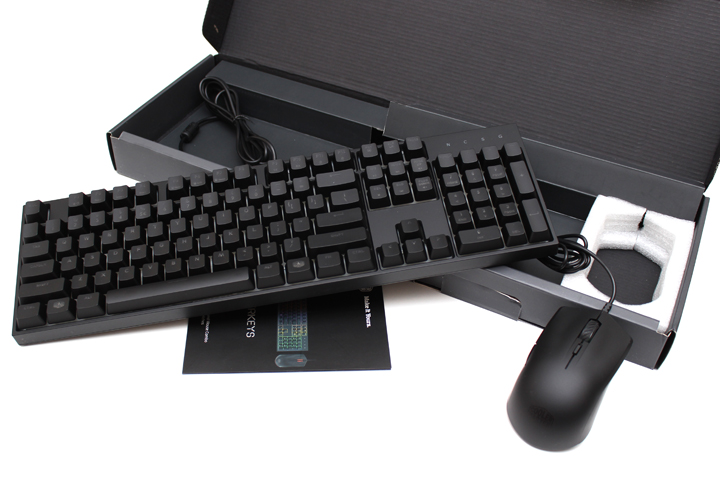 Out of the box you will see standard things including the keyboard and the mouse, each in a plastic bag to protect from surface scratches. The mouse also has a foam cutout to keep it from shifting around inside the container. The box also holds a small user manual to help you get started. The manual contains warranty information for the MasterKeys Lite L Combo RGB. A standard Cooler Master two year warranty is provided with the combination, and I can say from personal experience their customer service is quite helpful in handling situations. Hopefully you will never actually need to use them though. With everything out of the box now, let us take a look at the MasterKeys Lite L RGB pairing.
---
Page Index
1. Introduction, Packaging, Specifications
2.
A Closer Look - Hardware and Software
3.
Subjective Performance Tests
4.
Conclusion