By: Jonathan Kwan
January 20, 2017
"Did you just say that?" my friend turned around as she gave my other friend the dirtiest look on her face yet. "Yes," my other friend replied before pausing for a brief moment. "Wait, what did you think I just said?" "I thought you just said, 'Let's undress'." Suddenly, we all burst into laughter before my other friend could manage to respond. "I said, 'Is that Andres', not 'Let's undress'." Well, at least he had an opportunity to clarify. Unfortunately, this does not always happen. If an intended message is transmitted with error, brace for the unintended consequences. This happens in real life, and it very well happens when you are using your computer, too. Whether you are trying to send a message telling your roommate to buy some beer only to end up getting some beets instead, all the way to tapping in the right WASD inputs (And God forbid, the Windows key) while blowing up your opponents in a game of Call of Duty, it is of crucial importance you own a good keyboard to get the job done right. Nowadays, we all know backlit mechanical keyboards are the way to go. While there are many mechanical keyboards in the market today, Cooler Master stands out as one of the best manufacturers that consistently delivers on quality, design, features, and competitive pricing. Last month, we took a look at the MasterKeys Pro M, an excellent 90% layout keyboard with Cherry MX Brown keys designed to appeal to office users and gamers alike. Today, we will take a look at the MasterKeys Pro L with white LED backlighting. As its name suggests, it is very similar to the MasterKeys Pro M, except this is the 100% layout version. Will it deliver on everything as promised? Read on to find out!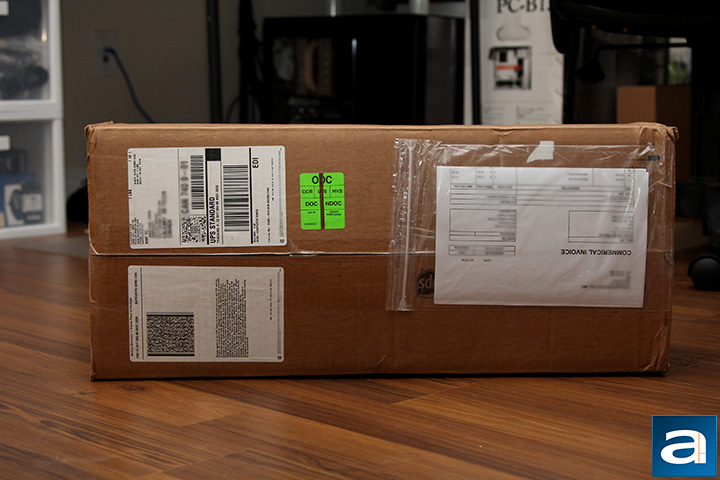 Our review unit of the Cooler Master MasterKeys Pro L arrived in an elongated brown corrugated cardboard box; the same one that housed the Cooler Master MasterPulse Pro headset we reviewed a few months ago. The parcel came from Cooler Master's headquarters in Chino, California, and arrived to us in relatively great condition -- sans a few minor bumps here and there -- here in Calgary, Alberta, Canada. The trip took about a week as always using the UPS Standard service. Shipping box aside, let us crack open the box to take a look inside.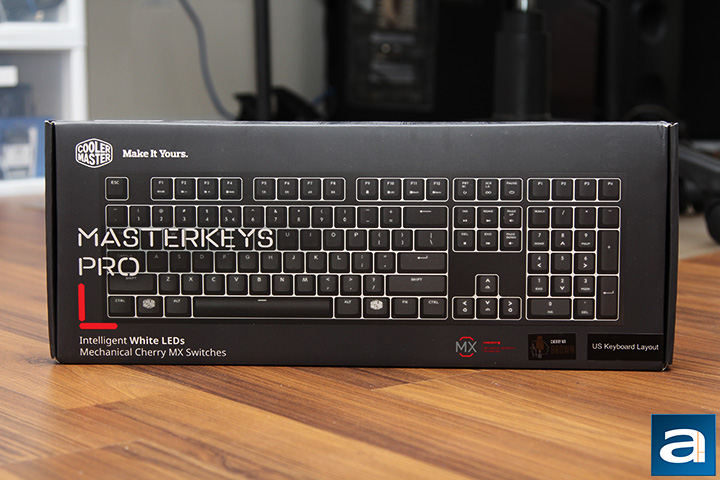 The retail box design for the Cooler Master MasterKeys Pro L carries forward the company's latest design theme we have seen throughout their latest "Make it Yours" campaign. The black background is complemented by mainly white text for maximum contrast; where we can see Cooler Master's logo and slogan at the top left corner, model name laid over a backlight activated image of the keyboard itself across the center, and a product description at the bottom left corner. On the opposite corner, a series of labels indicate its Cherry MX switches, switch type, and keyboard layout. Our particular unit has white LED backlighting with Cherry MX Brown switches in the US keyboard layout. You can purchase other variants, including RGB LED backlighting and MX Blue or Red switches. With regards to the layout, I looked around on Cooler Master's website, and it looks like the US layout is sold in all regions. Thankfully, I prefer the US layout over the UK layout. After all, the United States is the whole world, right?
Before we move on, let us take a look at the specifications of the Cooler Master MasterKeys Pro L, as obtained from the manufacturer's website:
Switch Type: CHERRY MX
Material: Plastic / Metal
Color: Black
LED Color: White
Polling Rate: 1000 Hz
Repeat Rate: 1x / 2x / 4x / 8x
Response Rate: 1ms
MCU: 32bit ARM Cortex M0
On board Memory: 512KB
On-the-fly system: Macro Record and Lighting
Smart cable manager: 180 degree
Cable: Detachable with Micro-USB
Connector Cable: USB 2.0
Cable Length: 1.5 Meters
Dimensions: 439.23 x 130.32 x 41.95mm / 17.29 x 5.14 x 1.61"
Product Weight (without cable): 1130 g
Warranty: 2 years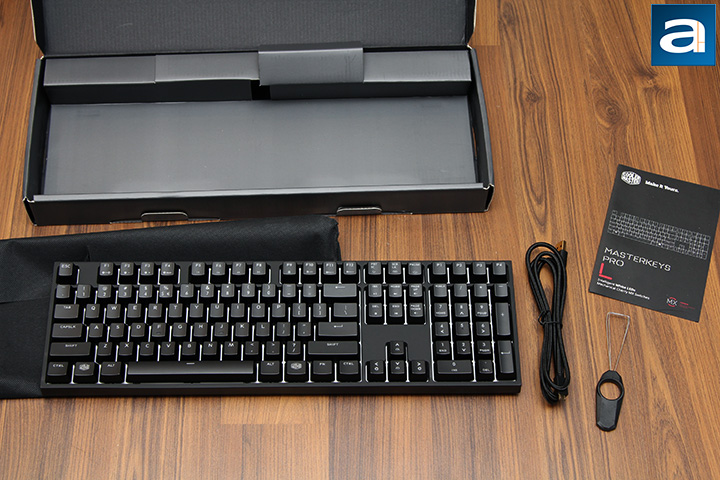 Contents inside the retail package can be removed after opening the large flap at the top. The keyboard is secured inside a cardboard tray inside a thin white foam bag. As you can see in our photo above, the bundle is totally minimalist. Out of the box, in addition to the Cooler Master MasterKeys Pro L keyboard, you will find a multi-language quick start guide and a keycap puller, and this is it. A driver CD is nowhere to be found, but this is okay, since you can do almost everything without installing extra software. This is not to mention a lot of new systems are not even equipped with optical drives. The MasterKeys series is not natively designed for a wrist wrest, nor is a detached one included.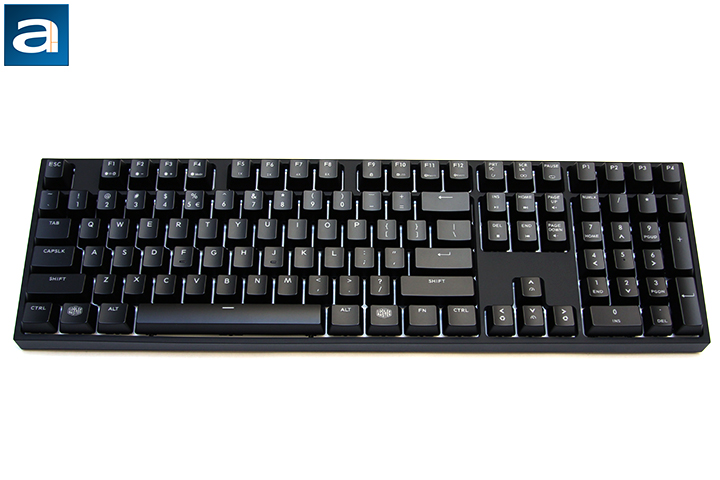 At first glance, the Cooler Master MasterKeys Pro L is as down to earth as it gets. As its name suggests, this is the 100% version of the MasterKeys Pro M. If you are looking for what the definition of a traditional keyboard is, this would be it. With straight edges, no dedicated macro keys, and a practically reference layout, you will have to look pretty closely, and in a sense, figuratively, to see what makes the MasterKeys Pro L special. Indeed, there is nothing that really sets it apart, other than the fact this is a good old mechanical keyboard with real Cherry MX switches. Its metal and plastic construction is solid to behold and comfortable to touch. There is no integrated wrist rest as aforementioned, and there is no specially designed OEM accessory for it. It is true there are a lot of mechanical keyboards that do not come with wrist rests, but there is a reason why I am such a big fan of the Fnatic Gear Rush G1, even if it did not score very highly in our review.
The Cooler Master MasterKeys Pro L measures in at 439.23mm width, 130.32mm depth, and 41.95mm height. This is about as compact as a standard QWERTY keyboard will go. To go along with its medium footprint and medium profile, the keyboard weighs about 1130g according to the manufacturer. This is pretty heavy, but this is expected from a mechanical keyboard. If you do not know what a mechanical keyboard is, there are three main types of keyboards on the market today. The cheapest is the membrane keyboard, which is the easiest to make, but also has poor typing feel and response due to squishy keys. A scissor switch keyboard has its own independent keyswitch mechanism for each key, which delivers improved tactile response and typing experience. Modern scissor switch keyboards can be very good for everyday office use. Mechanical keyboards such as the Cooler Master MasterKeys Pro L costs the most, because each keyswitch is an independent part.
Like all mechanical keyboards, the MasterKeys Pro L with Cherry MX Brown mechanical switches is quite audible to type on, but certainly not the loudest. The MasterKeys Pro L is also available with Blue or Red switches. Cherry MX Brown is like a silent MX Blue. It still has a small tactile bump, but it is much lighter than the Blue for extended periods of typing. In gaming, you can hold the switch above the actuation point, which can be beneficial. The maximum key travel distance is 4mm, with actuation at 2mm. With an actuation force of 45cN with a light tactile bump, our Cooler Master MasterKeys Pro L variant will feel different than non-mechanical keyboards, but not as drastic as going to linear switches. Personally, I think this keyboard is an absolute pleasure to type on. If you are looking for a mechanical keyboard that will not completely change the way you type, Cherry MX Brown is a great choice. It is rated for fifty million operations like other Cherry MX switches. As expected, the base is rock solid, so you will not get any keyboard flex, which is excellent.
The Cooler Master MasterKeys Pro L is a full NKRO keyboard. NKRO stands for N-key rollover. If you have used keyboards with limited NKRO capabilities, you may have experienced ghosting issues in the past -- where when too many keys are pressed at the same time, your system unable to register any more strokes. A full NKRO keyboard like the Cooler Master MasterKeys Pro L overcomes this by independently polling each key, making all inputs detectable by the hardware, regardless of how many other keys are activated at the same time. This mean in the event you have every other key on your keyboard depressed, it will still register the last stroke. While this is a highly unlikely scenario, since you have only ten fingers, but this is as good as it will get.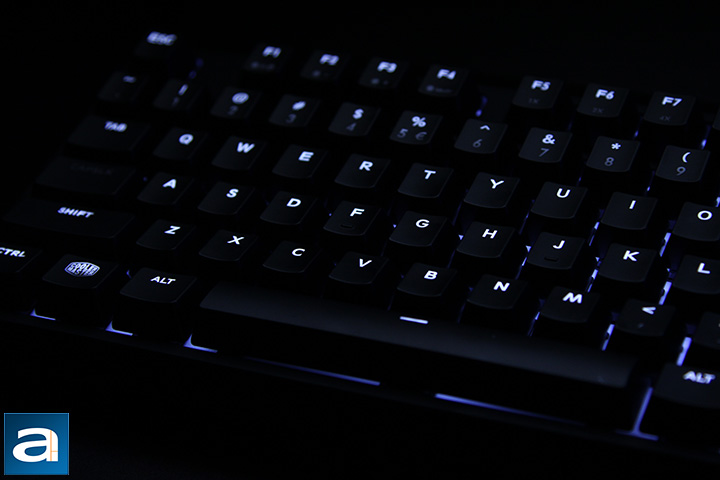 Once you turn off the lights and activate the Cooler Master MasterKeys Pro L's backlit keys, the keyboard really shines -- no pun intended. The font of the key labels is large and easy to read. The MasterKeys Pro L features full key backlighting, but in only one color, and that is white. If you want a different color, the company also sells an RGB version. One of the best features of the Cooler Master MasterKeys Pro L is its custom backlight programming support. If you know some very basic C++, a software development kit that can be downloaded from the company's website can allow you to modify your backlight effects based on things like CPU usage or time of the day. If you are worried this "make it yours" feature will cause a performance hit on your computer, especially during intense gaming sessions, there is absolutely nothing to worry about. The Cooler Master MasterKeys Pro L has a built-in ARM Cortex M0 CPU inside to handle these tasks independent of your PC.
As outlined in the user manual, the backlight can be adjusted on-the-fly by hitting the Function key along with the labeled F1 through F4 buttons to turn the backlight on/off, decrease LED brightness, increased LED brightness, and switch LED modes, respectively. The repeat rate can be changed to 1X, 2X, 4X, or 8X by pressing Fn with F5 to F8, respectively. Fn in combination with F9 to F12 is Windows Lock, record LED backlight, record macro, and delete macro, in that order. As far as macro controls are concerned, hitting Function in combination with Print Screen will activate a single macro loop, Scroll Lock for repeat macro, and Pause for an infinite macro loop. Media controls form the secondary functions of the productivity keys. Hitting Fn+E will reset all settings to default, and Fn+R will reset the profile to default. Lastly, lighting effects control are found as the secondary function of the arrow keys.
If you are unsure what settings are currently active or not, holding down just the Function key will blink the LED behind the current active profile and repeat rate. F9 will also blink if Windows Lock is active. When Win Lock mode is on, the Windows key is disabled. This is an important feature in any gaming keyboard, because let us face it: How many times have you tried to duck in your favorite FPS while engaging an enemy, only to be killed instantly, because you missed the "Ctrl" key and your game was minimized? To prevent any keyboard rage, Cooler Master has you covered.
The Cooler Master MasterKeys Pro L's key illumination distribution is not even at all. For any key with more than one line of text label, you will notice the top half is lit, while the bottom is not. This is due to physical design limitations of Cherry MX switches. This is no different than any other backlit keyboard with Cherry MX switches, but this can usually be avoided by avoiding double line text labels as much as possible.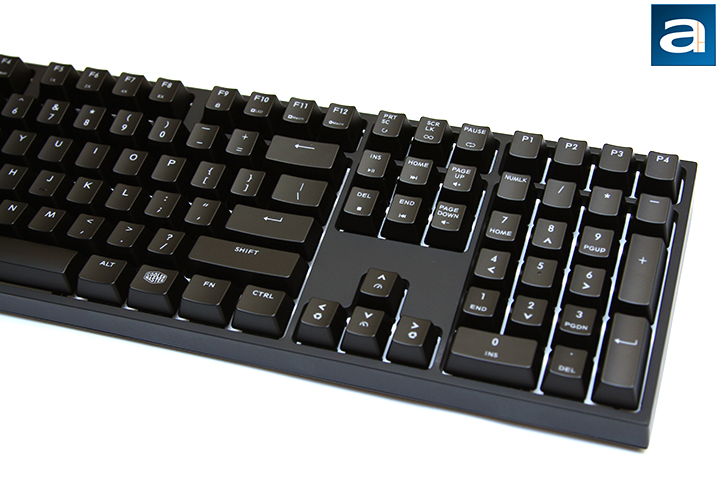 Almost everything here is pretty standard in terms of layout, with a few additions like the four dedicated profile switching keys at the top right corner. I am a big fan of the single row Enter key layout, as present on our US QWERTY Cooler Master MasterKeys Pro L. Keyboards with a double row Enter key usually means the "\" button is moved to the left side of the right "Shift" key; reducing the size of the latter. I am more used to having a full width Shift on the right, and a half height Enter. Obviously, this is more or less personal preference, but having a half height Enter key makes a lot more sense to me.
There are no dedicated indicator LEDs corresponding to Num Lock, Caps Lock, and Scroll Lock. Instead, the backlight of those keys correspond to their current status. I think this is a perfectly valid design, especially considering how compact this full sized keyboard is -- and it still comes with four dedicated profile switching keys.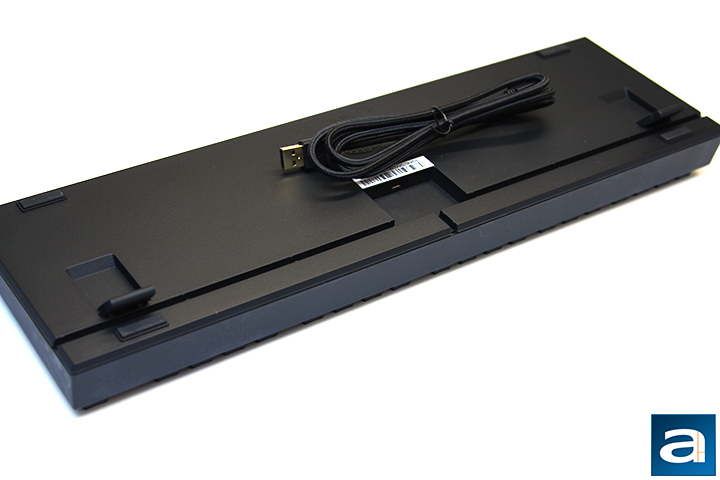 At the back of the Cooler Master MasterKeys Pro L is the USB cable lead out. The cable is detachable from the keyboard; in addition, an integrated cabling guide allows you to route it out either from the left, middle, or right of the back of your MasterKeys Pro L. This nicely braided cable extends 1.5m in length to connect to your computer via a gold plated USB connector. When we bring about the question of whether gold plated connectors are actually useful or not, let us just say if it was the actual pins, then possibly -- since gold offers better conductivity than other metals. This theoretically establishes a better connection with your computer, but on a digital signal level, we must understand it is a discrete one or zero; so if anyone tells you they can tell the difference, you can definitely defeat their theory with a double blinded test. Additionally, if you are referring to the gold part of the connector you see on the plug, I would like to point out it actually does not make any physical contact electrically with your computer. In other words, it is nice to have, and it is pretty to look at, but it is not anything significant on a practical level. The presence of a gold plated USB connector will not have any performance impact on the Cooler Master MasterKeys Pro L. The cable, on the other hand, is a bit short compared to the 1.8m to 2m length you usually get.
At the bottom are four rubber pads -- two at the back and two at the front -- to help the MasterKeys Pro L stay in place during intense gaming sessions. The two flip-out risers at the front tilts the keyboard up for those who prefer it. Once flipped out, you will lose out on the front rubber grips, since the risers are not rubber coated. Thankfully, the Cooler Master MasterKeys Pro L is a pretty heavy keyboard by itself; definitely helps to keep it in its place during intense gaming sessions. No keyboard drain holes are available, so be sure to keep your Coca-Cola far away.
-----------------------------------------
Whether you are looking to type up an essay, chat with your friends on Facebook, or take out your opponents in the virtual world, it is of crucial importance to own a keyboard that gets the job done right. For a company that traditionally delivers on quality, design, features, and competitive pricing consistently, where does the Cooler Master MasterKeys Pro L stand? The way I see it, Cooler Master once again delivered on all four elements with the MasterKeys Pro L. The MasterKeys Pro L is an excellent classic keyboard with genuine Cherry MX switches along with full white backlighting. Although it is designed with as little edge space as possible for minimal size, this keyboard still comes with four dedicated profile switching keys. To truly "make it yours", the backlight can be controlled with custom programming. If doing some basic C++ is not your thing, the MasterKeys Pro L can work without installing any additional software. A variant with RGB backlighting is also available for purchase, but that is going to cost you more cash. That said, there are some small areas I would nitpick about. Firstly, the Cooler Master MasterKeys Pro L does not come with a wrist rest. I understand they want to minimize the dimensions, but a detachable one would have been nice to keep options open. Secondly, the USB cable is a bit short. Lengthening it to about 1.8m to 2.0m would have been more appropriate. Thirdly, the risers are not rubber coated, making users who like to tilt their keyboard more susceptible to reduced grip on their table. Lastly, it only comes in one layout -- the US layout -- even when sold internationally. Thankfully, the US layout really is the best layout in my opinion, so I guess it is too bad for those who do not prefer it, haha. For about $80 after mail in rebate at press time, with full backlighting and real Cherry MX switches, Cooler Master offers tremendous value with the MasterKeys Pro L as a full sized keyboard.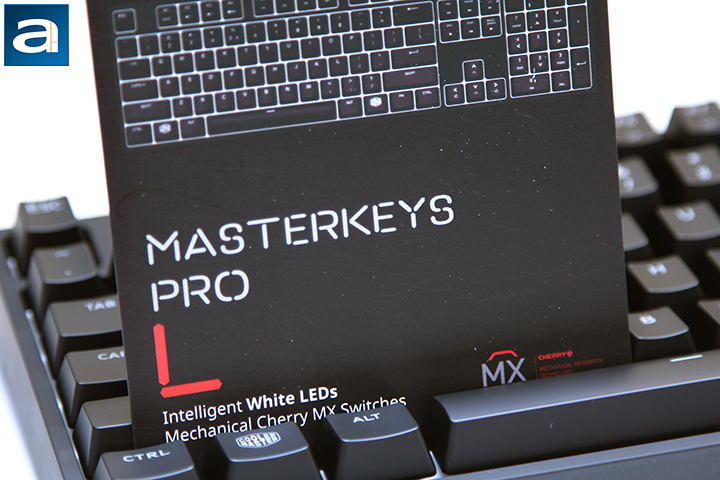 Cooler Master provided this product to APH Networks for the purpose of evaluation.

APH equal.balance Award | APH Review Focus Summary:
8/10 means Definitely a very good product with drawbacks that are not likely going to matter to the end user.
7/10 means Great product with many advantages and certain insignificant drawbacks; but should be considered before purchasing.
-- Final APH Numeric Rating is 7.4/10
Please note that the APH Numeric Rating system is based off our proprietary guidelines in the Review Focus, and should not be compared to other sites.
The Cooler Master MasterKeys Pro L is a no frills, full sized, full backlit mechanical keyboard with real Cherry MX switches at a great price.
Do you have any comments or questions about the Cooler Master MasterKeys Pro L? Drop by our Forums. Registration is free, and it only takes a minute!