By: Aaron Lai
October 13, 2023
The older I get, the more I realize that change is difficult. This is true whether it is a positive or negative change, as learning to adjust with it may require some time. For example, after working at my current job for over four months, I have learned a lot and the new place of work has been really great. However, there has been areas of adjustment and new processes that I had to do. These have had their ups and downs, but it is expected of any new work environment. Similarly, I recently changed from an Android to iPhone and that too has had its growing pains. Several people have asked me why I decided to change now, and I could not really single out a specific thing. Whether it was having the same ecosystem as my girlfriend, concerns of privacy, or just wanting to try something different, these were all equally weighted but different answers. However, the change itself has made me feel even older, as I felt slow in operating my phone. All in all, I think change is inevitable in life, whether you cause it or have to handle it, and so you will have to handle these changes. Similarly, Cooler Master recently released a new lineup of their Atmos AIO coolers. Despite the same MasterLiquid name, this closed-loop all-in-one liquid cooler lineup is a shift in focus to sustainability through the use of more recycled materials in build and packaging. Today, we have the 240mm variant for testing. While it is neat to see these claims, it should not negatively affect its performance, so what sort of changes will we see? How will these updates affect its cooling capabilities? Let us read on to find out!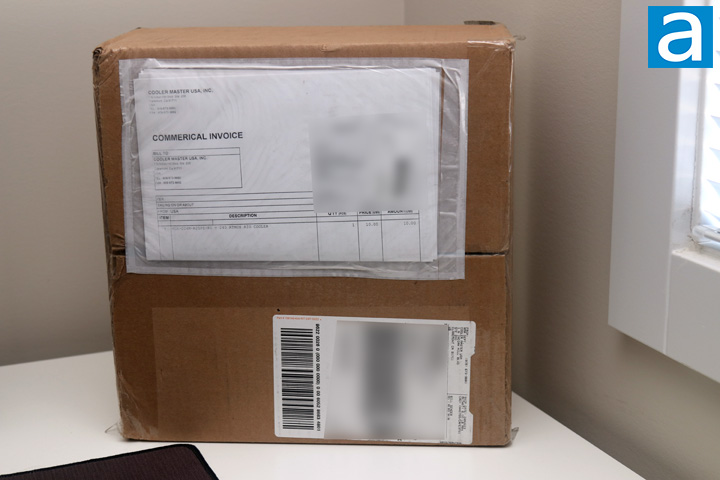 Today's review unit of the Cooler Master MasterLiquid 240 Atmos arrived from Cooler Master's offices in Claremont, California, USA. Traveling with FedEx and their International Ground service, this box arrived in excellent condition with no bumps or bruises to be concerned about. This traveled to our APH Networks offices here in Calgary, Alberta, Canada. Internally, Cooler Master has also put a lot of packing paper and bubble wrap to ensure everything is protected while in transit. Otherwise, let us take a closer look inside.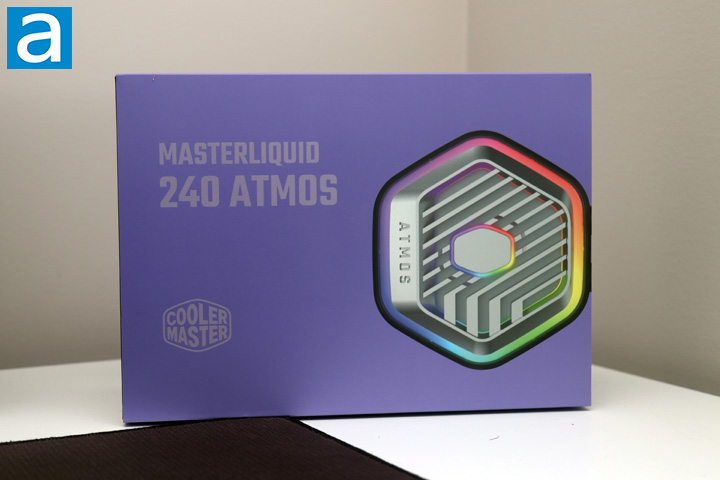 The retail container of the Cooler Master MasterLiquid 240 Atmos is notably different from previous Cooler Master products. For one, it is actually notably smaller in size, which helps with reducing the amount of packaging used. We also have a much simpler design, with a dark pastel purple, rather than its busy black to magenta gradients we have seen from previous Cooler Master products. In block letters, you can see the product name at the top followed by the company logo underneath. On the right side, you can see just the top of the CPU block. Around the back, we have some specifications and features of the MasterLiquid 240 Atmos, but it is generally kept to a clean look. All of this information is on a sleeve, which slides off to get inside.
Before we continue, I have grabbed the specifications from the manufacturer's website for your perusal:
Exterior Color: Black
CPU Socket: LGA1700, LGA1200, LGA1151, LGA1150, LGA1155, LGA1156, AM5, AM4
Radiator Material: Aluminum
Radiator Dimensions: 277 x 119.6 x 27.2 mm / 10.9 x 4.7 x 1.1 inch
Pump Dimensions: 84.9 x 81 x 53.15 mm / 3.3 x 3.2 x 2.1 inch
Pump MTTF: >210,000 Hours
Pump Noise Level: 12 dBA (Max)
Pump Connector: 4-Pin
Pump Rated Voltage: 12 VDC
Pump Power Consumption: 3.84W
Fan Dimensions (L x W x H): 120 x 120 x 25 mm / 4.7 x 4.7 x 1 inch
Fan Quantity: 2 PCS
Fan LED Type: ARGB
Fan Speed: 690-2500 RPM ± 10%
Fan Airflow: 70.7 CFM (Max)
Fan Noise Level: 27.2 dBA (Max)
Fan Pressure: 3.61 mmH₂O (Max)
Fan Bearing Type: Loop Dynamic Bearing
Fan MTTF: >160,000 Hours
Fan Power Connector: 4-Pin (PWM)
Fan Rated Voltage: 12 VDC
Fan Rated Current: 0.2A
Fan Safety Current: 0.3A
RAM Clearance: N/A
Warranty: 5 years
Series: MasterLiquid
Cooler Type: Liquid Cooler
Radiator Size: 240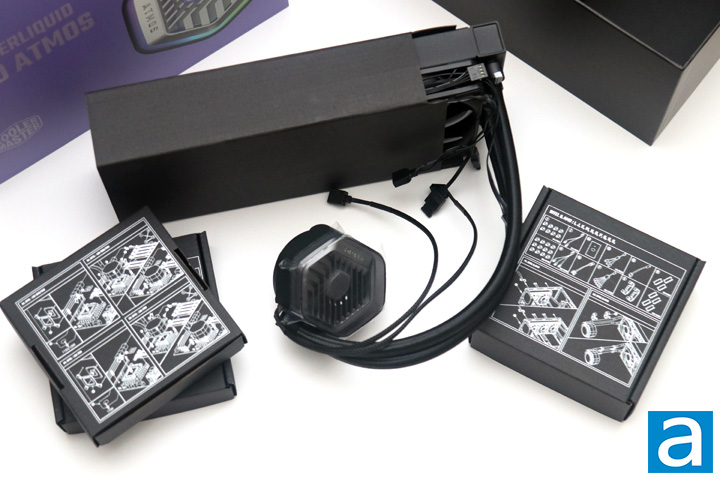 To get inside, you can slide the sleeve off the front and then open up the box to reveal a mostly cardboard interior. The Cooler Master MasterLiquid 240 Atmos comes protected in another cardboard sleeve without any plastic bag here. The two 120mm fans are mounted to the radiator, which again reduces the plastic needed to either hold the fans or the screws.
There is a total of three accessory boxes here. The first two boxes are marked AMD and Intel, and these are used to separate the necessary hardware for the respective sockets. As you can see from the specifications, the MasterLiquid 240 Atmos can be mounted on most modern desktop sockets, including Intel's LGA1700, LGA1200, LGA1151, LGA1150, LGA1155, and LGA1156, and AMD's AM5 and AM4. The last box is the general accessories box, which contains items for installation that are used for any install. This contains accessories like a tube of retail-grade CryoFuze thermal paste, an addressable RGB LED lighting controller, and fan header adapters to control the fans, among other things. No manuals will be found here, as they are printed on the box itself. A QR code for an online link to the manual can be found inside the general accessories box if you need additional help during the installation process. Overall, I think the packaging is effective in protecting and separating the equipment, all while reducing the use of plastic.
---
Page Index
1. Introduction, Packaging, Specifications
2.
Physical Look - Hardware; Installation
3.
Test Results
4.
Conclusion