By: Aaron Lai
July 16, 2019
When someone asks me what my favorite season is, I am usually split between winter and summer. These two seasons are generally the best because, in the past, these were the times when I would be off of school for an extended period. I liked winter because of Christmas and the fun and food that came with it too. On the other hand, summer is great because as a family we often left the city for some traveling. It also was the time of both my sister and my birthdays, so we celebrated it. However, if there is one thing that makes me like winter more than summer, it is the temperature. While some do not like the shiver-inducing weather, I like snow and cold much more than hot sunny days. I think it just comes from the fact that I am better at finding ways of warming up rather than cooling down. For example, if I really need to warm up, I can throw on another layer of clothing, but there is a limit to how many layers I can remove while remaining decent. Computer processors are similar in the sense that they have no problem warming up, but they require additional help to cool down. Today, Cooler Master has released their MasterLiquid ML240P Mirage. This all-in-one water cooler is one-way Cooler Master thinks we can cool our processors down while adding a neat party trick. Is this the cooler for your hot processor? I guess there is only one way to find out, so let us read on!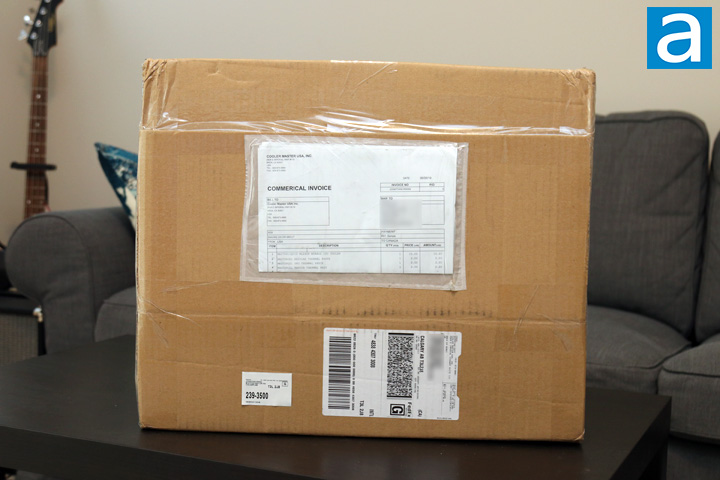 Today's review unit of the Cooler Master MasterLiquid ML240P Mirage arrived from Cooler Master's offices in Brea, California. Traveling via FedEx and their International Ground service, this box arrived in an unsurprising condition, which is good to say in this case. The brown corrugated cardboard box is in excellent condition, and thankfully FedEx have done an excellent job in keeping the shipping box undamaged. Otherwise, in addition to the MasterLiquid ML240P Mirage, Cooler Master also sent us three tubes of their upcoming MasterGel thermal grease. Inside, we also have tons of packing material to keep the products inside safe.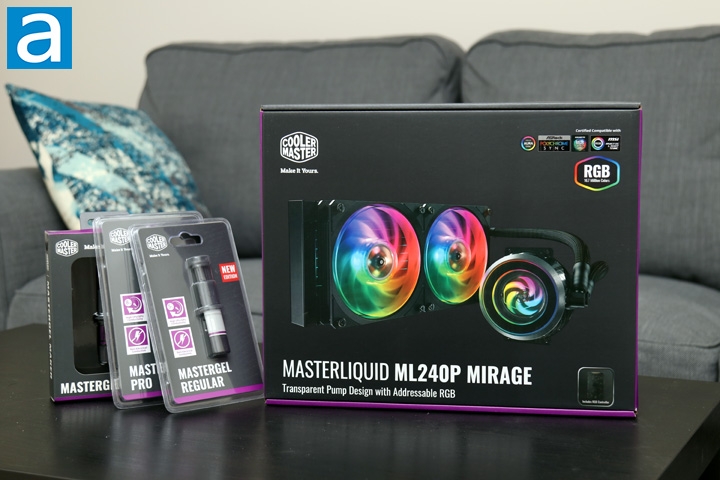 The retail container of the Cooler Master MasterLiquid ML240P Mirage is pretty typical with a standard purple and gray color scheme Cooler Master has been using for practically all of their products. This is pretty great as it keeps the branding the same across their products, strengthening their brand recognition. Otherwise, the box front shows off the MasterLiquid ML240P Mirage scaled down. The company name and logo can be found at the top left corner, while the product name is on the bottom left side. A product description of "Transparent Pump Design with Addressable RGB" is found under the name as well, though this also highlights the main features for the ML240P Mirage.
Before we move on, I have grabbed the product specifications from the manufacturer for your perusal:
CPU Socket: Intel® LGA 2066 / 2011-v3 / 2011 / 1151 / 1150 / 1155 / 1156 / 1366 / 775; AMD TR4 /AM4/ AM3+ / AM3 / AM2+ /AM2 / FM2+ / FM2 / FM1
Waterblock Dimensions: 85 x 80 x 43.2 mm
Radiator Dimensions: 277 x 120 x 27 mm
Radiator Material: Aluminum
Fan Dimensions: 120 x 120 x 26 mm (4.7 x 4.7 x 1 inch)
Fan Speed: 650 - 1900 ±10% RPM
Fan Air Flow: 59 CFM (Max)
Fan Air Pressure: 2.00mm H2O(Max)
Fan MTTF: 160,000 hours
Fan Noise Level(1m): 7 - 26dBA
Fan Connector: 4-Pin(PWM)+ARGB 3Pin
Fan Rated Voltage: 12VDC
Fan Rated Currrent: 0.30A
Fan Power Consumption: 1.44W
Fan led color: Addressable RGB
Pump MTTF: 160,000 hours
Pump Noise Level(1m): <20dBA
Pump Rated Voltage: 12VDC
Pump Power Consumption: 3.96W
Connector: 4PIN
Warranty: 5 years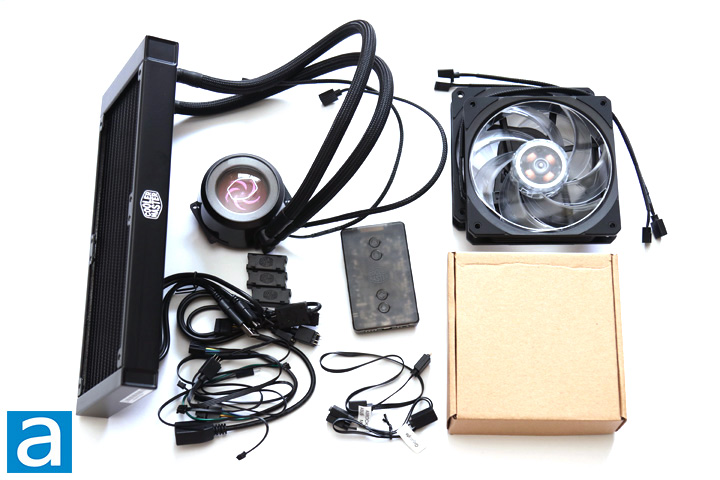 Out of the box, the MasterLiquid ML240P Mirage comes with all of the typical accessories you would get with an all-in-one liquid cooler. All the mounting accessories are included inside the smaller corrugated cardboard box to install this onto the popular consumer Intel and AMD sockets. This includes Intel's LGA2066, LGA2011, LGA1366, LGA115x, LGA775 and AMD's FM1, FM2/+, AM2/+, AM3/+, AM4, TR4 sockets. RGB accessories are also present, including the light controller and all of its necessary cabling. Otherwise, there is some documentation and warranty information for the ML240P Mirage. Cooler Master backs this AIO coolers for five years, which is comparable to other AIO coolers.
---
Page Index
1. Introduction, Packaging, Specifications
2.
Physical Look - Hardware; Installation
3.
Test Results
4.
Conclusion