By: Ben Joubert
September 21, 2018
Apple has yet again released a new series of iPhones, eagerly awaited by many. I was excited for what Apple was going to reveal next, especially just from a curiosity standpoint. I owned an iPhone for two years back in high school, and since switching to an Android device, I have never looked back. However, it is still cool to see the new products released by Apple and if they will innovate in some new and interesting way. I know many people did not like the notch the iPhone X introduced, but I sure do like it. Anyway, Apple does major changes to their phones every two years on average, and in between there are relatively minor changes done to the hardware. The new line of iPhones prove this point. They are almost identical on the outside, but updates to the internal components make it faster. Now, if these changes are actually worth the ridiculous price tag is a debate for another time. Apple upgrades the internals and delivers the new product. I am sure if we look closer at other manufacturers, we might find similar strategies. This strategy is not necessarily a bad one, as a good design can be upgraded considerably with a few tweaks here and there. Cooler Master has potentially done something similar with the MasterMouse MM531, which we will be taking a look at today. When it comes to looks, the MM531 is indistinguishable from the MasterMouse MM530. But read on to find out what changed!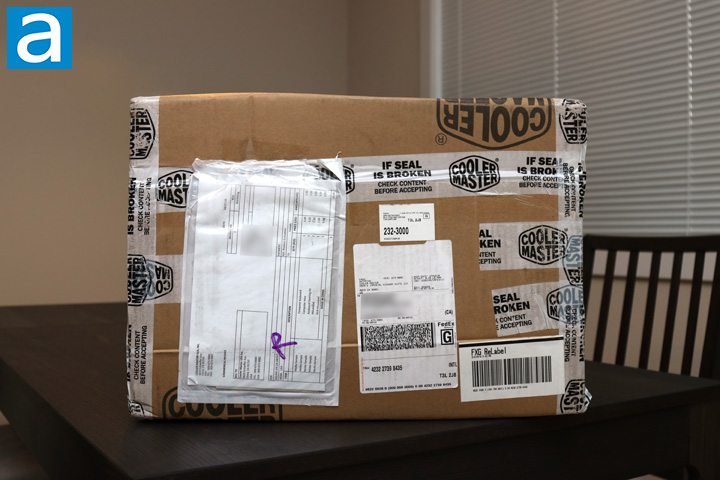 We recently received quite a few different Cooler Master products. They have been all sorts of different types of peripherals, which will be reviewed over the coming weeks. The Cooler Master MasterMouse MM531 is one of the ones we received, and it arrived safely via FedEx Ground. The shipping box is covered in Cooler Master branded tape and has very little damage to the exterior. Everything looked great on the outside and so I continued to open it up.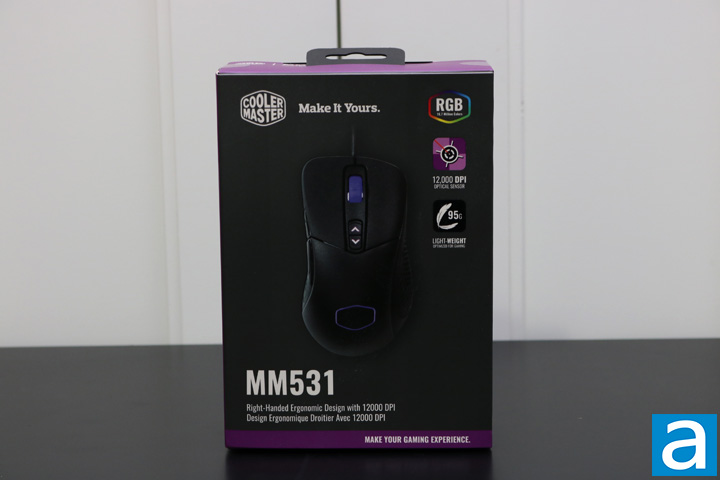 The retail box for the Cooler Master MasterMouse MM531 is different than its predecessor, the MM530. Most of Cooler Master's new products have this very sleek black and purple combination of colors, which in my opinion looks excellent. In the bottom left, we find the brand name and a brief description. Front and center is an image of the mouse, while a couple of features are highlighted in the top right, namely, the lightweight design, its RGB functionality, and 12000 DPI sensor. The rest of the retail box contains some more detailed information, while the purple and black color scheme is continued.
Before we move on, here are the specifications as obtained from the manufacturer's website:
Specifications
Product Name: MM531
Model Number: MM-531-KKW01
Grip Type: Palm & Claw
Material: PBT Plastic / Rubber / ABS
Color: Black
LED Color: 16.7 Million RGB
Sensor: Avago PMW-3360 Optical
CPI / DPI: 4 Levels (100~12,000dpi)
Tracking Speed: 250 ips/50g
Lift Off Distance: < ~2mm / Adjustable
Polling Rate: 1000 Hz / 1 ms
Angle Snapping: On/Off
Mouse acceleration: No
Programmable Profiles: 5
Processor: 32 bit ARM Cortex M0
On-board Memory: 512 KB
Switches, Lifespan: Omron, 20 million
Programmable buttons: 7
Connector: Gold-plated
Cable Length Flexible Cable: 1.8 Meters
Dimensions (mm/inch) (W x H x D): 60.4 x 40.2 x 124.8 mm
2.38 x 1.58 x 4.91 inches
Weight: 131 g
0.29 lbs
Weight (without USB Cable): 92 g
0.20 lbs
Warranty: 2 years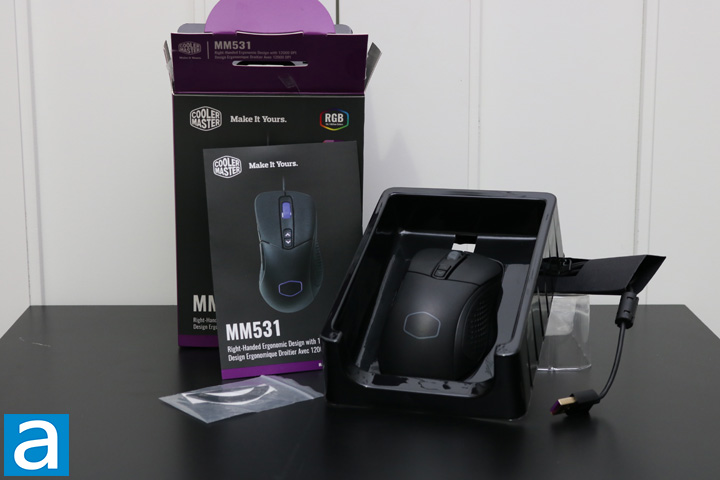 After opening the MasterMouse MM531, we find a couple of different things. Surprisingly, Cooler Master included two extra Teflon feet. I guess if this mouse starts slowing down due to the feet being worn out, then Cooler Master has you covered. Otherwise, there is a brief but effective manual which details getting the software downloaded while also explaining the two year warranty. Beyond that, the MasterMouse MM531 sits snug in a plastic mold, which keeps the mouse moving during transportation. Cooler Master has done a good job with its packaging.
---
Page Index
1. Introduction, Packaging, Specifications
2.
A Closer Look - Hardware and Software
3.
Subjective Performance Tests
4.
Conclusion