By: Aaron Lai
June 5, 2020
A few months back, when we were still in the office, my team decided to create different tier lists for various categories of junk food. It started with a candy tier list that covered all sorts of chocolates and gummy candies. As I was the team lead that week, I decided we should attempt to validate this list by bringing in a bunch of the candies and trying them out. A lot of this was inspired by a YouTube channel I follow, but it was also fun to rank these things and find out what people thought. Afterwards, we did similar things with chips, gummy candies, and pop. I was not really thinking too much, but I ended up getting more chocolate candies than gummy-based candy. As such, the top gummy candy was Sour Cherry Blasters and the other one was not too far down either. It is possible that just due to the fact we had so much more of one type of candy that the other one stood out, but it is true that chocolate can be a more acquired taste. It was clear we had to redo the rankings later on with just chocolate items and just gummies on separate lists, though I think the combined candy list was still valid. Today, we have a combination mouse of sorts in the wireless Cooler Master MM831 gaming mouse. Putting "gaming" and "wireless" together is not a new concept in peripherals, but it has been a while since we have ever seen a wireless gaming mouse from Cooler Master. With the release of the MM831, we not only have typical wireless connectivity over radio frequencies, but also over the Bluetooth protocol. As such, how does this mouse work in day-to-day use as well as in gaming situations? These are the questions for us today, so let us read on to find out!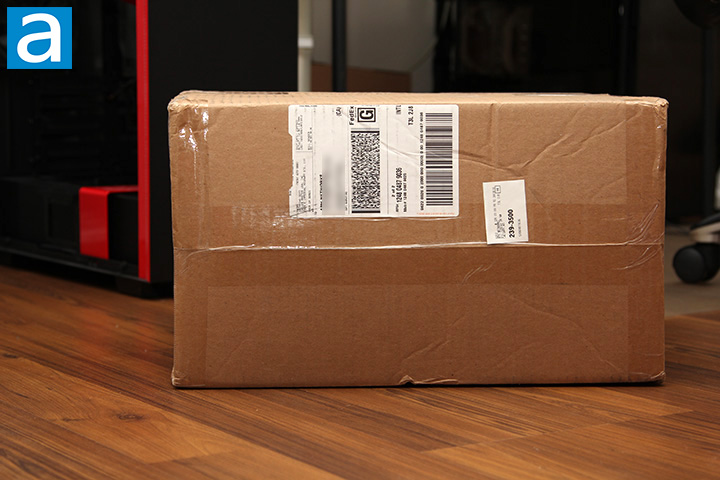 Today's review unit of the Cooler Master MM831 arrived from Cooler Master's offices in Brea, California. Traveling via FedEx and their Ground service, this corrugated cardboard box arrived in decent condition with no real issues to speak of in terms of package quality. In addition to this mouse, we received quite a few other Cooler Master products, which will be reviewed in the coming weeks. Otherwise, Cooler Master also packaged some packing paper with these products to prevent any damage or dents to the items inside.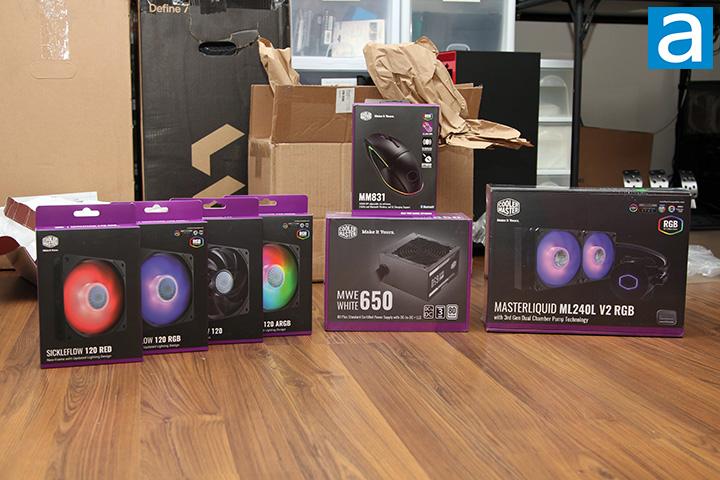 As you can see from the photo above, Cooler Master has sent us a whole lot of different products with our Cooler Master MM831. Regardless, they all seem to follow the same design language when it comes to the packaging. The typical colors of Cooler Master are shown here with the slate gray and purple combination. The mouse is shown on the front with its product name on the bottom left, while the top shows the manufacturer logo and tagline. At the bottom and right side, we have several primary features that come with the MM831. This includes a 32000 DPI capable sensor, Qi Wireless charging, and a "hybrid wireless technology". We will explore these features and more later on. The box is a swinging door design, so you can open up the front panel that is held by magnets to get a better look at the mouse itself. This will let you get a better picture of the size and shape of the mouse, which is helpful for potential purchasers.
Before we continue on, I have grabbed the specifications as provided by Cooler Master for your perusal:
Grip Type: Palm / Claw
Material: PBT/ABS Plastic
Color: Black
LED Color: 16.7 Million RGB
Sensor: Pixart PAW 3335
CPI / DPI: 16,000 (S/W support to 32,000)
Tracking Speed: 400 ips
Lift Off Distance: < ~2mm / Adjustable
Polling Rate: 2.4G/Wire Mode: 125 / 250 / 500 / 1000 Hz (AP switch); BT mode: 125Hz
Angle Snapping: 10 Levels Adjustable (AP switch)
Mouse acceleration: 40g
Processor: 32-bit ARM Cortex M0 64Pin
On-board Memory: 4MB
Switches, Lifespan: OMRON, 20 million
Programmable buttons: 6
Connectivity: Wired/2.4GHz/BT 4.2
Battery Capacity: 800mAh
Wireless Charging: Follow Qi 1.2 Standard
Compatible OS: Bluetooth:Win8/8.1, Win10; 2.4GHz/Wired:Win7, Win8/8.1, Win10
Connector: Gold-plated Detachable Type-C to Type-A
Cable Length: Braided Cable, 1.8 Meters
Dimensions (mm/inch): 128.1 × 67.4 × 43.4 mm; 5.043'' × 2.654'' × 1.709''
Weight: Mouse: 123g/ 0.271lbs (w/o Dongle & USB Cable); Dongle: 2g / 0.004lbs; Cable: 30g / 0.066lbs
Warranty: 2 years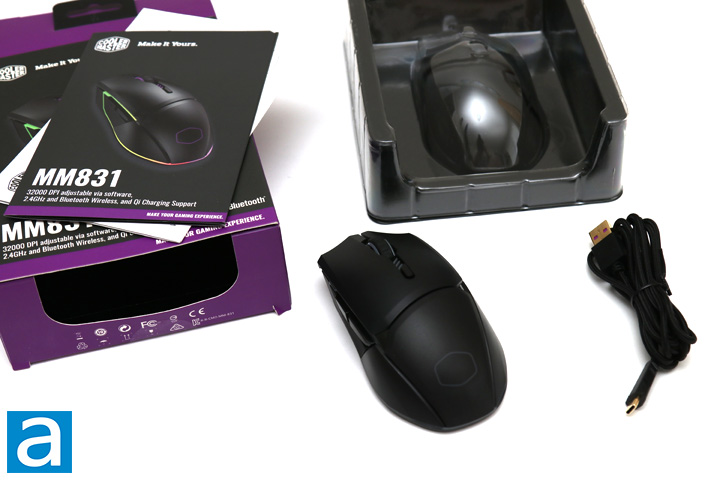 Inside the package, the Cooler Master MM831 is stored in a plastic shell. A braided USB to USB Type-C cable measuring 1.8m in length is also included. Cooler Master has also packed two sheets of documentation with information regarding the setup, especially to help with the wireless portion of this mouse. There is also safety and warranty information included here. Cooler Master offers a two-year warranty on this mouse, which is similar to other manufacturers.
---
Page Index
1. Introduction, Packaging, Specifications
2.
A Closer Look - Hardware and Software
3.
Subjective Performance Tests
4.
Conclusion