By: Jonathan Kwan
May 7, 2019
Have we reached "peak RGB"? In an age where we have RGB RAM and RGB PSUs, you might think we have put RGB LEDs on just about anything we could possibly imagine already. This was not until I walked into my church one Sunday morning and realized the wooden cross we had for the last twenty years or so has been replaced by none other than -- you guessed it -- an RGB LED cross. I kid you not, this is a high end RGB model where the LED lighting can be changed to any of the 16.7 million colors on a remote control dial. I think if someone from the Roman empire during Jesus' time was alive today, they would be shocked to find their symbol of suffering and shame is now a product designed with RGB LEDs. Nor did George Bennard who wrote the famous hymn "The Old Rugged Cross" in 1912 would envision "on a hill far away stood an old rugged cross" was really an RGB LED cross. But regardless of where you stand on the RGB movement, sometimes we have to go back to our roots of where RGB LEDs first became popular: The backlit computer keyboard. The Cooler Master SK621 is a compact 60% Bluetooth wireless mechanical keyboard with Cherry MX Red Low Profile switches and RGB LED backlighting. Is this a keyboard that goes back to the roots of where RGB LEDs first became popular, but with a totally new perspective? Read on to find out!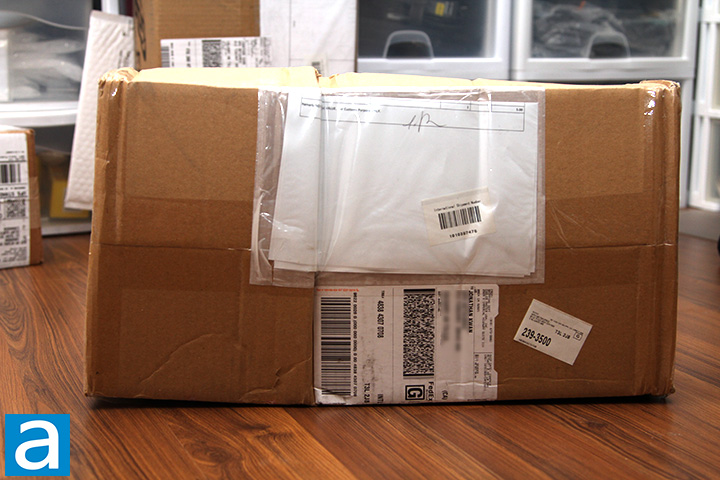 Our review unit of the Cooler Master SK621 came in a large brown corrugated cardboard box from Cooler Master's American headquarters in Brea, California, USA. We got this Bluetooth wireless keyboard over a month before it was released, which is something we were quite excited for in publishing this review on launch day. Using FedEx International Ground, the box was a bit crushed, but otherwise the contents came safely to us here in Calgary, Alberta, Canada for our review today.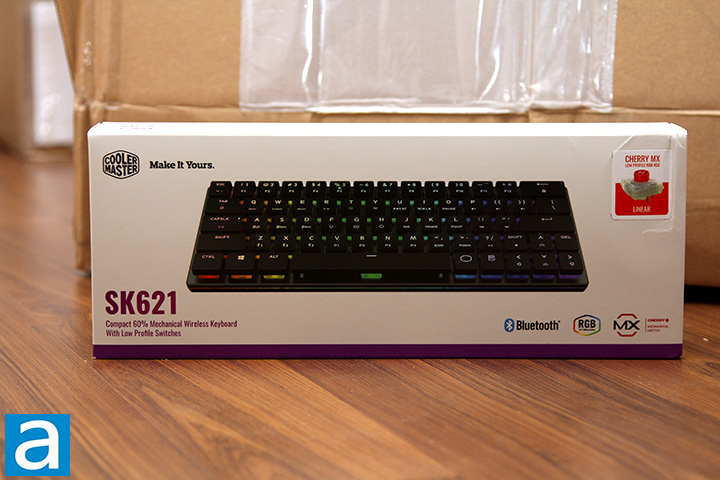 The retail box design for the Cooler Master SK621 is an updated interpretation of the company's "Make it Yours" campaign, similar to what we saw in the SK630. The white background is complemented by mainly black text for maximum contrast along with a burst of purple to help you remember who made it. Cooler Master's logo and slogan is at the top left corner, backlight activated image of the keyboard is printed across the center, and the model name and product description are located at the bottom left corner. On the opposite corner, three icons indicate its Bluetooth connectivity, RGB backlighting, and Cherry MX switches, respectively. Our particular unit has Cherry MX Red Low Profile switches. Feature highlights can be found on the remaining sides of the box.
Before we move on, let us take a look at the specifications of the Cooler Master SK621, as obtained from the manufacturer's website:
Product Number: SK-621-GKLR1-US
Keyboard Switch Type: Cherry MX RGB Low Profile Switch
Material: Aluminum, Plastic
Color: Gunmetal
Keyboard Polling Rate: 1000Hz
Keyboard Response Rate: 1ms / 1000Hz
Keyboard MCU: 32bit ARM Cortex M3
On board Memory: 512KB
On-the-fly System: Yes, for Multi-media, Macro Recording and Lighting Control
Multimedia Keys: Through Function Key (FN)
Cable: USB Type-C Detachable & Braided
Software: Yes, through Portal
Wireless Connectivity: Bluetooth 4.0
Keyboard Connector Cable: USB Type-C (Keyboard Side), USB 2.0 Type A (Computer Side)
Cable Length: 1.8m, Braided & Removable
Keyboard Dimensions: 293(L) x 103(W) x 29.2(H) mm
Weight: 424g / 0.934lbs (without cable)
Warranty: 2 years
Product: Keyboard
Keyboard Type: Mechanical
Series: SK Series
Product Name: SK621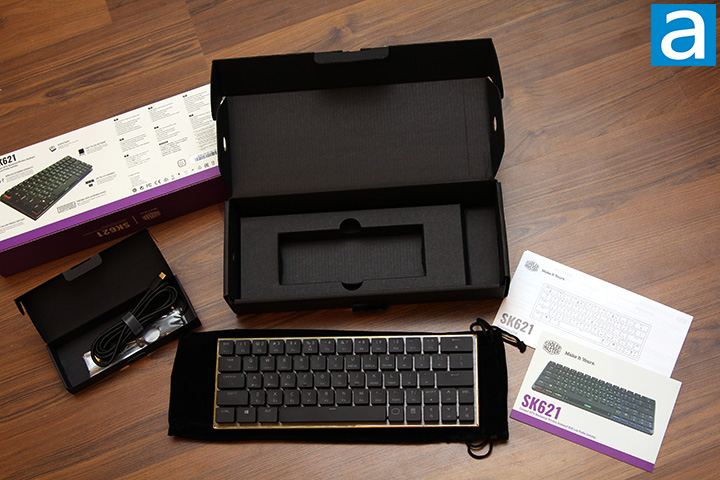 Out of the box, you will receive everything you need plus a few other things that are really nice to have. Securely placed inside the box is the Cooler Master SK621 keyboard itself contained in a classy suede drawstring bag, while the keycap puller and USB Type-C to USB Type-A cable is included inside a separate small box at the bottom. On the product literature side, you will find a Bluetooth setup guide as well as a quick start guide that shows you what some function key combinations do.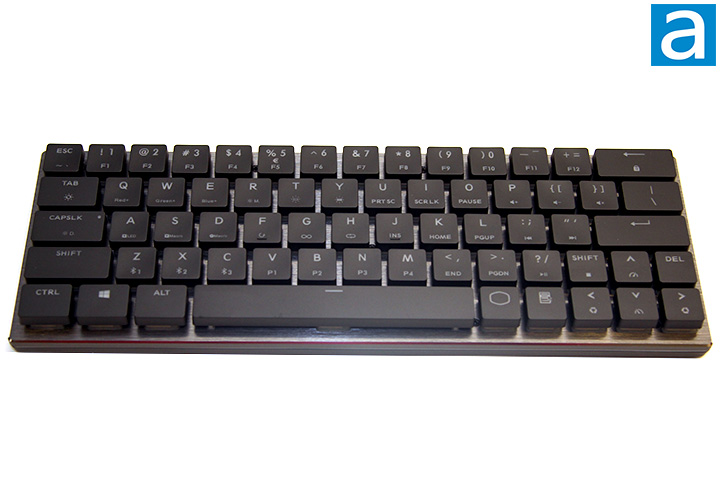 The Cooler Master SK621 is a very minimalist compact 60% Bluetooth 4.0 wireless keyboard. You can pair it with up to three devices, and it is compatible with pretty much anything Bluetooth that supports keyboard inputs including your iPhone. The SK621 is one of the cleanest looking keyboards I have seen along with the rest of the SK-series; very classical Apple. With straight edges, no dedicated macro keys, and a reference layout, you will have to look pretty closely, and in a sense, figuratively, to see what makes the SK621 special. Indeed, there is nothing that really sets it apart other than the fact this is a good old mechanical keyboard with real Cherry MX Low Profile switches. There is no integrated wrist rest and there is no specially designed OEM accessory for it. Meanwhile, the exposed gunmetal colored brushed aluminum backplate is great to look at. It even hides fingerprints well. The sides and bottom are all made out of quality plastic. Overall, I am a big fan of the looks, but aluminum backplate flexes slightly under heavy load. It would be nice if it was stronger, but it is not a major concern.
The Cooler Master SK621 measures in at 293mm width, 103mm depth, and 29.2mm height. This is about as compact as a compact 60% QWERTY keyboard will go. To go along with its low profile, the keyboard weighs about 424g according to the manufacturer. This is exceptionally light for a wireless mechanical keyboard.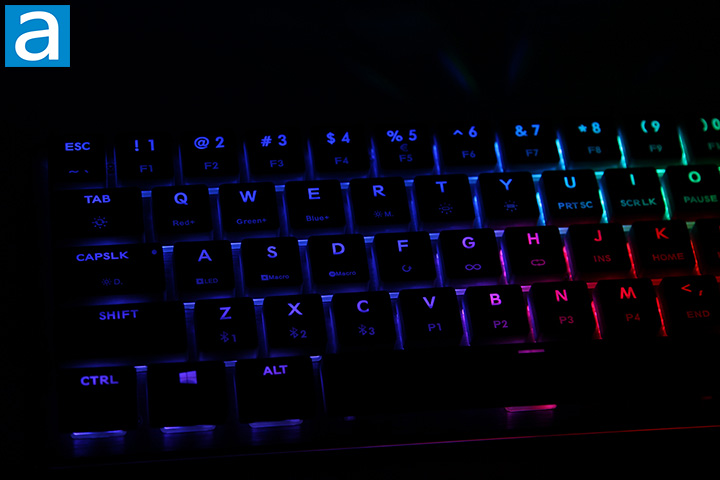 Once you turn off the lights, turn on the keyboard by a slider switch on the left and activate the Cooler Master SK621's RGB backlit keys, the keyboard really shines -- no pun intended. The font is large and easy to read. The SK621 features full independent key RGB backlighting, but you are better off doing that in software even though you do not have to use it. Meanwhile, an LED ring runs along the perimeter of the keyboard for some additional style. The RGB backlight and macros can be programmed or adjusted on-the-fly without software as outlined in the user manual. A dedicated ARM Cortex M3 is inside to run complex lighting effects like the built-in snake game.
I am a big fan of fully backlit keyboards and I am happy Cooler Master designed the SK621 with this feature. The Cooler Master SK621's key illumination distribution is reasonably even for the most part, but there is a bit of backlight leak through the rear USB port. The area between the keys are also backlit thanks to the reflection of the LEDs, and I like it. One thing to point out, for keys with more than one line of text label, you will notice the top half is significantly brighter than the bottom half. This is due to physical design limitations of Cherry MX stems, as you can see in our photo above.
Hitting the Function key along with the labeled Tab through Y, Caps Lock, and arrow keys allow you to do things like cycling through different lighting effects or adjusting the effect speed. One strange omission is the backlight intensity cannot be adjusted on the fly directly. The closest thing you can do is to reduce the intensity of each RGB channel, but this is not an intuitive method. Fn in combination with S to H are for macros. The P, square brackets, semi colon, apostrophe, forward slash, and right shift keys double as your multimedia keys with Fn held down. You can even switch profiles, stored on the keyboard's 512KB internal memory, by going through Fn in concert with V to M. Fn in combination with backspace toggles Win Lock on or off. Win Lock is an important feature in any gaming keyboard, because let us face it: How many times have you tried to duck in your favorite FPS while engaging an enemy, only to be killed instantly, because you missed the "Ctrl" key and your game was minimized?
The extra-flat acrylonitrile butadiene styrene (ABS) plastic keycaps are of average quality. Polybutylene terephthalate (PBT) keycaps such as the ones found on the Cooler Master MasterKeys L PBT are stiffer, harder, and has better color retention, but the ones found on the Cooler Master SK621 are smooth and feels nice on the fingers despite showing a bit of oily marks.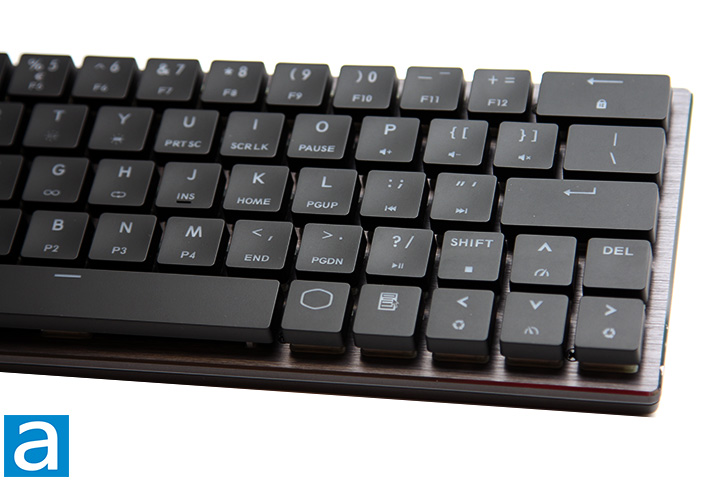 Almost everything here is pretty standard in terms of layout with a few additions. I prefer the single row Enter key layout as present on our US QWERTY Cooler Master SK621. Keyboards with a double row Enter key usually means the "\" button is moved to the left side of the right "Shift" key; reducing the size of the latter. I am more used to having a full width Shift on the right and a half height Enter. Obviously, this is more or less personal preference, but having a half height Enter key makes a lot more sense to me.
The Cooler Master SK621 has no dedicated lock indicator LEDs. Instead, the LED backlight for the caps lock button will turn on and off depending on the current lock status. A small LED located on the caps lock button is used for indicating battery status, which will change flashing pattern and/or color depending on remaining battery percentage or charge status. One omission I noticed is the backlight for the Windows key will not turn off when Windows lock is activated. Instead, the backspace key will change color when you hold down Fn.
The battery can last up to 15 hours with the backlight on and 4 to 5 months with it off. We cannot verify the backlight off battery life estimate, but the backlight on battery life estimate is about right. Of course, your mileage will vary based on your usage habits, LED brightness, and lighting effect used. The SK621 will enter into power saving mode after 15 minutes by default by turning off the backlight. The timeout can be changed in software. Charging the keyboard will take a few hours.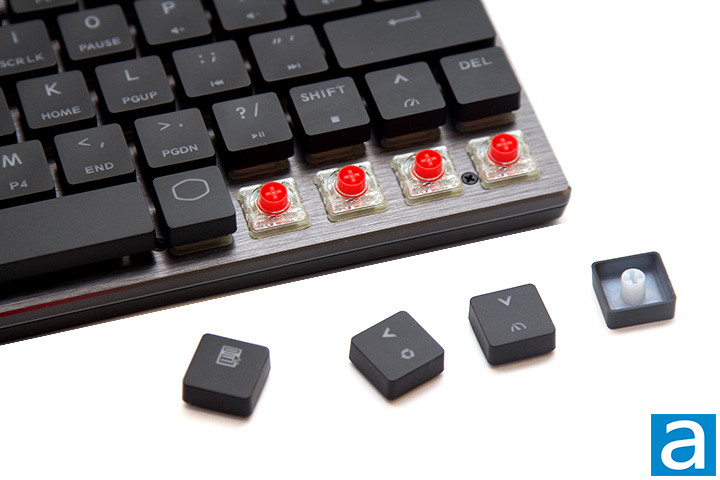 If you do not know what a mechanical keyboard is, there are three main types of keyboards in the market today. The cheapest is the membrane keyboard, which is the easiest to make, but also has poor typing feel and response due to squishy keys. A scissor switch keyboard has its own independent keyswitch mechanism for each key, which delivers improved tactile response and typing experience. Modern scissor switch keyboards can be very good for everyday office use. Mechanical keyboards such as the Cooler Master SK621 costs the most because each keyswitch is an independent part.
The SK621 features Cherry MX Red Low Profile switches. Corsair and Cherry collaborated on the design of this new switch and was first found in the Corsair K70 RGB MK.2 Low Profile. In turn, the Cooler Master SK621 is reasonably quiet during operation even though it has no dampening. It is a bit louder than the K70 RGB MK.2 Low Profile with a higher pitched tone when actuated, but it is quieter than the average Cherry MX Red keyboard.
I really enjoy the feel of the Cherry MX Red Low Profile. Cherry MX Red Low Profile, like the regular MX Red, is marketed as a gaming type switch. The maximum key travel distance is 3.2mm with actuation at 1.2mm compared to the regular MX Red at 4mm total travel with 2mm pre-travel. With an actuation force of 45g in a completely linear fashion, it is about 15g lighter than the MX Black; generally speaking, the Cooler Master SK621 will feel very different than other non-mechanical keyboards. It will feel different than other mechanical keyboards as well. It is quite intriguing to use a keyboard that feels so familiar and different at the same time, considering I have been using Cherry MX Red switches exclusively since 2013. This keyswitch is desirable for gaming because you will be bottoming out all the keys anyway, but the lack of the "bump" of the Cherry MX Red Low Profile may not appeal to everyone. It is rated for fifty million operations like other Cherry MX switches. The base is strong as aforementioned, but there is some keyboard flex under heavy loads, but it is not a major concern.
The Cooler Master SK621 is a full NKRO keyboard in wired mode and 6KRO in wireless mode. NKRO stands for N-key rollover. If you have used keyboards with limited NKRO capabilities, you may have experienced ghosting issues in the past -- where when too many keys are pressed at the same time, your system unable to register any more strokes. A full NKRO keyboard like the Cooler Master SK621 overcomes this by independently polling each key, making all inputs detectable by the hardware regardless of how many other keys are activated at the same time. This mean in the event you have every other key on your keyboard depressed, it will still register the last stroke. To save battery, it will only register up to six simultaneous keys in wireless mode. Since you have only ten fingers, this is an acceptable compromise in my opinion.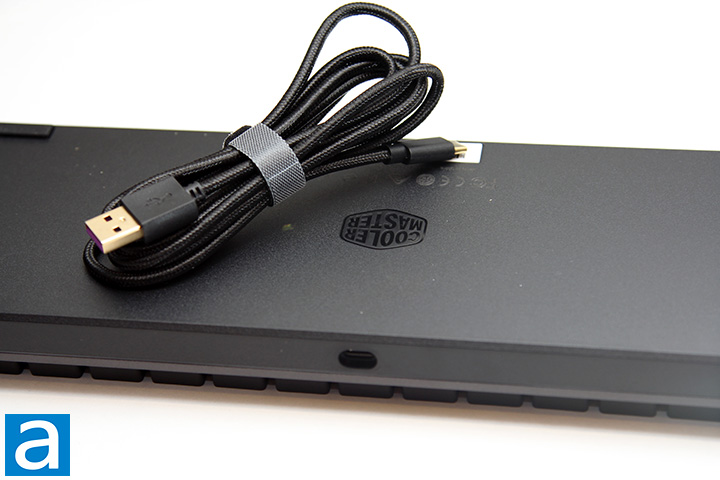 At the back of the Cooler Master SK621 is the USB Type-C cable lead out. It comes out in the center and is used for charging the keyboard's internal battery or using it as a wired keyboard if you desire. This braided cable is of average thickness and extends 1.8m in length to connect to your computer via one standard, non-gold-plated USB Type-A connector. When we bring about the question of whether gold plated connectors are actually useful or not, let us just say if it was the actual pins, then possibly -- since gold offers better conductivity than other metals. This theoretically establishes a better connection with your computer, but on a digital signal level, we must understand it is a discrete one or zero; if anyone tells you they can tell the difference, you can definitely defeat their theory with a double blinded test. Additionally, if you are referring to the gold part of the connector you see on the plug, I would like to point out it actually does not make any physical contact electrically with your computer. In other words, it is nice to have and it is pretty to look at, but it is not anything significant on a practical level. The lack of a gold-plated USB connector will not have any performance impact on the Cooler Master SK621, not to mention the SK621 is a Bluetooth keyboard and is designed to be used wirelessly.
At the bottom are four small rubber pads to help the SK621 stay in place during intense gaming sessions. The keyboard itself is pretty lightweight, so it might shift a bit if your table does not have a lot of grip. There are no flip-out risers at the front to tilt the keyboard up for those who prefer it. There are no keyboard drain holes either, so it is advisable to keep your Mountain Dew at a distance.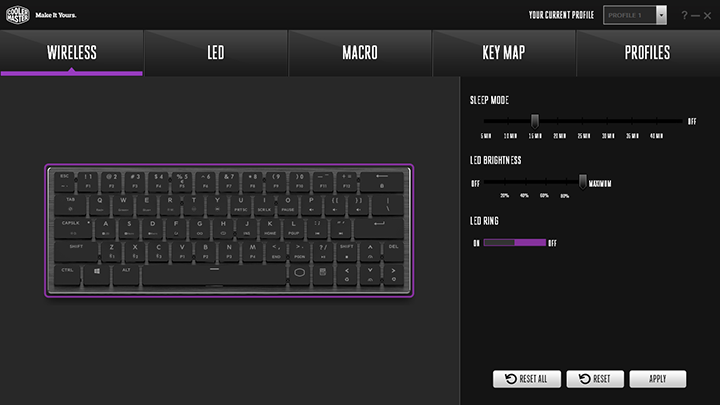 The Cooler Master SK621 works along with a version of Cooler Master Portal, which is a lightweight 9.4MB download from the company's website at press time. This program unifies your Cooler Master peripherals into one application. Once the program opens, it will detect the products you own and download additional content specific to your models. The keyboard firmware can be updated from here as well. All settings are stored on the keyboard's 512KB internal memory for up to four profiles.
The main configuration window is separated into five tabs, as shown in our screenshot above. The first tab, wireless, allows you to configure settings like timeout and LED brightness. The second tab, LED, allows you to select RGB lighting effects and colors. The Macro tab allows you to program macros. Key Map shows a picture of the keyboard, where you can select individual keys and change their functions. Profiles is where you can import and export the four profiles stored on the keyboard's internal memory. Overall, I found Cooler Master Portal to be basic, but it is very straightforward and easy to use. It is certainly not as powerful as Corsair's iCUE or SteelSeries' Engine. In fact, you can do most of the things directly on the keyboard without software, but my overall experience was positive.
-----------------------------------------
Is the Cooler Master SK621 a keyboard that goes back to the roots of where RGB LEDs first became popular, but with a totally new perspective? A lot has gone on since we first reviewed a keyboard equipped with RGB LEDs, and with the flood of products equipped with such -- church crosses aside -- the Cooler Master SK621, like the rest of the SK series, is a breath of fresh air into a well-saturated market. Along with the SK630, the SK621 is one of the sleekest and cleanest looking tenkeyless keyboards I have ever seen, now in the compact 60% form factor and Bluetooth wireless connectivity. But this is only if you want to use it in wireless mode. It comes with a USB Type-C port for charging its internal battery, and you can even use it as a wired keyboard full time if you so desire. With supremely compact dimensions and clean edges that tips the scales at a featherweight 424g, the SK621 makes no compromises with its beautifully finished gunmetal brushed aluminum backplate and high-end Cherry MX Red Low Profile switches. Inside, the battery life is excellent with 15 hours of use time with RGB LEDs on or a few months with it off, has an RGB system so advanced you can play Snake on it, and can store four profiles internally. You can program it with or without software, and if you choose to do so with software, Cooler Master Portal is lightweight and easy to use. There are only a few things I suggest that would make the SK621 better. First, PBT keycaps will improve the feel and durability of this keyboard. Secondly, update the firmware so the Windows key backlight turns off when it is locked. Thirdly, stiffen up the backplate a little more. Other than that, for $120 at press time, the Cooler Master SK621 is a real winner if you are looking for one of the best compact 60% keyboards in the market today.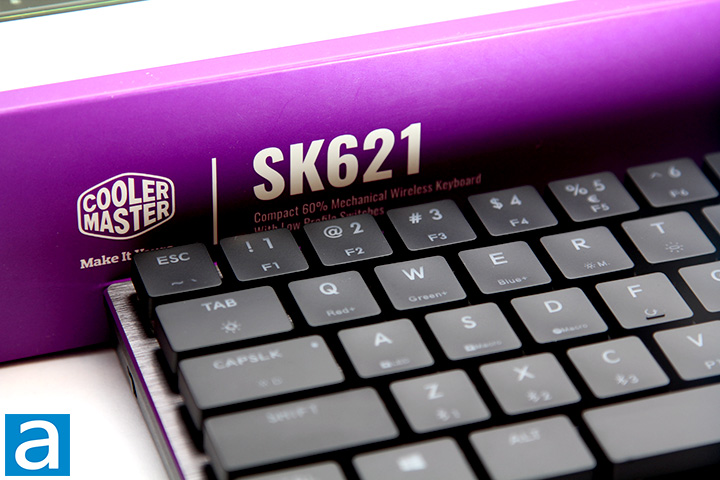 Cooler Master provided this product to APH Networks for the purpose of evaluation.
APH Review Focus Summary:
8/10 means Definitely a very good product with drawbacks that are not likely going to matter to the end user.
7/10 means Great product with many advantages and certain insignificant drawbacks; but should be considered before purchasing.
-- Final APH Numeric Rating is 7.7/10
Please note that the APH Numeric Rating system is based off our proprietary guidelines in the Review Focus, and should not be compared to other sites.
The Cooler Master SK621 is one of the best compact 60% Bluetooth wireless mechanical keyboards in the market today.
Do you have any comments or questions about the Cooler Master SK621? Drop by our Forums. Registration is free, and it only takes a minute!