By: Jonathan Kwan
April 19, 2019
Of the three credit cards I have, my favorite card has to be the American Express. Although it is not accepted everywhere -- this is why I have two Mastercards -- it is accepted in more places than most people think, and there are generally more benefits to using my American Express compared to even my Mastercard World Elite. But beyond things like everyday benefits or excellent customer service, the company often runs interesting promotions I scratch my head at. I recall a promotion a few years ago where spending $25 at Amazon will get you $25 of statement credit. I am pretty sure most people know Amazon accepts American Express; not to mention $25 is not exactly a small number. Therefore, it is quite possible people were only spending $25 to get their free $25, which was exactly what I did. Regardless of whether this promotion made sense, I used it anyway, and American Express is getting some free promotion given I am talking about it right now. There are other things that do not make a lot of sense, like slapping RGB on every component in your PC ranging from fans to power supplies. But everyone uses it and it sells, so who are we to question? A few years ago, I reviewed the GeIL EVO X GEX416GB3200C16DC 2x8GB, my first RGB memory kit. Fast forward a few years and after many more kits, today we are back with another set of RGB RAM from GeIL. How will the Super Luce RGB SYNC GLS416GB3200C14DC 2x8GB stack up? Read on to find out!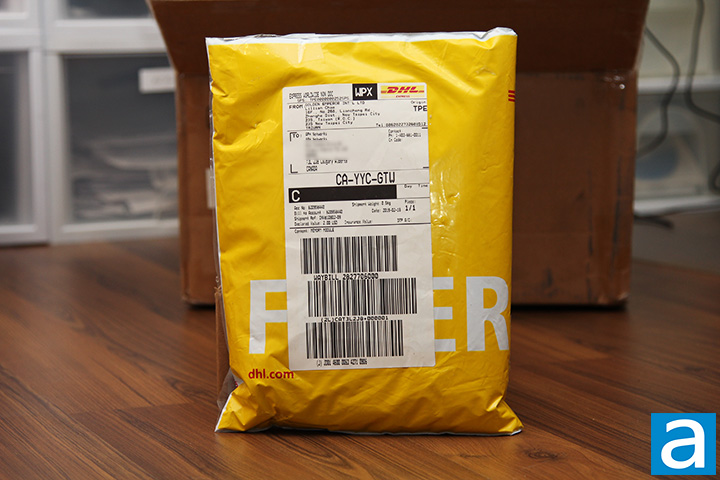 Our review unit of the GeIL Super Luce RGB SYNC GLS416GB3200C14DC 2x8GB came in a medium sized plastic envelope from the company's Taiwanese headquarters in New Taipei City. The trip was far from short, but using DHL Express Worldwide, everything arrived in excellent condition here in Calgary, Alberta, Canada almost 10,000 km away.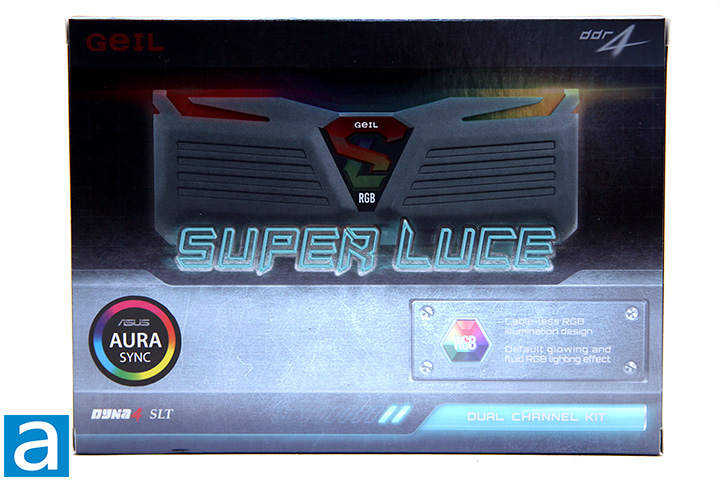 The overall design scheme of GeIL Super Luce RGB SYNC's retail box is carried out on all sides of the box, where its predominantly grey and black color scheme provides a very industrial look to it. As you can see in our photo above, you will find an image of the memory module and "Super Luce" name occupying the majority of the space. GeIL's logo can be found at the top left corner, followed by "DDR4" on the right. A sticker of ASUS' Aura Sync logo can be found on a band underneath the branding. Its RGB features are listed in a box on the same band. At the bottom, you will find further miscellaneous information. At the back of the box, everything is reduced in size a bit compared to the front to make room for a cutout to show the memory information label on the heatspreader along with a sticker for product specifications.
Before we move on, let us take a look at the features and specifications of the GeIL Super Luce RGB SYNC GLS416GB3200C14DC 2x8GB, as obtained from the manufacturer's website:
Series: Super Luce RGB Sync
Form Factor: LONG DIMM
Channel: Dual
Frequency: 3200
Kit Capacity: 16GB
Module Capacity: 8GB
Latency: CL14
Voltage: 1.35V
Heat Spreader Colors: Stealth Black
Compatibility: RGB UI Support on applicable motherboards
Additional Technology: Intel XMP 2.0
Warranty: GeIL Limited Lifetime Warranty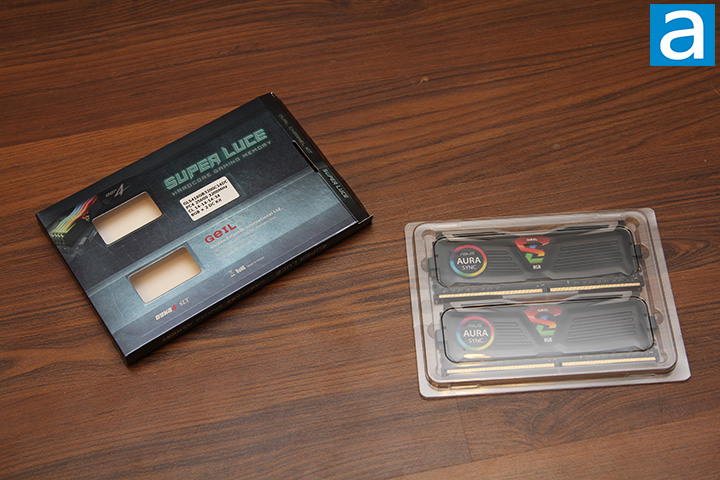 Out of the box, you will receive the pair of memory modules in the GeIL Super Luce RGB SYNC kit packaged in its own clear plastic shell. There is nothing else included, but I am not sure what else you can expect from a DDR4 kit either, haha.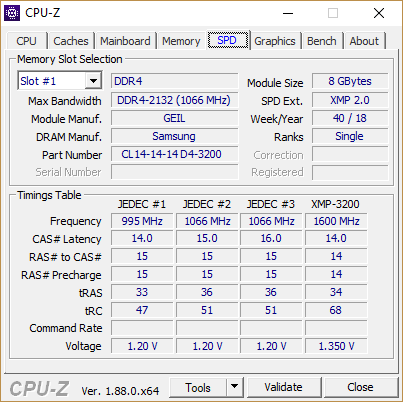 A screenshot of the memory tab in CPU-Z with GeIL's Super Luce RGB SYNC GLS416GB3200C14DC 2x8GB installed. The SPD timings table in CPU-Z reads standard JEDEC specifications programmed into the memory as well as Intel XMP data for running the memory at various speeds. Using the latest BIOS revision, our Gigabyte GA-Z170X-UD5 motherboard used for testing had no issues detecting and working with the GeIL RAM right out of the box. The GeIL Super Luce RGB SYNC GLS416GB3200C14DC 2x8GB retails for approximately $190 at press time.
---
Page Index
1. Introduction, Packaging, Specifications
2.
A Closer Look, Test System
3.
Benchmark: AIDA64 CPU
4.
Benchmark: AIDA64 FPU
5.
Benchmark: AIDA64 Memory
6.
Benchmark: PCMark 10
7.
Benchmark: 3DMark
8.
Benchmark: PassMark PerformanceTest 9.0
9.
Benchmark: SuperPI 1M, Cinebench R20
10.
Overclocking and Conclusion