Page 2 - A Closer Look, Test System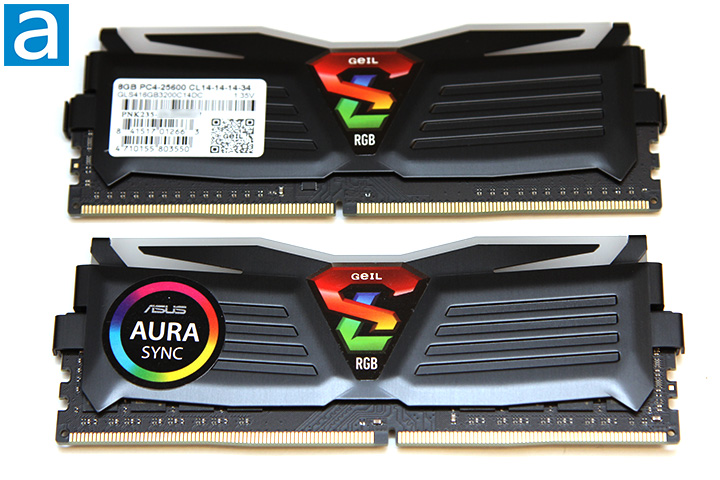 The GeIL Super Luce RGB SYNC GLS416GB3200C14DC 2x8GB, being a part of the latest enthusiast DDR4 line from the company, utilizes a set of medium profile heatspreaders. It is designed to grab some attention with its black color scheme and its multi-colored sticker in the middle. Of course, we know being an RGB product, the attention grabbing item are the lights. The overall design is slightly sci-fi esque, but at no point does it look overdone. The Super Luce's aluminum pieces are distinctively shaped and molded to give it an aggressive stance with transparent pieces to accommodate its RGB LED lighting system. Aluminum is lightweight and serves as a decent heat conductor, but the top extension is not actually made for heat dissipation. The GeIL Super Luce RGB SYNC is only about 1.5 cm taller than modules with no heatspreaders at all. This is useful for systems equipped with side mounted CPU heatsink fans adjacent to the memory slots, as it can piggy-back off the generated airflow. Since the heatspreader height is very moderate, it is still extremely likely for the GeIL Super Luce RGB SYNC to fit under a well-designed cooler with sufficient clearance room. Whether you like to call it marketing gimmick or whatnot, it is impossible nowadays to find performance memory without any form of a heatspreader attached, haha. They do undeniably serve a purpose in dissipating heat, but for most memory modules, unless run at a voltage significantly over designed voltages -- which you will not, special thanks to integrated memory controllers on Intel processors -- this feature is certainly not a requirement. But I will admit they look pretty cool in any windowed chassis.
The heatspreader design of the GeIL Super Luce RGB SYNC modules is symmetrical when looked at straight on and symmetrical between sides, which is logical, because memory can be installed in different directions depending on your motherboard manufacturer and design. Besides functional purposes, it also improves the look. The GeIL Super Luce logo in color is printed dead center. A specifications label is found on the other side. It lists the model number (GLS416GB3200C14DC), capacity, frequency, latencies, and voltage. The GLS416GB3200C14DC's manufacturing location is not listed.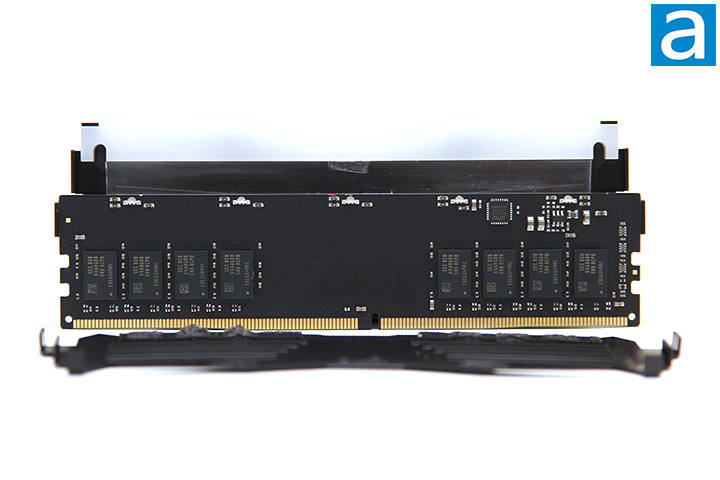 As you can see more clearly in our photo above, the GeIL Super Luce RGB SYNC GLS416GB3200C14DC 2x8GB has a very nice black PCB. Ten LEDs are placed on the main PCB itself with five on each side, and you can control them using your motherboard's software. It is compatible with ASUS AURA Sync, Gigabyte Fusion, MSI Mystic Light, and ASRock Polychrome. Meanwhile, its heatspreader on top is composed of two separate pieces. The heatspreaders are held to the module itself by a strip of thermally conductive adhesive and are not physically locked together. The adhesive force between the two heatspreaders and memory ICs is pretty strong, so if you ever do take them off, keep your hair dryer around.
From our above photo, it should also be clearer on how the heatspreaders are designed. After removing the strip at the top, the heatspreaders have clips that bend into each other at the top and on the side and are mirror images of each other. The removable plastic lighting diffuser is locked in by a series of tabs. Since the pieces are made from thin aluminum -- but thick enough to resist easy bending, so it feels solid in the hand -- it does not hold a lot of heat, therefore dissipating the heat energy relatively quickly into the surrounding environment. Either way, you will probably never remove the heatspreaders, and most aftermarket CPU heatsinks should easily accommodate memory modules of various height profiles in the last little while.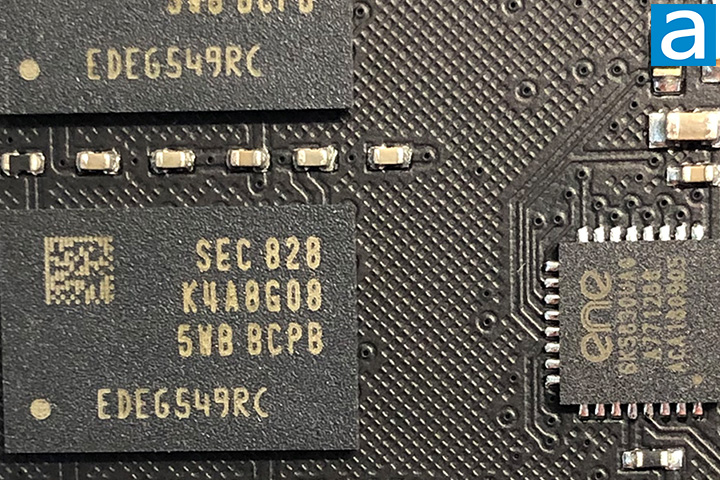 A closer look at the memory chips on the GeIL Super Luce RGB SYNC GLS416GB3200C14DC 2x8GB dual channel memory kit. The photo above should be quite clear -- it says "K4A8G08" on each IC. These are Samsung manufactured chips identified as K4A8G085WB-BCPB, with eight 1GB chips on one side only for a total of 8GB on each DIMM. As mentioned on the previous page, these RAM modules run at a frequency of DDR4-3200 with 14-14-14-34 latencies. They operate at a stock voltage of 1.35V, which is right at the Core i3/i5/i7/i9 maximum safe limit of 1.35V. Here are the listed features for the ICs, as obtained from Samsung's website:
Density: 8Gb
Org.: 1G x 8
Speed: 2133 Mbps
Voltage: 1.2 V
Temp.: 0 ~ 85 °C
Package: 78FBGA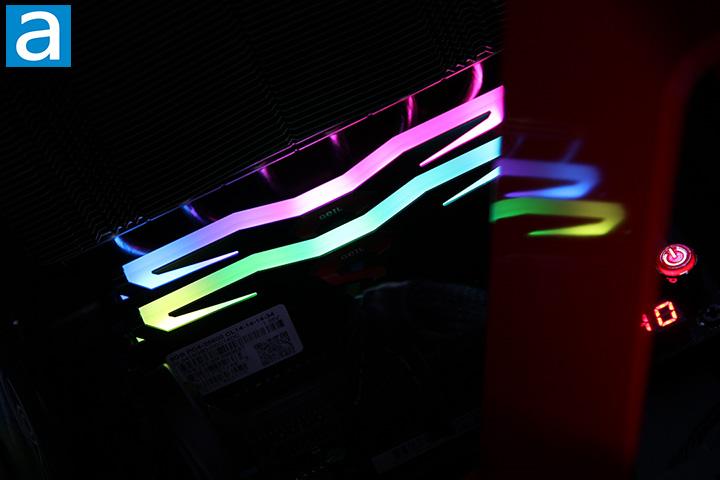 Our test configuration as follows:
CPU: Intel Core i7-6700K @ 4.60GHz
CPU Cooling: Noctua NH-D15 (Single fan)
Motherboard: Gigabyte GA-Z170X-UD5
Graphics: Gigabyte G1 Gaming GeForce GTX 970 4GB
Chassis: NZXT H700i
Storage: OCZ RevoDrive 350 480GB; Kingston HyperX Predator PCIe 480GB; SanDisk Extreme PRO 480GB
Power: Seasonic PRIME Ultra Titanium 850W
Operating System: Microsoft Windows 10 Pro
Compared Hardware:
- GeIL Super Luce RGB SYNC GLS416GB3200C14DC 2x8GB @ DDR4-3200 14-14-14-34
- Ballistix Elite PC4-28800 4x8GB @ DDR4-3600 16-18-18-38
- Ballistix Tactical Tracer RGB PC4-24000 4x8GB @ DDR4-3000 16-18-18-38
- GeIL EVO X GEX416GB3200C16DC 2x8GB @ DDR4-3200 16-16-16-36
- G.Skill Ripjaws V F4-2400C15D-32GVR 2x16GB @ DDR4-2400 15-15-15-35
- Kingston HyperX Fury HX426C15FBK4/32 4x8GB @ DDR4-2666 15-17-17-35
- Kingston HyperX Savage Black HX426C15SBK4/64 4x16GB @ DDR4-2666 15-15-15-35
- Patriot Viper Elite PC4-24000 2x8GB @ DDR4-3000 16-16-16-36
- Patriot Viper LED PC4-24000 2x8GB @ DDR4-3000 15-17-17-35
- Patriot Viper RGB PC4-25600 2x8GB @ DDR4-3200 16-18-18-36
---
Page Index
1.
Introduction, Packaging, Specifications
2. A Closer Look, Test System
3.
Benchmark: AIDA64 CPU
4.
Benchmark: AIDA64 FPU
5.
Benchmark: AIDA64 Memory
6.
Benchmark: PCMark 10
7.
Benchmark: 3DMark
8.
Benchmark: PassMark PerformanceTest 9.0
9.
Benchmark: SuperPI 1M, Cinebench R20
10.
Overclocking and Conclusion