By: Jonathan Kwan
May 1, 2015
Do we create faster interfaces because of faster devices, or do we have faster devices because of faster interfaces? For questions like these, it is easy to dwindle down to a circular argument like the technological equivalent of the chicken and the egg, but we can always take a look at history. Back in 2010, we have reviewed the OCZ Vertex 2 60GB, an SSD I claimed to be "one sizzling fast piece of storage device for $100". By 2015 standards, pulling a little over 270MB/s for write and about 283MB/s for read in ATTO would have been absolutely laughable. Of course, the OCZ Vertex 2 60GB existed in the relative infancy of solid state drive popularity; not to mention the SATA 3Gb/s interface does not have a whole lot of bandwidth to work with in the first place. A year later, we saw an influx of products based off the famous SandForce SF-2281 controller, which gave us renowned drives like the OCZ Vertex 3 Max IOPS 240GB. By then, the SATA 6Gb/s interface was readily available, and the SF-2281 took full advantage of it. For years, the SF-2281 was the controller to buy, and even to this day, its performance is still relevant by any standard. As SSDs continue to drop in price, and the gap narrows between performance and value SSDs, we now have new void in the market for those who want the best of the best. To alleviate this problem, drive manufacturers set out to find the solution. Last year, OCZ wrapped four SandForce SF-2282 controllers together, put them in RAID 0, gave it a PCI Express bridge, and created the mind-blowingly fast OCZ RevoDrive 350 480GB for an equally mind-blowing price of $800. For Kingston, they decided to do it a little differently. Using the new M.2 interface, the Kingston HyperX Predator PCIe 480GB promises to deliver up to 1400MB/s read and 1000MB/s write for a more wallet-friendly price of $460. No M.2 on your motherboard? No problem. If you have a free PCI Express x4 slot, Kingston will even throw in an adapter board to convert it to HHHL form for an extra $10. If you are as excited as we are, let us waste no time, and take a closer look at what it is all about.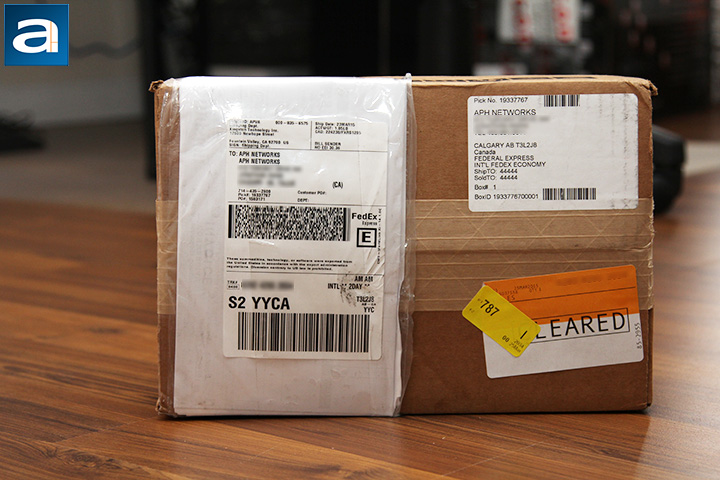 Ecclesiastes 1:9 says, "What has been is what will be, and what has been done is what will be done, and there is nothing new under the sun." For the shipping box that our Kingston HyperX Predator PCIe 480GB solid state drive came in, this Bible verse cannot be more fitting. The medium sized, brown corrugated cardboard box is certainly nothing new to us here at APH Networks; we have seen it many times in the past from other review samples we have received from the company. It landed on our doorstep here in Calgary, Alberta, Canada from Kingston's American headquarters in California, USA. Using FedEx International Economy, the two thousand kilometer trip up north was quite uneventful, as everything arrived in perfect condition for our review today.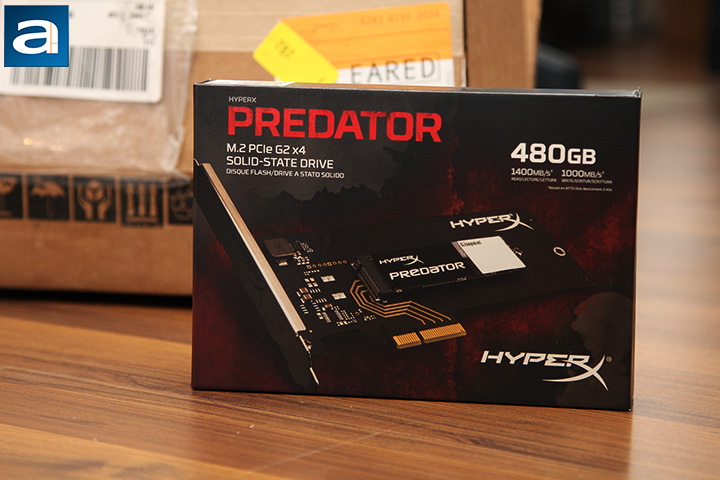 The Kingston HyperX Predator PCIe 480GB is not sold at any Toys "R" Us stores near you, and with no little children to scare away, the company ships the SSD with the word "PREDATOR" -- in red block letters and all -- printed boldly at the upper left hand corner. This is complemented by the HyperX branding immediately above it as well as at the bottom right corner; missing, of course, is Kingston's logo. They are doing this to establish HyperX as an enthusiast brand itself in order to keep the Kingston name for business applications and whatnot. Under it, the description "M.2 PCie G2 x4 Solid State Drive" appropriately lets the onlooker know exactly what is inside. On the right, we have the drive capacity, 1400MB/s rated read, and 1000MB/s rated write speed in white font. A large photo of the PCI Express card itself occupies a large portion of the space in front of a dark red, almost apocalyptic, themed background to give off a sense of speed and power. At the back of the box, it shows what is included inside, along with a product description line presented in many different languages.
Before we move on, let us take a look at the features and specifications of the Kingston HyperX Predator PCIe 480GB, as obtained from the manufacturer's website:
Form factor: M.2 2280
Interface: PCIe Gen 2.0 x 4
Capacities: 240GB, 480GB
Controller: Marvell 88SS9293
Baseline Performance:
Compressible Data Transfer (ATTO)
240GB — 1400MB/s Read and 600MB/s Write
480GB — 1400MB/s Read and 1000MB/s Write
Incompressible Data Transfer (AS-SSD and CrystalDiskMark)
240GB — 1290MB/s Read and 600MB/s Write
480GB — 1100MB/s Read and 910MB/s Write
IOMETER Maximum Random 4k Read/Write
240GB — up to 160,000/ up to 119,000 IOPS
480GB — up to 130,000/ up to 118,000 IOPS
Random 4k Read/Write
240GB — up to 120,000/ up to 78,000 IOPS
480GB — up to 117,000/ up to 70,000 IOPS
PCMARK® Vantage HDD Suite Score
240GB — 138,000
480GB — 139,000
PCMARK® 8 Storage Bandwidth
240GB — 331MB/s
480GB — 336MB/s
PCMARK® 8 Storage Score
240GB — 5,015
480GB — 5,017
Anvil Total Score (Incompressible Workload)
240GB — 6,500
480GB — 6,700
Power Consumption: 1.38W Idle / 1.4W Avg / 1.99W (MAX) Read / 8.25W (MAX) Write
Storage temperature: -40°C~85°C
Operating temperature: 0°C~70°C
Dimensions:
80mm x 22mm x 3.5mm (M.2)
180.98mm x 120.96mm x 21.59mm (with HHHL adapter – standard bracket)
181.29mm x 80.14mm x 23.40mm (with HHHL adapter – low-profile bracket)
Weight:
10g (M.2)
73g (with HHHL adapter – standard bracket)
68g (with HHHL adapter – low-profile bracket)
Vibration Operating: 2.17G Peak (7–800Hz)
Vibration non-operating:: 20G Peak (10–2000Hz)
Life expectancy: 1 million hours MTBF
Warranty/support:3-year warranty with free technical support
Total Bytes Written (TBW):
240GB: 415TB 1.6 DWPD
480GB: 882TB 1.7 DWPD
Out of the box, you will be greeted by piece of black foam with the stylized HyperX logo cut into it. Taking the black foam cover out will reveal a tray made out of the same material containing the Kingston HyperX Predator PCIe 480GB SSD, which, in this particular configuration, consists of an M.2 module pre-installed on a PCI Express adapter card. For about $10 less at press time, you can go without the adapter card, and get the drive in M.2 form only. There is no anti-static bag for the product. Other than the SSD, you will receive a low profile bracket for the HHHL board, HyperX sticker, small "Getting Started" poster, and an Acronis True Image HD activation key. It is really everything you need to get going, and personally, I do not have any complaints in this regard.
---
Page Index
1. Introduction, Packaging, Specifications
2.
A Closer Look, Test System
3.
Benchmark: AIDA64 Disk Benchmark
4.
Benchmark: ATTO Disk Benchmark
5.
Benchmark: Crystal Disk Mark 3.0
6.
Benchmark: HD Tach 3.0.1.0
7.
Benchmark: HD Tune Pro 4.60
8.
Benchmark: PassMark PerformanceTest 8.0
9.
Benchmark: PCMark Vantage
10.
Conclusion