By: Jonathan Kwan
June 10, 2016
What a golden age of performance we live in. In the beginning of my OCZ Vertex 2 60GB review in November 2010, I told of a story of how in the early 2000s, I said, "60GB? What can I do with that!?" I then said the exact same thing nearly ten years later, albeit in a completely different context. In the age of 4K videos and massive 8TB hard drives, the truth is, if there really is not a whole lot of things you can do with 60GB in 2010, how much less so is it in 2016? You can store maybe a dozen of home videos shot on your iPhone 6S at best. Now, with all things comes a full cycle, and I think today, I will have to, ironically, repeat the same line with the same meaning as I did in the early 2000s, "60GB? What can I do with that!?" Make no mistakes, my friend. 60GB is actually quite massive, because I am not even talking about non-volatile storage. With the advent of high density 1GB ICs found in the G.Skill Ripjaws V F4-2400C15D-32GVR 2x16GB and Patriot Viper Elite PC4-24000 2x8GB (The latter is only single sided, hence its smaller capacity), manufacturers are now free to create memory kits with sizes in speeds that were once unfathomable. So instead of using 60GB to store data perpetually, what we have here on hand is the Kingston HyperX Savage Black HX426C15SBK4/64 4x16GB DDR4 memory kit. Operating at a relatively moderate DDR4-2666 frequency, but equipped with seriously overpowering 64GB in total capacity, I just have to repeat this question one more time before I crack into the modern wonder of overkilling for the common man: "60GB? What can I do with that!?"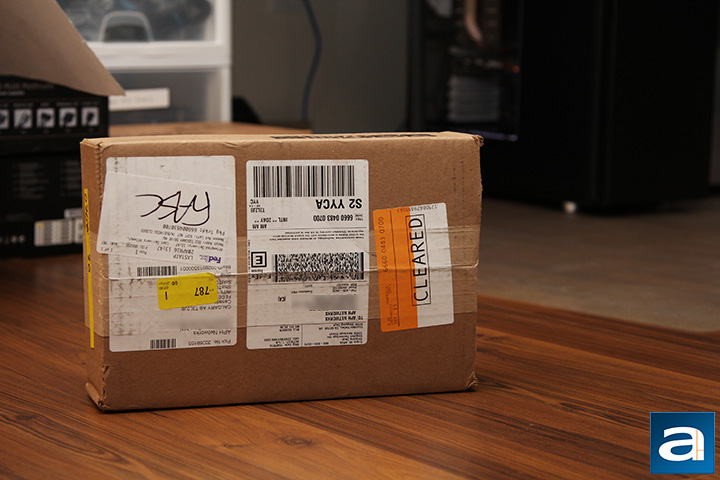 Our review unit of the Kingston HyperX Savage Black HX426C15SBK4/64 4x16GB came in a medium sized, brown corrugated cardboard box from the company's American headquarters in Fountain Valley, California, USA. If you recall our last set of DDR4 RAM received from the company, the Kingston HyperX Savage Black HX426C15SBK4/64 4x16GB, you will realize the shipping box is almost identical. Using the FedEx International 2-day service, everything arrived in excellent condition to us here in Calgary, Alberta, Canada for our review today. This is the first 64GB DDR4 memory kit I have ever laid my hands on, and behold, after opening another sealed package inside the sealed package, it is now time to begin my quest to find out what I can do with all that RAM in my computer.
As always, Kingston used almost OEM-like packaging for their retail products. I am quite a fan of it, because it cuts down on waste. As per what we have seen in the past, unlike standard clamshell or blister packaging with inserts implemented by many other memory manufacturers, Kingston resorted to using the tried-and-true method of having a PET shell and clear plastic cover. You will not find any fancy window inserts either; everything you need to know about this product is printed on the sticker in front. Two large plastic labels with the words "Factory Sealed" seals the package shut. I think the company is working hard to make HyperX into a somewhat separate performance brand, as you will not find Kingston's logo here. As you can see in our photo above, the four modules that make up the Kingston HyperX Savage Black HX426C15SBK4/64 4x16GB are inserted vertically next to each other behind the clear plastic cover, so we can get a glimpse of what is inside without actually opening it.
Before we move on, let us take a look at the specifications of the Kingston HyperX Savage Black HX426C15SBK4/64 4x16GB DDR4 RAM, as obtained from the manufacturer's website:
XMP TIMING PARAMETERS
• JEDEC: DDR4-2133 CL15-15-15 @1.2V
• XMP Profile #1: DDR4-2666 CL15-15-15 @1.2V
• XMP Profile #2: DDR4-2400 CL14-14-14 @1.2V
SPECIFICATIONS
CL(IDD): 15 cycles
Row Cycle Time (tRCmin): 46.5ns (min.)
Refresh to Active/Refresh Command Time (tRFCmin): 350ns (min.)
Row Active Time (tRASmin): 33ns (min.)
Maximum Operating Power: TBD W*
UL Rating: 94V - 0
Operating Temperature: 0c to +85c
Storage Temperature: -55c to +100c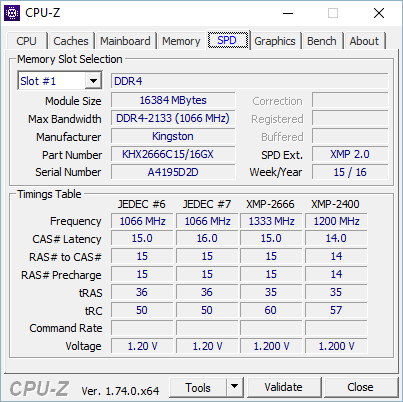 A screenshot of the memory tab in CPU-Z with Kingston's HyperX Savage Black HX426C15SBK4/64 4x16GB installed. The SPD timings table in CPU-Z reads standard JEDEC specifications programmed into the memory, as well as Intel XMP data for running the memory at various speeds. Using the latest BIOS revision, our Gigabyte GA-Z170X-UD5 motherboard used for testing had no issues detecting and working with the Kingston RAM right out of the box. The Kingston HyperX Savage Black HX426C15SBK4/64 4x16GB retails for approximately $300 at press time.
---
Page Index
1. Introduction, Packaging, Specifications
2.
A Closer Look, Test System
3.
Benchmark: AIDA64 CPU
4.
Benchmark: AIDA64 FPU
5.
Benchmark: AIDA64 Memory
6.
Benchmark: PCMark 8
7.
Benchmark: 3DMark
8.
Benchmark: PassMark PerformanceTest 8.0
9.
Benchmark: SuperPI 1M, Cinebench R15
10.
Overclocking and Conclusion