By: Jonathan Kwan
October 2, 2015
In the middle of last week, I had a chance to meet the Leader of the Official Opposition in Alberta, Brian Jean from the Wildrose Party. "I heard you are pretty important," I joked as I began the conversation. "No, I am not, really," he replied in a genuine tone and a warm smile. Later on, I started a conversation with a guy who introduced himself as "Derek". It was not until I got home that night that I realized he was actually Derek Fildebrandt, MLA for Strathmore-Brooks and Shadow Minister of Finance. More often than not, we associate importance with grand displays of power (Sort of like the guy with funny hair in the Republican presidential primaries), when in reality importance is intrinsic to your position, and not how loud and obnoxious you can be. Simply put, it is possible to be important and understated at the same time. In the past, we have covered components that looks fast and performs poorly, looks subtle but goes like heck, and everything in between. Today, we will take a look at the Kingston HyperX Fury HX426C15FBK4/32 4x8GB DDR4 RAM. After closing off with our last DDR3 review in late August with the Silicon Power Xpower PC3-19200 2x8GB dual channel kit, this marks the beginning of series of DDR4 RAM review on the Intel Skylake platform. Equipped with black low profile heatspreaders for very subtle appearance, how will Kingston's massive capacity DDR4-2666 kit compare against the competition? We took one in, and ran it against the latest entries from G.Skill and Patriot to find out.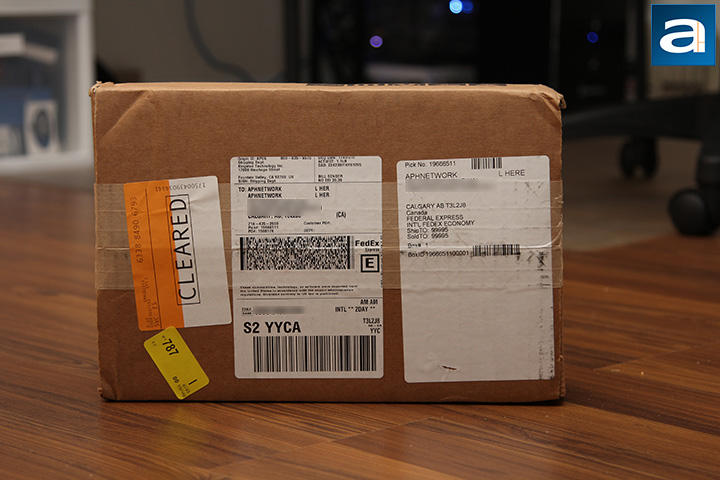 Our review unit of the Kingston HyperX Fury HX426C15FBK4/32 4x8GB came in a medium sized, brown corrugated cardboard box from the company's American headquarters in California, USA. As always, FedEx has done a great job in making the trip for the DDR4 kit up to us here in Calgary, Alberta, Canada in an uneventful manner. Using the FedEx International Economy service, it landed on our doorstep in perfect condition at the time we expected it. One could say they really handle... the world on time. With that in mind, I grabbed my knife, opened the package, which revealed another package inside. After a "Yo dawg..." moment, I took my first crack at the first DDR4 Skylake review here at APH Networks.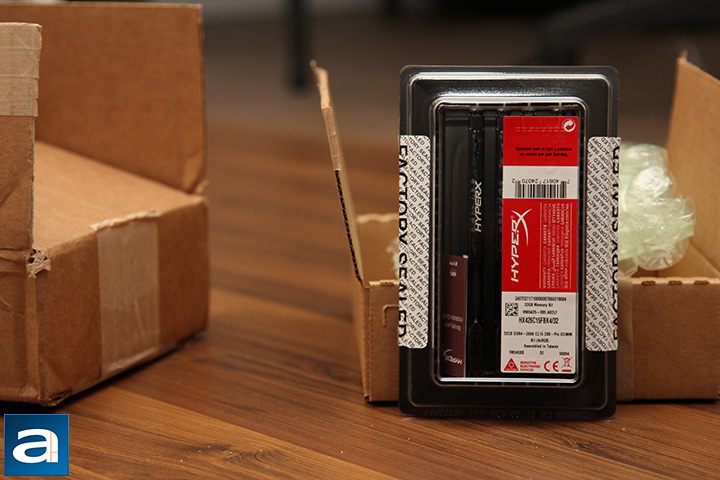 As always, Kingston used almost OEM-like packaging for their retail products. I am quite a fan of it, because it cuts down on waste. As per what we have seen in the past, unlike standard clamshell or blister packaging with inserts implemented by many other memory manufacturers, Kingston resorted to using the tried-and-true method of having a PET shell and clear plastic cover. You will not find any fancy window inserts either; everything you need to know about this product is printed on the sticker in front. Two large plastic labels with the words "Factory Sealed" seals the package shut. I think the company is working hard to make HyperX into a somewhat separate performance brand, as you will not find Kingston's logo here. As you can see in our photo above, the four modules that make up the Kingston HyperX Fury HX426C15FBK4/32 4x8GB are inserted vertically next to each other behind the clear plastic cover, so we can get a glimpse of what is inside without actually opening it.
Before we move on, let us take a look at the specifications of the Kingston HyperX Fury HX426C15FBK4/32 4x8GB DDR4 RAM, as obtained from the manufacturer's website:
JEDEC/XMP TIMING PARAMETERS
• JEDEC/PnP:
- DDR4-2666 CL15-17-17 @1.2V
- DDR4-2400 CL14-16-16 @1.2V
- DDR4-2133 CL12-14-14 @1.2V
• XMP Profile #1: DDR4-2666 CL15-17-17 @1.2V
SPECIFICATIONS
CL(IDD): 15 cycles
Row Cycle Time (tRCmin): 45ns(min.)
Refresh to Active/Refresh Command Time (tRFCmin): 260ns(min.)
Row Active Time (tRASmin): 26.25ns(min.)
Maximum Operating Power: TBD W*
UL Rating: 94 V - 0
Operating Temperature: 0c to +85c
Storage Temperature: -55c to +100c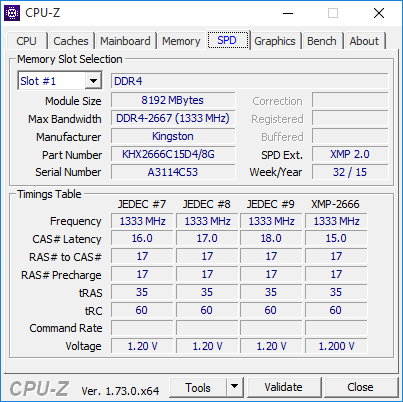 A screenshot of the memory tab in CPU-Z with Kingston's HyperX Fury HX426C15FBK4/32 4x8GB installed. The SPD timings table in CPU-Z reads standard JEDEC specifications programmed into the memory, as well as Intel XMP data for running the memory at various speeds. Using the latest BIOS revision, our Gigabyte GA-Z170X-UD5 motherboard used for testing had no issues detecting and working with the Kingston RAM right out of the box. The Kingston HyperX Fury HX426C15FBK4/32 4x8GB retails for approximately $210 at press time.
---
Page Index
1. Introduction, Packaging, Specifications
2.
A Closer Look, Test System
3.
Benchmark: AIDA64 CPU
4.
Benchmark: AIDA64 FPU
5.
Benchmark: AIDA64 Memory
6.
Benchmark: PCMark 8
7.
Benchmark: 3DMark
8.
Benchmark: PassMark PerformanceTest 8.0
9.
Benchmark: SuperPI 1M, Cinebench R15
10.
Overclocking and Conclusion