By: Jonathan Kwan
August 21, 2015
The Bible in Ecclesiastes 1 says, "'Meaningless! Meaningless!' says the Teacher. 'Utterly meaningless! Everything is meaningless.' What do people gain from all their labors at which they toil under the sun? Generations come and generations go, but the earth remains forever." With the Intel Skylake motherboards and latest DDR4 RAM beginning to make an appearance in our labs here at APH Networks, I have finally come to the realization -- after a year of Haswell-E being on the market -- the days of DDR3 is finally behind us. Being an avid computer enthusiast since my elementary school days, I have witnessed the rise and fall of the original SDRAM, followed by the first DDR, DDR2, and now, DDR3 memory. As generations come and generation go, I still remember my first DDR3 RAM review back in 2007. It was the OCZ Platinum PC3-12800 Enhanced Bandwidth 2x1GB, a brilliant pair of memory in its time that will knock a whopping $500 off your bank account. Over the years, I have reviewed many more sets from pretty much every major manufacturer. Fast forward to today, in a time where OCZ is owned by Toshiba and does not even make computer memory anymore, I sit here, almost eight years after I wrote my first DDR3 RAM review, with Silicon Power's Xpower PC3-19200 2x8GB dual channel kit that retails for about $140 at press time in front of me. After a moment of silence to remember all our wonderful memory we had with DDR3 RAM in the last eight years -- no pun intended -- let us move ahead and see what the company has in store for us in what is most likely the last DDR3 review ever here at APH Networks.
Our review unit of the Silicon Power Xpower PC3-19200 2x8GB came in a cardboard envelope all the way from the company's Taiwanese headquarters in Taipei. It started off the journey by postal operators of the Universal Postal Union. After crossing the ocean, it was handed over to the good people at Canada Post, who carried it inland to us here in Calgary, Alberta, Canada. The package was a little bit beat up, but with the amount of bubble wrapping inside, everything arrived safely in the end. Like the Fractal Design Define S I reviewed last week, I was on vacation when the RAM arrived. Thankfully, it was held at the post office for about a week until I came back to pick it up.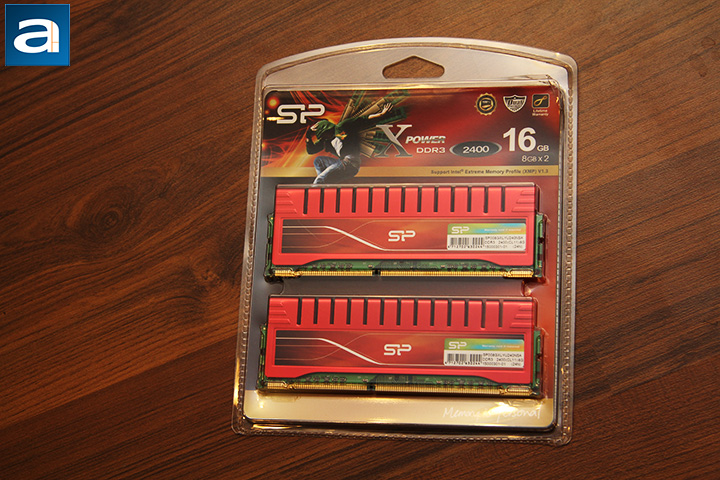 Confession of the week: I actually did not open the review sample until this week. Upon sliding it out of the shipping envelope, I discovered the Silicon Power Xpower PC3-19200 2x8GB's retail package was the dreaded blister pack. I think most memory manufacturers have resorted to sealing their packages with friction buttons at the top in the past few years, but a bit of careful cutting with a knife, and keeping my fingers away from the edges prevented me from experiencing some unnecessary cuts on my hands. Anyway, the memory modules are placed horizontal and parallel to each other across the front, showing off its sharp red heatsinks contrasted with a traditional green PCB for some kind of unintentional Christmas overtone. The background insert is predominantly orange and black to show off how "hot" the RAM is. At the top left corner, SP's logo can be found next to some guy who looks like he is from the 'hood (And a bunch of memory modules sticking out of his back to keep him aloft). The Xpower branding, DDR3-2400 specification, 16GB capacity, and an array of icon showing off its guarantee, dual channel configuration, and lifetime warranty can be found in the remaining space.
Before we move on, let us take a look at the specifications of Silicon Power's Xpower PC3-19200 2x8GB dual channel kit, as obtained from the manufacturer's website:
- Pins: 240Pin U DIMM without ECC
- Frequency: 2400MHz
- Timing : 11-13-13
- Capacity: 16GB (8GBx2)
- Flash module spec.: 512Mx8 (bit) (single module capacity)
- Operating voltage: 1.65 V
- Support Intel Extreme Memory Profile (XMP)
- Lifetime warranty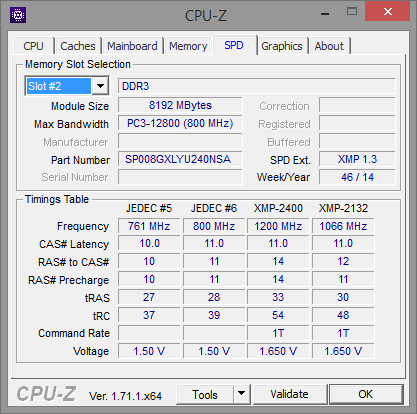 A screenshot of the memory tab in CPU-Z with Silicon Power's Xpower PC3-19200 2x8GB installed. The SPD timings table in CPU-Z reads standard JEDEC specifications programmed into the memory, as well as Intel XMP data for running the memory at various speeds. Using the latest BIOS revision, our motherboard used for testing had no issues detecting and working with the Silicon Power RAM right out of the box. It seems the XMP table is slightly different from the specifications at 11-13-13 from CPU-Z, but ran correctly regardless. The Silicon Power Xpower PC3-19200 2x8GB retails for approximately $140 at press time.
---
Page Index
1. Introduction, Packaging, Specifications
2.
A Closer Look, Test System
3.
Benchmark: AIDA64 CPU
4.
Benchmark: AIDA64 FPU
5.
Benchmark: AIDA64 Memory
6.
Benchmark: PCMark 8
7.
Benchmark: 3DMark
8.
Benchmark: PassMark PerformanceTest 8.0
9.
Benchmark: SuperPI 1M, Cinebench R15
10.
Overclocking and Conclusion