By: Jonathan Kwan
August 14, 2015
In the early days of the internet, a photo of a man washing a red station wagon in the rain made its round to everyone who had access to the World Wide Web. For the longest time, I sat there, along with millions of teenagers with a PC, laughing at the sheer stupidity of the idea of a man washing their car in the rain. On one fateful night in June, I did the unthinkable. As the sky began to darken and drizzle, I pulled out my garden hose from my garage, connected it to the water outlet on the side of my house, and began to... wash my car. Why did I join the ranks of such stupidity, being well aware of the photo in question? The answer is simple. Just few hours before, I parked under a tree, where a bunch of birds decided to unload a few on my perfectly maintained Modern Steel Metallic Honda Accord Touring sedan. The poop had to be cleaned off as soon as possible, and the only way to do it was to scrub and hose it off immediately after I got home. It was an unfortunate coincidence it began to rain at the same time, but what needs to be done has to be done. As I was washing my car in the rain, all the while imagining my neighbors pointing and laughing from their living room (Or worse yet, take a similar photo and unleash it on the internet), I finally understood the fact there are times when washing your car in the rain actually makes sense. There are times when doing something ostensibly counter-intuitive serves a practical purpose. With the Fractal Design Define S, we can draw some parallels. Recently, the company announced a new product by removing the front 5.25" drive bays, deleting the entire internal 3.5" drive rack, eliminating the front door, and taking out some features found on the Define R5, and calling it the Define S. Why would anyone do such a thing? Apparently, this was all done in the name of cooling. For about $20 less than the Define R5 at press time, will the Define S' modifications tap into a new market of consumers? We took one in to find out.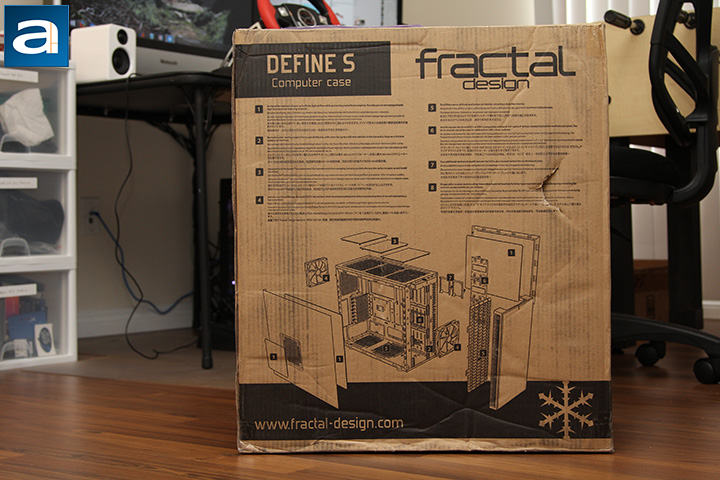 As usual, Fractal Design sent us a copy of their Define S computer case from the company's American headquarters in Dallas, Texas, USA to us here in Calgary, Alberta, Canada. In my Define R5 review, I said it was rare for a company to send us products using FedEx nowadays, since UPS took a lot of their business. Fast forward half a year and a bit, it looks like FedEx lost yet another customer -- our Fractal Design Define S landed on our doorstep via the UPS Standard service. I was on vacation when this package arrived; thankfully, my friend dropped by and picked it up while I was away.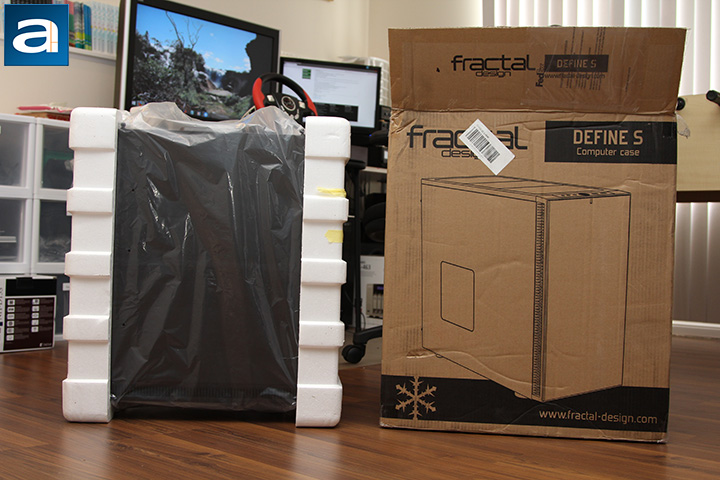 As you can see in our photo above, Fractal Design's retail box design for the Define S is very similar to the Define R5 we have reviewed earlier this year. The latest iteration features an environmentally friendly (Or economically friendly) -- depending on your perspective -- brown corrugated cardboard box with classic black ink. It is quite practical, too -- everything you need to know and more about the product inside can be clearly seen, either in text or in diagram. It is certainly not as pretty as full color printing, but I doubt many people are planning to spend that much time looking at the packaging anyway. At the end of the day, I have no guilty feeling dumping it into the recycle bin afterwards. I am no environmentalist, but I think that in itself has value in my opinion.
Before we move on, let us take a look at the specifications of the Fractal Design Define S, as obtained from the manufacturer's website:
- ATX, Micro ATX, Mini ITX motherboard compatibility
- 7 expansion slots
- 3 - 3.5" HDD positions (can also accommodate 2.5" units); 2 - 2.5" dedicated SSD/HDD unit positions
- 9 - Fan positions (2 Fractal Design Dynamic GP14 140mm fans included); 8 fan positions on window model
- Filtered fan slots in the front and bottom
- CPU coolers up to 180mm in height
- ATX PSUs up to 180/170 mm with a bottom 120/140mm fan installed; When not using any bottom fan location longer PSUs up to 300mm can be used
- Graphics cards up to 425 mm in length with front fans installed, without compromising HDD capacity; Graphics cards up to 450mm in length without front fans installed directly in line with the GPU
- With a front radiator, maximum graphics card length is reduced by the radiator thickness
- 20 - 40 mm of space for cable routing behind the motherboard plate
- Velcro straps included for easy cable management
- Both side panels feature smart captive thumbscrews so no thumbscrews are lost
- Colours available: Black
- Case dimensions (WxHxD): 233 x 451 x 520mm
- Case dimensions - with feet/screws/protrusions: 233 x 465 x 533mm
- Net weight: 9.1 kg
- Package dimensions (WxHxD): 322 x 615 x 535mm
- Package weight: 10.8 kg
Out of the box, you will receive the following items:
- Define S computer case
- User manual
- Accessory box
---
Page Index
1. Introduction, Packaging, Specifications
2.
Physical Look - Outside
3.
Physical Look - Inside
4.
Installation and Conclusion