Page 4 - Installation and Conclusion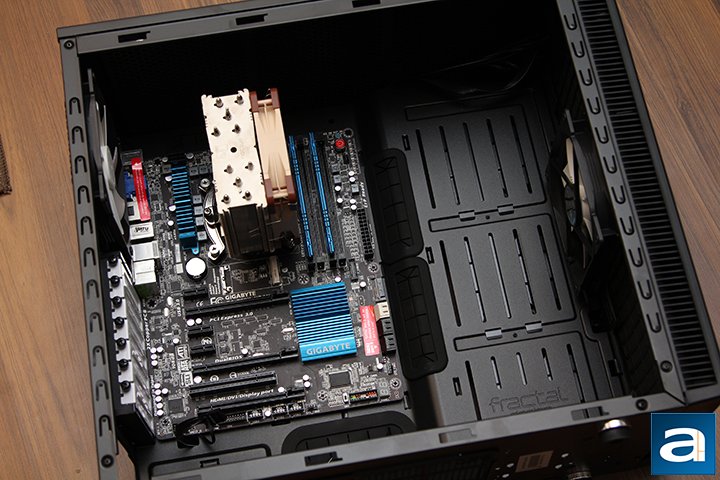 The installation process was extremely straightforward with the Fractal Design Define S. I am using this for my server build, which is the same system I have used for testing with the Define R4. For the most part, it was very easy to work with as far as a standard mid-tower is concerned. Out of preference, I installed my Gigabyte GA-Z77X-UD3H motherboard first, followed by the rest of my components. However, it does not matter what you install first, since they will all work out just as well in the end.
Executing a good cabling job was also very easy on the Fractal Design Define S. There are two large openings adjacent to the motherboard on the right, so choose your half. They are all appropriately placed for routing cables through, whether they are from your power supply or your hard drive, with proper rubber grommets for both looks and vibration dampening. The rubber grommets are clipped onto place, but they stay reasonably secure, unless you use excessive force.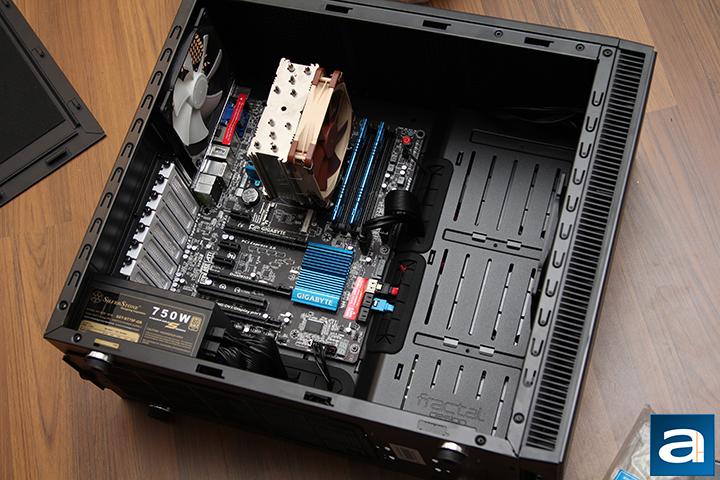 That unrestricted airflow though.
The rest of the installation process came and went just as smoothly, as I continued to install the rest of my components like the SilverStone Strider Gold S ST75F-GS V2.0 750W. Unless you count thumbscrews as tool-free, installation of most components will require you to keep your screwdriver handy. This includes all add-on cards, as well as your storage drives. I do not have much beef against this though, since it is usually much more secure, and it is not like I will take my computer apart occasionally anyway. As you can see, the Define S can actually accommodate some serious water cooling equipment. I am personally not huge into water cooling, so I will just take advantage with the epic airflow design in my particular install instead.
Because Fractal Design added a cable management section behind the motherboard tray, organizing the modular cables from my SilverStone power supply was a breeze. Pushing all the case I/O cables through the large bottom opening adjacent to the motherboard and power supply delivered excellent accessibility to anything that requires a connection to my Z77X-UD3H. The large motherboard tray cutout also made the installation of my Noctua NH-U12S totally painless.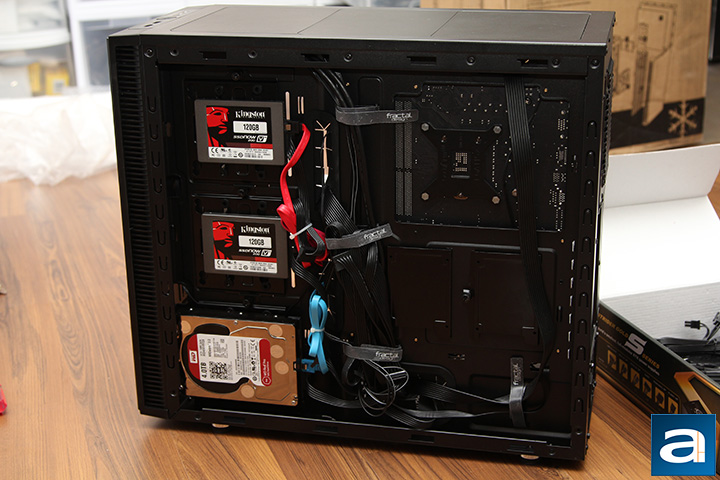 As I have alluded to on the previous page, it is rather impressive how the Fractal Design Define S can accommodate five drives -- three of which can be 3.5" hard disks -- in a mid-tower chassis with no real drive rack. The installation process was mostly straightforward; simply align the drive with the proper holes at the bottom of each drive tray, attach four screws (Clip the rubber spacers if you are installing a 3.5" drive), and you are good to go. After all the necessary screws are attached, slip the tray back into position, and lock it in with the thumbscrew. In my particular install, I decided not to put my pair of Kingston SSDNow V+200 120GB SSDs behind the motherboard tray. For cabling and ventilation reasons, I installed them on the 3.5" drive trays in front instead, along with one Western Digital Red Pro WD4001FFSX 4TB hard drive. There is not a whole lot of airflow in this area, but even my Western Digital Red Pro ran at a reasonably cool 35c. A small issue I ran into was my power supply's 15cm standard spacing between SATA connectors does not allow me to use immediately adjacent plugs to connect all the disks with one cable. Since I could only use every second connector, and each modular cable on my power supply has only four connectors, I had to use two separate cable to connect three storage drives.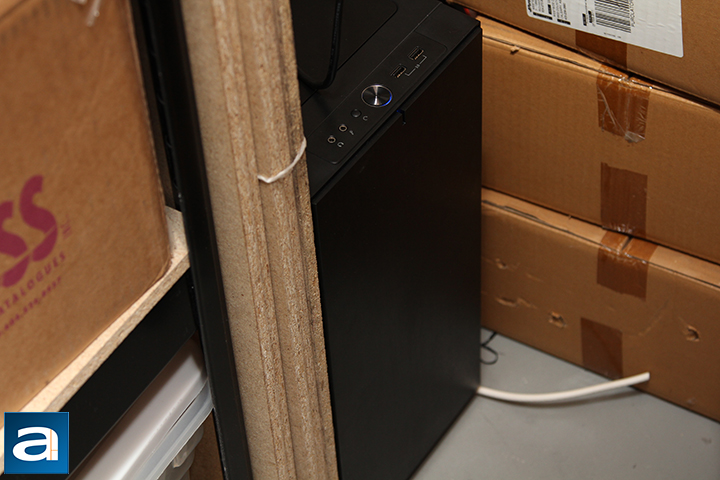 After plugging in everything, our system configured inside the Fractal Design Define S was ready to roll. I hit the large power button at the top, and my computer came to life. This was used in my server build, and trust me -- I doubt anyone would notice anything changed from the Define R4 that used to sit at the same location, haha.
On a scale from 0.0 to 10.0 where 0.0 is silent and 10.0 is the loudest, the stock Dynamic GP14 fans would come in at 2.0 subjective sound rating at full blast. That is very impressive. Slowing them down will keep it at around 1.0 in my personal opinion. I am quite sensitive to perceived sound volume, and as a quiet PC enthusiast, the Fractal Design Define S is extremely impressive by any metric. The hydraulic bearing fans have a smooth running motor with no annoying noise during operation; combine that with thick insulation material simply keeps the noise in, and the heat out. I am also quite impressed at its ability to eliminate certain types of noise. While it does not magically cancel out noise made by very fast moving fans, the Fractal Design Define S does a fine job and keeping my already very quiet parts even quieter than before. The Define S is top notch in this regard, but it would have been nice if the front panel was sound insulated. Either way, this is still one of the best cases in the market today for quiet PC enthusiasts who makes no compromise in power and performance. The straight unrestricted airflow design is a nice bonus.
-----------------------------------------
As someone who has owned almost every product in Fractal Design's Define series, I can say with confidence the Define S stays true to its product heritage. It continues to pack tons of sound insulation for minimal noise emissions, and comes with a pair of excellent Dynamic GP14 fans for great cooling performance. Tack on its clean, classic, and inoffensive -- if not a little bit conservative and unexciting -- allows it to remain the benchmark of timeless designs. Of course, the question of whether stripping out certain features from the Define R5 to make what we see today makes sense all comes down to what your preferences are. For me, I do not plan to throw out my Define R5 anytime soon, and Fractal Design never intended the Define S to be its replacement. On the other hand, my colleague Aaron Lai is a big fan, and said he would buy it "in a heartbeat" over the Define R5. Why is that? I think it is because of its low obstruction airflow design, native support for a wide variety of water cooling installations, ability take in add-on cards of virtually any length, and still has enough room to accommodate more than enough storage drives for most people. Best of all, it costs $20 less than the Define R5. Of course, there are a few quirks with the Define S, but you really have to look deep into the details to notice the difference (Other than the obvious drive rack removal, of course). Firstly, as I have discussed in the Define R5 review, the ModuVent openings on top are too large. Also, Fractal Design has cut a few corners to save money. This includes the lack of acoustic insulation behind the front panel, no side panel quick release mechanism, regular instead of high quality case I/O cables, and deleted integrated fan controller. But for about $90 at press time, considering the performance, features, and quality you get, the Fractal Design Define S is still solidly a class above the competition.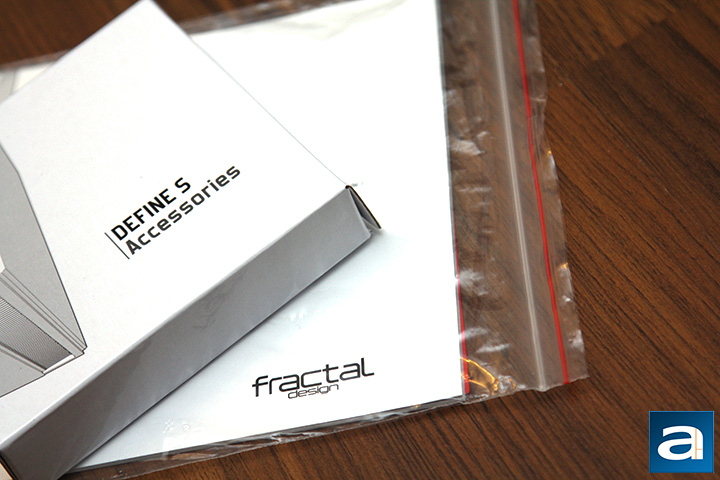 Fractal Design provided this product to APH Networks for the purpose of evaluation.

APH equal.balance Award | APH Review Focus Summary:
8/10 means Definitely a very good product with drawbacks that are not likely going to matter to the end user.
7/10 means Great product with many advantages and certain insignificant drawbacks; but should be considered before purchasing.
-- Final APH Numeric Rating is 7.9/10
Please note that the APH Numeric Rating system is based off our proprietary guidelines in the Review Focus, and should not be compared to other sites.
The Fractal Design Define S is a solid case with a solid design that comes at a solid price.
Do you have any comments or questions about the Fractal Design Define S? Drop by our Forums. Registration is free, and it only takes a minute!
---
Page Index
1.
Introduction, Packaging, Specifications
2.
Physical Look - Outside
3.
Physical Look - Inside
4. Installation and Conclusion