By: Jonathan Kwan
April 10, 2015
Last week, I came across an article online, criticizing the Western mainstream media as inciting a culture of "self-hate". The way I interpret it is the foundation of our fundamental values in a democratic society has slowly eroded from a system that holds impartial reporting in the highest regard, to an alliance of organizations trying to shape our minds into their perspective on a daily basis. I would say the Western mainstream media -- as well as education system -- as a whole likes to cherry pick pieces of data to convince the audience outside of what is perceived as the "majority" viewpoint, while ignoring the hugely overarching obvious, in order to demonstrate their mind blowing "insight", (false) humility, and/or political correctness. In a less controversial example, a few years ago, a person called Ragu in Toronto intentionally reversed his car into the guy behind him in a traffic jam in an attempt to scam for $500. Unfortunately for Ragu, the driver behind had a dashcam that recorded the whole incident, which was then uploaded to YouTube. Before long, internet users found out Ragu had a colorful history of similar practices, and his car had cut brake and reverse lights at the time of the staged collision. Needless to say, Ragu was charged by the police, thanks to the crystal clear evidence. However, the CBC actually tried to defend Ragu in this case, suggesting he was actually an innocent victim, because his car had a manual transmission. I could go on all day about this topic, but my point here is this: If APH Networks, as a media outlet, practiced the same thing, today I will try to convince you SilverStone makes terrible power supplies, because my mom's cousin's friend's coworker's son had one that was dead on arrival ten years ago. Similarly, generic $15 PSUs on eBay are amazing, because my neighbor's grandfather's sister's dog has one that did not blow up after three weeks. Now, I am not here to try to convince you to buy into my perspective. Since we hold facts in the highest regard over anecdotal evidence, today, we took apart SilverStone's new Strider Gold S ST75F-GS V2.0 750W to see if quality will, in the end, transcend perspective and tell its own story. First fact of the day: This is an uber short, 140mm fully modular power supply.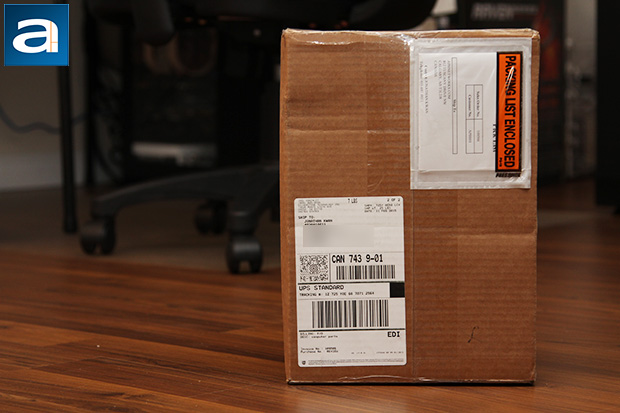 As usual, our review unit of the SilverStone Strider Gold S ST75F-GS V2.0 750W came from the company's American headquarters in Chino, California, USA. I would not say this is quite a medium-sized cardboard box, but neither can the brown corrugated package considered small, haha. Well, size is relative. At the end of the day, the power supply in its retail box was inside, along with a blast of packing peanuts to keep it safe and sound as it made the trip to us here in Calgary, Alberta, Canada. Using FedEx International Ground, it came along with the SilverStone Kublai KL05 computer case to be reviewed by Guest Writer Brian Cheung shortly, albeit in separate boxes.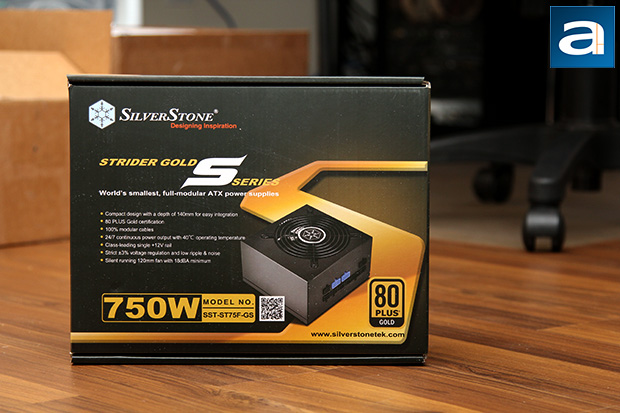 The SilverStone Strider Gold S ST75F-GS V2.0 750W's retail box is designed with quite a bit of consistency with the rest of the Strider Gold S product line. Like its bigger brothers, the box comes in a predominantly black background. To show off its 80 Plus Gold certification, a large stylized "S" is integrated onto the background in various shades of brown and yellow to give it a golden look. At the top, we can see SilverStone's logo and slogan, while the lines "Strider Gold S Series" and "World's smallest, full modular ATX power supplies" occupies a prominent region in the center. A photo of the power supply can be seen adjacent to the list of feature highlights. On the right, a large 80 Plus Gold badge ensures you know this is an 80 Plus Gold certified power supply, just in case you could not tell by the name already. At the bottom, its wattage capacity is written in super large font, along with the model number next to it. The Strider Gold S is also available in 550W and a whopping 1500W variant as well, except everything above the 750W range is not 140mm long like the ST75F-GS V2.0 we are reviewing today. Specifications, performance graphs, and features can be found on remaining sides of the box.
Before we move on, let us take a look at the specifications of the SilverStone Strider Gold S ST75F-GS V2.0 750W, as obtained from the manufacturer's website:
Model No.: SST-ST75F-GS
Max. DC Output: 750W
Power density: 415W per liter
Color: Black (lead-free paint)
combined +3.3, +5V: 120W
combined +12V: 744W
Input Voltage: 90V~264V
Input Frequency Range: 47Hz ~ 63Hz
PFC: Active PFC.(PF>0.95 at Full Load)
Efficiency: 87%~90% at 20%~100% loading
MTBF: 100,000 hours
Operating temperature: 0°C ~ 40°C
Protection: Over current protection, Over power protection, Over voltage protection, Over Temperature Protection, Under voltage protection, Short circuit protection
Cooling System: Single 120mm silent fan
Noise Level: 18 dBA minimum
Dimension: 150 mm (W) x 86 mm (H) x 140 mm (D)
Weight: 2.1 kg
Form factor: ATX
Certification: 80 PLUS Gold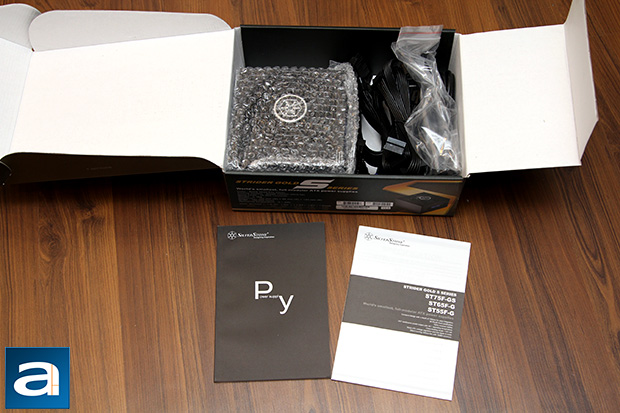 The SilverStone Strider Gold S ST75F-GS V2.0 750W's retail packaging can be opened by a flap attached on the right. Upon opening the box, you will find everything neatly organized. The power supply is located on the left, cables on the right, and everything else in a resealable plastic bag. There is also an instruction manual as well as a specifications booklet out in the open. The instruction manual is highlighted with the letters "PY" in front, just like the SilverStone Strider Gold S ST85F-GS 850W and SilverStone Strider Essential Gold ST70F-ESG 700W; as if my colleague Preston Yuen has initialed yet another one from the factory. (It is really a stylized presentation of the words "power supply", maximizing its first and last letters.) Out of the box, you will receive the ST75F-GS V2.0 power supply itself, two pieces of literature as aforementioned, modular cables, AC power cable, and a bag that contains some zip ties, Velcro straps, four thumbscrews, and four regular screws.
---
Page Index
1. Introduction, Packaging, Specifications
2.
Physical Look - Outside
3.
Physical Look - Inside
4.
Minor Tests and Conclusion