By: Jonathan Kwan
July 18, 2014
If there is one topic that has always fascinated me outside of what I normally study, it will have to be time travel. And while the whole concept of time travel is purely theoretical (At least we can say, "What do we want? Time travel! When do we want it? It does not matter!"), it does stem from a lot of well proven concepts such as quantum mechanics, and other conjectures that are purely hypothetical, such as the multi world interpretation. Now, to someone who does not spend five hours a day on Wikipedia reading up on information that will only be useful in a knowledge faceoff against your friends, or write an introduction to a review here at APH Networks, Erwin Schrödinger proposed a thought experiment in 1935 to interpret quantum mechanics in terms of everyday objects. Basically, Schrödinger's cat describes a scenario where, inside a sealed box, the cat inside can be both alive and dead at the same time, as its state is linked to events that happened prior. This concept is often applied to the multiverse hypothesis, where every event is a branch point. In this configuration, the cat can be both alive and dead even after the box is opened. This is made possible by interpreting them in different branches of the universe, where are both equally real, but also fully independent of each other. Unfortunately, in the world we live in, no matter how hard you try, the cat is going to be either alive or dead, not alive and dead at the same time. You really cannot get the fact of both universes. In the technology world, things might be a bit different. Can you make a power supply that is rated for a high wattage, fully modular, and compact at the same time? If Erwin Schrödinger was alive today, we might call that Schrödinger's Strider Gold S ST85F-GS 850W. But since he is not, we will call it the SilverStone Strider Gold S ST85F-GS 850W. Read on to find out what is inside this sealed box!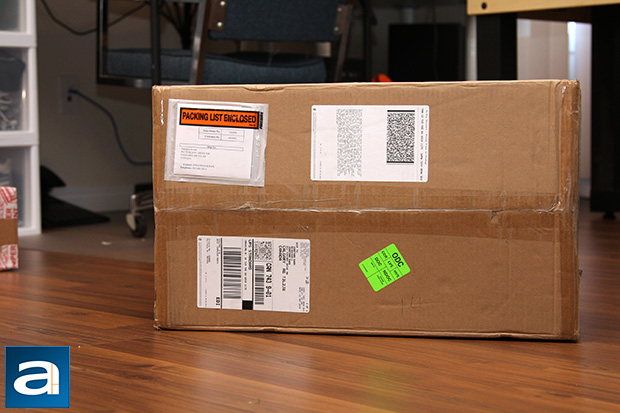 Our review unit of the SilverStone Strider Gold S ST85F-GS 850W came in a large, brown corrugated cardboard box from SilverStone's American headquarters in Chino, California, USA. In case you were wondering, it actually did not tag along with the SilverStone Precision PS10 computer case my colleague Aaron Lai reviewed last week. Instead, it shared the trip with SilverStone's EB01-E and EB03 external DAC and headphone amp, respectively; where the former has first appeared briefly in my Kanto YU2 review a couple of weeks ago. Using FedEx International Ground, everything arrived in excellent condition for our review today here in Calgary, Alberta, Canada. We would like to give some credits to the army of packing peanuts inside, too.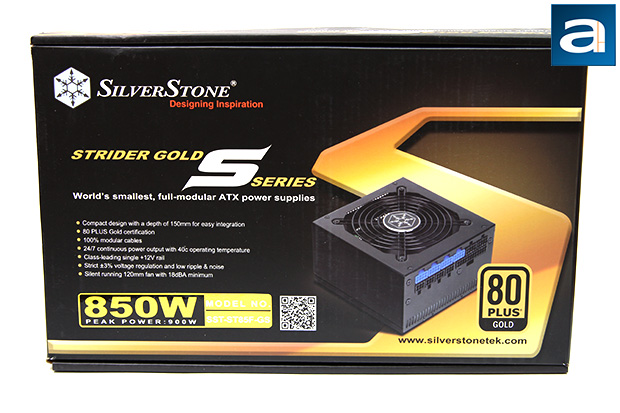 It seems to me SilverStone does not have a whole lot of family resemblance with regards to product package design in their power supply range, and the Strider Gold S is no different. This time, the box comes in a predominantly black background. To show off its 80 Plus Gold certification, a large stylized "S" is integrated onto the background in various shades of brown and yellow to give it a golden look. At the top, we can see SilverStone's logo and slogan, while the lines "Strider Gold S Series" and "World's smallest, full modular ATX power supplies" occupies a prominent region in the center. A photo of the power supply can be seen adjacent to the list of feature highlights. On the right, a large 80 Plus Gold badge ensures you know this is an 80 Plus Gold certified power supply, just in case you could not tell by the name already. At the bottom, its wattage capacity is written in super large font, along with the model number next to it. The Strider Gold S is also available in 750W and a whopping 1500W variant as well, except the latter is not 150mm long like the ST85F-GS we are reviewing today. Specifications, performance graphs, and features can be found on remaining sides of the box.
Before we move on, let's take a look at the specifications of the SilverStone Strider Gold S ST85F-GS 850W, as obtained from the manufacturer's website:
Model No.: SST-ST85F-GS
Max. DC Output: 850W (Peak 900W)
combined +3.3, +5V: 150W
combined +12V: 840W
Input Voltage: 90V~264V
Input Frequency Range: 47Hz ~ 63Hz
PFC: Active PFC.(PF>0.95 at Full Load)
Efficiency: 88%~91% at 20%~100% loading
MTBF: 100,000 hours
Operating temperature: 0°C ~ 40°C
Protection: Over current protection, Over power protection, Over voltage protection, Over Temperature Protection, Under voltage protection, Short circuit protection
Color: Black (lead-free paint)
Cooling System: Single 120mm silent fan
Noise Level: 18 dBA minimum
Dimension: 150 mm (W) x 86 mm (H) x 150 mm (D)
Weight: 2.5 kg
Form factor: ATX
Certification: 80 PLUS Gold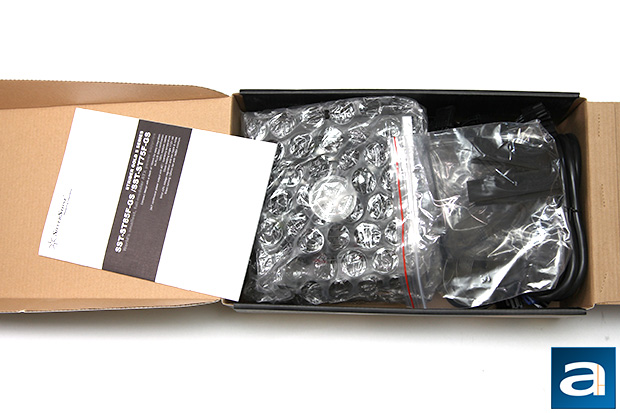 The SilverStone Strider Gold S ST85F-GS 850W's retail packaging can be opened by a flap attached on the right. Upon opening the box, you will find everything neatly organized. The power supply is located on the left, cables on the right, and everything else in a resealable plastic bag. There is also an instruction manual as well as a specifications booklet out in the open. The instruction manual is highlighted with the letters "PY" in front, just like the SilverStone Strider Essential Gold ST70F-ESG 700W; as if my colleague Preston Yuen has initialed yet another one from the factory. (It is really a stylized presentation of the words "power supply", maximizing its first and last letters.) Out of the box, you will receive the ST85F-GS power supply itself, two pieces of literature as aforementioned, modular cables, AC power cable, and a bag that contains some zip ties, Velcro straps, and four thumbscrews.
---
Page Index
1. Introduction, Packaging, Specifications
2.
Physical Look - Outside
3.
Physical Look - Inside
4.
Minor Tests and Conclusion