By: Aaron Lai
July 11, 2014
You have probably heard of the phrase, "Silence is golden", and in many ways, I find this true. For one, I am mostly an introvert, so I work quite a bit better on my own and in solitude. Often when I need to think, I would shut myself in my room to remove external distractions. The origin of this phrase is unknown, much like many other phrases. One of the first examples of using this phrase in English is, quite ironically, a long-winded piece by Thomas Carlyle, an English poet. He takes the German phrase meaning, "Speech is silvern, silence is golden", and Carlyle expands it further to say speech is of time, but silence is eternity. There even is a song from the 1950s by the Tremeloes, but it speaks more about the deception of speech, rather than the beauty of silence. Of course, this phrase also lies true to many computer enthusiasts. Many of us would rather prefer a silent computer, rather than a noisy one. I remember one of my friends telling me how when he first built his computer, he did not care about noise, but as time went on, he realized how much it bothered him to hear his computer whirring in the background. His solution? Buy a better computer case! Many computer cases today have insulating materials padded on the inside panels to reduce the noise output. Unfortunately, many of these products are also not cheap or worse yet, are not effective. As we saw with the Cooler Master Silencio 550, if these materials insulate heat better than noise, the case will be pointless. SilverStone decided to take a stab at this issue by providing us with a computer chassis in the SilverStone Precision PS10. Not only are both side panels padded with sound-insulating material, but at press time the case can be found for less than $50 USD. Branded to have a silent operation, will this case actual prove to be golden, or have there been too many corners cut to make this wallet-friendly? These questions and more will be answered in today's review!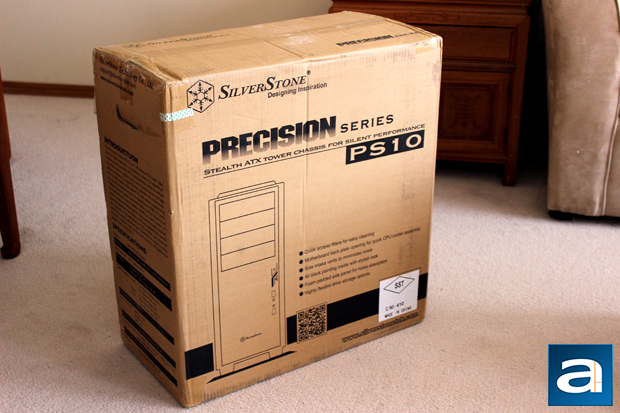 The SilverStone Precision PS10 arrived at our APH Networks headquarters in Calgary, AB via UPS Standard. The box itself is in good condition, but there is a sizeable hole on one side, so I can only hope it did not cause any damage to our actual product inside. Our review unit arrived from SilverStone's headquarters in Chino, California, where quite a few of our partners are located. This small city holds approximately seventy eight thousand people, and is more known for its agricultural and dairy farming rather than its technology. Chino is also located quite close to another small city named Ontario, whose mayor is not at all related to Toronto mayor Rob Ford. Unfortunately, if you do a quick internet search of "Ontario, CA", you probably will see quite a few more Canadian websites rather than Californian. But shifting back to the actual topic at hand, the shipping box, which is also the retail box found in any store, is a standard brown corrugated cardboard box. Text is printed on the box in black ink. Of course, some manufacturers do not really care much about the box design, as they all know it is what is inside that counts. On the top left hand corner is SilverStone's logo, with the Precision series line underneath. Just for your information, the Precision series is aimed for budget-friendly builds, which are functional and light on the wallet. While there are several different chassis in this line, they are not all focused on the same kind of feature, but rather making cases varying in size and purpose. The PS10, as you can read from the box, is meant to be a "Stealth ATX tower chassis for silent performance". While I could only wish for an invisibility button on the SilverStone Precison PS10, the stealth actually refers to the silent operation the PS10 promises to offer. The rest of the features are listed on the front, as well as more specifications on the side.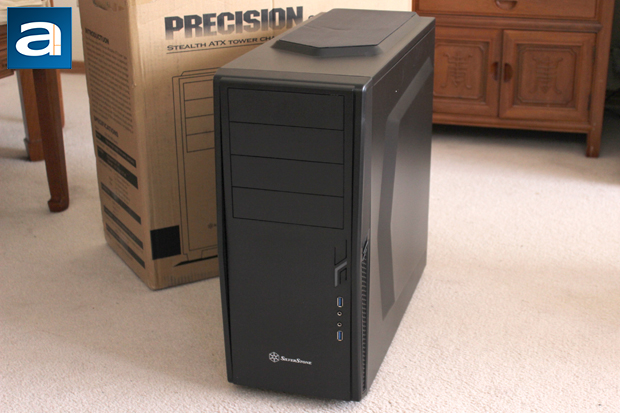 Grabbing my knife, I quickly opened up the box to see what the SilverStone Precision PS10 looked like, and to see if the hole in the box caused any damage. Pulling the PS10 out, it was lined in two large fitted foam pieces, and also wrapped in a clear plastic bag. Despite all of the protective measures taken, the hole still took its toll on the case, as it left a small but noticeable dent on the removable vent cover. On first lift, this is quite a light item, and is actually quite easy to carry. In addition to the chassis, there is a small manual included with the packaging, which includes installation instructions and what not.
Before moving on, listed below are the features and specifications of the SilverStone Precision PS10, as obtained from SilverStone's website:
- Model Number: SST-PS10B (Black)
- Material: High-strength plastic front panel, steel body
- Motherboard: ATX, Micro-ATX
- Drive Bay: External: 5.25" x 4, Internal: 3.5" x 5 or 2.5" x 5
- Cooling System: Front: 1 x 120mm intake fan, 1 x 120mm fan slot, Rear: 1 x 120mm fan slot, Top: 2 x 120mm fan slot or 2 x 140mm fan slot
- Expansion Slot: 7
- Front I/O Port: USB 3.0 x 2, Audio x 1, MIC x 1
- Power Supply: 1 x optional standard PS2(ATX)
- Expansion Card: Compatible with expansion cards up to 11.5", width restriction - 6.14"
- Limitation of CPU cooler: 169mm
- Limitation of PSU: Unlimited
- Net Weight: 6.2KG
- Dimension: 219.9 mm (W) x 480mm (H) x 521.5mm (D), 55L
- Extra: Support Kensington lock
---
Page Index
1. Introduction, Packaging, Specifications
2.
Physical Look - Outside
3.
Physical Look - Inside
4.
Installation and Conclusion