By: Jonathan Kwan
August 5, 2011
When I mention the Cooler Master Silencio 550, the first thing that comes to mind is probably the movie "Mulholland Drive". In the film, there is an eerie theater by the name of Club Silencio. Actually, that is about all I can tell you, because as someone who is in Electrical Engineering, I have actually never seen the movie in question -- for one thing, we all know engineers never ever go outside, do not stray more than three feet away from our computers, and has never met a girl before -- so hitting the cinema is unsurprisingly out of the question. (Actually, it was probably because I was eleven years old when it was released.) With that in mind, I got some bad news for you. If you are into eerie theaters and whatnot, then the Silencio 550 is going to be pretty disappointing. On the other hand, for the rest of you out there, I don't think Cooler Master actually intended to allude to the psychological thriller, but rather a modified version of the word, "silence". In that case -- no pun intended -- whether you are into quiet computing or an avid fridge enthusiast, the Cooler Master Silencio 550 wants you to take it seriously as a new contender in the rising market silent PC chassis. Following the footsteps of runaway successes like Antec's Performance One series and Fractal Design Define line of cases, is the new kid on the block cutting into the pie everyone is after? After a month of testing, we have all the answers for you today.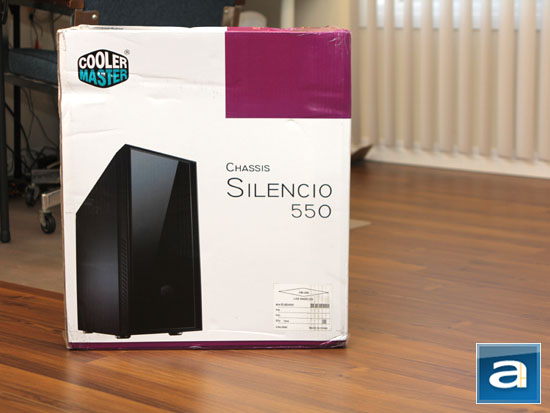 I was particularly excited to get my hands on the Cooler Master Silencio 550 when I returned from my trip to Toronto, Ontario. The receiving was signed for by my colleague Preston here in our Calgary, Alberta, Canada location, so the case was ready to roll by the time I got back. Using UPS Standard, everything arrived in practically flawless condition as always from Cooler Master's American headquarters at California USA, so I whipped out my knife, took out my camera, and got straight to work.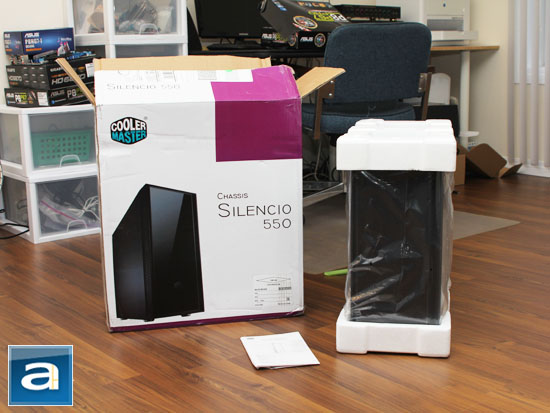 As you can probably tell in my previous photo, the Cooler Master Silencio 550 is shipped in its retail box, with no extra shipping material around it. For those who follow our reviews often enough, or have purchased enough stuff online, you will know this is certainly nothing out of the ordinary. This is simply because chassis retail boxes are always made with shipping in mind. As far as the packaging itself is concerned, the company incorporates quite a clean and simple design; where Cooler Master's logo can be found at the upper left corner, an image of the case right under it, and the model name at center right. The white background is complemented by a purple patch covering the upper right hand corner, and extends from the front through the side flaps to the back.
Cracking open the box reveals the Cooler Master Silencio 550 ATX computer chassis clipped between two large Styrofoam brackets. The case itself is wrapped inside a large clear plastic bag for extra protection, along with a layer of removable plastic tape over the really shiny front door, used to prevent any scratches from occurring during transport. Before we move on, let's take a look at the specifications of the Cooler Master Silencio 550, as obtained from the manufacturer's website:
Available Color: Full Black
Material: Steel body,Plastic front bezel
Dimension (W / H / D): 210 x 451.5 x 502.4 mm
Weight: 9.2kgs (20.3lb)
M/B Type: Micro - ATX / ATX
5.25" Drive Bay: 3 (without the use of exposed 3.5" drive bay)
3.5" Drive Bay: 7 Hidden
2.5"/3.5"- SATA HDD Drive Bay: 2 Hidden (converted from one 3.5" bay)
I/O Panel: USB3.0 x 1, USB2.0 x 1, Mic x1, Audio x 1, SD card reader x 1
Expansion Slots: 7
Cooling System: Front(Intake): 120mm x 1, 800rpm silent fan pre-install
(Support 120mm fan x 2 or 140mm fan x 1 optional); Rear (Exhaust): 120mm x 1, 800rpm silent fan pre-install
Power Supply: Standard ATX PS2 (optional)
Maximum Compatibility: CPU cooler height: 6.10-inch (154mm)
VGA card length: 11.10-inch(281mm)(With HDD cage); 15.80-inch (400mm)(Remove HDD cage w/120*25 fan); 16.80-inch (427mm) (Remove HDD cage w/o fan)
---
Page Index
1. Introduction, Packaging, Specifications
2.
Physical Look - Outside
3.
Physical Look - Inside
4.
Installation and Conclusion