Page 4 - Installation and Conclusion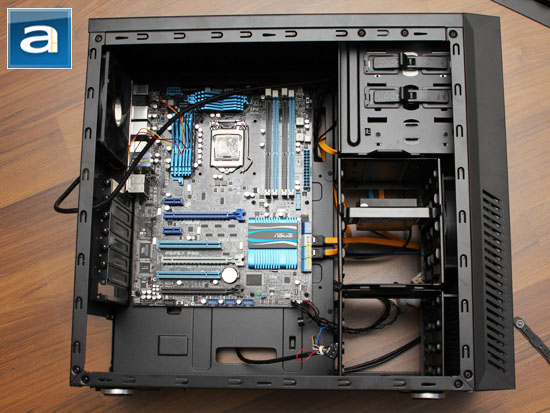 The Cooler Master Silencio 550 is quite a roomy ATX chassis to work with, so it really does not matter if you install the power supply or motherboard first. Out of personal preference, I got my ASUS P8P67 PRO installed first. Everything is quite simple; openings on the motherboard tray is not necessarily abundant, but they are present where you need it. The rectangular opening adjacent to the ATX 24-pin power connector on the motherboard can be used for cables leading into the 5.25" bay components as well. There are no openings next to the motherboard Serial ATA connectors near the bottom right corner of the motherboard. Although you can simply run corresponding cables directly into the hard drive rack area, having a dedicated opening here will allow for a much cleaner installation. But that is just nitpicking compared to the biggest problem in the Cooler Master Silencio 550. You see the USB 3.0 cable? If you don't want to physically modify your case, then that's the best you can do. I think if someone at Cooler Master actually tried to build a computer inside the Silencio 550, they would have figured this problem out already.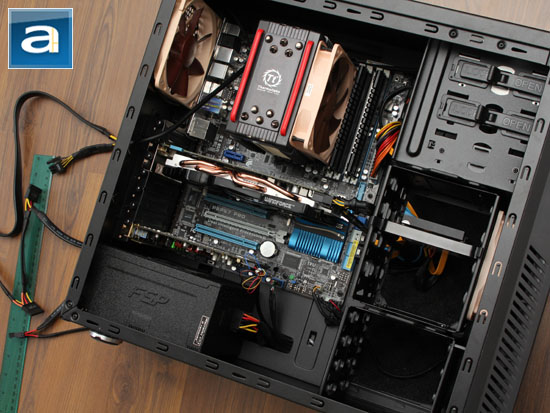 After installing the power supply, the Cooler Master Silencio 550 exhibits absolutely no 'gotchas'; making installation as painless as possible. As mentioned on the previous page, there are several zip tie hooks at the back of the motherboard tray, so you can easily secure your cables to make the side where no one sees just as neat as the side you want everyone to see. Thanks to the well placed openings around the motherboard on the tray discussed earlier, routing the cables behind is quite straightforward for those who are experienced in building computers. They are there where you need it, so I got absolutely no complaints in this area. If you have the skills, the cabling job inside Cooler Master's Silencio 550 can be very good -- with the exception of the external USB 3.0 cable, haha. My photo above simply speaks for itself!
Again, hard drive and optical drive installation is extremely simple, thanks to the well implemented tool-free installation system. If you want your disk drives to be installed securely, however, I would highly recommend you to attach one screw to each drive rail regardless. Your hard drive with rails on both sides slide into the rack in the chassis, and locks in place when it reaches a certain point. The special tray for accommodating 2.5" drives is not tool free, so you will need to attach four screws from the side yourself. By the way, if you look at our photo above, you can see I have two drives installed on the 2.5" tray -- one drive can go under, while the second one can fit above.
Optical drive tool-free installation works flawlessly as well -- all you need to do is flip the lever. All expansion card slots have thumbscrews, so we can count that as basically tool-free, haha. Please be advised while tall heatsinks will fit inside the Cooler Master Silencio 550, heatsinks like the Thermaltake Frio will be touching the sound insulation material on the left side panel. There is no side effect to this, but I am mentioning this just for your reference.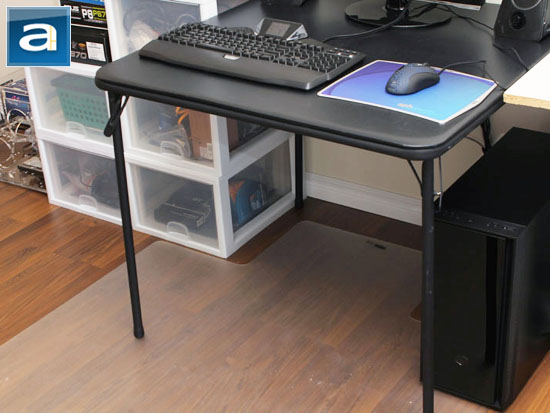 After plugging in everything, our system configured inside the Cooler Master Silencio 550 is ready to roll. I hit the rectangular power button at the top, and my computer came to life. Your finished system will resemble what I have above; I don't see how it can be any different, haha. With the Cooler Master Silencio 550 being marketed as a case for silent PC enthusiasts, on a scale from 0.0 to 10.0 where 0.0 is the silent and 10.0 is loudest, the fans would come in at 3.0 subjective sound rating in my opinion. I am quite sensitive to perceived sound volume, and as a quiet PC enthusiast, I found the fans are supposedly quiet, especially at 800rpm. The bad news is the motor noise is not very fluid at all, so it easily stands out if you have a system of sound optimized components. The clickiness of the fan motor can be quite annoying after a while. Smoother, quieter running fans would be an excellent upgrade to the current ones found in the Cooler Master Silencio 550, especially for a case marketed at people who care about these things. I just ended up replacing all of them with Noctua fans, as you can see in my previous photo.
In cases like this -- again, no pun intended -- one can usually assume the sound insulation material will take care of this issue. Unfortunately, as mentioned on Page 3 of this review, the egg crate foam does a much better job at insulating heat than noise. In fact, the egg crate foam didn't insulate much noise in the Silencio 550 at all; having them in did not make any perceivable difference. The only scientifically measurable item comes down to heat, and that turned out to be very noticeable. In fact, my Gigabyte GeForce GTX 560 1GB video card keeps overheating after a short gaming session inside the Silencio 550. Upon opening the case to see what is going on, you can just feel the heat rushing out at your face. Simply put, hot air is trapped inside this case, and it is not getting out. I think Cooler Master simply used the wrong material. The Fractal Design Define XL has sound insulation material that actually insulates sound, not heat. Cooler Master got it the other way around in the Silencio 550. Because my computer will not survive any load tests, I ended up ripping out all the 'heat' insulation material out, and it completely solved all my overheating issues. The funny thing is it made practically zero difference, at least to what I can tell, in noise emissions.
-----------------------------------------
When I decided on getting the Cooler Master Silencio 550 for my new build, I really don't see how it can not be a winner. Everything is just... right. The specs are right. The looks are right. The price is right. What went wrong in the process? Being someone who is in the field of engineering, I really don't want to refer to the individual who designed this case as the "engineer" who designed this case -- I am not sure if he or she has received the same level of education we have received. I will be fair and say, it is truly not the idea that went wrong. In fact, if you look at it from a grand scale, Cooler Master actually got the idea completely right. The execution is where it went wrong. I mean, when you have sound insulation material, you would reasonably expect it to insulate, well, sound, right? And for someone who is after a chassis in modern times, you would not expect it to have your components run to the point of thermal shutdown protection, right? But no, thanks to some cost cutting measures, what we have is insulation material that is better used between the walls of your house, and lets noise pass through like the bug screen door on your window. Secondly, the level of refinement really leaves a lot to be desired. With some panels not even fitting appropriately into each other, a hard drive docking bay that seems like a complete afterthought, and an external USB 3.0 cable that has no external lead out designed for it, it's like buying a house with a walk out basement, but the only way to go outside is through a window that doesn't even fit the frame. Thirdly, for a quiet case, I think real acoustically optimized fans is very appropriate here. Come on, Cooler Master -- I truly believe the Silencio 550 has a lot of potential. It is very easy to work with to make a good cabling job happen, and small things like the SD card slot in front are very desirable features. If you guys already got the formula right, I am sure we can plug in the right numbers for the right answers next time around, too.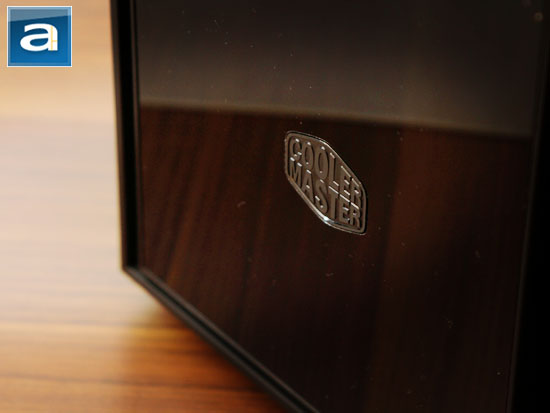 Cooler Master provided this product to APH Networks for the purpose of evaluation.
APH Review Focus Summary:
6/10 means A product with its advantages, but drawbacks should not be ignored before purchasing.
5/10 means An average product with no real advantages; drawbacks and advantages just seems to cancel each other out.
-- Final APH Numeric Rating is 5.9/10
Please note that the APH Numeric Rating system is based off our proprietary guidelines in the Review Focus, and should not be compared to other sites.
The Cooler Master Silencio 550 is a case that has all the right ideas in mind, but somewhere along the way, it has almost completely missed the point in its target market.
Do you have any comments or questions about the Cooler Master Silencio 550? Drop by our Forums. Registration is free, and it only takes a minute!
---
Page Index
1.
Introduction, Packaging, Specifications
2.
Physical Look - Outside
3.
Physical Look - Inside
4. Installation and Conclusion