By: Jonathan Kwan
July 8, 2011
When I mention the British Phonographic Industry, what is the first thing that comes to mind? Penthouse Magazine? Playboy UK? Well, my advice to you is, let's get your head out of the gutter, because what we are talking about here is the British Phonographic Industry, not the British Pornographic Industry. (On the other hand, it is interesting to point out most people get it wrong at first glance, too.) With that in mind, let me introduce to you the product we are reviewing today. The Gigabyte GeForce GTX 560 1GB OC, as its name suggests, is based off one of NVIDIA's latest GPU releases, the NVIDIA GeForce GTX 560. Wait a second. Hasn't the NVIDIA GeForce GTX 560 been around since January? Fair enough, but like when we have mentioned British Phonographic Industry earlier, it is one of those things you can easily misread -- the one you are thinking about is probably the GTX 560 Ti. You know, the Titanium version, with more stream processors and texture units, combined with a marginally higher clock speed. The GV-N56GOC-1GI is based off the non-Ti version with a slight overclock to 830MHz core, 1660MHz shader, and 1002MHz memory; followed by a stream-texture-ROP configuration count of 336-56-32, respectively. Situated in the extremely competitive $200 MSRP market, and priced slightly below that at press time, how well does the usual Gigabyte approach of taking a standard GPU, install it on a custom PCB full of high quality components, slap on a custom cooler on top (Or under, depending on your perspective), fare in this ultra competitive market? Read on to find out what we have found!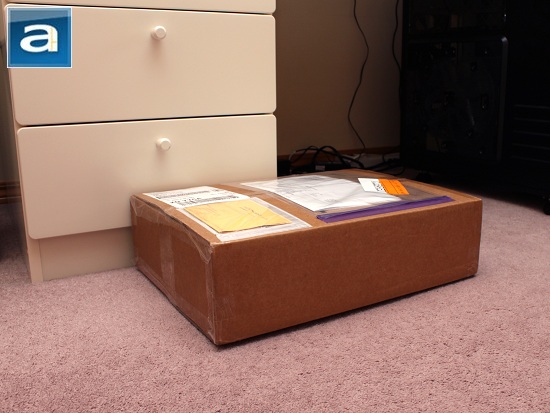 Our review unit of Gigabyte's GV-N56GOC-1GI GeForce GTX 560 1GB OC video card came in a medium sized, brown corrugated cardboard box from the company's American offices in California, USA. Unlike previous shipments we have received from Gigabyte's graphics card division, this one arrived via UPS Saver to our Calgary, Alberta, Canada location. It seems to me a huge majority of stuff we are receiving is sent via UPS nowadays (It used to be mostly FedEx). As always, we are glad to see it delivered in excellent condition, so we sliced the packing tape apart, and got straight to work.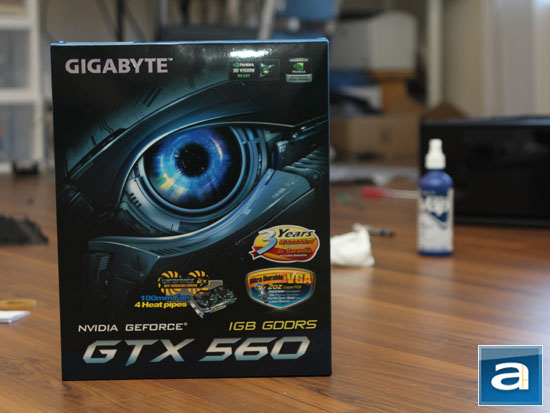 Behind all the packing peanuts is the retail box of the video card we have been expecting. At first glance, make no mistake, because the box is as familiar as it can get -- our Gigabyte Radeon HD 6850 1GB OC reviewed back in December last year carries an identical design. What we have here is a vertically oriented package carrying a predominantly blue color scheme; stylized by a large macro shot of a CGI robot eye. Printed in shiny silver text is Gigabyte's logo in the upper left corner, followed by a series of NVIDIA logos in the upper right corner, and 'GTX 560' text situated boldly across the bottom. An array of graphics above highlights the card's Windforce 2X cooler with 100mm fans and 4 heatpipes, as well as the company's famous Ultra Durable design (2oz copper PCB, Japanese solid state capacitors, Tier 1 Samsung/Hynix memory, ferrite core/metal choke, and lower RDS(on) MOFSET). An adjacent sticker carrying a fitting design scheme ensures the consumer knows Gigabyte provides a 3-year warranty for customers in USA and Canada. Further details can be found at the back of the box, along with a specifications table in nine different languages.
Before we move on, let's take a look at the specifications of Gigabyte's GV-N56GOC-1GI GeForce GTX 560 1GB OC, as obtained from the manufacturer's website:
Chipset: GeForce GTX 560
Core Clock: 830 MHz
Shader Clock: 1660 MHz
Memory Clock: 4008 MHz
Process Technology: 40 nm
Memory Size: 1 GB
Memory Bus: 256 bit
Card Bus: PCI-E 2.0
Memory Type: GDDR5
DirectX: 11
OpenGL: 4.1
PCB Form: ATX
Digital max resolution: 2560 x 1600
Analog max resolution: 2048 x 1536
Multi-view: 2
Tools: N/A
I/O: HDMI*1 (by adapter); DisplayPort* (by adapter); mini HDMI*1; mini DisplayPort*
DVI-I*2; DVI-D*; D-sub*1 (by adapter)
Card size: H43 mm x L238 mm x W130 mm
Power requirement: Minimum 500W or greater system power supply with two 6-pin external power connectors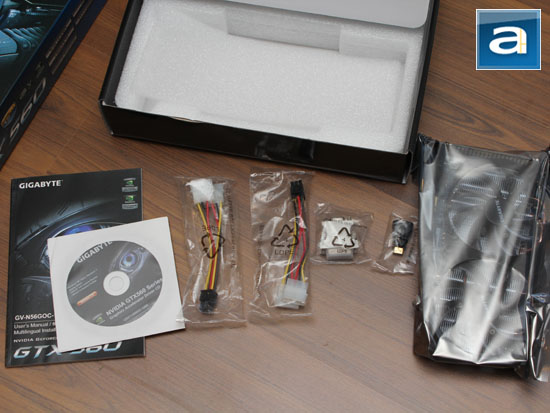 Inside the outer packaging is a thick, white cardboard flap box to protect and accommodate the actual contents. Fitted with a Styrofoam block that has a custom shaped pit to hold the graphics card, along with a compartment on the side that holds the accessories, everything is carefully packaged and ensured to be in the right order when the Gigabyte GTX 560 arrives in the hands of the consumer. Out of the box, you will receive the following contents:
1x Gigabyte GeForce GTX 560 1GB OC
1x DVI to VGA adapter
2x Dual Molex to 6-pin PCIe adapter
1x Mini HDMI to HDMI adapter
1x User's Manual/Multilingual Installation Guide
1x Driver/Software CD
---
Page Index
1. Introduction, Specifications, Bundle
2.
NVIDIA GTX 560 Series Architecture
3.
A Closer Look, Test System
4.
Benchmark: 3DMark 11
5.
Benchmark: Battlefield: Bad Company 2
6.
Benchmark: Call of Duty: Black Ops
7.
Benchmark: Colin McRae: DiRT 2
8.
Benchmark: Far Cry 2
9.
Benchmark: Just Cause 2
10.
Benchmark: Metro 2033
11.
Benchmark: Unigine: Heaven v2.5
12.
Power Usage, Temperature, Noise
13.
Overclocking and Conclusion