Page 13 - Overclocking and Conclusion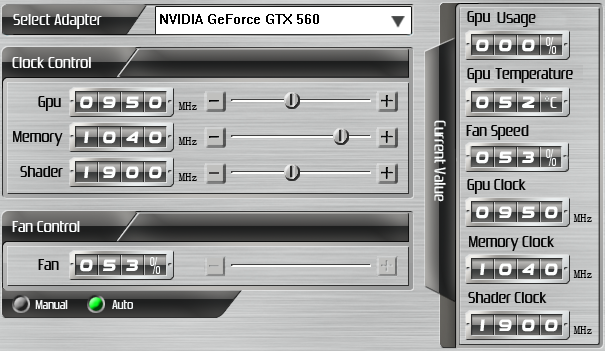 Using Gigabyte's provided EasyBoost program, I managed very decent overclocks with the GF114 core. Unfortunately, the program has no built-in stability testing feature, so I used Furmark to test that instead. As you can see in our screenshot above, the GF114 core is a very good overclocker -- its modest 830MHz specification from the factory simply leaves tons of potential under the hood. We managed a very decent 950MHz in the end, which translates to 14.5% over Gigabyte specifications, or 17.3% over NVIDIA recommended frequencies. Its memory, on the other hand, is a completely different story. Although it uses identical chips as the Gigabyte Radeon HD 6850 1GB OC and Gigabyte Radeon HD 6870 1GB SOC, our GTX 560 hit a high of only 4160MHz -- pretty disappointing. In comparison, the Gigabyte 6850 and 6870 managed 4800MHz and 5000MHz effective, respectively.
-----------------------------------------
When I mention the British Phonographic Industry, what is the first thing that comes to mind? Still Penthouse or Playboy UK? Well, I hope you got it right this time around, unless you have skipped the introduction and everything in between -- because the Gigabyte built GeForce GTX 560 1GB OC is quite the card for about $190 at press time. Yes, it is indeed confusing; and no, this is not the GTX 560 Ti. With its fundamentally competitive position against the AMD Radeon HD 6870 in both price and performance at the time of writing this review, it is certainly hard to define a clear winner in this regard. This is evident throughout our eight pages of benchmarks. With their performance scaling differently in different games, at the end of the day, the Radeon 6870's redeeming grace is its clearly superior tessellation performance -- and while we are at it, it generates significantly less heat than the GTX 560. But what the GF114 is good at, that the 6870 is not, is overclocking. As far as the Gigabyte GV-N56GOC-1GI GeForce GTX 560 1GB OC is concerned, I think they have clocked it a little bit too conservatively out of the box. After all, it is installed on a custom PCB full of high quality components, with a custom cooler to boot. So to answer this burning question in all our minds, did the GPU overclock well? Simple answer: Yes, it did. With that in mind, it can probably beat a 6870 easily. How about the memory? Well, while we did have great experience with Hynix H5GQ1H24AFR ICs in the past, it just seems to be an exception this time. Maybe it is just this card. Is the 100mm dual fan Windforce cooler with direct heatpipe contact good? I'd like smoother running fans at full speed, but other than that, let's just say I wouldn't have anything else to handle the NVIDIA heat.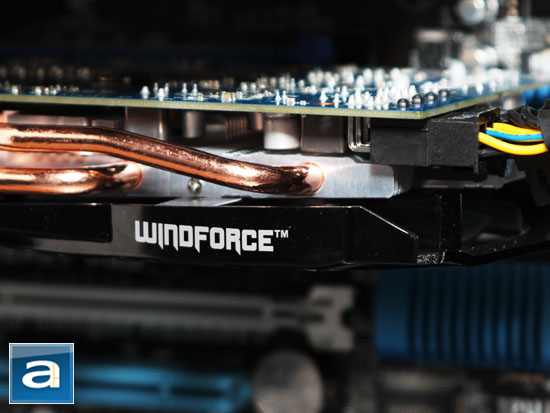 Gigabyte provided this product to APH Networks for the purpose of evaluation.
Since April 30, 2007, Number Ratings have been dropped for all CPUs, motherboards, RAM, SSD/HDDs, and graphics cards. This is to ensure the most appropriate ratings reflected without the inherent limits of using numbers. Everything else will continue using the Number Rating System.
More information in our Review Focus.
Gigabyte's usual formula of taking a standard GPU, install it on a custom PCB full of high quality components, and slap on a custom cooler on works well on the GeForce GTX 560 -- you will need all the cooling you can get to unlock its 6870-beating performance.
Do you have any comments or questions about the Gigabyte GeForce GTX 560 1GB OC? Drop by our Forums. Registration is free, and it only takes a minute!
---
Page Index
1.
Introduction, Specifications, Bundle
2.
NVIDIA GTX 560 Series Architecture
3.
A Closer Look, Test System
4.
Benchmark: 3DMark 11
5.
Benchmark: Battlefield: Bad Company 2
6.
Benchmark: Call of Duty: Black Ops
7.
Benchmark: Colin McRae: DiRT 2
8.
Benchmark: Far Cry 2
9.
Benchmark: Just Cause 2
10.
Benchmark: Metro 2033
11.
Benchmark: Unigine: Heaven v2.5
12.
Power Usage, Temperature, Noise
13. Overclocking and Conclusion