Page 13 - Overclocking and Conclusion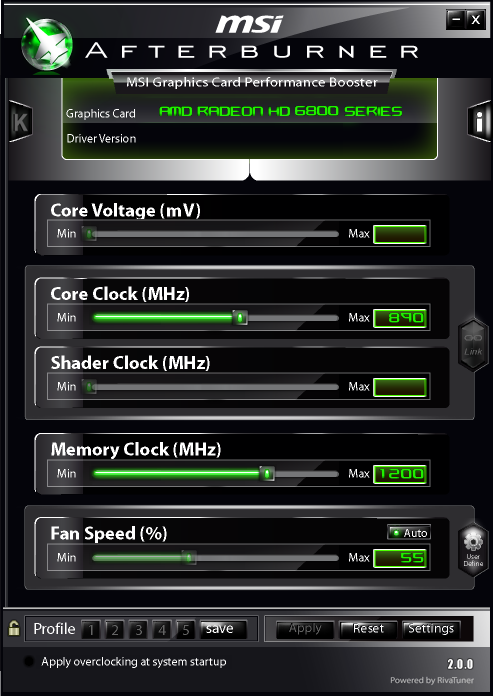 Since Gigabyte does not offer any overclocking software out of the box, we happily headed over to their competitor's website and downloaded MSI Afterburner. Even though the Gigabyte GV-R685OC-1GD Radeon HD 6850 1GB OC is a non-reference card and its voltage cannot be increased by any readily available program, this card actually exceeded what Catalyst Control Center's in-built Overdrive overclocking feature is capable of providing. AMD only allows the user to take it up to 875MHz core/1200MHz memory from the drivers. Fortunately, this can be circumvented by using MSI's Afterburner program by changing the "EnableUnofficialOverclocking" variable to '1' in the MSIAfterburner.cfg file. As shown in our screenshot above, we were able to hit 900MHz core and 1200MHz (4800 effective) memory at stock voltage. That's a commendable 16.1% core overclock and 20% memory overclock from reference (9.8% and 14.3% from Gigabyte's factory overclock, respectively). With a small voltage increase, many users on various forums are raving about how much their 6850 overclocks, and it seems that Gigabyte left GV-R685OC-1GD owners out in the cold to further unlock its potential.
-----------------------------------------
Delivering performance of high end graphics card of the previous generation, the AMD Radeon HD 6850 is a true winner in the mainstream performance category. While it certainly isn't capable of playing every modern computer game at absolute maximum settings -- not that it is actually expected to -- it actually handles most things you throw at it with ease, along with very playable frame rates at high resolutions. There is absolutely no question about getting your money's worth from AMD's Radeon HD 6850. This all comes in a low power consumption package for a relatively cool running graphics card to boot. From Gigabyte's point of view, they took what is an excellent package and made it even better. The shortened non-reference card is upgraded with higher quality components to improve its reliability, and further lowering its overall power consumption. And not only that -- Gigabyte installed a truly excellent Windforce 2X heatsink/fan that will appeal to quiet PC enthusiasts and overclockers alike. Ironically, all these in combination pose a problem for both parties. The fan is programmed too high to run off the bat, and slowing it in Catalyst Control Center fixes the fan speed, but you will lose the card's ability to automatically spin up the fan when necessary under load. Secondly, the overclocked version of this card does not come with any voltage modding software to exploit its incredible overclocking potential. As far as I know, the voltage can be controlled in the non-overclocked version of this card, and it comes with the same Windforce 2X cooler. Thirdly, with such an excellent cooler installed out of the box, it was surprising how poor the stock thermal paste is -- not to mention its base's lapping job could definitely use some work. Regardless of which, for around $170 after rebate at press time, the Gigabyte Radeon HD 6850 even with the aftermarket cooler and all the component upgrades is no more expensive than cards from other brands. In some cases, it is even cheaper. If Gigabyte fixes all of the issues listed, then we will truly have an unquestionable winner in the saturated market of Radeon HD 6850 video cards!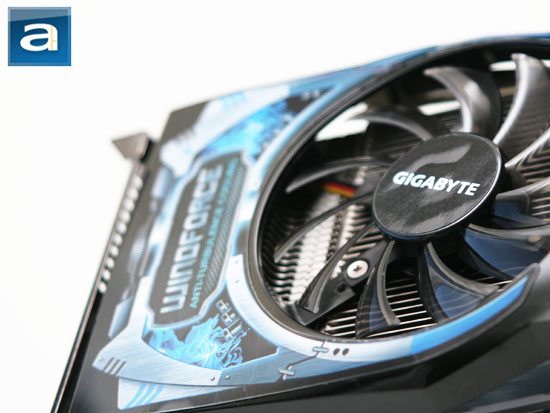 Gigabyte provided this product to APH Networks for the purpose of evaluation.
Since April 30, 2007, Number Ratings have been dropped for all CPUs, motherboards, RAM, SSD/HDDs, and graphics cards. This is to ensure the most appropriate ratings are reflected without the inherent limits of using numbers. Everything else will continue using the Number Rating System.
More information in our Review Focus.
The Gigabyte GV-R685OC-1GD Radeon HD 6850 1GB OC is a highly competitive custom design -- high performance cooler, competitive price, and overclocks surprisingly well with no voltage increase.
Do you have any comments or questions about the Gigabyte Radeon HD 6850 1GB OC? Drop by our Forums. Registration is free, and it only takes a minute!
---
Page Index
1.
Introduction, Specifications, Bundle
2.
AMD Radeon HD 6800 Series Architecture
3.
A Closer Look, Test System
4.
Benchmark: 3DMark 11
5.
Benchmark: Battlefield: Bad Company 2
6.
Benchmark: Call of Duty: Black Ops
7.
Benchmark: Colin McRae: DiRT 2
8.
Benchmark: Far Cry 2
9.
Benchmark: Just Cause 2
10.
Benchmark: Metro 2033
11.
Benchmark: Unigine: Heaven v2.1
12.
Power Usage, Temperature, Noise
13. Overclocking and Conclusion