Page 6 - Benchmark: Call of Duty: Black Ops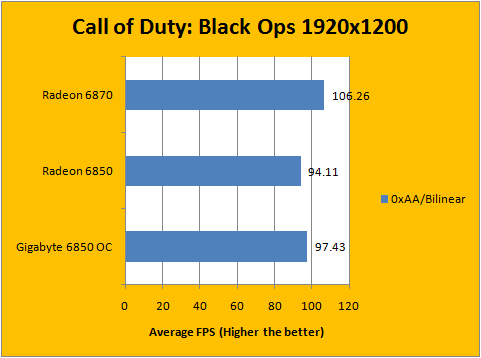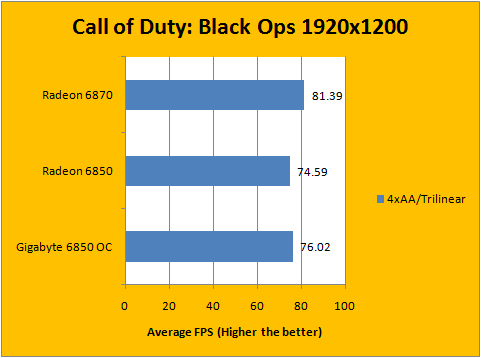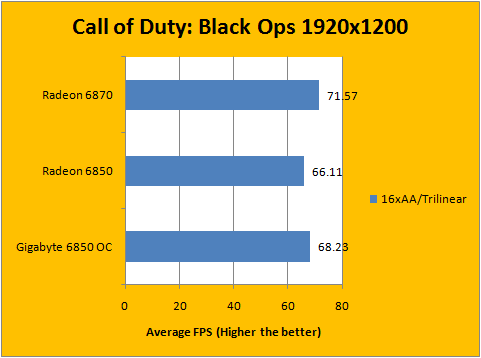 Call of Duty: Black Ops is uses Infinity Ward's IW engine, and began selling to the general public on November 9, 2010. While this is a pretty recent release, this game is not particularly demanding as far as graphics are concerned, as it runs off an older engine. Like Battlefield: Bad Company 2, Black Ops does not have a built in benchmarking system for custom timedemos (That works properly), so we gave up and just did what we did with the previous game. The manual test involved a run through the S.O.G. level in the exact same gameplay sequence with all details set on maximum. Since the game has a setting that restricted it to 85 fps maximum, we edited the configuration file to uncap its performance to 500 fps. Our results are shown in our graphs above.
---
Page Index
1.
Introduction, Specifications, Bundle
2.
AMD Radeon HD 6800 Series Architecture
3.
A Closer Look, Test System
4.
Benchmark: 3DMark 11
5.
Benchmark: Battlefield: Bad Company 2
6. Benchmark: Call of Duty: Black Ops
7.
Benchmark: Colin McRae: DiRT 2
8.
Benchmark: Far Cry 2
9.
Benchmark: Just Cause 2
10.
Benchmark: Metro 2033
11.
Benchmark: Unigine: Heaven v2.1
12.
Power Usage, Temperature, Noise
13.
Overclocking and Conclusion