By: Jonathan Kwan
January 21, 2011
Whew, it has been a long time since we last reviewed a video card. I am not even going to bother linking to our last article on graphics to give you an exact time gap between this review and the last. With the past now behind us, I am very proud to announce we are now back on board with the component essential to all gaming computers -- and we will have many more to come, too. I still remember a few years ago when a midrange video card meant playing most computer games at midrange settings. You might get a shot at maximum settings if you were playing an older game. Own a big monitor? Cough up more cash, or turn down the resolution and detail. But times have changed. Today's midrange performance cards in the $200 range provide surprisingly excellent bang for your buck. AMD's 40nm Northern Islands family of GPUs is the company's second generation DirectX 11 cards, and the 6850 and 6870 -- codenamed 'Barts' -- promise to deliver roughly the same level of performance as the 5850 and 5870, which were the high performance graphics processor units of the previous generation. (Just to clear up the name confusion, the 6800 series replaces the 5700 series; the 6900 series replaces the 5800 series.) With so many variants of 6850s to choose from, manufacturers scramble to differentiate their products from their competitors. The Gigabyte GV-R685OC-1GD Radeon HD 6850 1GB OC is a perfect example. Featuring Gigabyte's Windforce 2X cooler out of the box, as well as a slight factory overclock to give it an edge in the benchmarks, is it enough to set this product aside from the other 6850s? Read on to find out!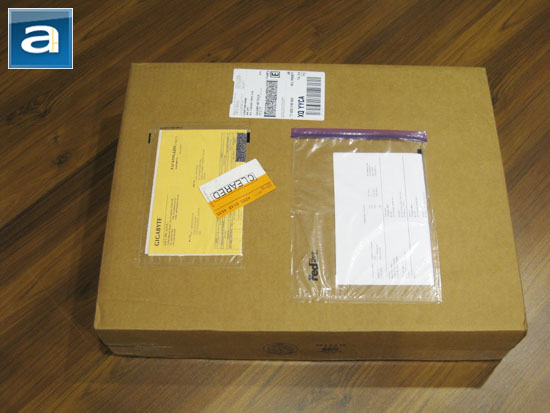 Gigabyte threw everything into a large brown corrugated cardboard box and sent it along our way via FedEx International Priority. Situated between a large shot of packing peanuts for protection is the Gigabyte Aivia K8100 keyboard Preston reviewed a couple of weeks ago, along with the factory customized non-reference Gigabyte Radeon HD 6850 1GB OC for our review today. All contents arrived safely to our location here in Calgary from Gigabyte's American offices two thousand kilometers away in California.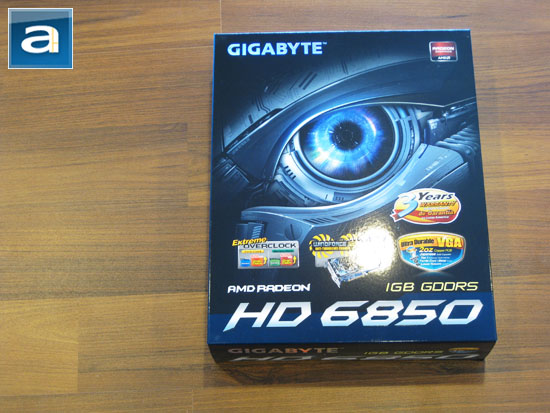 Our review unit of Gigabyte's Radeon HD 6850 1GB OC arrived in a retail box. The retail box is a vertically oriented package carrying a predominantly blue color scheme; stylized by a large macro shot of a CGI robot eye. Printed in shiny silver text is Gigabyte's logo in the upper left corner, followed by AMD's Radeon graphics logo in the upper right corner, and 'Radeon HD 6850' text situated boldly across the bottom. An array of graphics above highlights the card's "Extreme Overclock" (820MHz core from 775MHz and 4200MHz effective memory from 4000MHz), Windforce 2X cooler promising 29.5% lower temperature, and the company's famous Ultra Durable design (2oz copper PCB, Japanese solid state capacitors, Tier 1 Samsung/Hynix memory, ferrite core/metal choke, and lower RDS(on) MOFSET). An adjacent sticker carrying a fitting design scheme ensures the consumer knows Gigabyte provides a 3-year warranty for customers in USA and Canada. Further details can be found at the back of the box, along with a specifications table in nine different languages.
Before we move on, let's take a look at the specifications of Gigabyte's GV-R685OC-1GD Radeon HD 6850 1GB OC, as obtained from the manufacturer's website:
Series: Radeon HD 6000 series
Chipset: Radeon HD 6850
Key Features: UDV
Core Clock: 820 MHz
Memory Clock: 4200MHz
Memory Type: GDDR5
DirectX: 11
D-sub: No
DVI: Yes
Memory Size: 1 GB
TV-OUT: No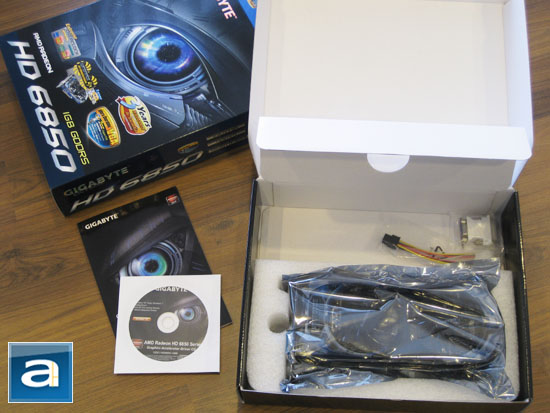 Inside the outer packaging is a thick, white cardboard flap box to protect and accommodate the actual contents. Fitted with a Styrofoam block that has a custom shaped pit to hold the graphics card, along with a compartment on the side that holds the accessories, everything is carefully packaged and ensured to be in the right order when the Gigabyte 6850 arrives in the hands of the consumer. Out of the box, you will receive the following contents:
1x Gigabyte Radeon HD 6850 1GB OC
1x DVI to VGA adapter
1x Molex to 6-pin PCIe adapter
1x User's Manual/Multilingual Installation Guide
1x Driver/Software CD
I could not find a CrossFire bridge out of the box, and it seems I am not the only one.
---
Page Index
1. Introduction, Specifications, Bundle
2.
AMD Radeon HD 6800 Series Architecture
3.
A Closer Look, Test System
4.
Benchmark: 3DMark 11
5.
Benchmark: Battlefield: Bad Company 2
6.
Benchmark: Call of Duty: Black Ops
7.
Benchmark: Colin McRae: DiRT 2
8.
Benchmark: Far Cry 2
9.
Benchmark: Just Cause 2
10.
Benchmark: Metro 2033
11.
Benchmark: Unigine: Heaven v2.1
12.
Power Usage, Temperature, Noise
13.
Overclocking and Conclusion