Page 3 - Physical Look - Inside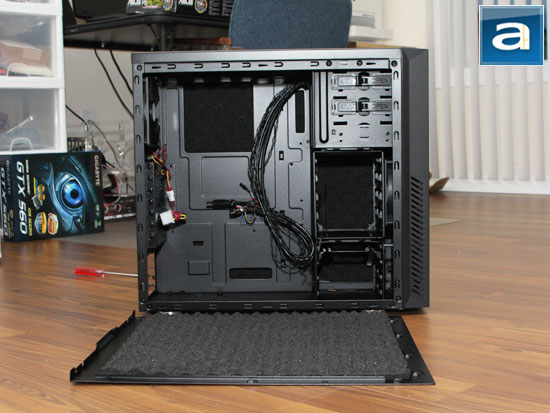 Inside the Cooler Master Silencio 550 is a standard single chamber interior; with some features common to other products from the company, but it is still mainly unique to this product. We will cover all the juicy details in just a short moment. The beautifully painted black interior is complemented by the use of almost exclusively black wires. On the other hand, its physical design is nothing especially out of the ordinary for an ATX case, and this familiarity goes a long way for those who are used to working with mid-towers with bottom mounted power supplies. As you can see in our photo above, both side panels are equipped with egg crate foam for noise insulation. Fundamentally, egg crate foam is cheap, but I think the designers over at Cooler Master forgot one very important characteristic of this type of material: It also insulates heat very well. The bumpy surface does not contribute to smooth airflow, and at the end of the day, during our testing we also came to one unfortunate conclusion, is that it insulates heat, not noise. But before we get to that, let's cover the rest of the interior of the Cooler Master Silencio 550.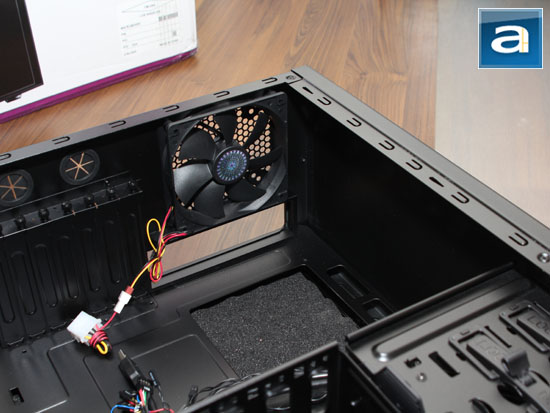 One rear exhaust fan is situated around the CPU socket area of a standard ATX motherboard. At the back, we have one 120mm fan pre-installed. The stock fan is an 800 rpm unit from Cooler Master, and features a 3-pin motherboard header with a 4-pin Molex adapter for maximum flexibility. Here, we can also spot a large square opening on the motherboard tray for easy aftermarket heatsink backplate installation without removing the motherboard itself from the chassis. This can be very convenient; however if you have a modern LGA 1155 or LGA 1156 motherboard with a shifted CPU socket location, then you will still need to remove your motherboard to change your heatsink, due to insufficient lower clearance.
Earlier on in this review, we have mentioned the Cooler Master Silencio 550 has a front USB 3.0 port. While we are very glad to finally see increased adoption of USB 3.0 in modern cases, the way Cooler Master implemented it is only external, which means a cable has to run through the Silencio 550 to your motherboard's USB 3.0 port on the rear I/O backplate. At this point, I will admit I do prefer internal USB 3.0, since it is a much cleaner way of doing things. On the other hand, I do understand not everyone has such headers on their motherboards, so until then, I would just let it slide. However, it seems to me whoever designed the Cooler Master Silencio 550 never imagined anyone would need to run the USB 3.0 cable to the back for some reason -- because other than through the water cooling holes adjacent to the expansion slots, you are out of luck. Sure, the cable is long enough, but can't they just drill a hole at the top? Not only would this make an ugly cabling job, if you are actually using water cooling, then you will be left with no other choice, but to make your own opening.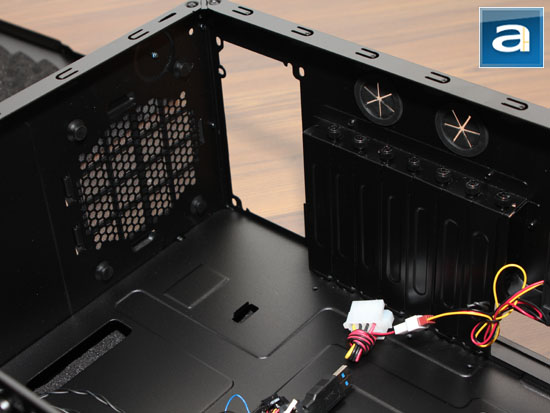 Because the Cooler Master Silencio 550 features a bottom mounted power supply bay, the chassis platform is raised about 1 cm off the ground to accommodate units with fans at the bottom. Inside the Silencio 550, rubber feet at the bottom bumps the power supply up a further half centimeter, just to ensure enough air is made available to your PSU. The honeycomb grille has an externally removable dust filter pre-installed, so you won't need to worry about nasty stuff clogging your fans down the road.
The motherboard tray's pre-drilled mounting holes are not labeled, so for inexperienced builders, you will need to refer to your motherboard manual to grasp a hold of where the included risers should go. A small rectangular opening adjacent to the power supply bay allows you to run cables behind the motherboard tray. All seven rear expansion slot covers are not ventilated, possibly to reduce noise, and are held closed by thumbscrews, as shown in our photo above.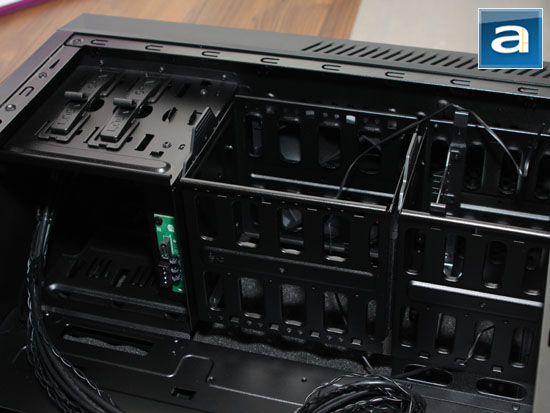 The Cooler Master Silencio 550 features seven 3.5" drive trays to accommodate, well, up to seven 3.5" drives -- no kidding. A 3-pin 120mm fan with 4-pin Molex converter draws cool air over the hard drives and into the system. By default, the fan is installed in the higher position, but you can relocate it one slot down, or put an extra one in at the bottom. Each removable drive tray is placed in perpendicular orientation to the chassis, with the connectors facing the back of the system. There are two hard drive cages; the upper one is removable, whereas the bottom one is fixed. The longest video card you can fit in the Silencio 550 is 11.1" with the upper hard drive cage in place. If you remove it, the limit increases to 15.8". Still not enough? Take out the front fan, and that makes it 16.8". I don't know of any video cards that long, but you never know.
All seven 3.5" drive bays feature tool-free installation. The attachment rails have two shallow screws on each side that protrudes into your hard drive, with two center screw openings are present for those who want a more secure installation. Meanwhile, a specialized tray, as shown above, comes with the case to accommodate a 2.5" drive, such as an SSD. The funny thing is, if you really need it, you can actually install up to two 2.5" drives onto that tray -- more on this in just a moment. All two 5.25" external drive bays feature tool-free installation as well. All you need to do is slide in your drive, flip the lever to the right, and it will be locked in place. It works surprisingly well in my opinion, so absolutely no complaints here.
Here is a look at other side, where most people don't usually pay attention to. In my opinion, the back of the motherboard tray is quite fundamental to good cabling. Cooler Master has done a commendable job in this area with the Silencio 550, since the company actually expects you to run cables through this section. With clips for you to zip-tie your cables to, and openings present in crucial locations of this case, you can easily run your ATX 24-pin and ATX 4-pin/EPS 8-pin power cables to your motherboard from behind the tray without any issues. In my opinion, I think the company can still increase the gap here; the amount of room between the side panel and motherboard tray is kind of slim. This is further accentuated by the use of thick and bumpy egg crate foam. If you force the panel in, it will still work, but the thing that really made my life easier was the flat cables on my FSP AURUM CM Gold 650W modular power supply.
---
Page Index
1.
Introduction, Packaging, Specifications
2.
Physical Look - Outside
3. Physical Look - Inside
4.
Installation and Conclusion