By: Jonathan Kwan
May 16, 2014
"Saskatchewan jokes are the best," I told my friend. My friend nodded in agreement. "They are simply endless," he replied. What makes Saskatchewan jokes so funny? For those who live south of the forty-ninth parallel, or the rest of the world, for that matter, let me put it this way: Let's say your dog ran off. If you lived in Saskatchewan, you can still see your dog running after three days. Haha! Now, despite all the Saskatchewan jokes the rest of Canada likes to crack occasionally, the bread basket of the world is actually quite a desirable place to live -- at least according to the 20,000 people who just moved in last year. In fact, their population growth rate is second only to Alberta. What makes Saskatchewan so desirable? Well, it fills in the criteria for many essentials: A healthy economy, affordable living, high employment, good environment, and low crime rates; just to name a few. Sure, living in provinces like British Columbia or Ontario is more exciting, but when it comes to making decisions like where to move to, practical considerations win over pure emotional desirability. When it comes to buying power supplies, the same goes. Sure, there are many exciting modular power supplies out there. In fact, my Vancouver colleagues have reviewed no less than four from SilverStone; including the Strider Gold ST65F-G 650W, Strider Gold ST75F-G 750W, Strider Gold Evolution ST75F-G 750W, and Strider Plus ST75F-P 750W. But today, we are going to step back a little bit on the fancy features, and hit up on the basics: A down to earth, non-modular, non-LED, matte black, 80 Plus Gold certified Strider Essential Gold 700W. Do we have a check in essential practicality over emotional desirability? We cracked one open to find out.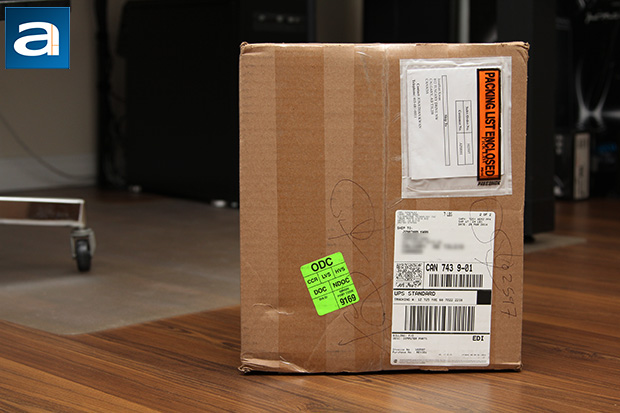 Our review unit of the SilverStone Strider Essential Gold ST70F-ESG 700W came in a medium sized, brown corrugated cardboard box from the company's American headquarters in Chino, California, USA to us here in Calgary, Alberta, Canada. As I have mentioned in the introduction of this review, Alberta is the province with the fastest population growth rate in Canada -- sorry Saskatchewan. Well, at least Saskatchewan can still one-up Alberta by claiming the only place on earth where no man can leap to his death. Anywho, using UPS Standard, everything was handled appropriately, and the power supply was delivered to us in pristine condition for our evaluation today.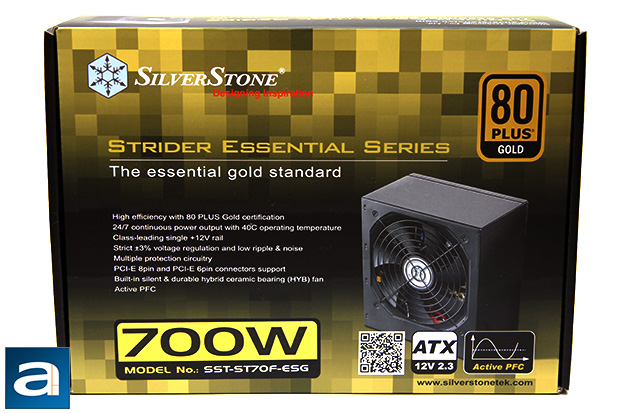 The SilverStone Strider Essential Gold ST70F-ESG 700W came in a standard flap top box. In order to highlight its 80 Plus Gold certification, the background features a matrix of squares in various shades of brown and yellow to give it a golden look; fading into black across the center to allow the list of feature highlights in white text to show through. At the top, we can see SilverStone's logo and slogan, while the lines "Strider Essential Series" and "The essential gold standard" occupies a prominent region in the center. On the right, a large 80 Plus Gold badge ensures you know this is an 80 Plus Gold certified power supply, just in case you could not tell by the name already. A photo of the power supply can be seen adjacent to the list of feature highlights. At the bottom, its wattage capacity is written in super large font, along with the model number underneath it. The Strider Essential Gold series is also available in 500W and 600W variants as well. Specifications, performance graphs, and features can be found on remaining sides of the box.
Before we move on, let's take a look at the specifications of the SilverStone Strider Essential Gold ST70F-ESG 700W, as obtained from the manufacturer's website:
Model No.: SST-ST70F-ESG
Max. DC Output: 700W
combined +3.3, +5V: 160W
combined +12V: 672W
Input Voltage: 90 ~ 264 Vrms
Input Frequency Range: 47Hz ~ 63Hz
PFC: Active PFC(PF>0.95 at Full Load)
Efficiency: 87%~90% @ 20% ~ 100% loading
MTBF: 100,000 hours
Operating temperature: 0°C ~ 40°C
Protection: Over current protection, Over power protection, Over voltage protection, Under voltage protection, Over temperature protection, Short circuit protection
Color: Black(Lead-Free Paint)
Cooling System: Single 120mm HYB fan
Noise Level: 18 dBA minimum
Dimension: 150 mm (W) × 86 mm (H) × 140 mm (D)
Weight: 1.95kg
Form factor: ATX
Certification: 80 PLUS Gold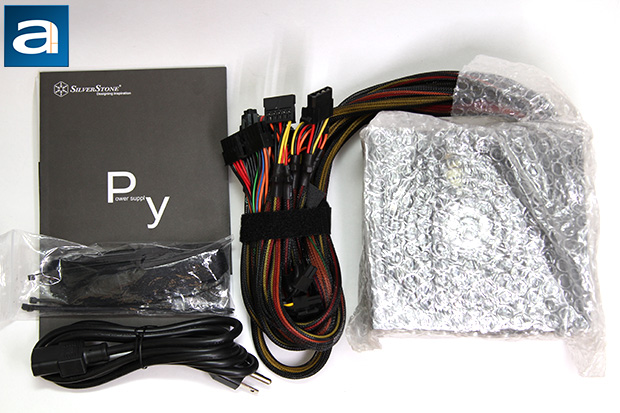 Carrying the word "essential" as a part of its name, the SilverStone Strider Essential Gold ST70F-ESG 700W's bundle covers pretty much only the essentials. Upon opening the box, you will be greeted with an instruction manual, as well as a specifications booklet. The instruction manual is highlighted with the letters "PY" in front, as you can see in our photo above; as if my colleague Preston Yuen has already initialed it from the factory. (It is really a stylized presentation of the words "power supply", maximizing its first and last letters.) Out of the box, you will receive the ST70F-ESG power supply itself, two pieces of literature as aforementioned, AC power cable, and a bag that contains some zip ties, Velcro straps, and four thumbscrews.
---
Page Index
1. Introduction, Packaging, Specifications
2.
Physical Look - Outside
3.
Physical Look - Inside
4.
Minor Tests and Conclusion