By: Kenneth Kwok
February 4, 2011
It's hard to believe it is already February -- it feels like it wasn't too long ago since it was the holidays filled with food, comfort, and in some cases, lots of snow. Of course, in various parts of the world, there is still snow, but at this point, I doubt we wish to see anymore around here in Vancouver, BC, Canada. Either way, it wasn't too far back when we last took a look at a power supply. In fact, it happened to be the last article written in 2010, with none other than the NZXT HALE90 750W report. To start off the month of February, we decided to report on yet another power supply; at the same time, the first one of 2011 as well. The SilverStone Strider Gold ST75F-G 750W we will be taking a look at today is not exactly as unique as the HALE90 in terms of looks, but it is more of a follow-up to the SilverStone Strider Plus ST75F-P 750W with a 80 Plus Gold rating to boot. SilverStone is renowned for their quality products in the computer sector with products such as cases, fans, power supplies, and much more. This will be their first power supply with the Gold rating, and to reuse our slightly dated joke, their first 'stride', so to speak. (Man, is that ever getting old, guess I haven't quite gotten over 2010 yet either.) With that aside, without further delay, let us jump right into today's report and see if it is more than simply swapping out the "Plus" for a "Gold".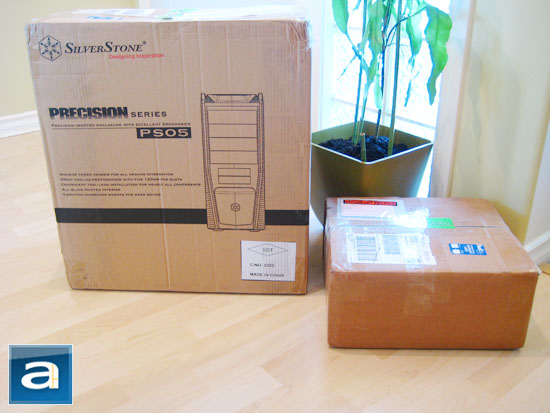 Our evaluation unit came in an oversized brown corrugated cardboard box from SilverStone's American offices in California, USA. FedEx Ground was used as usual to ship the packaging to us, and had good service for quick delivery. This package came in a very nice condition with barely any damage, save for some slight cosmetic blemishes. This is part two of our series of reviews and reports on SilverStone products, as reflected in the image above. At first, I thought maybe SilverStone had shipped more than a power supply and some fans inside, but after some thought back to the Plus version, I had a feeling the box inside is going to be pretty big. When I opened the box, I found the giant SilverStone power supply box coupled with two Air Penetrator case fans. The packaging used the two fans on the side to prevent the power supply box from moving around, in conjunction with packing peanuts to fill up remaining space between the flaps of the box.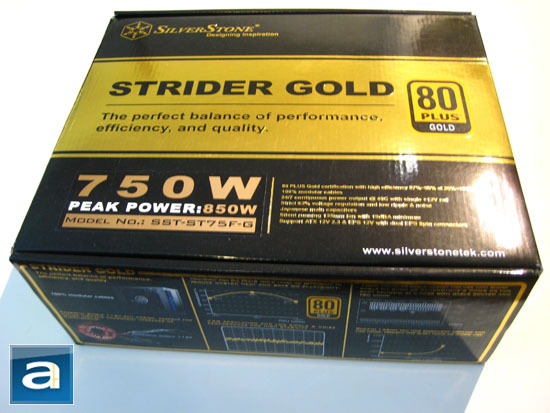 The retail box of the SilverStone Strider Gold ST75F-G 750W is just as interesting as the one for the SilverStone Strider Plus ST75F-P 750W, with the package being very large and having lots of information written over it. However, SilverStone went for a more classy approach this time than sticking with its usual design of having the power supply on the right, and text all over the front of the box. They kept the same black overall design and SilverStone logo at the top left, but opted for a giant golden band stretching across the front to highlight its 80 Plus Gold certification. The rest of the text is printed gold in color as well. The 80 Plus Gold logo is also clearly displayed within the giant center golden bar, and should be, since it is the main focus of this power supply.
On the flip side of the box is mostly text, designating the different models of this power supply with different ratings. All of the information is listed in different languages, such as Chinese, for different countries worldwide. Other flaps of the box also contain additional information including graphs, charts, modular layout diagrams, fan layout diagrams, and the such to provide a more in-depth look at the Strider Gold and its power efficiency performance. The ST75F-G 750W's specifications, certifications, and features are also listed on the sides of the box.
Speaking of specifications, let's take a look at them, as obtained from SilverStone's website, before we move on any further:
- Model No: SST-ST75F-G
- Max. DC Output: 750W (Peak 850W)
- Combined +3.3, +5V: 150W
- Combined +12V: 744W / 62A
- Input Voltage: 90V~264V
- Input Frequency Range: 47Hz ~ 63Hz
- PFC: Active PFC.(PF>0.95 at Full Load)
- Efficiency: 87%~90% at 20%~100% loading
- MTBF: 100,000 hours at 25°C(at Full Load)
- Operating temperature: 0°C ~ 40°C
- Color: Black (scratch resistant and lead-free paint)
- Cooling System: Single 135mm silent fan
- Noise Level: 19dBA-36dBA
- Dimension: 150 mm (W) x 86 mm (H) x 180 mm (D)
- Weight: 3.075 kg
- Certification: 80 PLUS Gold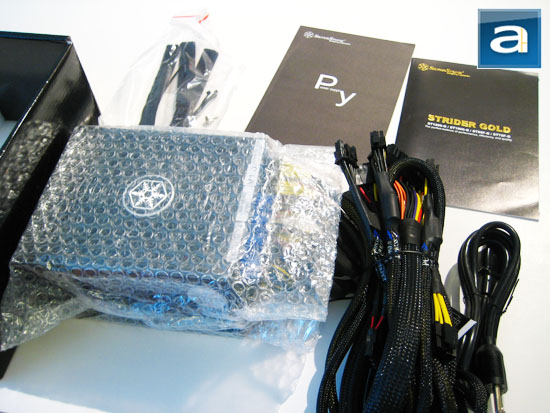 Out of the box, the following items can be found:
- 1x SilverStone Strider Gold ST75F-G 750W
- 1x Instructional manual
- 1x Power cable
- 4x Black colored screws
- 4x Thumbscrews
- 4x Velcro ties
- 4x Zip ties
All of the included accessories are useful for installation purposes, especially the thumbscrews for making your life easier when building your new computer. Zip ties and Velcro ties are included to help you out in tidying up your cabling job. As with most power supplies, there is a need for proper cabling to not only make the computer look great when you show off online, but to also increase airflow inside your chassis. The SilverStone Strider Gold ST75F-G 750W is modular, similar to the Plus model, in which I have reviewed back in January 2010.
---
Page Index
1. Introduction, Packaging, Specifications
2.
Physical Look - Outside
3.
Physical Look - Inside
4.
Minor Tests and Conclusion