By: Kenneth Kwok
June 1, 2012
When one says 'Evolution', I am not sure what comes to everyone else's mind, but I know what I think of when I hear that word. The one thing that comes to mind every time is what one of my professors told our class in lecture. Of course, as a computer science student rather than a biology student, we might not be on the same page at this point. He told us that, sometimes, not everything necessarily 'evolves' into something better; the best part was that he directed this at a specific student in class who kept leaving class earlier every single day for no good reason. This story may seem pretty out of place, but it actually fits in perfectly with our article today. Today, we will be looking at yet another product from SilverStone, which is renowned for their world class computer equipment, such as power supplies, fans, chassis, and the such. Not straying from the line, the product that we will be taking a closer look into is the SilverStone Strider Gold Evolution 750W, which as the name states is a follow-up to the SilverStone Strider Gold ST75F-G 750W we have reviewed last year. If you are wondering just how much the SilverStone Strider Gold series has actually 'evolved', read on to find out!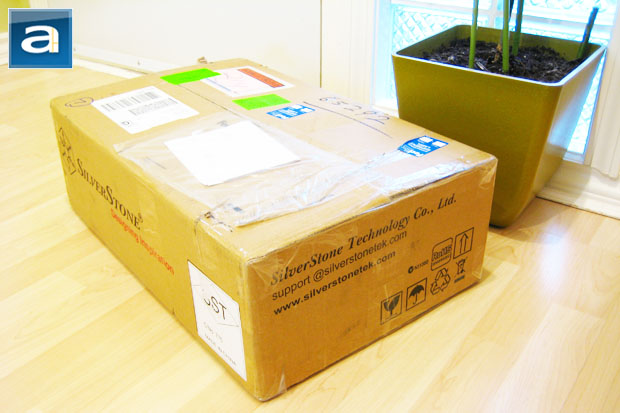 Our review unit of the SilverStone Strider Gold Evolution 750W came in a giant, brown corrugated cardboard box with the SilverStone logo on it from Silverstone's American offices in California, USA. The box came in an overall good condition, with slight scratches and wear on the sides, but this is expected of shipping. UPS did a bang-up job delivering the product in a timely and safe manner -- without banging anything up. Cracking open this box, we find the SilverStone Strider Gold Evolution 750W package and the SilverStone Air Penetrator SST-AP121-USB package as well. (If you don't recall this product, be sure to hit up the link!)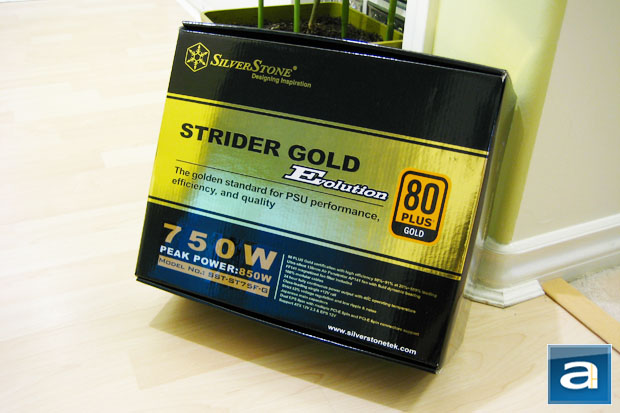 When it comes to retail packaging, SilverStone did an admirable job as usual. Although the box design is very simple and doesn't have much on it in terms of visuals, it is appealing and effective. Using the typical black box design with a giant gold stripe going down the middle. Text is written on top of this in black and white. It is nearly identical to the previous version of this line of power supplies, the SilverStone Strider Gold ST75F-G 750W, save for the word 'evolution' added in white and a change in some of the text. This design worked the first time and still works now, especially with the giant 80 Plus Gold logo on the right side, which is the main selling point of this power supply. The whole box is finished with a mirror-esque finish that gives it this shine, and it works especially well with the gold color as seen above. Generally speaking, it can be quite attractive aesthetically. The usage of the gold, black, and white color scheme fits well with this product as with the previous iteration, and is overall a great box design.
On the other side of the box is the same as the previous version with a whole bunch of text, which describes the power supply, and lists the different models and the ratings associated with them. All of the information is also listed in multiple languages; this makes selling it in different countries easily accessible and readable all over the globe. All the other flaps of the box contains more information, including charts, graphs, pictures showing fan layout, and multiple other diagrams. All of these provide more advanced information about the Strider Gold Evolution's power efficiency, performance, and other facts. Specifications, certifications, and other features are also found on the side of the box for those that look for in depth into those kind of things.
Before moving further into the report, let's take a quick look at the specifications of this PSU as obtained from SilverStone's website:
- Model No: SST-ST75F-G Evolution
- Max. DC Output: 750W (Peak 850W)
- Combined +3.3, +5V: 150W
- Combined +12V: 744W / 62A
- Input Voltage: 90V~264V
- Input Frequency Range:47Hz ~ 63Hz
- PFC: Active PFC.(PF>0.95 at Full Load)
- Efficiency: 88%~91% at 20%~100% loading
- MTBF 100,000 hours at 25°C(at Full Load)
- Operating temperature: 0°C ~ 40°C
- Color: Black (scratch resistant and lead-free paint)
- Cooling System: Ultra silent 139mm Air Penetrator fan with fluid dynamic bearing
- Noise Level: 17dBA-28dBA
- Dimension: 150 mm (W) x 86 mm (H) x 180 mm (D)
- Weight: 3.075 kg
- Certification: 80 PLUS Gold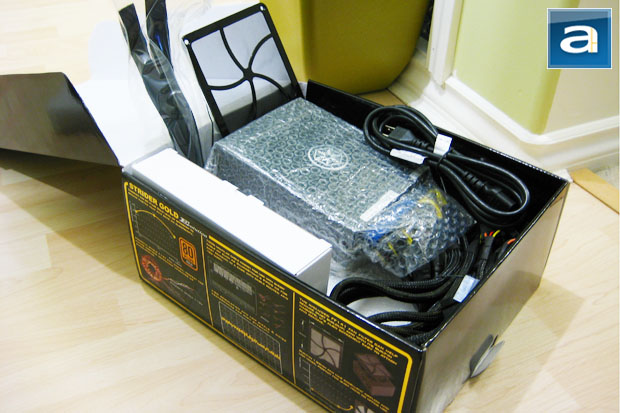 After opening the box, all of the following items can be found:
- 1x SilverStone Strider Gold ST75F-G 750W
- 2x Instructional manual
- 1x Power cable
- 4x Black colored screws
- 4x Thumbscrews
- 4x Velcro ties
- 4x Zip ties
- 1x Magnetic dust cover
Everything that was included were all great accessories used for installation purposes; this is especially highlighted with the inclusion of thumbscrews, which just makes installation and removal just that much easier without using a screwdriver every time. The included Velcro and zip ties are also great for organizing cables inside your case, making cabling easier, and also preventing unnecessary clutter inside the case. The best part of this has to be the magnetic dust cover, which can be a great help in preventing dust from entering the PSU, and also adds an easy-to-remove filter that can be cleaned more often due to the ease of removal and putting it back on. Overall, I applaud SilverStone for including so many accessories that seem necessary, but are really premiums in today's market sometimes.
---
Page Index
1. Introduction, Packaging, Specifications
2.
Physical Look - Outside
3.
Physical Look - Inside
4.
Minor Tests and Conclusion