By: Jonathan Kwan
October 26, 2012
If you live in places where winter tires are popular, you will notice most people mount their all season or summer rubber and winter rubber with two separate set of rims. There are plenty of reasons why, but for the most part, mounting and balancing seasonal tires on the same set of rims twice a year is not only bad for your wheels, but also hard on the wallet. As such, most people will have their all season or summer tires on stock rims, with their winter tires on black steel rims, because they are cheap. Therefore, you can usually tell whether someone have switched over for the season or not. Personally, I hate the look of steel rims, so after spending months on Kijiji, I found a set of OEM 17" Honda Civic Si rims in great condition for $250 to go with my brand new Continental ExtremeWinterContacts. As I roll around with my supposedly stock rims with some of the best winter tires on the market, it is particularly amusing to see the look on the faces of large SUV drivers on all season tires getting stuck after the recent snowstorm, while I out-accelerate, out-corner, and out-brake them in every opportunity in a compact front wheel drive sedan -- probably wondering why a guy with a Civic can do so much with nothing special in the four corners. Well, the fact is, they aren't looking careful enough. In the same way, the Fractal Design Define R4 looks almost identical to its predecessor, the Fractal Design Define R3. But don't just glance over and dismiss it, because the devil's in the details. With improvements made to several crucial areas, how much of a difference does it make? Rather than judging a book by its cover and make poor assumptions, we are going to rip the Define R4 apart, and dig down to the facts.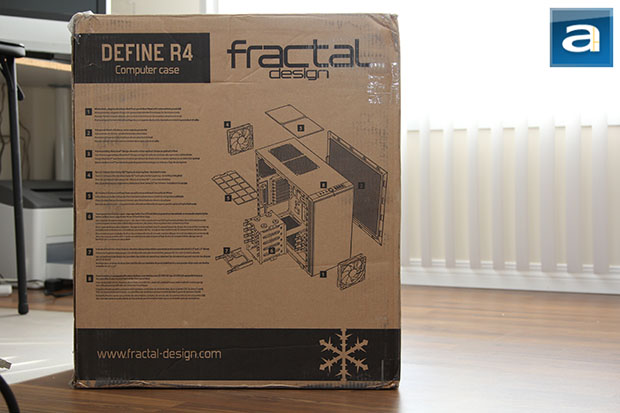 Our review unit of the Fractal Design Define R4 came in its retail box from the company's American offices in Texas, USA. Using FedEx International Economy, everything arrived in excellent condition, as we have come to expect from the company. As you can see in our photo above, Fractal Design took a completely different approach in designing their Define R4's retail packaging, as compared to the Define R3 we have reviewed last year. The latest iteration features an environmentally friendly (Or economically friendly) -- depending on your perspective -- brown corrugated cardboard box with classic black ink. It is certainly not as pretty as what we have seen in the past, but no one spends that much time looking at the surface anyway. After all, it is what inside that counts, right?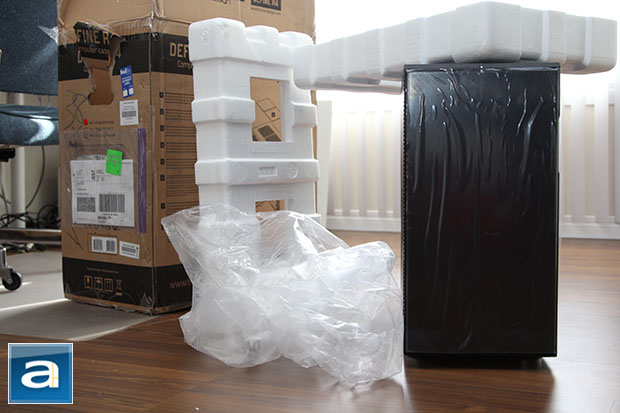 And inside it is. Cracking open the box reveals the Fractal Design Define R4 ATX computer chassis clipped between two large Styrofoam brackets. I think Styrofoam brackets are better for absorbing shocks compared to the more eco-friendly cardboard wrapped Styrofoam brackets, as we have experienced from last year. We specifically wanted our Define R4 in Black Pearl, but Fractal Design also sells the case in Arctic White and Titanium Grey. Like its predecessors, my first impression of this case is that it looks like a mini refrigerator -- if we backtrack a bit, I probably won't be surprised to see similar packaging for a regular fridge at Home Depot, haha. We will discuss its external design on its subsequent page. My second impression of this case is it is like the chubby version of the Define R3. Meanwhile, we can see the entire chassis is wrapped in a large plastic bag to protect its panels during transit. For those surfaces that may be more prone to being scratched, additional layers of protective plastic tape is present for the end user to peel off. It is clear to us Fractal Design has taken great care in ensuring their product arrives to the hands of the end user in pristine condition.
Before we move on, let's take a look at the specifications of the Fractal Design Define R4, as obtained from the manufacturer's website:
Key features
- High density noise-reducing material for an optimal silent case - To achieve a high level of noise reduction, material with mass should be incorporated which is what we strive to achieve with the dense bitumen used on the side panels
- Patent pending ModuVent™ design allowing the user to choose between optimal silence or maximum airflow
- Top HDD cage (5 trays total) can be rotated 90 degrees or removed for additional airflow or to accommodate long graphic cards up to 430mm in length
- Three-speed fan controller is strategically integrated in the front panel and supports up to 3 fans
- Two Silent Series R2 fans included, featuring hydraulic bearings contributing to a longer life expectancy – Silent Series R2 retail fans will now come standard in all cases
- Wider case body that allows for improved cable routing behind the motherboard – now 26mm wide
- New tool-less front fan holder makes switching front fans a breeze
- Two SSDs can be mounted on the back of the motherboard plate in addition to the 8 slots in the HDD trays, for a total of 10 SSD positions available
Technical specifications
- ATX, Micro ATX, Mini ITX motherboard compatibility
- 7 + 1 expansion slots
- 2 - 5.25" bays
- 8 - 3.5" HDD trays - all compatible with SSDs, 2 - 2.5" extra SSD positions
- 3 - ModuVent™ plates - two in the top and one in the side
- 7 - fan positions (2 Silent Series R2 fans included)
- Filtered fan slots in the front and bottom
- CPU coolers up to 170mm tall (when no fan is installed in the side panel)
- ATX PSUs up to 170mm deep when using the bottom fan location, when not using this fan location longer PSUs (up to 270mm deep) can be used
- Graphics cards up to 295mm in length with the top HDD cage installed
- With the top cage removed, graphics cards up to 430mm in length may be installed
- 26mm of space for cable routing behind the motherboard plate
- Thick rubber grommets on all holes on the motherboard plate
- Colours available: Black Pearl, Titanium Grey, Arctic White
- Case dimensions (WxHxD): 232 x 464 x 523mm
- Package dimensions (WxHxD): 320 x 535 x 610mm
- Net weight: 12,3 kg
Cooling / ventilation
- 1 - Front hydraulic bearing 140mm Silent Series R2 fan, 1000 RPM speed (included)
- 1 - Front 120/140mm fan
- 1 - Rear hydraulic bearing 140mm Silent Series R2 fan, 1000 RPM speed (included)
- 2 - Top 120/140mm fans - positions also support some models of 240 radiators, depending on configuration
- 1 - Bottom 120/140mm fan
- 1 - Side 140mm fan
- 1 - Integrated fan controller for up to 3 fans (included)
Front interface
- 2 - USB 3.0, 2 - USB 2.0
- Audio I/O
- Power button with LED (blue)
- Reset button
- Fan controller (behind door)
Retail package content
- Define R4 computer case
- User manual
- Accessory box
Additional Information
- EAN/GTIN-13: 7350041080916
- UPC: 817301010917
- Product code: FD-CA-DEF-R4-BL
---
Page Index
1. Introduction, Packaging, Specifications
2.
Physical Look - Outside
3.
Physical Look - Inside
4.
Installation and Conclusion