By: Jonathan Kwan
March 2, 2012
"SSDs are quite pointless," my friend said before the beginning of our Engineering Economics lecture last semester. "They don't do anything besides improving your boot time. Programs don't load that much faster compared to a 7200RPM hard drive." Of course, as with most people who actually own an SSD, this is a statement you cannot resist to argue with. "That's like saying a Ferrari is not much better than a Honda Civic. Sure, you can run better 0-60 times, but other than that, you'll be driving close to the speed limit most of the time anyway." So while I am not here today to make an argument as to why it is so awesome to own an SSD, I am here to make an argument as to why it is so awesome to own -- keep reading -- two SSDs. Kingston's first SandForce SF-2281 based Kingston HyperX SSD is nothing short of impressive; combining the renowned controller with a set of high performance Intel NAND flash chips for some very impressive numbers across the board. But the story does not end here. So today, we will take a look at Kingston's SSDNow V+200 120GB SSD. Don't get confused with the SSDNow V200; the little '+' after the 'V' makes all the difference. This business oriented product, like the HyperX enthusiast drive, features a SF-2281 under the hood, but intended a little bit more affordable. So how does it step up against the competition? Of course, we will have our usual battery of benchmarks in single disk configuration. But since the good people at Kingston sent over two of their 120GB drives for our review today, what's stopping us from some RAID 0 action?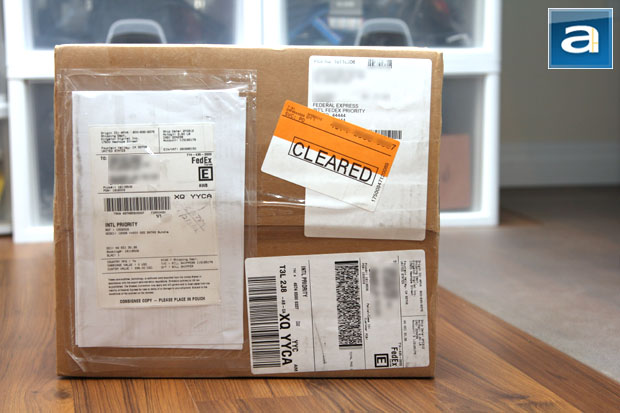 Our review unit of our pair of Kingston SSDNow V+200 120GB SSDs came in a compact, brown corrugated cardboard box from the company's American headquarters in California, USA. More often than not, we will get a FedEx Pak (You know, the stuff that looks like an envelope, except the material is soft and tear-resistant) with another box inside to protect its contents. This time around, since we are getting two drives, we got sent a bigger package, as you can see in our photo above. Making its trip across the border to us here in Calgary via FedEx International Priority, everything arrived in excellent condition for our review today.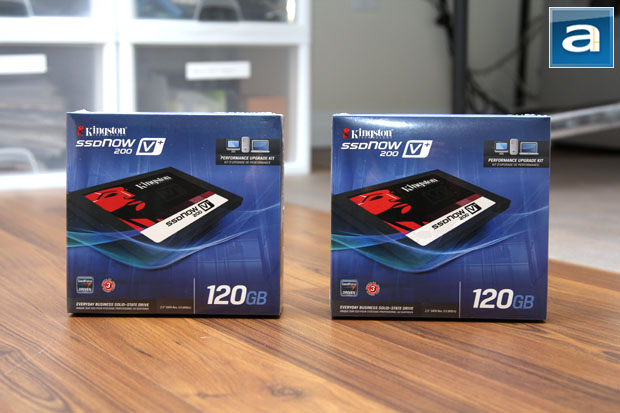 Being on the business side of things, the V+200's packaging is also a little more serious -- for a lack of a better term, business-y. The clean design gets straight to the point. At first glance, you will have no problems obtaining everything you need to know about the drive. With the model name indicated at the upper left hand corner and on the picture of the drive, as well as the capacity printed in size 100 font at the bottom right corner, it is pretty hard to not see what you are getting. Like the HyperX SSD we have covered back in November last year, our particular version is what Kingston calls the Performance Upgrade Kit (As opposed to a bare drive kit). This means extra accessories are included, such as a USB 2.0 enclosure, 2.5" to 3.5" adapter, Acronis cloning software, and some extra cables. Surprisingly, the rest of the box contains no information on the specifications of the drive. But no worries -- here they are, as obtained from the manufacturer's website:
Form factor: 2.5"
Interface: SATA Rev 3.0 (3Gb/s) , SATA Rev 2.0 (1.5Gb/s)
Sequential reads: SATA Rev. 3.0 - 535MB/s; SATA Rev. 2.0 - 280MB/s
Sequential writes: SATA Rev. 3.0 - 480MB/s; SATA Rev. 2.0 - 260MB/s
Sustained Random 4k Read/Write: 120GB – 20,000/44,000 IOPS
Max Random 4k Read/Write: 120GB – 85,000/55,000 IOPS
Warranty/support: three-year warranty with free 24/7 support
Power Consumption: 0.565 W (TYP) Idle / 1.795 W (TYP) Read / 3.230 W (TYP) Write
Storage Temperature: -40°C ~ 85°C
Operating Temperature: 0°C ~ 70°C
Dimensions: 69.85 x 100 x 9.5mm
Weight: 115 grams
Vibration Operating: 2.17G
Vibration Non-Operating: 20G
MTBF: 1,000,000 Hrs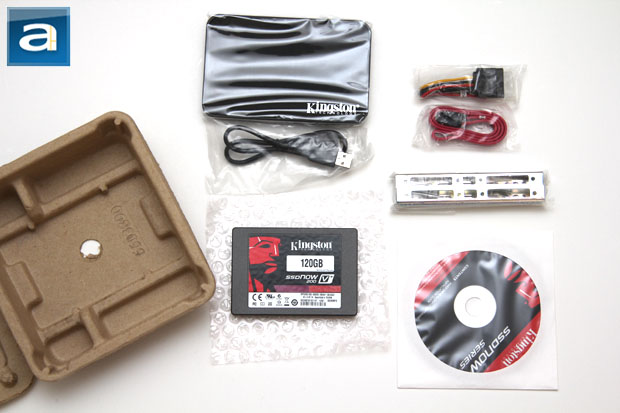 Now I wouldn't consider myself an environmentalist by a long shot, but I am all for doing our part in reducing waste that ends up in the landfill. In this particular context, I definitely appreciate Kingston's efforts in making the SSDNow V+200's packaging very environmentally friendly. This compromise-free solution uses a paper pulp based tray for easy recycling, with the rest sufficient for good protection without excess. This is important in my opinion, considering the SSDNow V+200 is marketed towards business use. If a company's IT department decides to get a hundred or so of these drives, you really don't want foam packaging, haha.
Out of the box, you will receive the following items:
- Kingston SSDNow V+200 120GB SSD
- 2.5" USB enclosure
- USB cable
- 3.5" rails and mounting screws
- SATA cable
- Molex to SATA cable
- Acronis cloning software/installation guide CD
---
Page Index
1. Introduction and Specifications
2.
A Closer Look, Installation, Test System
3.
Benchmark: AIDA64 Disk Benchmark
4.
Benchmark: ATTO Disk Benchmark
5.
Benchmark: Crystal Disk Mark 3.0
6.
Benchmark: HD Tach 3.0.1.0
7.
Benchmark: HD Tune Pro 4.60
8.
Benchmark: PassMark PerformanceTest 7.0
9.
Benchmark: PCMark Vantage
10.
Conclusion