By: Jonathan Kwan
March 13, 2015
Back in the days, when I was on my internship for engineering, my coworkers and I would sit around the table at lunchtime to talk. One topic of particular interest was the web poll results published by the local town paper. "Looks like 67% of the people voted 'yes' and 33% voted 'no' this week," we used to say. "That probably meant two people voted 'yes' and one voted 'no'." As funny as that sounded, it was actually not too far from the truth. Because of this, one time, we decided to have a little bit of fun. When the new weekly polled appeared, we all agreed to vote for the option that sounded the most unlikely. The day came when the poll results were put into print, and we all laughed at how 90% of the votes were stacked in the direction we wanted it to be. As you can see, if the data sample is small, statistics can easily be manipulated. Keeping that in mind, Fractal Design's Define series is nothing new to us here at APH Networks. In 2011, we have covered the Define R3 and Define XL, followed by the Define R4 in 2012, and Define XL R2 in 2013. Without exception, all of them have scored remarkably well; maintaining an outstanding average of 8.125/10 and standard deviation of only 0.3 on this website. Impressively, all four cases have received either the prestigious APH Recommended or APH Renewal award as well. In fact, up until today, the Define R4 is still the highest scoring chassis ever reviewed here at APH Networks. With all these cases previously evaluated, and such a high bar set in place, this is not a game of easily manipulated statistics. Will the Define R5 live in the shadow of its predecessors, or break into a new realm of excellence? Read on to find out!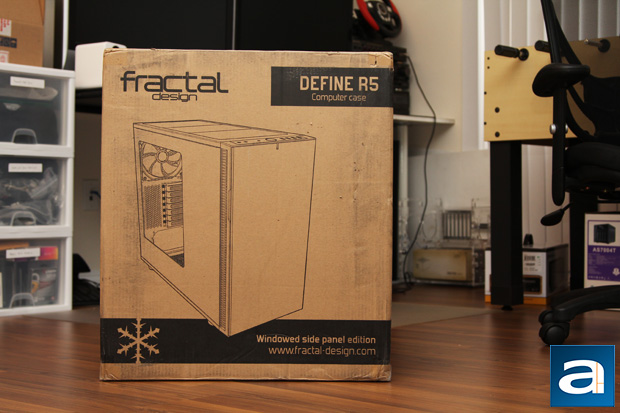 Fractal Design sent their latest Define R5 mid-tower in its retail box from the company's American offices in Texas, USA. Stuff traveling to us via FedEx Ground to us is quite rare nowadays, as it seems UPS stole quite a bit of their business. That said, for something specified at almost 30 lbs shipping weight, the lengthy trip did not take a toll on the case, as everything arrived in excellent condition to us here in Calgary, Alberta, Canada for our review today. Interestingly, I ordered another Define R5 for my university research lab PC build last week, and Purolator says it was approximately 42 lbs. (Trust me, bringing it from my car to my office was quite a workout.)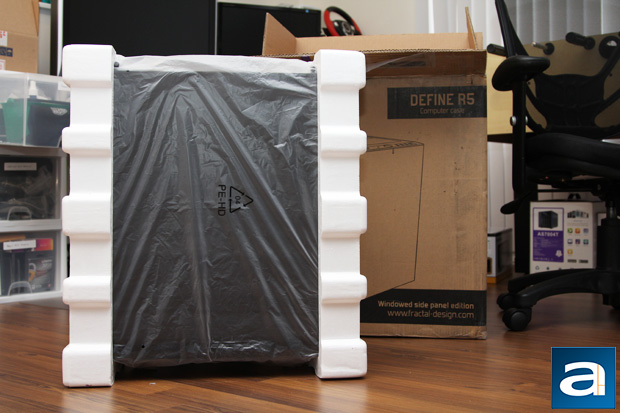 As you can see in our photo above, Fractal Design's retail box design for the Define R5 is very similar to the Define R4 we have reviewed last year. The latest iteration features an environmentally friendly (Or economically friendly) -- depending on your perspective -- brown corrugated cardboard box with classic black ink. It is certainly not as pretty as what we have seen in the past, but no one spends that much time looking at the packaging anyway. At the end of the day, I have no guilty feeling dumping it into the recycle bin afterwards. I am no environmentalist, but I think that in itself has value in my opinion.
Before we move on, let us take a look at the specifications of the Fractal Design Define R5, as obtained from the manufacturer's website:
- ATX, Micro ATX, Mini ITX motherboard compatibility
- 7 expansion slots
- 2 - 5.25" bays (removable)
- 8 - 3.5" HDD positions (can also accommodate 2.5" units); 2 - 2.5" dedicated SSD unit positions
- 4 - ModuVent™ plates - three in the top and one in the side
- 9 - fan positions (2 Fractal Design Dynamic GP14 140mm fans included)
- Filtered fan slots in the front and bottom
- CPU coolers up to 180mm in height
- ATX PSUs up to 190/170 mm with a bottom 120/140mm fan installed; when not using any bottom fan location longer PSUs up to 300mm can be used
- Graphics cards up to 310 mm in length with the top HDD cage installed; with the top cage removed, graphics cards up to 440 mm in length may be installed
- 20 - 35 mm of space for cable routing behind the motherboard plate
- Velcro straps included for easy cable management
- Front door can switch opening direction via dual mounting system
- Left side panel features Quick Release System for easy access and provides a secure closure of side panel
- Right side panel features smart captive thumbscrews so no thumbscrews are lost
- Colours available: Black, Titanium (black case, titanium front panel), White
- Case dimensions (WxHxD): 232 x 451 x 521mm
- Case dimensions - with feet/screws/protrusions: 232 x 462 x 531mm
- Net weight: 11.2 kg
- Package dimensions (WxHxD): 327 x 615 x 540mm
- Package weight: 12.8 kg
---
Page Index
1. Introduction, Packaging, Specifications
2.
Physical Look - Outside
3.
Physical Look - Inside
4.
Installation and Conclusion