Page 4 - Installation and Conclusion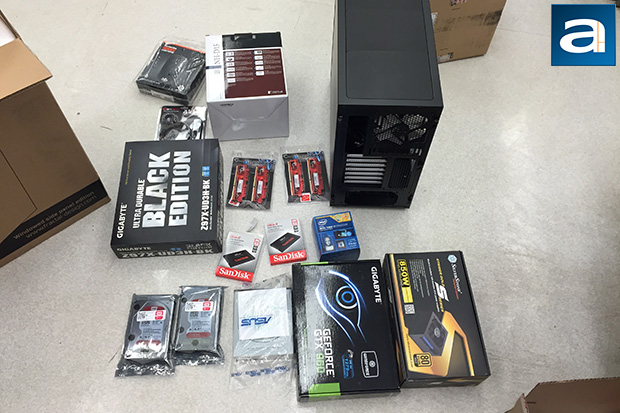 Since I am building a new PC for use in my university research lab, I am going to demonstrate a completely new build in this review, unlike most of the case reviews we do here at APH Networks. Of course, I was not going to donate my Fractal Design Define R5 (Or any components, for that matter) to the university, so I actually purchased a new one in black, also with a window, from a popular online retailer. With a stack of brand-spanking-new parts on the floor in my office, along with a bunch of curious coworkers, I got to work. For your interest, here are the specifications:
CPU: Intel Core i7-4790K
CPU Cooling: Noctua NH-D15 (Single fan)
Motherboard: Gigabyte GA-Z97X-UD3H-BK
RAM: G.Skill Ripjaws-X F3-2133C11D-16GXL 4x8GB
Graphics: Gigabyte GeForce GTX 960 OC
Chassis: Fractal Design Define R5; BitFenix Alchemy Connect LED Strips (White)
Storage: 2x SanDisk Ultra II 240GB RAID 1; 2x Western Digital Red WD20EFRX 2TB RAID 1
Optical Drive: ASUS DRW-24F1ST
Power: SilverStone Strider Gold S ST85F-GS 850W
Operating System: Microsoft Windows 8.1 Professional x64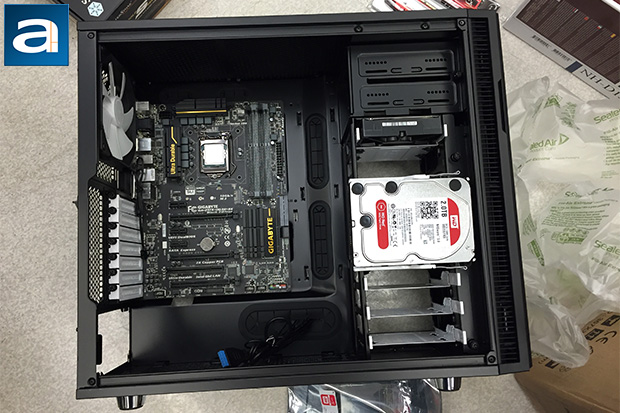 The installation process was extremely straightforward with the Fractal Design Define R5. For the most part, it was very easy to work with as far as a standard mid-tower is concerned. Out of preference, I installed my Gigabyte GA-Z97X-UD3H-BK motherboard first, followed by the rest of my components. However, it does not matter what you install first, since they will all work out just as well in the end.
Executing a good cabling job was also very easy on the Fractal Design Define R5. There are two large openings adjacent to the motherboard on the right, so choose your half. They are all appropriately placed for routing cables through, whether they are from your power supply or your hard drive, with proper rubber grommets for both looks and vibration dampening. The rubber grommets are clipped onto place, but they stay reasonably secure, unless you use excessive force. Meanwhile, HDD and SSD installation was extremely simple as well; simply align it with the proper holes at the bottom of each drive tray, and attach four screws (Plus rubber spacers if you are installing a 3.5" drive). The trays can accommodate both 2.5" and 3.5" drives, as discussed earlier in this review. After all the necessary screws are attached, slide it back into the rack, make the proper connections on the opposite side, and you are good to go. You can install your SSDs at the back of your motherboard as well. Personally, I find routing cables to the rack easier, so I installed my two SanDisk Ultra II 240GB drives here along with a duo of Western Digital Red WD20EFRX 2TB for storage.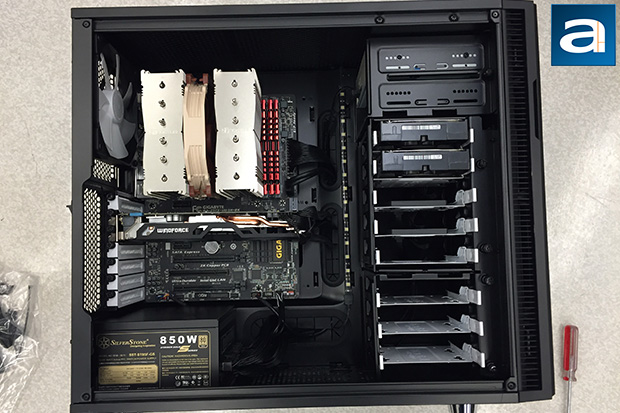 The rest of the installation process came and went just as smoothly, as I continued to install the rest of my components like the SilverStone Strider Gold S ST85F-GS 850W. Unless you count thumbscrews as tool-free, installation of most components will require you to keep your screwdriver handy. This includes all add-on cards, as well as your optical drives. I do not have much beef against this though, since it is usually much more secure, and it is not like I will take my computer apart occasionally anyway. The Define R5 will give you no surprises.
Because Fractal Design added a cable management section behind the motherboard tray, organizing the modular cables from my SilverStone power supply was a breeze. Pushing all the case I/O cables through the large bottom opening adjacent to the motherboard and power supply delivered excellent accessibility to anything that requires a connection to my Z97X-UD3H-BK. The large motherboard tray cutout also made the installation of my Noctua NH-D15 as smooth as possible.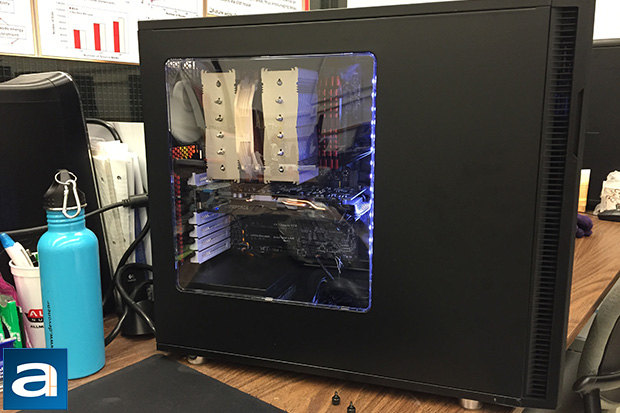 After plugging in everything, our system configured inside the Fractal Design Define R5 was ready to roll. I hit the large power button at the top, and my computer came to life. Since we all know how the front of the case looks like, I decided to take a shot from this angle. The BitFenix Alchemy Connect LED Strips in white definitely added a bit of style to the build. Yes, this is an actual PC used for research in my university lab.
On a scale from 0.0 to 10.0 where 0.0 is silent and 10.0 is the loudest, the stock Dynamic GP14 fans would come in at 2.0 subjective sound rating at full blast. That is very impressive. Slowing them down will keep it at around 1.0 in my personal opinion. I am quite sensitive to perceived sound volume, and as a quiet PC enthusiast, the Fractal Design Define R5 is extremely impressive by any metric. The hydraulic bearing fans have a smooth running motor with no annoying noise during operation; combine that with thick insulation material simply keeps the noise in, and the heat out. I am also quite impressed at its ability to eliminate certain types of noise. While it does not magically cancel out noise made by very fast moving fans, the Fractal Design Define R5 does a fine job and keeping my already very quiet parts even quieter than before. The Define R5 is matchless in this regard. This is truly the case to choose for quiet PC enthusiasts who makes no compromise in power and performance. The fact they made it better than the Define R4 is a feat of its own.
-----------------------------------------
What made Fractal Design's Define series of cases so great? In my opinion, it was always the clean and inoffensive design, relentless attention to detail, high emphasis on performance, and uncompromising attitude towards quality that won me over. The latest evolution in the series continues this tradition. The Define R5's clean and inoffensive design is still clean and inoffensive, attention to detail is better than ever, delivers performance that raises the bar ever slightly higher than before, and built with the best quality any case manufacturer should aspire to. With a few small but notable improvements -- namely, the addition of the HDD LED, integrated cable management, and user-configurable door swing direction -- the Fractal Design Define R5 is pretty close to technical perfection (Other than the oddly large ModuVent opening at the top, but I keep it closed anyway). In fact, back in 2012, I defined an "APH-spec" chassis as "clean exterior look, large unobstructed clear side window, mid-tower, refined build quality, and filters on every vent except rear exhaust" in the introduction of the SilverStone Temjin TJ04-E review. If anyone were to follow this definition to design a case, they will come up with the Define R5. This case is the embodiment of this definition, and I liked it so much, I actually bought another one for a new PC build. For about $120 USD at press time, the Fractal Design Define R5 is about as technically perfect as it can get, at a price you simply cannot turn down.
Before we close off today though, I think a new issue came up in the process. The problem with the Fractal Design Define R5 is it is missing something. Something that stirs your heart and emotions. The Define R5 is like the girl who is technically perfect in every way -- reasonably attractive looking, good manners, and well educated -- but just not very exciting to go on a date with. On the other spectrum, we have the In Win 904 Plus. It is like the girl you can never figure out, spends all your money, and graduated university with a useless degree with mediocre grades. But she is extremely pretty, and has quite a personality. Fact is, the In Win 904 Plus is expensive, tough to deal with in certain areas, and limits you to fan sizes circa 2002 (Really? 92mm rear exhaust?). But man, does that case have emotional appeal.
At the end of the day, which one will I get? As I have said in introduction of the Western Digital Red WD40EFRX 4TB review last year, being practical and all, it will still have to be the Fractal Design Define R5. It is not exciting to look at, nor does it have a whole lot of emotional appeal. But three years down the road, you will look at your computer once again and nod to yourself, "I have made the right choice."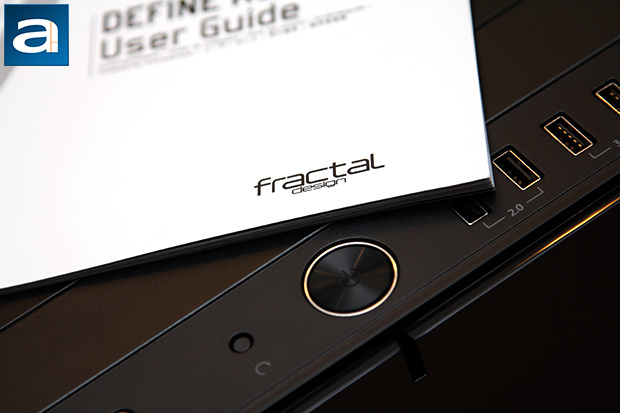 Fractal Design provided this product to APH Networks for the purpose of evaluation.

APH Recommended Award | APH Review Focus Summary:
9/10 means Excellent product with very minor drawbacks that does not affect the overall product.
8/10 means Definitely a very good product with drawbacks that aren't likely going to matter to the end user.
-- Final APH Numeric Rating is 8.5/10
Please note that the APH Numeric Rating system is based off our proprietary guidelines in the Review Focus, and should not be compared to other sites.
The Fractal Design Define R5 is the very embodiment of the "APH-spec" chassis. If technical perfection is a thing, this case gets awfully close. At 8.5/10, it ties for the highest scoring chassis ever reviewed here on this website.
Do you have any comments or questions about the Fractal Design Define R5? Drop by our Forums. Registration is free, and it only takes a minute!
---
Page Index
1.
Introduction, Packaging, Specifications
2.
Physical Look - Outside
3.
Physical Look - Inside
4. Installation and Conclusion